The Beloved Character Fans Hope Returns To Law & Order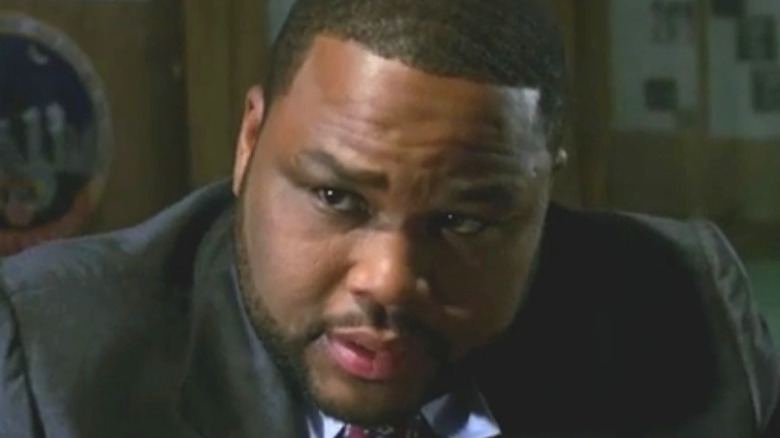 NBC / Amazon Prime
After a decade-plus hiatus, NBC has decided to revive the show that started it all for the "Law & Order" franchise. The revival, aka Season 21, was green-lit by NBC in September 2021, and by mid-November, it had already received a premiere date of February 24, 2022 (via TV Line). Fans were thrilled to hear about the return of the original series, and it also got them thinking about who from the show's cast they'd like to see make a return. 
For every recurring or lead character who's ever graced the police department and courthouse halls in "Law & Order," there's a dedicated and specific fandom. Some of the beloved actors behind those characters — including S. Epatha Merkerson and Alana De La Garza — made their way to "Law & Order" creator Dick Wolf's other hit shows. Others moved on to different projects entirely. There remain, however, a handful of fan-favorites whose return seems at least somewhat plausible, including that of a certain Executive Asst. District Attorney named Mike Cutter. 
Fans fell for Linus Roache's EADA Mike Cutter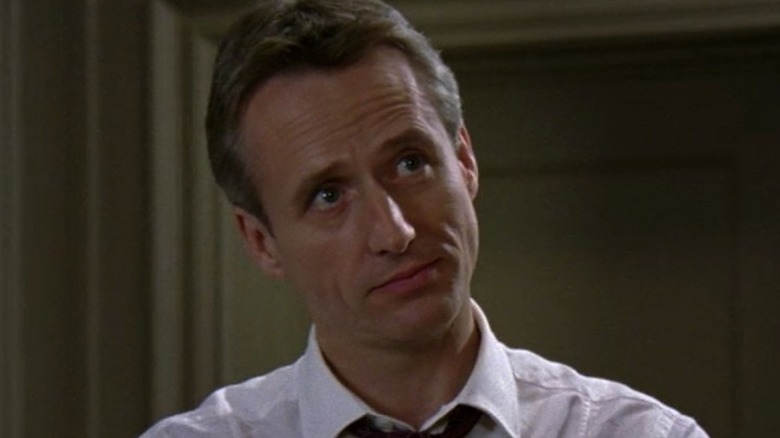 NBC / Amazon Prime
Long before Raúl Esparza was wooing witnesses and fans alike as the sarcastic, swagger-filled, occasionally confrontational, and frequently conflicted ADA Rafael Barba on "Law & Order: SVU," the franchise's parent series introduced an equally charismatic and combative ADA in the form of Mike Cutter. Portrayed "Vikings" star Linus Roache, EADA Cutter joined the series in its 18th season and proved himself a worthy adversary to Sam Waterston's Jack McCoy. Roache imbued his character with equal parts intellect, drive, and creativity, and often waded around in the grayer areas of the law in order to bring criminals to justice. 
Roache's character may have given McCoy a headache (McCoy once asked him, "What do you do for fun, Mike? Juggle chainsaws?"), but fans ate his dogged determination up. "I love Cutter," wrote u/OceansBanana on the series' subreddit, adding, "I was so excited when they moved him over to SVU and really hoped that they would keep him." Spoiler alert: they didn't. 
When Deadline Hollywood shared news of the revival on Twitter, fans responded asking for the return of just about every character from the original series, but there was a notable push specifically for Cutter. Twitter user @JasonPMask wrote, simply, "Bring back Cutter, dammit," while @KirstinMorrell added, "He was the best...the Cutter character, plus the casting, were perfect." In the same thread, @JadeMarie1228 tweeted, "Loved Linus (Roache) as Mike Cutter!!!" and added that the episodes he starred in are among their favorites. 
Could EADA Mike Cutter return?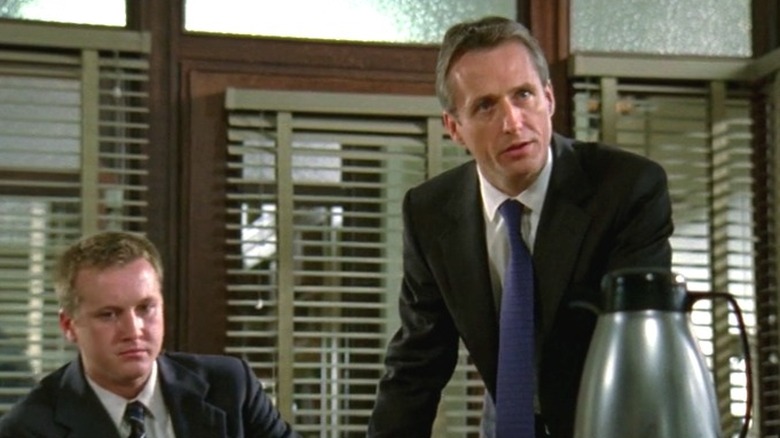 NBC / Amazon Prime
Blogger Brittany Frederick took the Linus Roache love a step further, making a Cutter-worthy case for the character's return. She even wrote, "If [the revival] doesn't feature Linus Roache returning to his role as Executive Assistant District Attorney Michael Cutter, it won't be worth the wait." Frederick went on to call the character "a lightning rod" who "[injected] a new and intense energy into the back half of the show" (via TVBrittanyF). 
Despite the clamoring of eager fans, to date, there hasn't been any announcement regarding the return of Cutter. Meanwhile, as Deadline reports, the series tapped "Hannibal" actor Hugh Dancy to introduce a new Assistant District Attorney, so it seems unlikely that in the event the character does return, it would be as an ADA. Of course, that doesn't mean Mike Cutter couldn't return in some capacity. And for some fans, that would be a — figuratively — life-saving turn of events. "GIVE ME BACK MIKE CUTTER OR GIVE ME DEATH!" tweeted @hiyaharrison, adding, "All I want is Mike Cutter serving some justice while suffering the occasional egg on his face while Jack McCoy chuckles and lightly smiles is this too much to ask????" Let's hope not.