Musicals To Watch If You Like West Side Story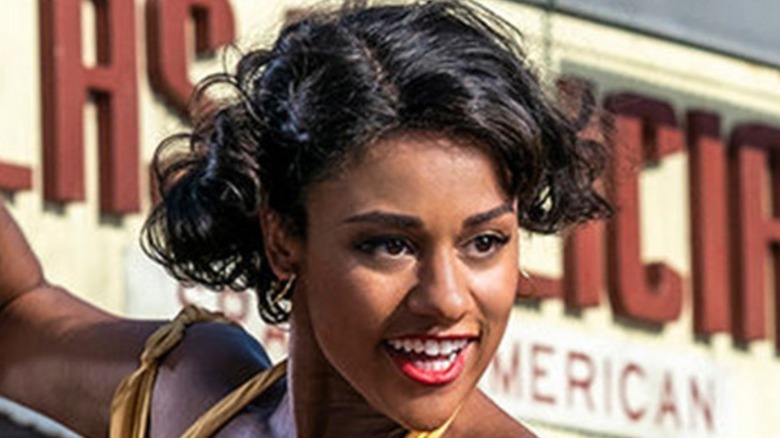 Amblin Entertainment
Is there any genre as misunderstood as the musical? Misconceptions abound about films filled with song and dance, the most common of which is that the films are absurd, overly cutesy, and lacking in substance. Musicals, however, aren't always stories of happy-go-lucky people dancing in the street, and "West Side Story" is an excellent example of this. The film is unafraid to deal with darkness: The central story of the film, after all, is about a racially motivated gang war between the Sharks and the Jets. "West Side Story" is a strong reminder that musicals are capable of tackling vital social issues just as effectively as any other genre.
When "West Side Story" hit cinemas in 1961, it was a force to be reckoned with. The film, based on the play conceived by Jerome Robbins, with music by Leonard Bernstein and lyrics by Stephen Sondheim, absolutely dominated the Oscars, winning a whopping 10 Academy Awards, including best picture and best director.
"West Side Story" is back in the headlines with legendary director Steven Spielberg's adaptation of the classic musical: In honor of "West Side Story" gracing our screens again with a new adaptation, here are musicals to watch if you can't get enough of the Sharks and the Jets.
Carmen Jones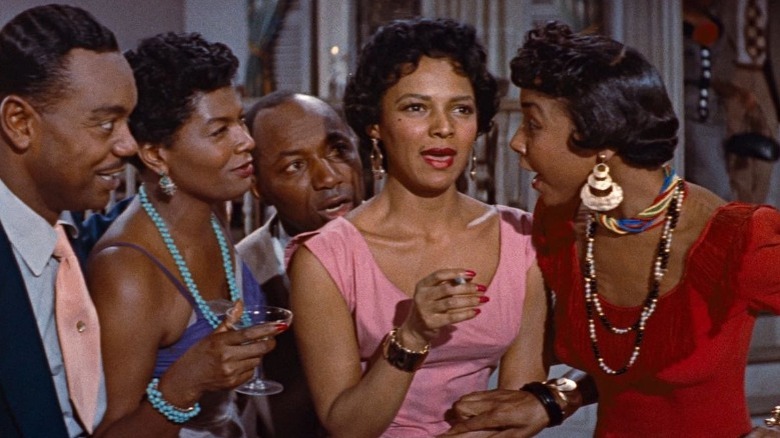 20th Century Fox
It's an exceptional rarity to see Hollywood films from the 1950s featuring Black actors in prominent roles at all, let alone a predominantly Black cast as we see in "Carmen Jones." An operatic adaptation of Bizet's "Carmen," the stage version premiered on Broadway in 1943. Filmmaker Otto Preminger wanted to make a film adaptation and eventually found his partner in legendary producer Darryl Zanuck: "Carmen Jones" was released in 1954.
"Carmen Jones" stars Dorothy Dandridge as the titular character, who works at a parachute factory. Carmen is described as a "shameless vixen," and she strikes up a rapport with Joe (Harry Belafonte), a soldier preparing for flight school. The film oozes romance and sex, and Dandridge and Belafonte have some truly scintillating chemistry. It's easy to see how "Carmen Jones" paved the way for a musical like "West Side Story," which featured a number of prominent Latino characters.
A Star is Born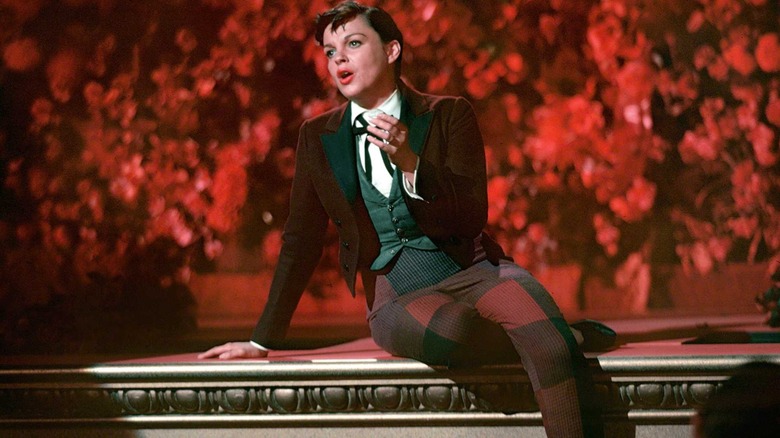 Warner Bros.
While Bradley Cooper and Laga Gaga may be the first people you think of when you hear "A Star is Born," the 2018 film is actually the fourth version of the same story. Even before the great 1937 version, the story originated in 1932's "What Price Hollywood," directed by George Cukor. Cukor returned to direct the 1954 version of "A Star is Born," which, quite frankly, remains the finest iteration of the story.
Judy Garland stars as Esther Blodgett, an aspiring singer who is discovered by Norman Maine (James Mason) on a drunken evening out. The two form a tumultuous relationship as Blodgett's star rises rapidly, and Maine's falls at the same rate. Aside from having some of the very best musical numbers in cinema history, "A Star is Born" provides a detailed account of what it takes for a person — and particularly a woman — to become successful in Hollywood. Everything from trying to change Blodgett's figure, face, personality, and even her name is accounted for, and the film in many ways mirrors Garland's extremely difficult Hollywood experience.
The film is absolutely stunning, featuring some of the finest color photography, particularly with the rich, striking blues in "The Man That Got Away." Garland gives one of the finest performances committed to the silver screen and stands as a reminder of what an incredibly gifted talent she was. Like "West Side Story," "A Star is Born" stands out for being utterly unafraid to deal with tragedy.
The Sound of Music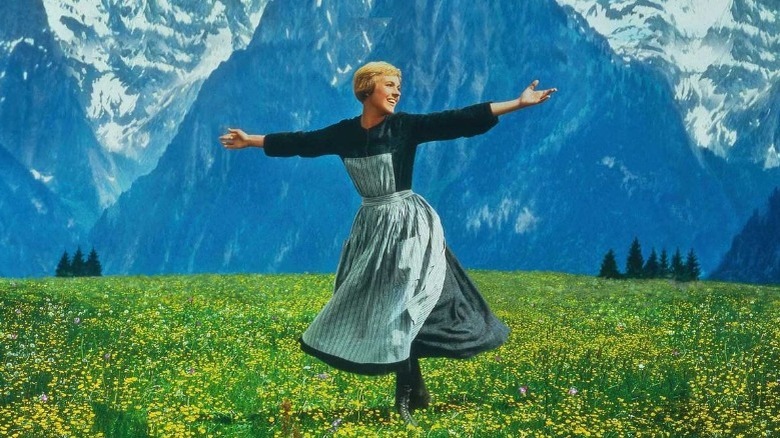 20th Century Fox
"The hills are alive with the sound of music," are lyrics familiar enough to get most people erupting into song. That's all thanks to the 1965 classic, "The Sound of Music." The Rogers & Hammerstein musical shares a close connection with the original "West Side Story," as both films were directed by Robert Wise, each winning him an Oscar for both best director and best picture. "The Sound of Music" won an additional three Oscars for sound, music, and editing.
The film stars the fantastic Julie Andrews (who won best actress for "Mary Poppins" in 1964) as Maria von Trapp, a governess who falls in love with Captain Von Trapp (Christopher Plummer) and joins the family just in time for them to flee to Switzerland during the rise of the Nazi party in Austria. It's no surprise that the film has endured for generations, and still inspires families to watch it together each and every year. The film has been endlessly parodied, and Andrews' performance is one of the most memorable in the illustrious history of movie musicals.
Funny Girl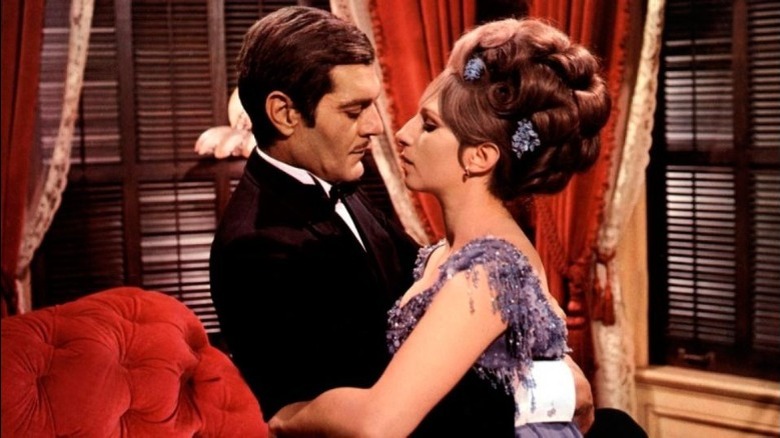 Columbia Pictures
There are few names as well known around the globe as Barbra Streisand. The singer began her meteoric rise to fame with "The Barbra Streisand Album" in 1963, which won the Grammy for album of the year. As a major star in music, she decided to try her hand at acting in films. Things really couldn't have gone any better for Streisand: Her film debut came in 1968's "Funny Girl," which won her a best actress Oscar, as she famously tied with Katharine Hepburn.
Streisand stars as Fanny Brice, a stage-obsessed teen who starts her career in vaudeville. As Brice doesn't possess the conventional good looks of a typical star, she's cast in background or comedic roles. After months of hard work, she finally makes it into the cast of the Ziegfeld Follies, where she meets Nick Arnstein (Omar Sharif), a wealthy businessman with a penchant for gambling, who is smitten by Brice. The musical follows the tumultuous romantic relationship between Brice and Arnstein, as Brice rises to great success in theater, while Arnstein finds himself in deep trouble with the law. Streisand and Sharif pull off one of the all-time great romances in cinema, and the film is full of beautiful musical numbers. If you need further convincing, just observe the aching longing in "People," or the celebratory defiance of "Don't Rain on My Parade."
Cabaret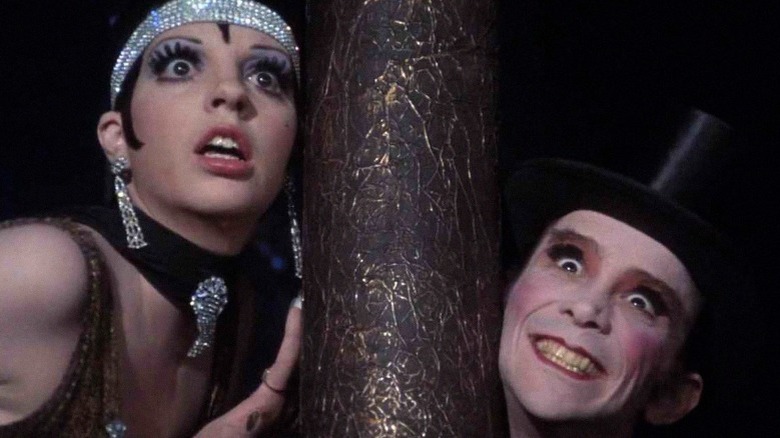 20th Century Fox
The year 1972 was certainly the year of "The Godfather," which is widely considered one of the best films ever made, and won three Oscars, including best picture. Surprisingly, however, "The Godfather" actually lost most of its Oscar-nominated categories to the musical "Cabaret," which walked away from the ceremony with eight Academy Awards, including best supporting actor, best director, and best film editing. The award that's best remembered for "Cabaret" was best actress, which was won thanks to a world-class performance from Liza Minnelli, in her first on-screen singing performance.
Minnelli plays Sally Bowles, an American who lives in 1931 Berlin and performs at the Kit Kat Klub. The film follows her life and relationships, particularly with Brian Roberts (Michael York) and Baron Maximillian (Helmut Griem). Unlike most musicals, all of the songs — bar one — are performed in the context of club nightlife, and there's no randomly breaking out into song here. Minnelli and Joel Grey as the Master of Ceremonies share delicious on-stage chemistry, which is especially clear in the performance of "Money." Just as "West Side Story" showcases a budding romance with a backdrop of a racially-motivated gang war, "Cabaret" is permeated by the rise of fascism. This is especially evident in "Tomorrow Belongs to Me," a bone-chilling musical number started by a member of the Hitler Youth.
The Umbrellas of Cherbourg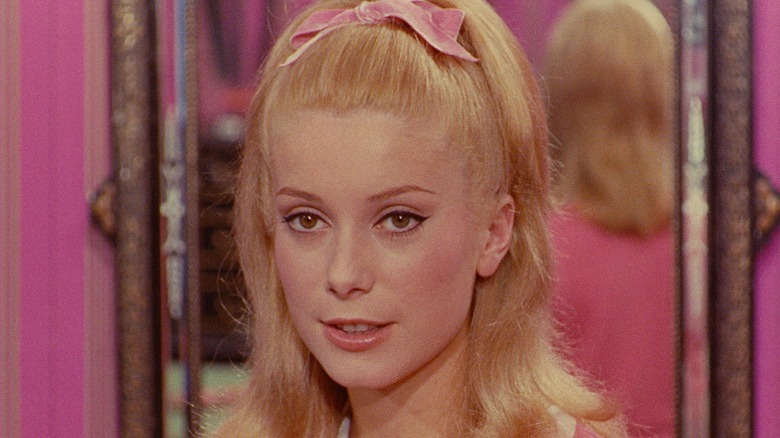 20th Century Fox
Though Hollywood of the 1950s and 1960s is often the first place people go when thinking of classic musicals, there are plenty of other countries where musicals were prominent. Such is certainly true of France, where director Jacques Demy collaborated with French composer Michel Legrand to create two exquisite musicals. The first of these was 1964's "The Umbrellas of Cherbourg," a film drenched in vibrant, exquisite color. The film's influence is far and wide, recently providing considerable inspiration for Damien Chazelle's "La La Land."
While most musicals on this list have dialogue punctuated by grand musical numbers, "The Umbrellas of Cherbourg" is entirely sung, and each and every word gets musical connotations. Underneath the bright colors is a tragic love story between Guy (Nino Castelnuovo) and Geneviève (Catherine Deneuve), told in three parts. Guy and Geneviève fall deeply in love, and even plan their future together, going so far as to name their future child. Their love is tested and ultimately torn apart when Guy is drafted into the Algerian War. "The Umbrellas of Cherbourg" culminates in one of the most beautiful, bittersweet, and utterly unforgettable endings in all of cinema.
The Young Girls of Rochefort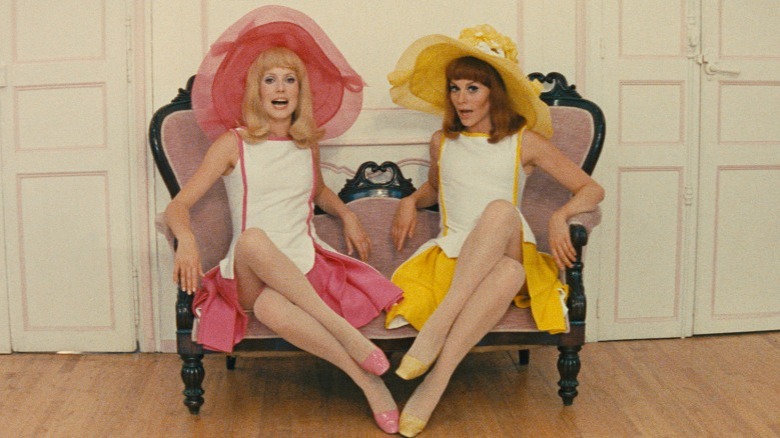 Parc Film
The second of the collaborations between French director Jacques Demy and composer Michel Legrand is "The Young Girls of Rochefort," a glorious, and considerably more uplifting, follow-up to "The Umbrellas of Cherbourg." Unlike its predecessor, "The Young Girls of Rochefort" takes a far more traditional approach to the musical genre, favoring large, choreographed musical numbers, an approach that is evident right from the opening titles. While there is spoken dialogue, the film is absolutely bursting with songs, and there are so many that the characters are practically singing the entire time.
The film stars Catherine Deneuve and Françoise Dorléac as sisters looking for love, a pairing made all the more exciting by the fact that the pair were real-life sisters. It also stars American musical icon Gene Kelly, who performs in French. While many of the musicals on this list are marked by tragedy and heartbreak, "The Young Girls of Rochefort" feels downright euphoric, combining wonderful performances with memorable songs, magnificent choreography, and breathtaking use of color. It's a tremendous celebration of the overwhelming power of the musical genre, and despite it being in French, we dare you to not try and sing along.
New York, New York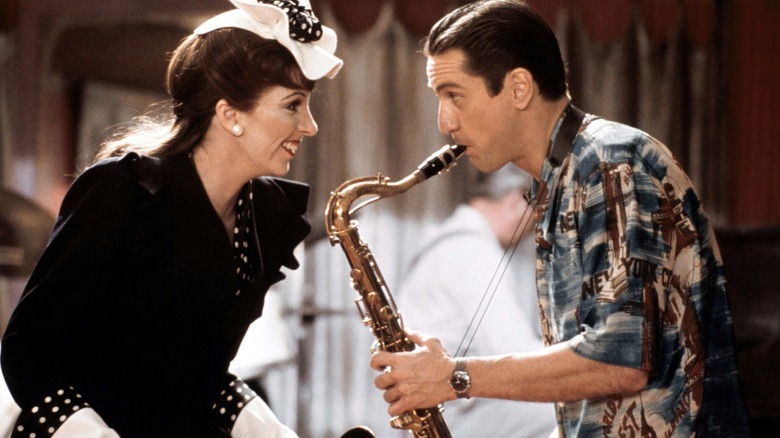 United Artists
Martin Scorsese is something of a jack-of-all-trades — it seems like there's nothing he can't tackle. Though he's best known for his gangster epics like "Goodfellas," Scorsese has made absurdist comedies ("After Hours") and religious dramas ("Silence"), so it should be no surprise that he's also tackled the musical genre. Like "West Side Story," Scorsese's oft-overlooked 1977 classic "New York, New York" is a love letter to New York.
The film stars Liza Minnelli and Robert DeNiro as lovers whose careers take different paths. Jimmy Doyle (DeNiro) is a saxophone player, and Francine Evans (Minnelli) is a pop singer. Doyle's incredibly volatile personality has the pair regularly warring with each other, and Scorsese's pairing of charming, emotional music with a tense relationship drama creates a precarious balance. The two meet in a nightclub, and the film is certainly a celebration of the boozy nightlife of New York City, but it's also unafraid to comment on the despair such a busy city can bring.
School Daze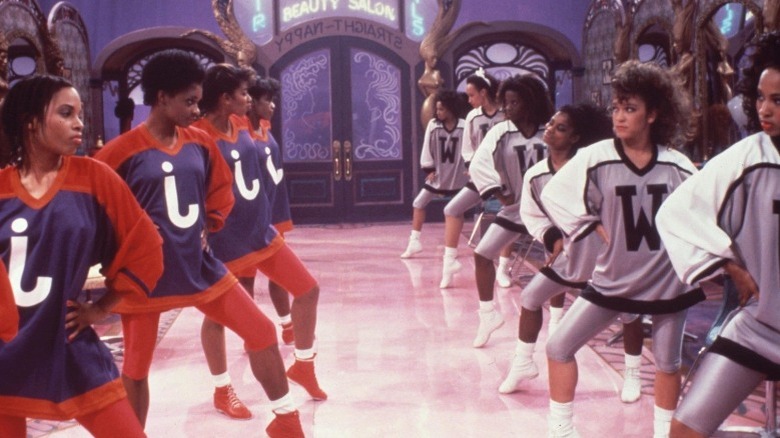 Columbia Pictures
Spike Lee has never been afraid to make a political statement — his celebrated "Blackkklansman" ends with footage of white supremacist marches, after all, and his extremely politically-charged "Do the Right Thing" essentially launched his career. The director has also tackled just about every genre you could think of, from twisty thrillers like "Inside Man" to comedies like "Girl 6," and even a number of documentaries including "Bad" and "When the Levees Broke." The multi-talented director even made a musical with his second feature, 1988's "School Daze."
"School Daze" is partially based on Lee's own experiences going to a historically Black university, and the film is an engaging look at issues facing Black students, such as racism and colorism. While the film has some ugly instances of homophobia, that doesn't detract from its still timely message. The film also has great music, and its stand-out number "Da Butt" was even danced to by none other than Glenn Close at the 93rd Oscars. "School Daze" provides a wonderful landscape where Black characters can exist and discuss things that matter to them — something that remains disappointingly rare in film.
Dreamgirls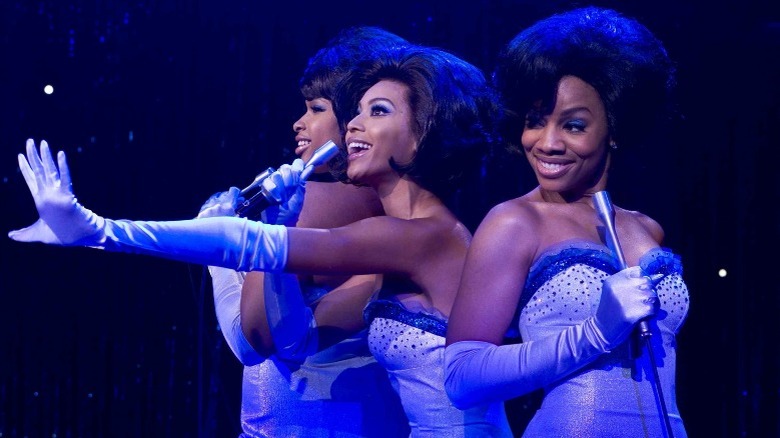 DreamWorks Pictures
While the glitter and shine of "Dreamgirls" may make you think the film is all about glamour, the film, like "West Side Story," examines the dark underbelly of society. The film is unafraid to tackle issues of racism, and whitewashing in the music industry, which was especially prevalent in the '60s and '70s. The film traces the evolution of American R&B music over decades through the eyes of a girl group called "The Dreams." The Dreams feature formidable talent: global music superstar Beyoncé Knowles, Disney royalty Anika Noni Rose, and American Idol contestant Jennifer Hudson, who won an Oscar for her acting debut as Effie White.
The cast is outstanding, also starring Jamie Foxx, Danny Glover, and Eddie Murphy, who received a well-deserved Oscar nomination for his towering performance as James "Thunder" Early. While the film provides a unique insight into the music industry, particularly the difficulties faced by people of color, "Dreamgirls" also brings tremendous entertainment, particularly in its musical numbers. The standout, of course, is the legendary "And I Am Telling You I'm Not Going," which no doubt played a huge part in securing Hudson's Oscar.
Sweeney Todd: The Demon Barber of Fleet Street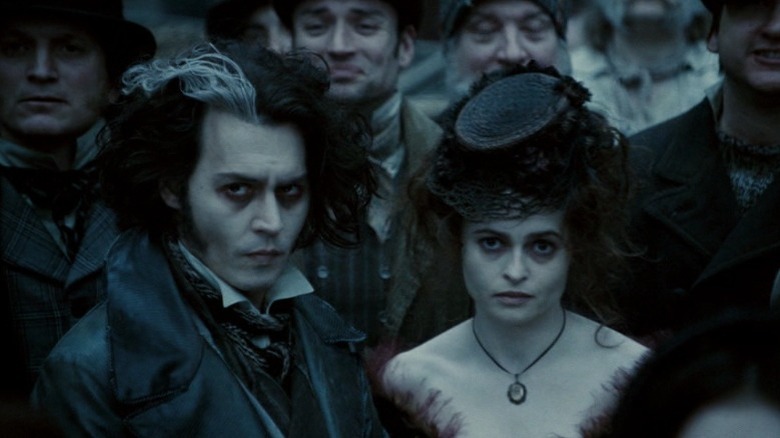 DreamWorks Pictures
Legendary lyricist and composer Stephen Sondheim passed away at the end of 2021. The incomparable titan of Broadway started his career back in the 1950s, and one of his first jobs was writing the lyrics for "West Side Story." Sondheim's accomplishments are wide-ranging, and feature musicals like "Sunday in the Park with George," "Company," and "Into the Woods." One of his most devilish works was "Sweeney Todd: The Demon Barber of Fleet Street," which was adapted into a film in 2007.
Directed by Tim Burton, it features a terrific ensemble cast including Johnny Depp, Helena Bonham Carter, Alan Rickman, Timothy Spall, and Sacha Baron Cohen. The film is about Sweeney Todd, a barber with a penchant for murdering his clients with his razor. He's not totally unjustified in doing so, you see, as he was wrongfully imprisoned, and he is out to avenge the death of his wife (we're not sure if murdering customers is the way to achieve this, but we're not going to question the demon barber himself). The film has clever songs and a truly haunting atmosphere, as evidenced by its richly deserved Oscar win for best achievement in art direction.
Annette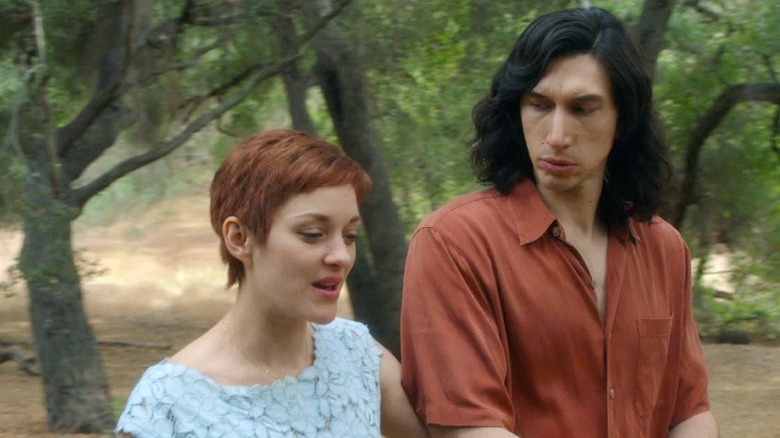 UGC Distribution
Few films open with such electricity and spontaneity as Leos Carax's "Annette." After all, it's not every day a film's opening encourages its viewers to sit down and shut up. The film was written by Ron and Russell Mael (alongside director Carax), better known as the musical group Sparks, who Edgar Wright directed an expansive documentary about in 2021. The brothers had wanted to make a musical for many years, and finally got their chance with "Annette."
The film stars Adam Driver and Marion Cotillard, and also features a career-best turn from Simon Helberg. For those familiar with Carax's previous work, especially the beguiling "Holy Motors," it's pretty much impossible to predict what is going to happen in his films. "Annette" is bursting with surprises at every corner, so we won't tell you any of the details, except for the fact that the film centers around the relationship of a stand-up comedian Henry McHenry (Driver) and his wife, opera singer Ann Defrasnoux (Cotillard). Few films can match its remarkably off-beat energy, unique visual palette, and sheer unpredictability. The film was a hit at the Cannes Film Festival, where Carax won the award for best director.
In the Heights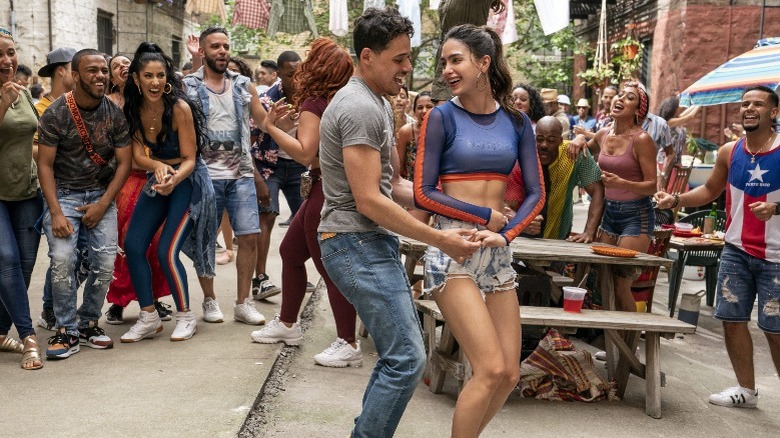 Warner Bros.
Lin-Manuel Miranda feels unstoppable these days — the man has either performed in, written, directed, or composed four films in 2021, including "Vivo," "Encanto," and "Tick, Tick...Boom." Perhaps his biggest contribution to cinema in the year 2021 is "In the Heights," based on the Broadway musical that launched Miranda's career. The film also bears striking similarities to "West Side Story," as both films focus on the lives of Hispanic communities in New York City.
The film, directed by "Crazy Rich Asians" helmer John M. Chu, was seen as a landmark of Latin representation in cinema, focusing on the lives and dreams of the inhabitants of the predominantly Latino neighborhood of Washington Heights. "In the Heights" received massive critical acclaim, and holds a high approval rating on Rotten Tomatoes. The film is full of jaw-dropping musical numbers, including a spectacular dance on the side of the building for the song "When the Sun Goes Down." It's a loving celebration of Latin heritage and the community of Washington Heights, with choreography that is really something to behold –- just look at the massive and cohesive scale of "96,000."