How Lin-Manuel Miranda Changed The Game In Hip Hop From Hamilton To Vivo
This content was paid for by Netflix and created by Looper.
Ever since Lin-Manuel Miranda burst onto the scene with his debut musical "In the Heights," he has been innovating in theatrical and movie musicals by fusing show tunes with hip hop in his own unique way. Miranda's Broadway raps have brought some bold new sounds to the stage, and now, he's one of America's most beloved creatives and a ubiquitous presence in front of and behind movie and TV cameras. And he is consistently pushing his art forward.
Miranda's calling card is his world-changing hip hop musical "Hamilton: An American Musical," one of the most important theatrical works of the 2010s. But "Hamilton" is one piece of an impressive and ever-growing body of work. Ever since "Hamilton" opened up every door in the entertainment industry to Miranda, he's been taking advantage of all his opportunities, including starring in the fantasy TV series "His Dark Materials," producing Emmy-winning dramatic fare like "Fosse/Verdon," and turning "In the Heights" into a movie. Next, fans will get to enjoy some new sounds from Manuel, as he brings some excellent new numbers and vocals to the Netflix animated adventure film "Vivo," which features him in the title role as a musically gifted kinkajou with a big heart and an important mission to give an epic love story a happy ending. 
So to celebrate Miranda's status as a multi-hyphenate talent of music and acting, here's a look back at how he changed the game by helping hip hop and musicals evolve, from "Hamilton" to "Vivo."
An innovator from the start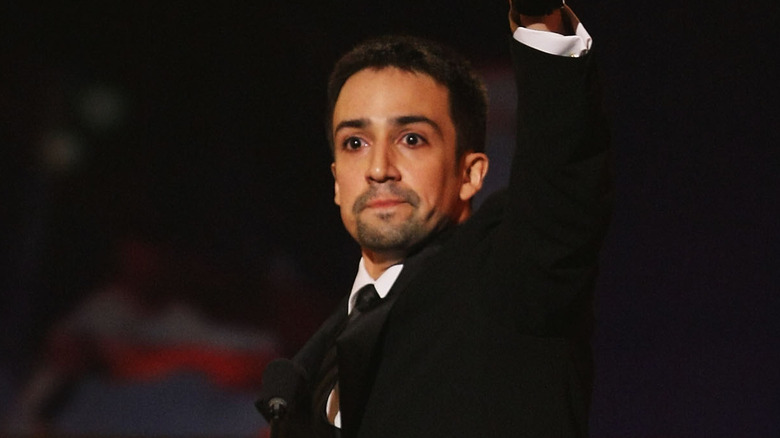 Andrew H. Walker/Getty Images
Miranda began experimenting with hip hop and musical theater while growing up in Upper Manhattan, which later became the setting of "In the Heights" and parts of "Hamilton." Miranda absorbed musical theater influences from his Broadway-loving father and developed a love of hip hop thanks to his older sister Luz. He made cassette mixtapes for his friends, which helped prepare him for Broadway by teaching him how to control the flow of a long musical suite. He began writing musicals –- music, lyrics, and book –- in high school. And one famous recipient of Miranda's mixtapes, which included everything from Bob Dylan to jazzy early '90s hip hop act Digable Planets, was his former classmate, MSNBC anchor Chris Hayes. 
In 2003, while in early rehearsals for "In the Heights," Miranda, along with his collaborators Thomas Kail and Anthony Veneziale, created an improvisational comedy hip hop group called Freestyle Love Supreme. The rotating members of the group –- which includes rappers, singers, beatboxers, and musicians -– combine off-the-dome freestyle rap with theatrical improvised comedy. The group eventually made its way to Broadway to bring their freestyle rap sounds to the Great White Way. 
A natural attention-getter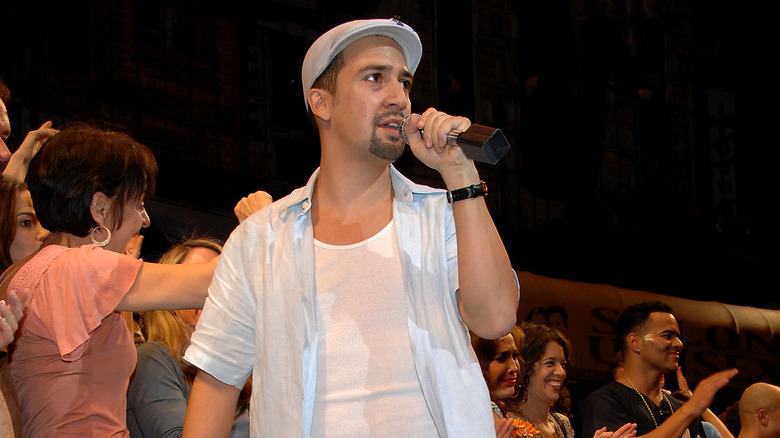 Marc Stamas/Getty Images
"In the Heights" opened on Broadway in 2008 and launched its young star to new heights of his own. The play won Tonys for Best Musical, Best Original Score, Best Choreography, and Best Orchestrations, and Miranda was nominated for his performance as Washington Heights bodega owner Usnavi de la Vega, who dreams of returning to the Dominican Republic. The music is a blend of traditional musical theater with hip hop and Latin music, a thrilling blend of sounds and textures. And the speed with which the hip hop-inflected lyrics are delivered makes for a high-energy show packed with detailed musical storytelling.
The world took notice of how surprising and delightful what Miranda was doing felt, and critics praised his rhythmic stylings in the performance. More than a decade later, "In the Heights" continued to be an influential work and was released as a film, starring "Hamilton" breakout Anthony Ramos, earlier this year.
Reframing history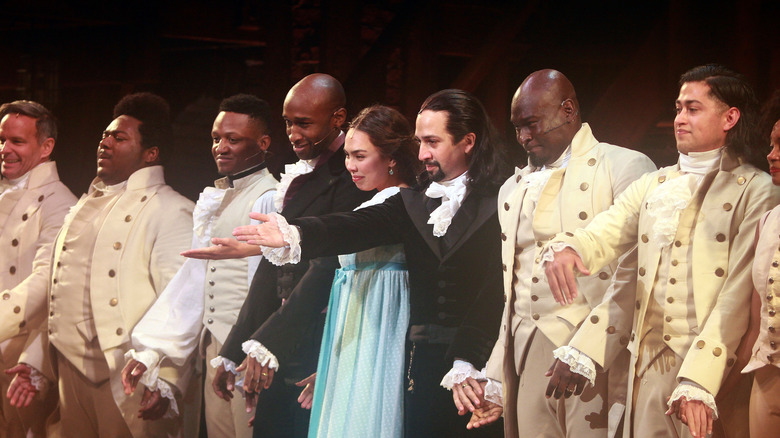 Gladys Vega/Getty Images
"Hamilton," the operatic historical musical about America's first treasury secretary Alexander Hamilton that Miranda wrote and stars in, became an international sensation when it hit Broadway in 2015. Critics heaped praise on the production, and it was so popular with audiences that tickets to the musical were and remain extremely hot commodities.
"Hamilton" won just about every major theatrical award it could have, including the Pulitzer Prize. But its true legacy is not just in the awards it won but in the ways it changed what seemed possible. By telling a story about America's founding fathers through rap and with an almost entirely non-white cast portraying these noteworthy figures, "Hamilton" reminded the world that American history belongs to American people of color, too. The fact that something like "Hamilton" exists at all is revolutionary. And that's not even mentioning how emotionally affecting the performances are, and how dazzling the dense and intelligent lyrics are. They're steeped in hip hop references, like Hamilton quoting Mobb Deep's famous line "I'm only 19 but my mind is old" in "My Shot."
For the people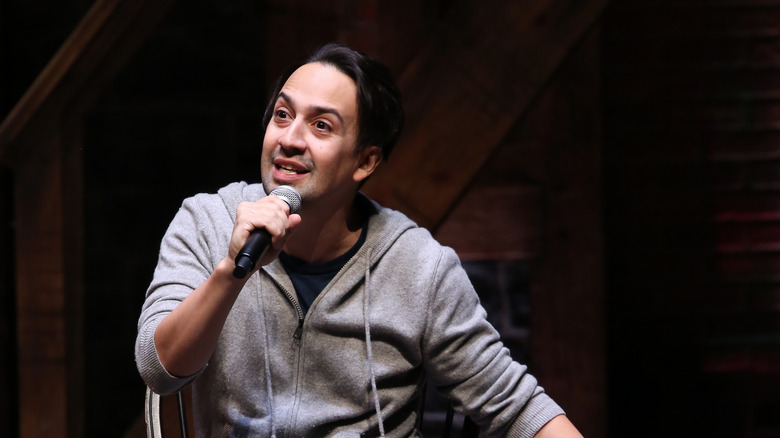 Walter Mcbride/Getty Images
Miranda's mixtape-making prowess came full circle in 2016 with "The Hamilton Mixtape," a compilation of "Hamilton" songs covered and remixed by leading rappers and pop singers. The mixtape proves that the songs of "Hamilton" aren't simply show tunes that can't exist outside of the context of the play, they're also genuine pop songs that could be played on the radio.
The mixtape's most standout example of how hip hop and R&B is in the DNA of "Hamilton" is singer Ashanti and rapper Ja Rule's duet on "Helpless," Eliza Schuyler (Phillipa Soo) and Alexander Hamilton's falling-in-love number. Miranda told Entertainment Weekly that when he was writing "Helpless," he was inspired by Ashanti and Ja Rule's early '00s classics like "Always on Time" and "Mesmerize." As Manuel put it, "It has the structure of an Ashanti-Ja Rule song: two verses, two choruses, a guest rap feature, then back to the chorus and around." Because it's written as an Ashanti and Ja Rule song, he and the mixtape's other producers didn't really consider anyone else for the new version. The result feels like a lost MTV hit from 2002. We've seen a lot of pop songs get adapted into Broadway musicals, but not often the other way around, which is another testament to the fact that Lin-Manuel Miranda is always busy changing the hip hop game.
An animated surprise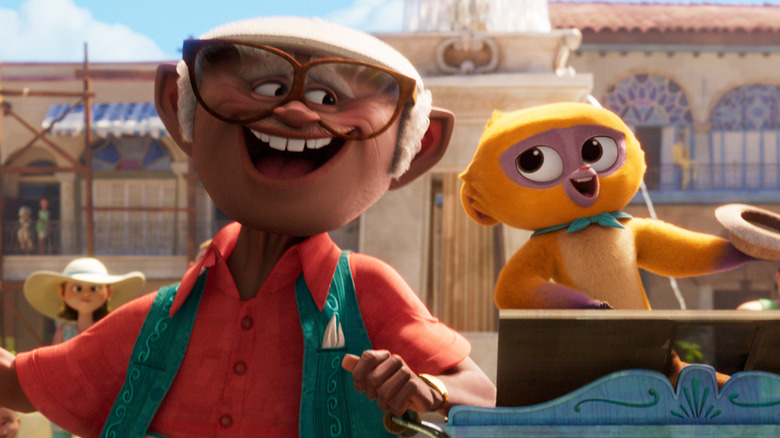 SPAI
After "Hamilton," Miranda moved into writing songs for animated musicals. He's had success in that area, too, earning an Academy Award nomination for "How Far I'll Go" from "Moana." He'll next be heard in "Vivo," which comes out on Netflix on August 6.
Miranda composed original songs for the film and provides the voice of the title character, a musical kinkajou –- a rainforest mammal also known as a "honey bear" –- who goes on a journey from his home in Havana to the faraway land of Miami to deliver a musical love letter from his dearly beloved best friend Andrés (voiced by Cuban singer Juan de Marcos González) to Andrés' long-lost love Marta Sandoval (voiced by Latin music icon Gloria Estefan), with the help of a quirky girl named Gabi (voiced by newcomer Ynairaly Simo).
It's the first time Miranda has had the lead role in an animated film, and it will surely continue his streak of seamlessly blending musical theater with hip hop and Latin music in a way that moves people emotionally and also makes them move their feet.