Dolph Lundgren Looks Back On The Expendables Franchise And Teases Its Future - Exclusive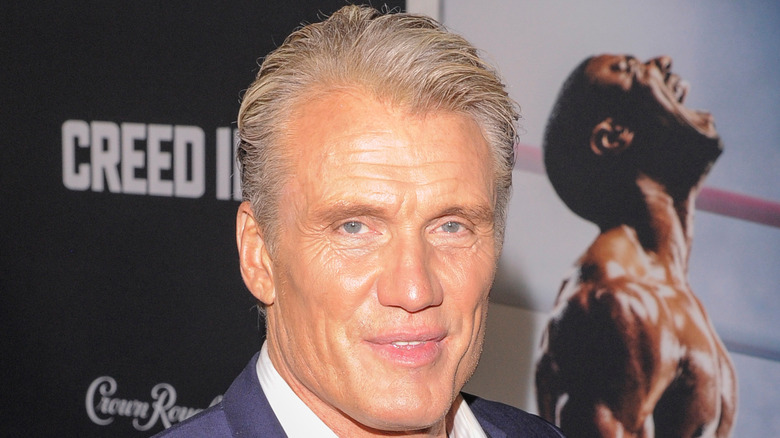 Ron Adar/Shutterstock
After Dolph Lundgren broke onto the Hollywood scene in 1985 with his memorable turn as Soviet boxer Ivan Drago in "Rocky IV," the sturdy, square-jawed actor and martial artist starred in a series of action movies that adhered to the formulas of the era. Basically, lone hero takes down an entire army, musclebound dudes take each other down with their fists, or add big guns and even bigger explosions and repeat as necessary. He also played He-Man in 1987's "Masters of the Universe." In the early 2000's, Lundgren made a move to the director's chair with a few independent films, and before long Hollywood's cyclical nature had made the concept of a brash, bruising action flick new again. Enter 2010 and "The Expendables." 
"You know, it was being directed by Sly and he's a very, very smart man," Lundgren said of the Sylvester Stallone-directed ensemble action spectacular in an exclusive chat with Looper. "He created 'Rocky,' and 'The Expendables,' and I think the timing was good because he had old school fights, shootouts, and more of our visual effects. Kind of older guys who're washed up, that nobody wants, and they do these missions for the government, and if they get killed, nobody cares. I thought it was a good idea." Upon the release of his latest film — the action-thriller "Castle Falls," which he directed and co-stars in alongside Scott Adkins — Lundgren reflected on "The Expendables" as a franchise, and gave us a sense of where it's going with the upcoming fourth installment.
With Expendables 4, Dolph is doing it for the kids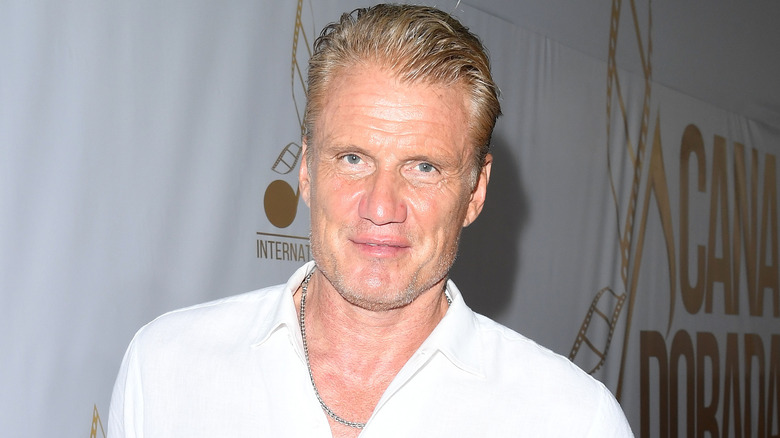 Daniele Venturelli/Getty Images
Since 2010, "The Expendables" movies have banked nearly $800 million in box office receipts. The big numbers prove that the world was ready to watch a rangy group of irascible mercenaries face down dastardly dictators, CIA operatives gone rogue, and arms dealers out for vengeance. With "The Expendables 4" filming and series creator and star Sylvester Stallone set to pass Barney Ross' leadership of the group to right-hand man Lloyd Christmas (Jason Statham), Looper asked Dolph Lundgren, who plays volatile merc Gunnar Jensen, if he ever imagined "The Expendables" turning into the hit franchise it is today. "No, no, I didn't, certainly back in 2008 or '09 or something," Lundgren said. But he's excited for another go-round with the ensemble cast: "In this one, new guys, new people involved like Megan Fox. So there's kind of new blood, but the same basic concept."
Asked whether his work with "The Expendables" connects his action movie legacy to a new generation of moviegoers, Lundgren told us he's lucky. "It's a funny thing," he said. "I do an 'Expendables,' which is obviously a totally new audience because the kids, they don't know who the hell I am. They've seen me in 'Aquaman,' but I'm just a guy with a beard. So you know, with 'Expendables,' kids get to experience that kind of macho action from back when I started. When you carried these guns and the more ammo you had, the better. It was a bit of overkill. Biceps, big knives. I think a lot of kids probably, that's why the first one did well, because kids haven't seen that before. And they're like, "Oh, this is good. That guy just got hit by a tank."
"Castle Falls" is now playing in limited theaters, and the film is available on demand.