Dolph Lundgren On His Favorite Behind-The-Scenes Moment From 'The Expendables' - Exclusive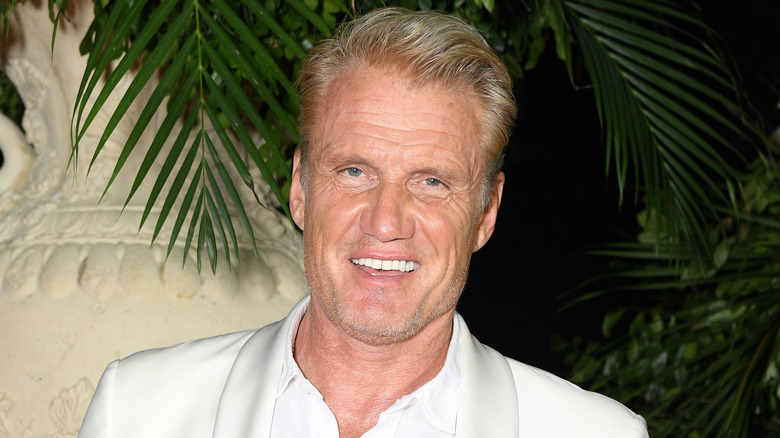 Daniele Venturelli/Getty Images
Dolph Lundgren has a professional and personal connection to Sylvester Stallone more than thirty years in the making, going all the way back to the moment a vengeful Rocky faced up to the menacing Ivan Drago in the boxing ring. Since then, Lundgren has worked steadily in independent films, many of them action-oriented and often putting his 6' 5", 240-pound frame to good use. That's certainly the case in his latest film, the action-thriller "Castle Falls," where he stars alongside actor and martial artist Scott Adkins (Lundgren, a triple threat, also directed and produced "Castle Falls"). 
When Sly calls, you listen, and when the veteran actor and screenwriter began putting his team of mercenaries together for 2010's "The Expendables," Lundgren readily climbed aboard. It was a great opportunity to work with Stallone again, and the film's throwback feel — with plenty of very real, very non-CGI explosions — was also part of the appeal. "It was the that kind of macho action from back when I started," Lundgren told Looper in an exclusive interview. "When you carried these guns and the more ammo you had, the better."
As "Castle Falls" finds its way to on demand services, Lundgren reflected on making "The Expendables," which has since become a thriving action franchise. When you go back three decades with the film's star, screenwriter, and director, you'll also have had plenty of time to develop a pretty solid impersonation.
Making sure the jokes really kill in The Expendables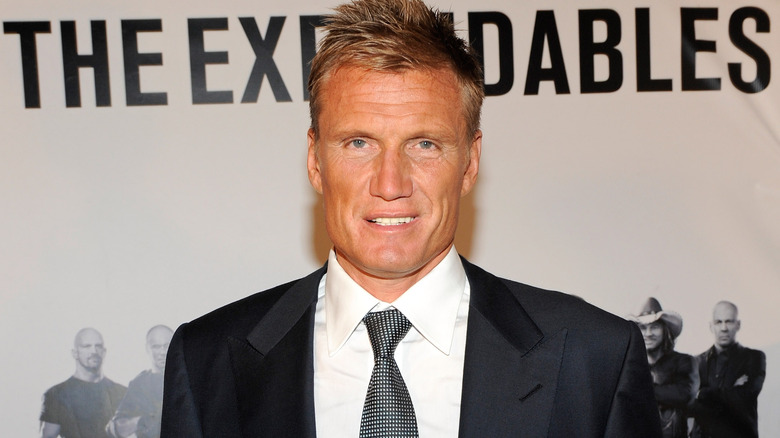 Ethan Miller/Getty Images
"The Expendables" franchise is full of old-school action movie attitude, large caliber weapons, and a rollicking sense of camaraderie amongst its ensemble cast. The jokes are usually droll, and they're often at the expense of some bad guy unlucky enough to encounter the Expendables and their formidable armaments. Just ask the pirate Dolph Lundgren dispatches as grenade launcher-toting mercenary Gunnar Jensen. In an exclusive interview with Lundgren, the actor recalled some of his favorite behind-the-scenes moments from "The Expendables," and working with his friend and colleague Sylvester Stallone to really nail the joke.     
"It was great to work with Sly again. I'm telling this joke that he wrote, of course, and then I show up, and I blow this pirate away. So I tell him this joke. And try like four or five takes, and Sly is like [here, Lundgren goes into a perfectly nuanced Sylvester Stallone impersonation] 'Do the joke.' Finally, 15 takes. This is driving me crazy. I could kill this guy. Embarrassing. He was like, 'OK.' Fine. I got over it. And then I show up for ADR — you know, where you do like a little voice replacement. So it's first up, and Sly is like [Lundgren does his impersonation again] 'Guess which take?' And it was the first one the whole time."
"Castle Falls" is now playing in limited theaters, and the film is available on demand.