This New Hawkeye Featurette Puts The Spotlight On A New Fan Favorite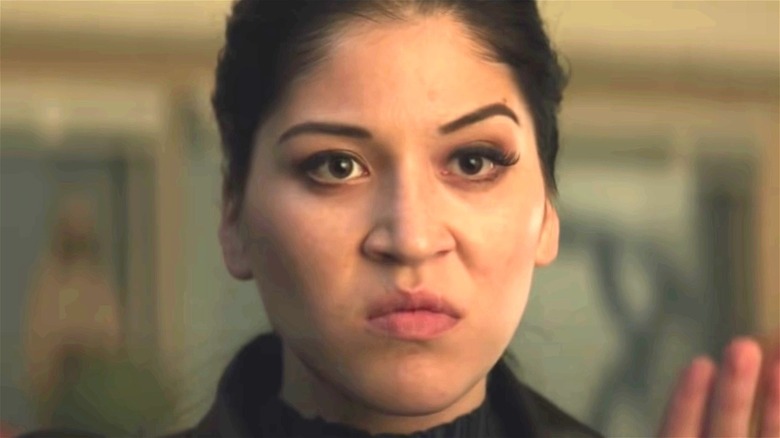 Marvel Studios/Disney+
"Hawkeye" is the latest Marvel Studios series to arrive on Disney+, bringing a handful of new heroes and villains into the Marvel Cinematic Universe and, by doing so, changing things up a bit for Earth's Mightiest Heroes. The show follows Clint Barton (Jeremy Renner), who ends up having to help Kate Bishop (Hailee Steinfeld) uncover a strange conspiracy involving the old Ronin costume he wore during the five-year gap between "Avengers: Infinity War" and "Avengers: Endgame." The show also, notably, reveals that Bishop became obsessed with archery and martial arts after seeing Clint go up against the Chitauri in the third act of 2012's "The Avengers."
It makes for an incredibly fun partnership because, in addition to everything that's already going on in the show, Clint really just wants to get home to his family in time for Christmas. Of course, Bishop isn't the only major new character who shows up in "Hawkeye." In fact, when she and Clint go up against the Tracksuit Mafia, the series introduces a fascinating new villain in Maya Lopez (Alaqua Cox).
Lopez is also known as Echo in the comics and she'll soon step up to lead a Disney+ series of her own. A deaf character, Lopez's MCU introduction marks another step towards Marvel Studios and Disney providing some more, much-needed representation of people with disabilities on-screen, as Cox was also born deaf. Now, a new featurette has put both Alaqua Cox and her "Hawkeye" character in the spotlight.
Alaqua Cox never even dreamt of being an actor before Hawkeye
The "Hawkeye" featurette reveals that Maya Lopez is Alaqua Cox's first screen role as an actor and that the star had apparently never even considered acting before landing the Marvel gig. "I never dreamt of being an actor," Cox explains in the featurette. "A tweet said, 'female, Native, athletic, smart'... Everyone texted me, 'This is you!'"
While working on the Disney+ show was always an exciting opportunity for the actor, Cox admits in the featurette to being hesitant about taking on the role, saying, "Honestly, I was very nervous. I didn't know what to do because this whole world of acting... Everything was new to me."
It's impressive that Cox is so new to acting because she more than holds her own against veteran performers like Jeremy Renner and Hailee Steinfeld in the series. Cox is also aware of how important it is for people with disabilities to be accurately represented on-screen, and says in the featurette, "I feel very proud and I'm excited to show everyone that for people with disabilities, anything is possible."
The actor previously revealed that both Renner and Steinfeld did their best to make her feel comfortable when she first got to the "Hawkeye" set by learning basic ASL beforehand. Unsurprisingly, the use of sign language in the series has really struck a chord with MCU fans as well, which just makes knowing that an "Echo" solo Disney+ series is in the works right now that much more exciting.