This Is How The Stars Of Hawkeye Made Alaqua Cox Comfortable On Set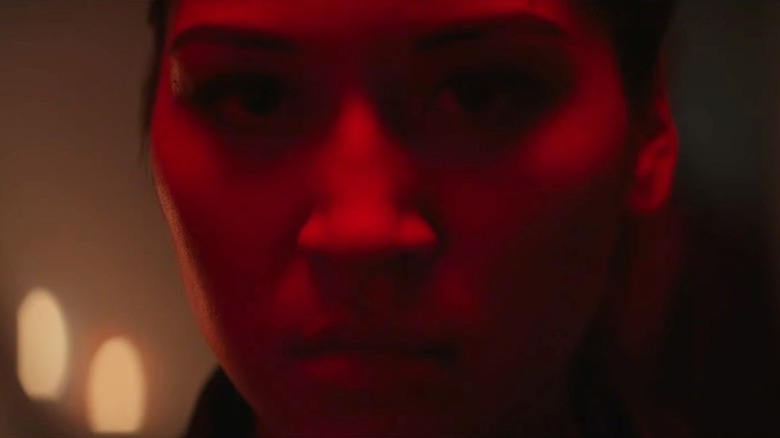 Marvel Studios/Disney+
"Hawkeye" Episode 3, "Echoes," properly introduces audiences to Maya Lopez (Alaqua Cox) — one of the leaders behind the Tracksuit Mafia. In the comics, Maya goes by the vigilante name Echo, and even takes up the Ronin mantle at one point during "The New Avengers" series back in 2005. Cox's performance has clearly impressed the executives at Marvel Studios and Disney+, since she'll soon also star in her own spin-off show: Rumors about the "Echo" series swirled online earlier in the year, but it was officially announced on Disney+ Day in November 2021.
Echo briefly shows up in Episode 2, "Hide and Seek," before taking more of the spotlight in the third episode — which quickly introduces her backstory in a touching opening sequence, showing how she was raised by her father William Lopez (Zahn McClarnon) and they had a close relationship. Unfortunately, William was also a member of the Tracksuit Mafia (or somehow involved with it, at least), and it appears that he was murdered by Clint Barton (Jeremy Renner) during his time as Ronin.
Alaqua Cox was born deaf, much like the character she plays in "Hawkeye," so her ongoing role is another positive step forward for disability representation in the Marvel Cinematic Universe, following this year's introduction of fellow deaf superhero Makkari (Lauren Ridloff) in "Eternals." Cox uses American Sign Language as part of her performance, and she recently opened up about how her "Hawkeye" co-stars made her feel comfortable on set.
Jeremy Renner and Hailee Steinfeld learnt basic ASL to make Alaqua Cox comfortable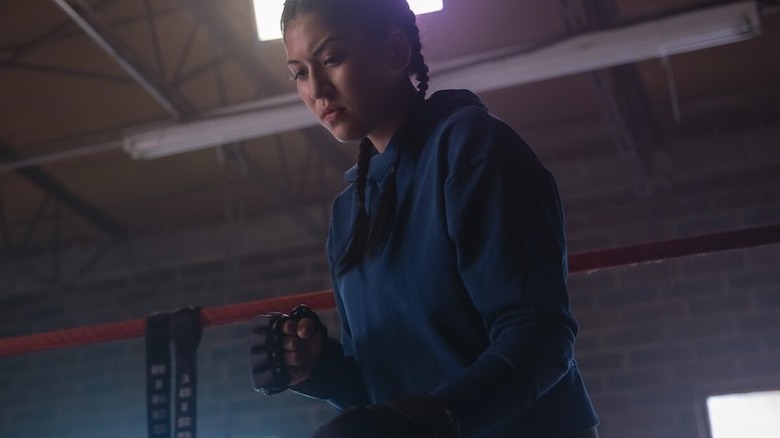 Marvel Studios/Disney+
When speaking to D23 Magazine (via The Direct) about working on "Hawkeye," Alaqua Cox revealed what it was like to step into the MCU for the first time, noting that she learned a lot from Jeremy Renner and Hailee Steinfeld. 
"It was such an honor to work with them both," she said. "I think they are spectacular actors, and I have learned a lot from watching them work behind the scenes." She also explained that she was incredibly nervous since this was her first major role. "I remember meeting Jeremy on my first day of work on-set; I was a nervous wreck, as this was my very first acting job." 
Cox also explained that both Renner and Steinfeld learned basic ASL to help ease her into the job, saying, "[Renner] then complimented me in American Sign Language (ASL), which comforted me." The Echo actor then added, "Hailee also spelled out her name to me in ASL at the studio where we were doing our stunt training sessions." 
It's a small inclusive gesture, but Alaqua Cox really appreciated the effort that her co-stars made for her. "I thought it was sweet of them putting in efforts to learn basic ASL to communicate with me. It means a lot to me as a Deaf person."