The Reason Why Fans Are Loving Echo's Portrayal In Hawkeye Episode 3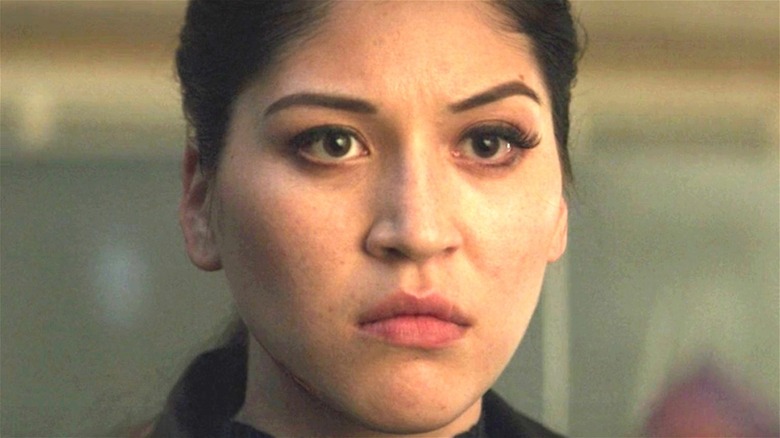 Marvel Studios/Disney+
Marvel fans have it good this year. After a long drought of new content due to the COVID-19 pandemic, 2021 has marked the arrival of three (soon to be four) new cinematic releases, as well as the MCU's venture into television, with five new series debuting on Disney+ throughout the year. The latest of these, "Hawkeye," fleshes out the post-"Endgame" life of original Avenger Clint Barton (Jeremy Renner) as he tries to figure out why someone is posing as his Blip-era vigilante, Ronin, and why other criminal parties are so interested in taking that person down. "Hawkeye" also introduces us to Kate Bishop (Hailee Steinfeld), the equally talented archer who seems destined to take on the Hawkeye mantle.
Kate isn't the only new character introduced in this holiday-themed Marvel Disney+ show. Maya Lopez, aka Echo, the brains behind the dangerous Tracksuit mafia, is one of the key antagonists Clint and Kate find themselves battling against. Played by Alaqua Cox, Maya already has a spinoff series in the works. Echo is certainly destined to become a fan favorite, and audiences are already loving the character following her time in "Hawkeye" Episode 3.
Echo is onscreen representation for people with disabilities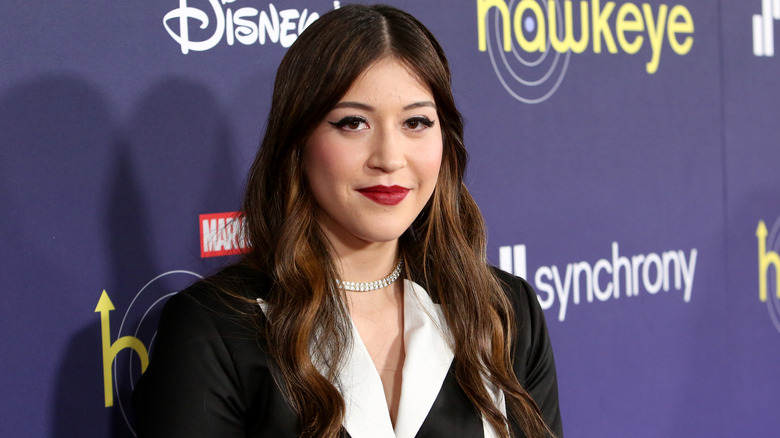 Jesse Grant/Getty Images
"Hawkeye" is Alaqua Cox's first-ever acting role. As she explained to The Hollywood Reporter, she never considered acting professionally, only pursuing the opportunity after her friends sent her Marvel's casting call for a deaf, Native American actress. Cox is also an amputee and has a prosthetic leg, and audiences are thrilled at the on-screen representation seen in Echo.
"I love how rather than ignoring Alaqua Cox's prosthetic they've incorporated it into the character, and aren't ashamed of focusing on it," says Twitter user @charliefay. They go on to point out that, despite the fact that comics have historically coded people with disabilities as villains, "I'm interested to see where they take the character, as the intro to the episode didn't feel like a villains intro." 
The only other MCU character with a prosthetic limb is Bucky Barnes (Sebastian Stan), which he was given by Hydra to become their superhuman assassin, which aligns with @charliefay's assessment. It's important to note that Echo's disability isn't what makes her the antagonist; rather, it's just part of who she is. Hopefully, should Echo participate in any villainy in future episodes of "Hawkeye," her spinoff show can provide the same redemptive arc that "The Falcon and the Winter Soldier" did for Bucky.
There's even more chatter on Twitter about this incredible representation, with @LoveAmuSystem saying, "We are still so excited that Alaqua Cox is cast for MCU's Maya Lopez-Echo. They managed to cast someone who is Disabled (Deaf and prosthetic leg) AND Native?" and going on to conclude that the casting department was on the right track with their decision.
Alaqua Cox is proud to play Echo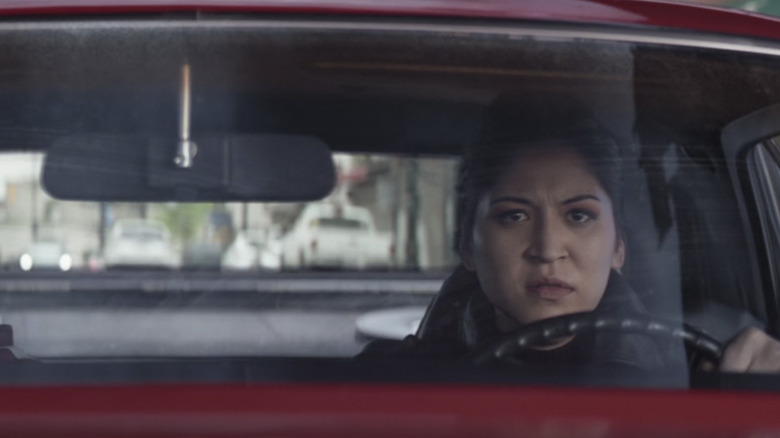 Marvel Studios/Disney+
Echo is the second deaf character played by a deaf actor in the MCU, after the debut of Laura Ridloff's Makkari in "Eternals." Alaqua Cox recognizes the importance of this representation, too, telling The Hollywood Reporter, "I believe kids deserve to see inclusivity and accurate representation. It will make kids with all types of cultures and disabilities feel like our dreams can break free from limitations." 
She's excited to show people that having a disability doesn't preclude you from doing superhero things, either. "People with a disability like me can do anything: We can fight, we can flip, we can fall," Cox told Entertainment Weekly.
This sentiment was also recognized by Twitter users. @CANADIANCR showed love for "Hawkeye" incorporating Cox's prosthetic leg. Elsewhere, @tomabernathy deemed pointed out, "Six minutes in & already Echo is the baddest ass in the MCU," after touching on all the ways both the character and the actor were special additions to the show.
Marvel has been using its Disney+ shows to dive deeper into complex issues, such as depression, PTSD, systemic racism, and living with disabilities. It's great to see Marvel tie in real-world issues with these larger-than-life superhero stories, and we could not be more excited to see where Echo goes in the MCU.