The Humans Star Richard Jenkins Shares His Feelings On Working With Guillermo Del Toro - Exclusive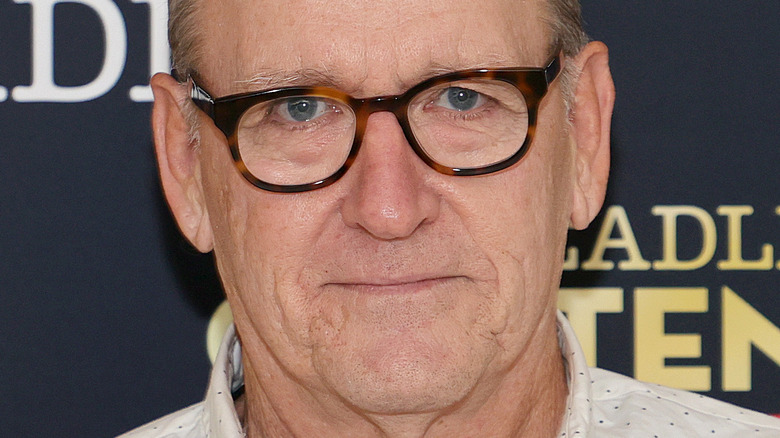 Jamie Mccarthy/Getty Images
Celebrated actor and two-time Oscar nominee Richard Jenkins can currently be seen on the screen in the indie drama "The Humans," directed by Stephen Karam and adapted by Haram from his Tony-winning play. Later this month, Jenkins will also turn up in a much bigger and highly-anticipated production: Guillermo del Toro's "Nightmare Alley."
A complex noir thriller based on a 1946 novel and previously adapted as a 1947 film of the same name, "Nightmare Alley" features Jenkins in the relatively small yet pivotal role of Ezra Grindle, a wealthy industrialist. He hires the story's main character, a grifter and former carny named Stanton Carlisle (Bradley Cooper), in the hope that Carlisle can help him communicate with the dead.
For Jenkins, it's the second time that he's worked with the Mexican filmmaker known for fantasy and horror hits like "Pan's Labyrinth" and "Crimson Peak." Jenkins previously appeared in del Toro's last film, 2017's Oscar winner for Best Picture, "The Shape of Water." There, he played Giles, a lonely, closeted advertising artist who is friends with his mute neighbor Elisa (Sally Hawkins) and helps her free the humanoid sea creature with whom she forms an emotional connection.
Jenkins was nominated for Best Supporting Actor by the Academy Awards, the Golden Globes and the Screen Actors Guild for his work, and was pleased to get the call again from del Toro for "Nightmare Alley." "I love Guillermo," he tells Looper. "I mean, Guillermo is like nobody else in the world."
Why Jenkins thinks the world of Guillermo del Toro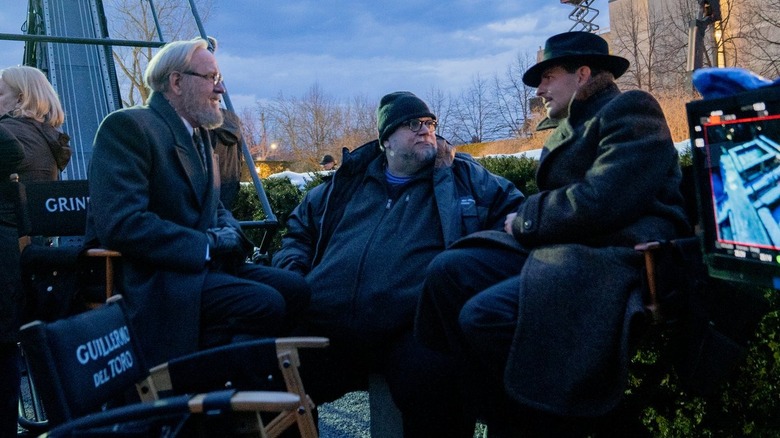 Searchlight Pictures
Jenkins had just seen "Nightmare Alley" right before speaking with Looper, saying, "I just really loved it. It's Guillermo. You want to go, 'Oh, that's Guillermo del Toro that did that.'
The actor — whose other films include "The Visitor," "Burn After Reading," "Step Brothers" and "The Cabin in the Woods" — says he'd "never met" del Toro prior to working on "The Shape of Water" with him.
"My agent called and said, 'Guillermo del Toro wants to send you an email,'" recalls Jenkins. "I said, 'Really? Okay.' It said, 'Hi, I'm Guillermo del Toro. Here's the script for 'The Shape of Water.' I want you to play Giles. I hope you love it as much as I do.' That was the email. I read it, and the next day I sent him back an email and I said, 'I think I do,' and that was it."
Jenkins got to know the boisterous director while working on "The Shape of Water" and was impressed by his vast intelligence, his ceaseless energy and his love of all things involved with art and storytelling. "To be my age and to get to hang out with Guillermo del Toro ... it's such a cool thing," says Jenkins. "Guillermo is like nobody else in the world. He's kind of like a Mexican Mike Nichols in the sense that Mike Nichols, I don't think he ever repeated himself. He was that interesting, and Guillermo is like that."
Jenkins says del Toro is a 'joy' to work with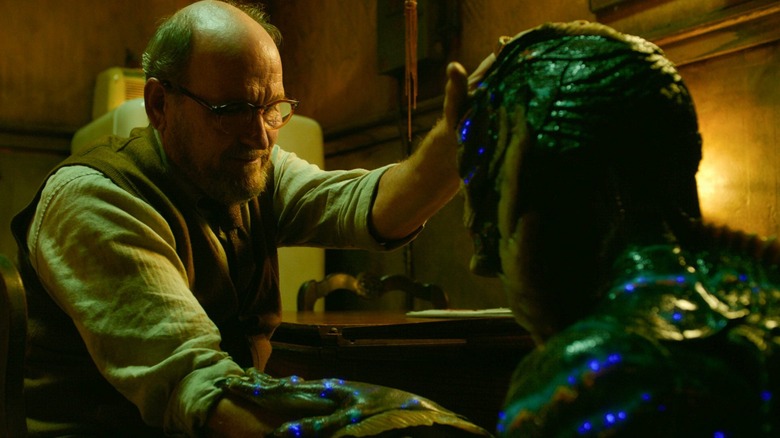 Searchlight Pictures
The actor shares one story about the director to illustrate how del Toro is always absorbing new information about the crafts and the art forms that he loves. "The guy does not waste his time," Jenkins explains. "He's always reading. He's always looking. We were going to the Venice Film Festival on a plane. Afterwards he said, 'Oh, it was great. I got four hours of sleep, and I read a book and I watched two movies.' I said, 'What book are you reading?' He said, 'No, I'm not reading, I read it.' I said, 'You read it?' He said, 'Yeah, I read it.'"
Jenkins adds, "That brain is huge. He's funny and smart and a joy to work with, and a freaking master at what he does, just a master. He's not copying anybody, but he's been informed by all these great films, and yet he has his own style."
That style will be on full display when "Nightmare Alley" opens in less than two weeks, along with the considerable talents of Richard Jenkins himself. Could his second collaboration with this filmmaking "master" yield more Oscar love for both?
"The Humans" is currently streaming on Showtime.