Richard Jenkins On His New Film The Humans, His Early Days As An Actor, And More - Exclusive Interview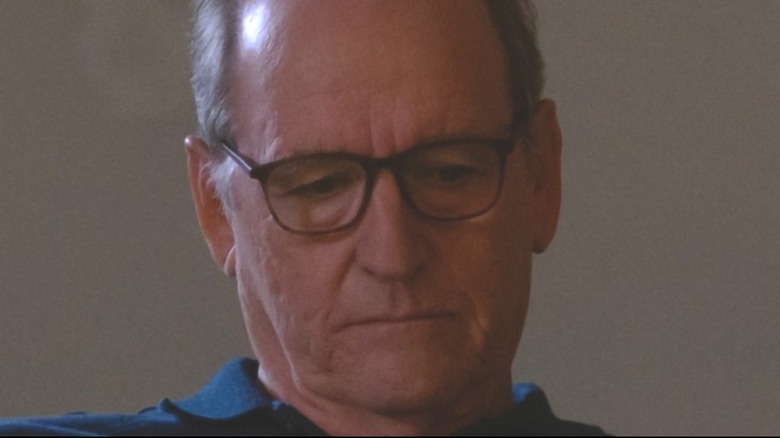 A24
Richard Jenkins is one of the most recognizable character actors of the 21st century, even though he made his screen debut in 1974 and has been working steadily ever since in movies and TV shows both successful and obscure. Jenkins landed permanently in the public consciousness in 2001, when he starred as the deceased head of the Fisher family — whose ghost continues to haunt his wife and children — in the groundbreaking HBO series "Six Feet Under."
Since then, Jenkins has been nominated for a Best Actor Oscar for the 2007 indie drama "The Visitor" and has snagged high-profile starring and supporting roles in films like "Burn After Reading," "Step Brothers," "The Cabin in the Woods," "Kong: Skull Island" and Guillermo del Toro's 2017 thriller "The Shape of Water," for which he earned Oscar, Screen Actors Guild and Golden Globe nominations as Best Supporting Actor. He's also got an Emmy on his shelf for Outstanding Lead Actor in the HBO limited series "Olive Kitteridge."
His new film, "The Humans" — directed by Stephen Karam, who adapted his own Tony-winning play — finds Jenkins playing Scranton, Pennsylvania teacher Erik Blake, who assembles with his wife Deirdre (Jayne Houdyshell), daughters Aimee (Amy Schumer) and Brigid (Beanie Feldstein), Brigid's boyfriend Richard (Steven Yeun) and Erik's mother Momo (June Squibb) for a Thanksgiving both like and unlike any other.
The clan gathers in Richard and Brigid's decrepit downtown Manhattan apartment, in which strange noises are heard, lights flicker on and off, and mysterious figures appear outside windows. Meanwhile, grievances are aired, secrets revealed, and untold family truths exposed — all against the backdrop of middle class ennui and financial unease. "The Blakes' problems are not unique to the Blakes," Jenkins tells Looper. "They're in every family ... Health, money, betrayal, yearning, wanting to be loved."
Jenkins' empathetic ability to portray an everyday family man is on full display in "The Humans," even as Erik Blake is forced to confront some uncomfortable realities about himself and his kin. This isn't the last we'll see of the DeKalb, Illinois native in 2021 either: Jenkins is set to appear next month in Guillermo del Toro's new film, "Nightmare Alley," marking his second collaboration with the director.
Jenkins started in theater, but always wanted to be in movies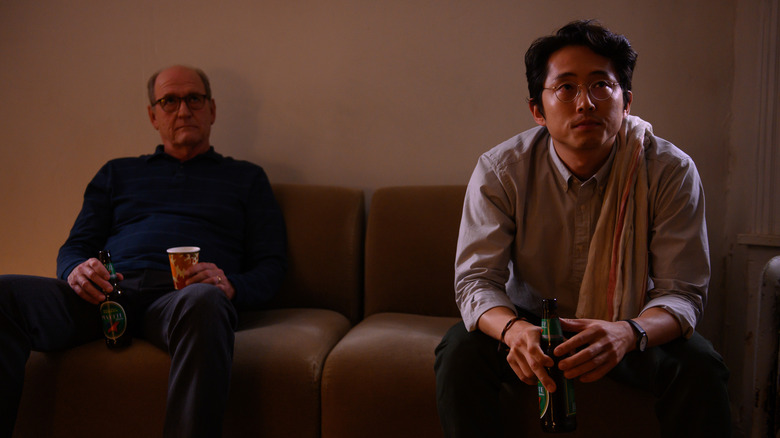 A24
Had you seen the play "The Humans" or did you walk into the movie cold?
I walked into it cold. I meant to see it. My agent kept saying, "You have to see this play. You have to see this play," and I never got around to getting into the city to see it, so I didn't know. I knew of it, but I didn't know it when I read the script.
You did theater early in your career, and correct me if I'm wrong, but it seems like you gravitated quickly to TV and into film. Is theater something you would like to do again?
I did it for 15 years. I was in a company, Trinity Repertory Company, and I was a member of the company for 15 years. I did about four plays a year. But I always wanted to be in movies. I grew up watching movies. I never really saw theater until I was a little older, so movies for me, when I got a chance to do it, that's what I ended up doing. I went forward that way.
I love the theater. I loved when I was in the theater. I still direct in the theater. I love that, and I love going to the theater. But I like acting in film and TV.
You certainly did your share of theater early on.
Yeah, I did. It was great because you did parts that you might not have been right for, but you only had a company of 12 people, so somebody had to play it. You might be too old or too young, but it was an amazing time. I look back on it now and say, "Thank God I did that." It informed who I was as an actor, my aesthetic, the way I look at theater, the way I look at what I do. It was a time to try to figure that all out, and I worked with some great people. Still my friends, some are dead, that happens, and the theater's still going.
The many reasons he related to The Humans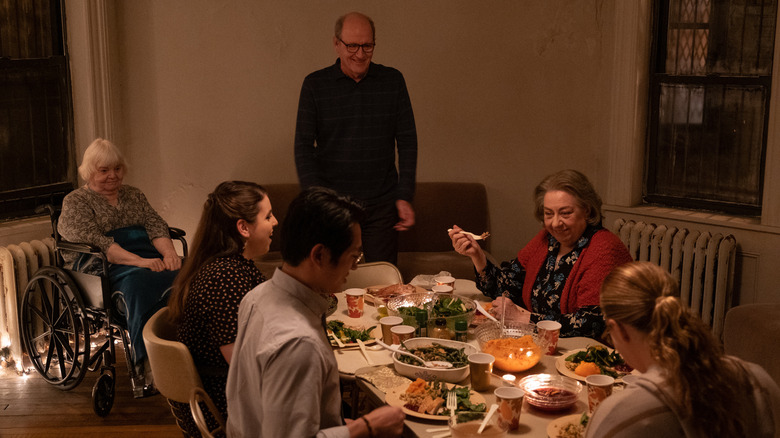 A24
The Blake family in "The Humans" are very indicative of a typical American middle class family. Did you know people like this growing up? Was that something you related to right away when looking at the script?
It was very familiar, but I think it's familiar to any of us who've grown up in a — I grew up in a small town in the Midwest and the Blakes' problems are not unique to the Blakes. They're in every family, if not all of them, some of them. Health, money, betrayal, yearning, wanting to be loved.
I mean, that's why it's called "The Humans." I think it's recognizable. Some people say, "Well, I don't know anybody like that," and I want to go, "What are you talking about? How can you not? How do you live your life?" You want to say, "I bet your Thanksgiving dinner is exactly like theirs." I think some people are in denial about it.
I think one of the issues in this that, for me, resonated was the issue of money, and that there are so many people who live day-to-day not knowing if they're going to have enough money to pay the electricity bills or the mortgage. It's terrifying. It's a terrifying feeling, and to have that feeling all the time. You can't help your children if they need help, and they do need help. I don't know. It's what we all go through, or have sometime in our lives.
I agree with everything you said, but somebody might counter, "Yeah, Richard Jenkins, he's a successful actor. He's been doing this. He's on film, he's on TV. He doesn't have to worry about these things." But actors have to worry — you work job-to-job. It's the same thing in many respects.
Well, I don't have to worry about it now, but I did for many years. I worried about it. I had kids. I had two kids and it was like, "What do I do now?" My wife, thank God, she was a dancer, and she's a choreographer and she taught dance in an arts magnet high school. I don't know what we would have done. I mean, I worked, but I made no money. I didn't know what the future was.
It was like, I was in my 30s and I didn't know how I was going to educate my kids, and you constantly think about that. I don't think that's anything that is foreign to most of us. You worry about it today and there's no real need to, but it's just part of who you are after a while.
Your father was not initially supportive of you being an actor. Did you tap into those memories to play the relationship that Erik has with his daughter, who's a struggling musician?
Well, actually my father didn't want me to be an actor, but I never knew that. That's the difference. My father supported me all the time. He would have clippings in his pocket when people would come by. People always said, "Your dad stops me on the street and shows me." He was terrified that I would starve to death, but I didn't know that, and I never had a chance to thank him because I didn't know he felt that way.
But Erik doesn't really feel that way. Erik, actually, he sounds like he's hard on his daughter, but what he says to her is, "If you are going to let a little setback like this do this to you, maybe you should do something else. Because I don't want to see you give up what you're doing because of something that can be fixed. We're the Blakes, we bounce back." He's really saying, "Stop whining about it. Keep at it. Just don't feel sorry for yourself."
How the set of The Humans felt like a horror movie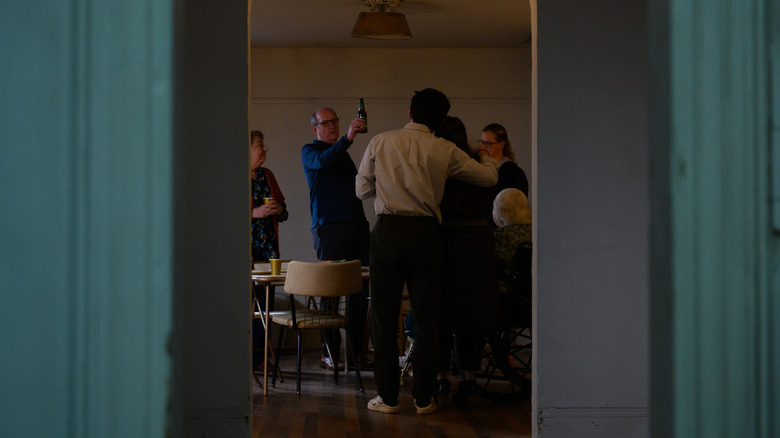 A24
Tell me about working on that set, which to me, was kind of a combination of haunted house, a little bit of the apartment in "Repulsion" and a lot of apartments I hung out in back in Manhattan.
Well, I mean, I didn't think it was up to me to think of it as a horror film, so I didn't really. But when I watched it, I was like, "Oh, this is creepy. This is scary." Because the way Steven manipulated it, the way he filmed, the way he put the camera, the way he put a jump scare in there. I mean, I was always somewhere else. My brain was somewhere else and not in the moment. There I was in my own head somewhere and these things startled me. My daughter touching my shoulder, or the noise upstairs. It was interesting because when I watched it all, I thought, "Oh my God, you really were jumpy in this place."
Do you remember the worst apartment you lived in?
I was in graduate school and my wife was coming up and I found this apartment. It's the last apartment she ever let me find. One night we were sleeping, we had a hide-a-bed you pulled out, and I woke up and she was on her side and her back was to me, and there was this huge cockroach on her shoulder. I went [makes flicking noise] and she never woke up. I think I told her about it about a month later. When you sat on the toilet, you had to put your feet in the shower.
Why he admires Guillermo Del Toro so much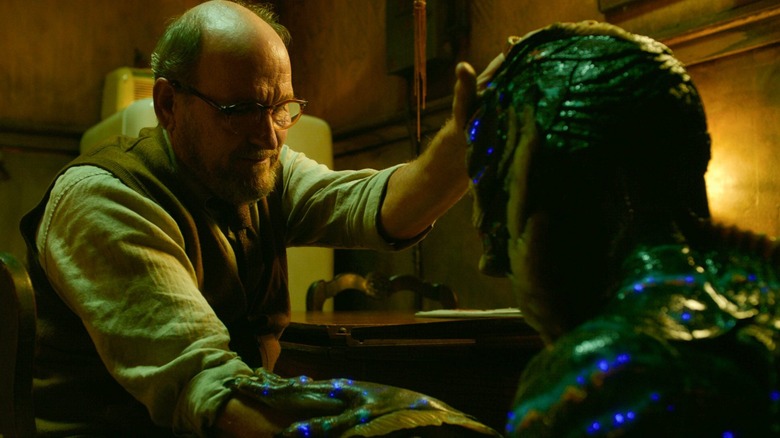 Searchlight Pictures
We're going to see you next in "Nightmare Alley." How is it working with Guillermo again, and what can you say about this film and what people might expect from it?
I saw it last night and I just really loved it. It's Guillermo. You want to go, "Oh, that's Guillermo del Toro that did that." I love Guillermo. I'd never met him when I did "The Shape of Water." He sent me an email. My agent called and said, "Guillermo del Toro wants to send you an email." I said, "Really? Okay." It said, "Hi, I'm Guillermo del Toro. Here's the script for 'The Shape of Water.' I want you to play Giles. I hope you love it as much as I do." That was the email.
I read it, and the next day I sent him back an email and I said, "I think I do," and that was it. To be my age and to get to hang out with Guillermo del Toro ... it's such a cool thing. I mean, Guillermo is like nobody else in the world. He's kind of like a Mexican Mike Nichols in the sense that Mike Nichols, I don't think he ever repeated himself. He was that interesting, and Guillermo is like that.
Guillermo knows about art. The guy does not waste his time. He's always reading. He's always looking. We were going to the Venice Film Festival on a plane. Afterwards he said, "Oh, it was great. I got four hours of sleep, and I read a book and I watched two movies." I said, "What book are you reading?" He said, "No, I'm not reading, I read it." I said, "You read it?" He said, "Yeah, I read it."
That brain is huge. He's funny and smart and a joy to work with, and a freaking master at what he does, just a master. He's not copying anybody, but he's been informed by all these great films, and yet he has his own style, the way he shoots, the way he edits ... I just loved "Nightmare Alley."
Jenkins shares the actor and director he'd most like to work with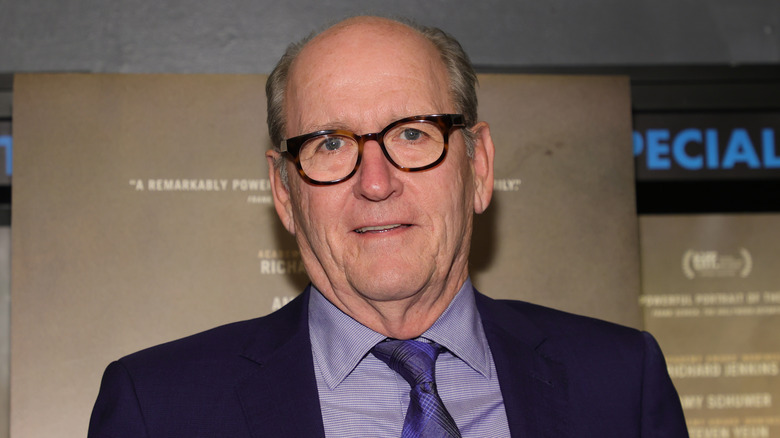 Dia Dipasupil/Getty Images
Is there an actor or director that you've never worked with, living or dead, past or present, that you would like or have liked to work with?
Well, I don't really think like that. I always think if I worked with him, I'd be so intimidated, but I always loved Michael Caine. Michael Caine, when I saw "Alfie," I was about 18, 19 years old, and I just thought, "What is this?" I had not seen "On the Waterfront," or some others. Those came later to me. I was in my 20s before I watched that stuff.
But I just went to the movies by myself and saw "Alfie," and that's when I really said, "I'm going to do this. I'm going to be an actor." If I can in my life do something like that, even close to what this guy did... It was one of those things where I believe you find movies and plays and literature, you find them when you need them. Alfie came along at a time in my life when I was thinking about, "Could I be an actor? Is that possible? Do I have any talent?" Then you see something and it just motivates you to say, "I'm going to do this. I'm going to do this," and that was Michael Caine.
I've never worked with him, and I've never met him. But I was doing something in London and he was on the soundstage next door, and I don't know why I did this because it's not me really. I would usually stay away, but I ran over there to see if I could meet him. He was gone. I don't know what I would've said to him. "I really liked you in 'Alfie.'" I didn't have a game plan.
And a director?
With directors, I don't ... I wrote a note to Steven Spielberg once and he never wrote back, so I thought, "Well, he's a busy man."
We shot "The Humans" right next door to where they were shooting "West Side Story," and I always wanted to go because the choreographer's a friend of ("Humans" director Stephen Karam), and Stephen said, "He said come over and watch him shoot." I said, "Let's go." He said, "Well, we have a movie to shoot here." "No, no. Let's go watch. Are you kidding? This is 'West Side Story.' We can watch the dance in the gym or something. Let's go see it." We never did.
Do you have a favorite movie of all time? I know that may change all the time, but do you have one?
Well, I don't know if it's the greatest film, but I think performance-wise, "On the Waterfront" is it for me. There's performances that I just love, and I think Brando, and [Eva Marie Saint] is brilliant too, everybody, and it's wonderful. When I see it, I just have to stop and watch it. But I do that with "Grease" too. I love "Grease."
Who doesn't love "Grease?"
I do it with "Cool Hand Luke" and "Hombre" too. Movies come along when you need them. There was a movie called "Bread and Chocolate" that I loved. It's not a great film, but I needed it when it came along. I've seen it since, but at the time it was like, "Whoa," and I think that's what "Alfie" did for me, and "On the Waterfront." You see Brando in that and it's like, "How do you do that? Man, that's really good."
"The Humans" is now playing in theaters in limited release and streaming on Showtime.