The Expendables Star Who Got Greedy, Then Got Fired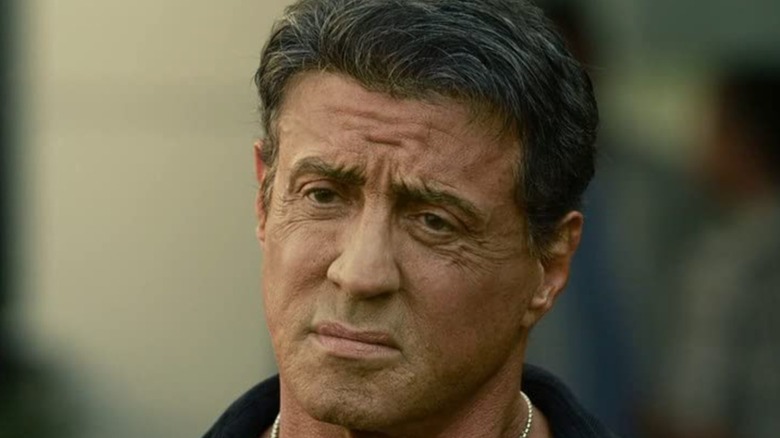 Lionsgate
"The Expendables" is a movie franchise that has featured some of the biggest action stars of the past few decades. Showing off bombastic performances by the likes of Sylvester Stallone, Jason Statham, Jet Li, Arnold Schwarzenegger, and Dolph Lundgren, "The Expendables" has also seen a bunch of appearances from Chuck Norris, Mickey Rourke, Wesley Snipes, Liam Hemsworth, and Jean-Claude Van Damme, as well as Terry Crews, WWE Hall of Famer "Stone Cold" Steve Austin, and UFC icon Randy Couture. With such a star-studded cast, it should come as no surprise that the franchise is well-loved by action fans.
The franchise currently has three films, with an upcoming movie, a Christmas-themed special starring Jason Statham (via Instagram), and a female-centric movie with a working title of "ExpendaBelles" starring Megan Fox currently in the works (via Deadline). "The Expendables" even has a television event series that was said to be in the works in 2015, and should it become a reality, it will expand on the lore and background of the soldiers-for-hire (via The Hollywood Reporter). But despite the franchise's undeniable popularity and success, there is one star of "The Expendables" who became greedy, was later fired, and has not appeared since the second movie.
Bruce Willis allegedly expected an extra million for his work on Expendables 3
The actor in question is the legendary Bruce Willis. Willis, who starred as Mr. Church, acts as a CIA liaison and sends the team on their first mission. Willis had a supporting role in both "The Expendables" and "The Expendables 2," but his absence was keenly felt in "The Expendables 3." Mr. Church's real name is unknown, but he was instrumental in organizing the events of both the original film and the sequel. During one scene with Barney Ross (Stallone), Mr. Church is called out for his behind-the-scenes actions and his lack of commitment to personal involvement. This affects Mr. Church, and he resolves to help them. 
So what exactly transpired between Willis and the production of the third movie? Apparently, it was that the "Die Hard" star was looking for a massive payday — which may not be too surprising, considering the many blockbuster films he appeared in prior to joining the "Expendables" franchise.
In August 2013, Stallone took to Twitter to announce that Harrison Ford was joining the cast of "Expendables 3" while Willis was leaving the project. Fans were confused, but it was revealed (via The Hollywood Reporter) that Willis was originally slated for $3 million for four days of work, but the actor was hoping for $4 million. This means that the actor would have earned $1 million a day for his efforts if his demands were met. 
Stallone followed his original tweet by saying, "GREEDY AND LAZY ...... A SURE FORMULA FOR CAREER FAILURE." It sure seems like Stallone had some choice words for his former co-star. Willis has never responded to anything said about him during the creation of "The Expendables 3," nor has he addressed the controversy surrounding his actions.  
What was Bruce Willis' response to leaving the Expendables franchise?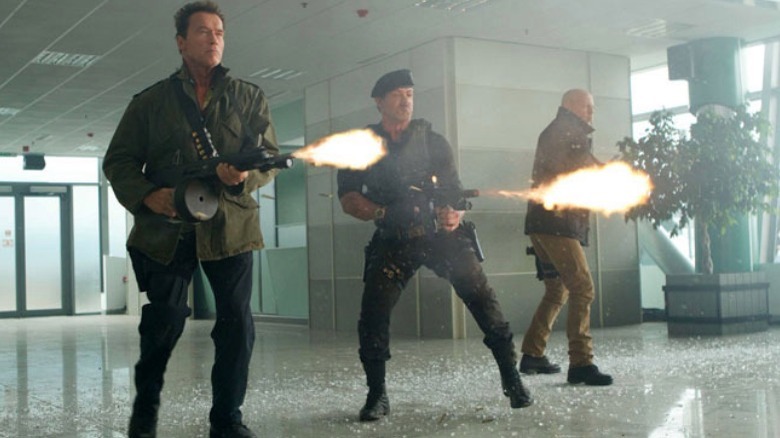 Lionsgate
According to unnamed sources (via The Guardian), Bruce Willis was "pretty surprised he was replaced in 72 hours by Harrison Ford –- a better actor, a much nicer person and a more interesting direction for the film." The production budget for "Expendables 2" was around $100 million, and the film made $312 million (via The Numbers), while "Expendables 3" had a similar $100 million budget and a smaller, yet still impressive $209 million take at the box office. 
This would have added up to around $250,000 extra a day for Willis had his demands been met — an additional $1 million spread out over four days compared to his original offer. This seems like a tremendous amount of money, but considering how much money actors can make, it would have been a paltry sum in the grand scope of things. If anything, one could assume that there may have been some interpersonal drama between Willis and the production of the franchise, considering the all-caps tweets from Stallone. Could the budget have been enough for Willis' request to be met? Surely, but it seems like something else was going on behind the scenes.   
Bruce Willis has continued to work in film and video and has starred in several movies since his departure from the "Expendables" franchise. He has appeared in "Split," "Looper," "Glass," "Sin City 2," and several smaller films like "Reprisal," "Airstrike," and "10 Minutes Gone." Willis never returned to "The Expendables," but he probably wished he had. Unfortunately for him, it looks like the crew of "The Expendables" does not negotiate, and Willis left the franchise for good.