Into The Spider-Verse Stars You Didn't Realize Kevin Feige Poached For The MCU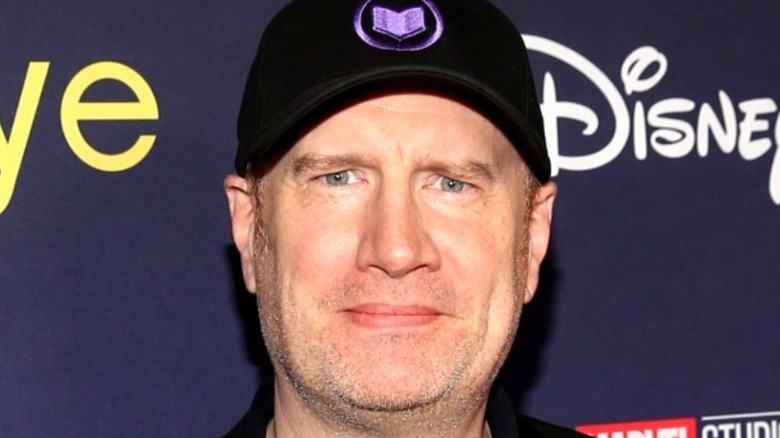 Jesse Grant/Getty
"Spider-Man: Into the Spider-Verse" is an excellent animated movie as well as a brilliant superhero movie. The computer-animated story introduces the popular Miles Morales version of Spider-Man (voiced by Shameik Moore), and immediately throws the kid in the deep end when Kingpin (Liev Schreiber) kills the Peter Parker Spider-Man (Chris Pine) of his universe. Luckily for Miles, there are other universes, and soon, a slobby new alternate-dimension Peter B. Parker (Jake Johnson) arrives to clumsily mentor him in his struggle against just about every supervillain out there. 
"Into the Spider-Verse" is notorious for its copious Spider-Man-adjacent characters, who range from an alternate-universe Gwen Stacy (Hailee Steinfeld) and the porcine Spider-Ham (John Mulaney) to the ominous Spider-Man Noir (Nicolas Cage) and the wonderfully updated Olivia "Doc Ock" Octavius (Kathryn Hahn). 
With its enticing plot, great action, and copious Easter eggs, "Into the Spider-Verse" is a must-watch for any Marvel fan, even if it's a Sony property, and technically not part of the Marvel Cinematic Universe. Being a Marvel fan, Kevin Feige — the head of Marvel Studios — has likely seen the film more than once, considering that an awful lot of the talent attached to the film have since made their way in the MCU. 
From Spider-Verse to MCU live-action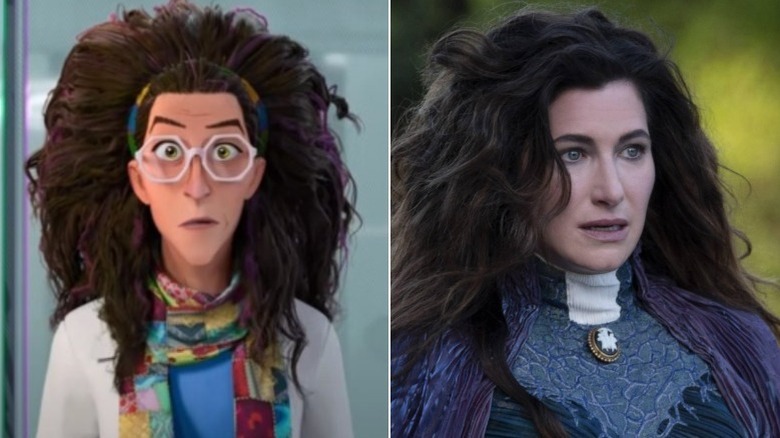 Sony Pictures Releasing/Marvel Studios/Disney
You heard them in "Into the Spider-Verse," but you've also seen them in some pretty iconic MCU roles ... or, in some cases, are about to. 
The most memorable MCU entry out of the "Spider-Verse" crew so far has quite likely been the illustrious Kathryn Hahn, who moved from voicing Olivia Octavius to playing Agatha "Agnes" Harkness, the villain and breakout character of the MCU Disney+ show "WandaVision." With the "Agatha: House of Harkness" spin-off on its way, Hahn's character has been making plenty of waves in the MCU so far, but chances are that Hailee Steinfeld will give a run for her money. The young actress voices Spider-Woman in "Into the Spider-Verse," and recently entered the MCU as Kate Bishop, Clint Barton's (Jeremy Renner) protégé in "Hawkeye." Another "Spider-Verse" alum who's made his MCU debut in a high-profile fashion is Brian Tyree Henry, who's gone from voicing Miles' cop father, Jefferson, to playing Phastos in "Eternals." 
That's just the beginning, too. Still waiting in the wings for their inevitable MCU debuts are Mahershala Ali — who voices Aaron "Prowler" Davis, and is set to play the half-vampire Blade in the MCU — and Oscar Isaac, who voices Spider-Man 2099 in the "Spider-Verse" stinger, and will star as Moon Knight in the tortured hero's namesake Disney+ show in 2022.  
The "Into the Spider-Verse" talent pool is deep, and since Mr. Feige clearly isn't worried about dipping his toes every once in a while, you can only wonder which member of the cast joins the MCU next. Far be it from us to speculate on such an important matter, but as a purely theoretical question, wouldn't you think that the MCU might benefit from a periodical dose of a villainous Nic Cage?