Agatha: Darkhold Diaries Release Window, Cast, Head Writer, Music And More Details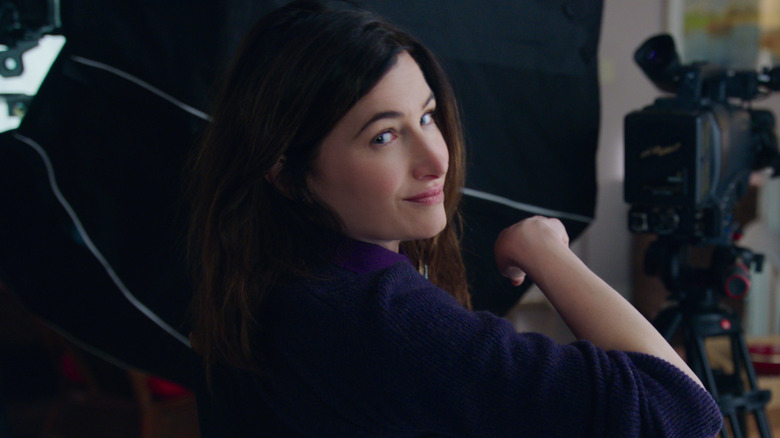 Marvel Studios
In "WandaVision," we watched as Wanda Maximoff struggled with the loss of her beloved Vision by enchanting an entire New Jersey town and forcing everyone to live in a sitcom world. Each episode mimicked a classic TV show like "I Dream of Jeannie," "Malcolm in the Middle," and "Modern Family," all while Wanda's grief bubbled closer to the surface with every installment. However, we eventually learned that Wanda wasn't the only witch hiding in Westview. As it turned out, there was someone else lurking in the shadows, pulling every evil string, and plotting to get their greedy hands on Wanda's amazing abilities.
Yep — it was Agatha all along! Delightfully and devilishly portrayed by Kathryn Hahn, Agatha Harkness was a centuries-old witch with a lust for power and a penchant for showstopping musical numbers. Hahn's larger-than-life portrayal of the magical baddie absolutely stole the show, and for weeks, everybody on the planet was singing her catchy theme song. And now, the supervillain is getting her very own Disney+ show. Originally titled "Agatha: House of Harkness," the series was renamed "Agatha: Coven of Chaos," then renamed again as "Agatha: Darkhold Diaries," and here's everything you need to know about the upcoming MCU series.
When will Agatha: Darkhold Diaries be released?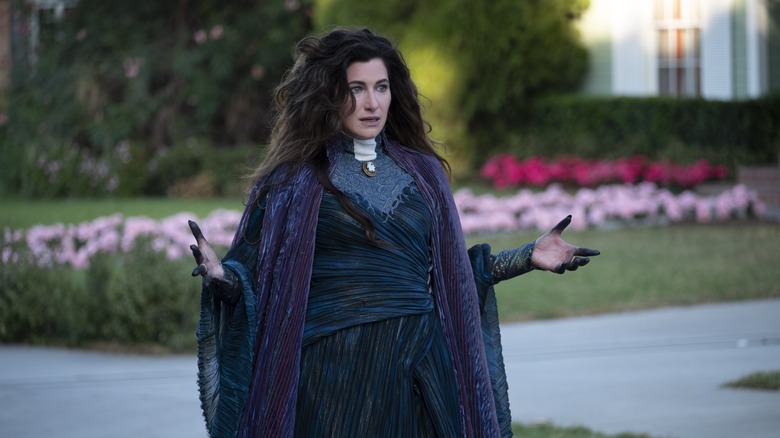 Suzanne Tenner/Marvel Studios
Once upon a time, Marvel Studios was super optimistic about their 2023 Disney+ slate. Word had it they were intending to release "Echo," "Secret Invasion," "Ironheart," "Loki" Season 2, "X-Men '97," and Agatha's series all in 2023. So yeah ... maybe a little too optimistic.
Their plans started to change when Bob Iger became CEO at Disney again, and wanting to scale back on streaming and save costs, he decided Marvel needed to press pause on some of their projects. At the same time — possibly responding both to Iger's demands, fan backlash against some pretty shoddy VFX, and the negative reviews of "Ant-Man and the Wasp: Quantumania" — Marvel Studios president Kevin Feige agreed the Disney+ series needed to be spaced out in order to get the behind-the-scenes care they deserved. Things have been further complicated by studios refusing to negotiate with the striking actors' and writers' unions.
In other words, we won't be seeing "Agatha: Darkhold Diaries" in 2023. However, the series did begin filming in January 2023, and according to The Hollywood Reporter, the witchy show will hit Disney+ sometime in the fall of 2024. When it's released, it looks like there are going to be nine episodes, as opposed to the traditional six that we see with series like "Ms. Marvel" and "Secret Invasion." Hey, if that means we get to spend more time with the wonderfully wicked Agatha, we're all for it.
What is the plot of Agatha: House of Harkness?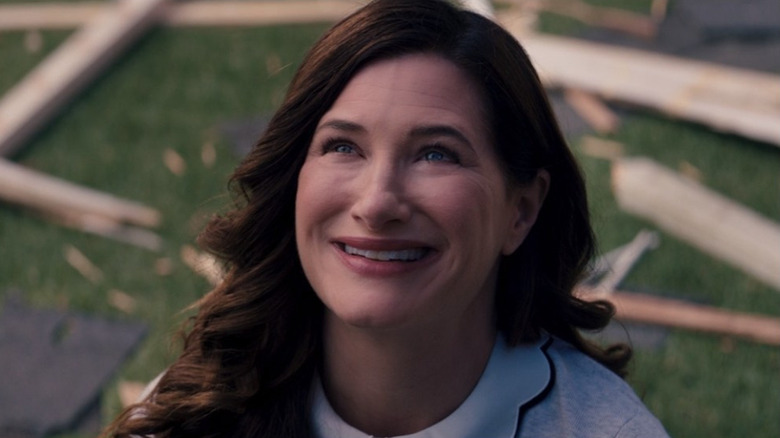 Marvel Studios
At this point, there's no official word on what's going to happen in "Agatha: Darkhold Diaries." However, the series will be directly connected to the events of "WandaVision."
If you'll recall, the last time we saw Agatha, she was trying to drain Wanda Maximoff of her powers. Unfortunately for our gal, once Wanda fully transformed into her Scarlet Witch persona, she easily defeated Agatha and sentenced her to a fate worse than death — life as a sitcom character. With a touch of her glowing red finger, Wanda turned her rival into nosy neighbor Agnes, the character Agatha was pretending to be while infiltrating Wanda's sitcom reality.
Now, she's permanently stuck as the wisecracking side character ... well, until "Darkhold Diaries," anyway. So, how exactly will she be freed from Wanda's curse? Will the Scarlet Witch's death in "Doctor Strange in the Multiverse of Madness" somehow release her from the Agnes persona? Or will another magic user come along and unlock Agatha's mind? As the series will revolve around a coven of witches, that seems like a very real possibility.
Who is starring in Agatha: Darkhold Diaries?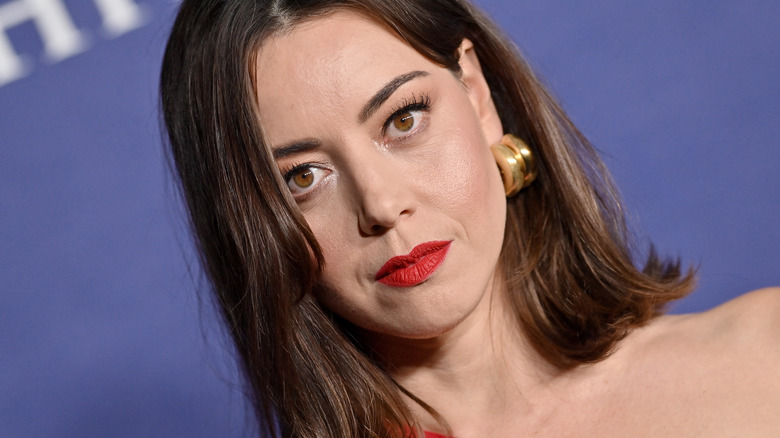 Axelle/bauer-griffin/Getty Images
If you loved "WandaVision," we've got good news. "Darkhold Diaries" is basically a big "WandaVision" reunion. Obviously, Kathryn Hahn will be cackling and conniving as Agatha Harkness, and she'll be joined by the likes of Emma Caulfield, Debra Jo Rupp, David Payton, David Lengel, Asif Ali, Amos Glick, Brian Brightman, and Kate Forbes. In "WandaVision," these actors all played dual roles — hilarious sitcom characters and terrified victims of Wanda Maximoff's curse.
For example, Emma Caulfield portrayed Westview queen bee Dottie Jones, who was actually Sarah Proctor. Debra Jo Rupp played the smiling Mrs. Hart, the wife of Vision's boss, but she was really the petrified Sarah Davis. Will these returning actors be playing the real Westview citizens, or will they somehow revert back to their sitcom personas? We can't wait to find out. We also can't wait to see the whole host of talented newcomers who are joining the series.
Aubrey Plaza of "Parks and Recreation" and "The White Lotus" fame has joined the cast, with Deadline saying she might be the villain of the piece. Naturally, the internet is all abuzz about who Plaza might be playing, with some surmising Mephisto (a secret MCU villain is always Mephisto) while others are guessing Death itself. She'll be joined by Broadway icon Patti LuPone, who's been more than happy to talk about her character. Speaking with "The View," LuPone revealed she was playing Lilia Calderu, who in the comics is a witch who protects the Book of Cagliostro and becomes an ally of Dr. Strange.
You can also expect  to see Joe Locke of "Heartstopper" fame. In another candid interview, Patti LuPone told Entertainment Weekly, "We are a coven of witches, and the witches are Kathryn Hahn, Aubrey Plaza, and [a] familiar ... is Joe Locke." So it appears that Locke will be helping out Agatha some form, but will he appear as a human, or will he be more of a traditional witch's familiar and appear as some sort of animal, like a black cat? Additionally, "Darkhold Diaries" will star Sasheer Zamata ("Home Economics"), Miles Gutierrez-Riley ("The Wilds"), artist Okwui Okpokwasili, and Maria Dizzia ("Funny Pages").
Who is writing and directing Agatha: Darkhold Diaries?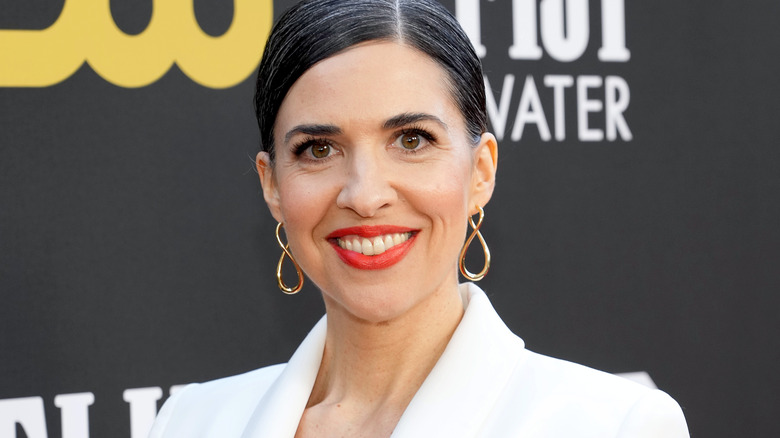 Kevin Mazur/Getty Images
Jac Schaeffer is a major mover and shaker in the world of Marvel. She was the creator of "WandaVision," she helped develop "Black Widow," and she's working on the upcoming "Vision Quest" series. And she's back in action here, serving as the head writer and executive producer of "Darkhold Diaries." With the combined trio of Wanda's show, Agatha's show, and Vision's upcoming series, Schaeffer seems to be the specialist when it comes to this world, and we can't wait to see what powerful brew she cooks up this time around.
We also know that Schaeffer will be the primary director of the series, sitting behind the camera for multiple episodes. However, she won't be the only director on "Darkhold Diaries." Here, Schaeffer will be joined by Gandja Monteiro and Rachel Goldberg. Monteiro has gotten dark and macabre before, directing two episodes of Netflix's "Wednesday," along with installments of "Brand New Cherry Flavor" and "The Chi." As for Rachel Goldberg, she's no stranger to Marvel, having helmed an episode of "Cloak & Dagger." Goldberg has also worked on series such as "American Gods," "Resident Evil," and "Mayans M.C."
Is Agatha: Darkhold Diaries a musical?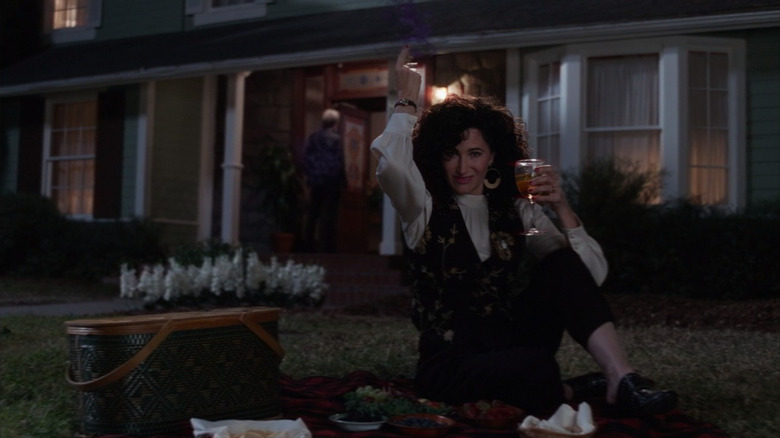 Marvel Studios
One of the very best things about "WandaVision" has to be its amazing musical numbers. Who can forget the "Munsters"-inspired "Agatha All Along?" Plus, we were treated to plenty of tunes that perfectly suited Wanda's sitcom world, riffing on themes from classic series like "The Partridge Family," "The Dick Van Dyke Show," and "Family Ties."
So will we be getting any more songs in "Darkhold Diaries?" Not only is the answer "yes," but it's looking like this thing might be a full-fledged musical. This comes courtesy of Patti LuPone, the three-time Tony-winning Broadway star who will star alongside Kathryn Hahn and Aubrey Plaza. Perhaps not quite understanding Marvel Studio's "mum's the word" policy — to the point where she claims Marvel security has sat her down for a polite talk — LuPone has revealed quite a bit about the upcoming series, from the number of episodes to the nature of her character. She's also claimed the show is going to feature more than a few songs.
When speaking to The Hollywood Reporter, LuPone was asked, "Do the witches sing?" Her response? "They do. Our lead singer is Kathryn. I'm singing backup, and the songs have been written by Kristen and Bobby Lopez." Kristen and Bobby Lopez are the dynamic duo who penned the songs for "WandaVision," but they're perhaps most famous for their Academy Award-winning number "Let It Go," Elsa's big song from the Disney smash hit "Frozen." With these two talented songwriters and LuPone's Broadway vocals, expect to hear some real bangers when "Darkhold Diaries" hits Disney+.
Where to watch WandaVision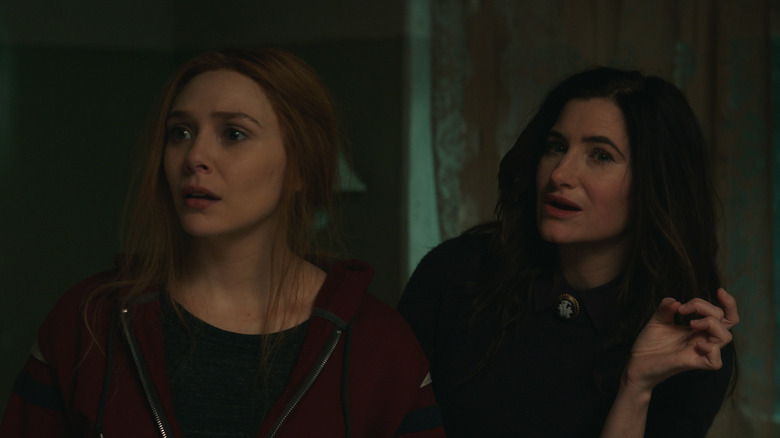 Marvel Studios
Before Agatha Harkness returns to enchant us all with her campy black magic, perhaps you should go back and see how she got into this mess in the first place. While "WandaVision" works both as a love letter to classic sitcoms and a deeply tragic exploration of grief, it also serves as Trojan Horse for Kathryn Hahn's talent, allowing the first-class actor to both ham it up and go pretty dark, creating one of Marvel's best villains with the witchy Agatha. To see how the fabulous baddie ended up in Westview in the first place and how she wound up trapped there, be sure to check out "WandaVision" on Disney+. Not only does it highlight an amazing actor giving a career-best performance, it also just happens to be one of the very best series that Marvel has ever made.