Zoey's Extraordinary Christmas Songs Ranked By How Emotional We Got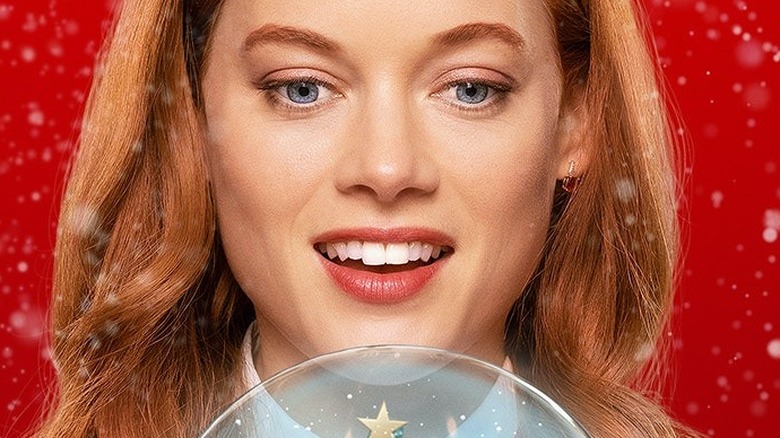 Roku Channel
NBC's hit musical series "Zoey's Extraordinary Playlist" received the cancellation axe in 2021, but with the amount of noise and campaigns fans raised, Roku Channel picked it up for a holiday-themed movie titled "Zoey's Extraordinary Christmas." And though fans are still hoping that the series could return for more episodes on the Roku Channel, "Zoey's Extraordinary Christmas" provides an excellent conclusion should a full renewal never happen.
At its core, "Zoey's Extraordinary Playlist" is a series about grief, and how various characters navigate through their heartaches. While the second season gives the Clarke family plenty of room to work through the darkness they're each feeling, "Zoey's Extraordinary Christmas" takes on what many will say is the most challenging part that comes in the first year of losing someone — the celebrations. Whether it's a birthday or a favorite holiday, the first big event without a loved one is often the hardest. And in "Zoey's Extraordinary Christmas," while everyone initially has their own plan, Zoey Clarke (Jane Levy) realizes that to keep Mitch's spirit alive during the holiday season, she wants to do everything the same way her father did.
However, in true Christmas movie fashion, plans go awry, and emotions are understandably at an all-time high in the climax. "Zoey's Extraordinary Christmas" carries tremendous weight as it navigates the hurdles of grief, but it isn't lacking in lighter, joyous moments. Through each of the featured songs, from the least emotional to most, fans now have plenty of new favorites to listen to on repeat.
Mele Kalikimaka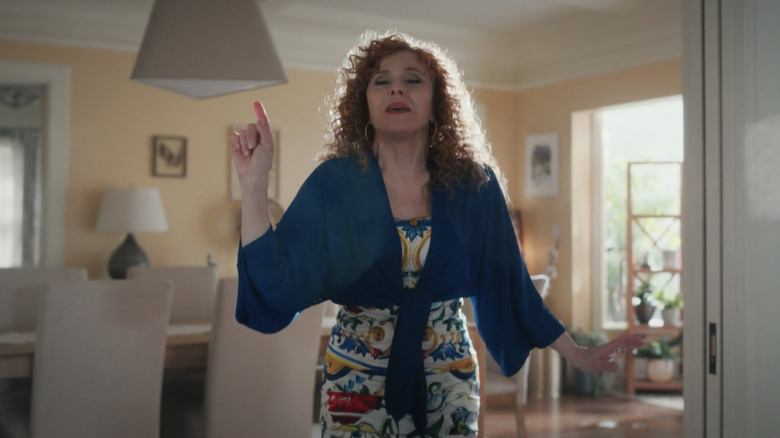 Roku Channel
Performed by Broadway icon Bernadette Peters, "Mele Kalikimaka" is a heart song Deb sings before Zoey proposes she and Maggie postpone their Christmas vacation to Hawaii to have family dinner at the Clarke house. Bernadette Peters can do no wrong where singing is concerned, and this is her second "Zoey's" musical number, the first being a cover of Sia's "Cheap Thrills."
It's as dramatic and fun as the character, and she even attempts to hula while singing it. "Mele Kalikimaka" is an original number by Bing Crosby, and today, it's the most appropriate kind of song for Deb to perform. It captures the character's fondness for travel and the joy in her spirit to do something that requires being outside of the house. It's one of the shorter performances in the movie, but the whole song is available on the "Zoey's Extraordinary Christmas" soundtrack album.
Bad Blood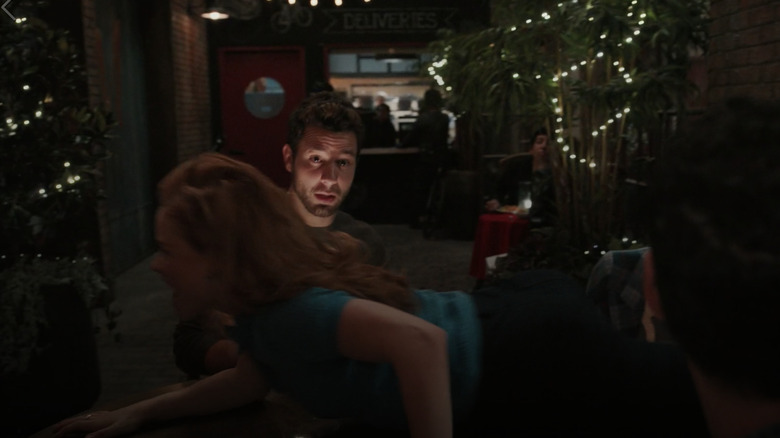 Roku Channel
Of all the Taylor Swift songs that could have made viewers emotional, "Bad Blood" isn't one of them, and yet, Jane Levy's performance as Zoey surprisingly provides some necessary humor. As audiences see this one through Max's point of view, when the Clarke family members state they're each going their separate ways during the holidays, Zoey pretends she's okay when in reality, she is evidently ready to go to war.
"Zoey's Extraordinary Christmas" does an incredible job of balancing its heart, humor, and emotional beats. While this particular number doesn't feel like it fits on paper, the dramatic act with a foot kick allows Levy to provide viewers plenty of entertainment and range. Plus, Swift's "Bad Blood" is an oddly enjoyable one to sing even if there is no bad blood — something about it is interestingly ... tense in the best kind of way. Albeit lacking in anything that could be a tearjerker, Max's facial responses to the heart song could make for some excellent gif reactions.
Call Me Maybe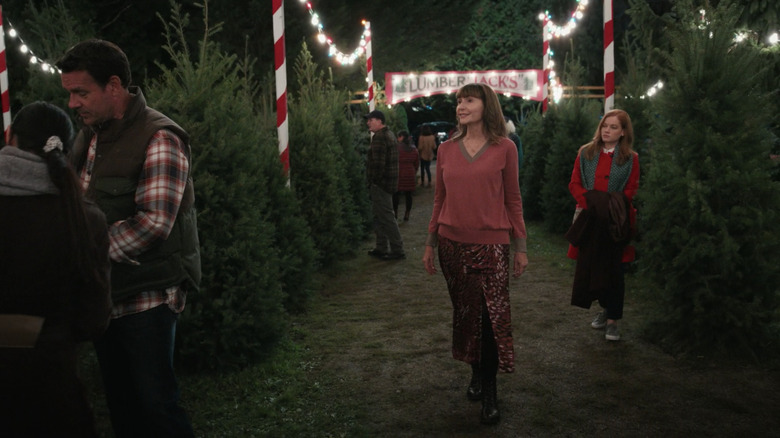 Roku Channel
"Zoey's Extraordinary Christmas" uses the common Christmas movie trope of the entire family going tree shopping and one person finding themselves crushing on the lot owner. That's the surprising case with Maggie Clarke (Mary Steenburgen): Jack the Lumberjack owner starts flirting with her, to which she responds with the most unexpected but oddly appropriate pop song, Carly Rae Jepsen's "Call Me Maybe."
Jepsen's hit is more exciting than tearjerking, and since the show doesn't do much to change the pop tune, the audience sees that maybe, just maybe, Maggie is ready to find love again. At the very least, she's feeling a bit of joy, and during the holidays, that's no small thing in the midst of grief. Steenburgen is a fun performer, and the song choice results in a delightful and aesthetically pleasing moment as we watch her go from tree to tree in a flirty daze. Juxtapose this with the moment she revisits Mitch's grave to say she isn't actually ready to move forward yet, and here come the tears. While this is a sweet number, its true heart lies in the fact that the series gives Maggie the platform to work through her grief.
It's The Most Wonderful Time of the Year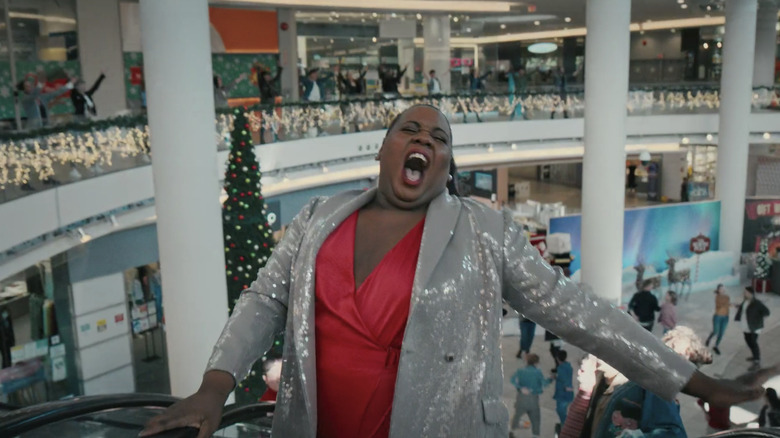 Roku Channel
Mo's (Alex Newell) rendition of the classic "It's the Most Wonderful Time of the Year" opens up "Zoey's Extraordinary Christmas," and while the song likely doesn't make many emotional to the point of tears, there could not have been a more appropriate number to choose for this special. And to have Mo sing it, knowing he's full of the holiday spirit — and the person who first learns about Zoey's powers — brings a feeling of nostalgia to the idea that the show found its saving grace right in time for the holidays.
Opening up the movie with this song feels like the best kind of love letter to the fans who campaigned long and hard to see the story continue. It adds nuances to the character's supportive traits by showing the audience that there is a whole lot of heart in everything that Mo does, including the desire to ensure that everyone feels the joy he feels while performing.
Home Sweet Home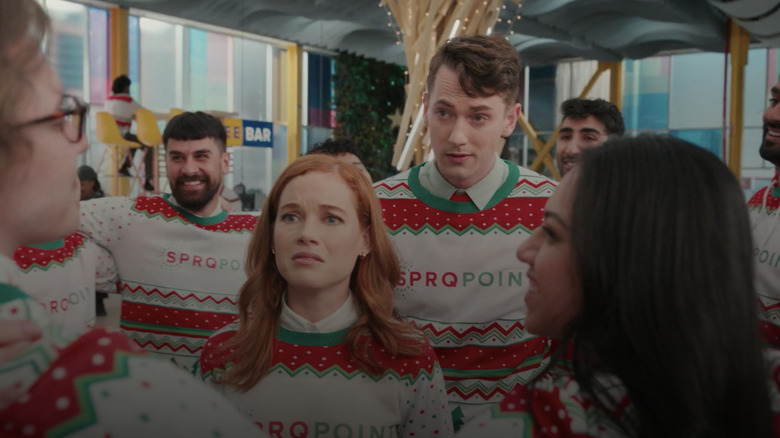 Roku Channel
Mötley Crüe's "Home Sweet Home" could have been far more emotional, but considering the employees of SPRQ Points are always more on the mischievous side, the number makes you think it's going to a more dynamic place. Instead, it rips the rug right out from underneath you — and Zoey too. Much like "Bad Blood," while this song may not be a tearjerker, from a storytelling standpoint, it does a great job of hinting at what's to come next. They might all be going their separate ways, but something tells us we'll see these characters before Christmas is over. (And we do.) 
Though Zoey isn't singing in "Home Sweet Home," Jane Levy does a great job of showing the audience that even her workspace could provide the joy she's desperately looking for until she realizes this isn't their home. And while it isn't in this moment, the use of the song caters to another common Christmas movie trope — discovering that home can be anywhere there's love.
Just the Two of Us/We Need a Little Christmas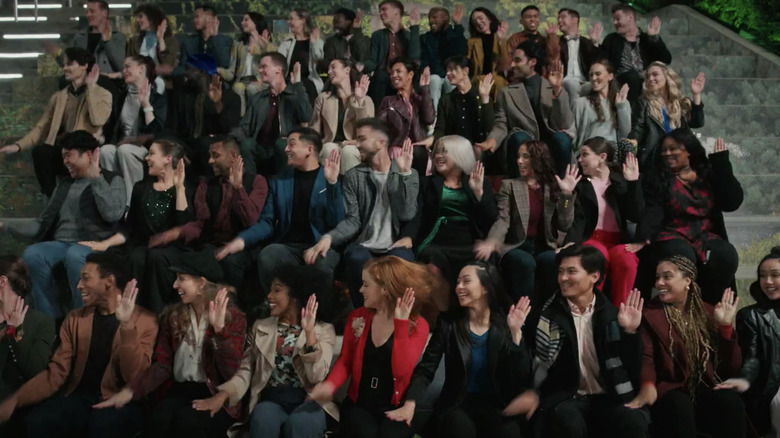 Roku Channel
An exciting mashup none of us knew we needed, Jane Levy and Skylar Astin performing Grover Washington Jr.'s "Just the Two of Us" and Jerry Herman's "We Need a Little Christmas" after a date at the ballet is a delight through and through. For a moment, Max's rendition of "Just the Two of Us" makes it seem like the song could go down a more emotional path, but when Zoey shows what kind of a Christmas she truly wants, it becomes a fun holiday number instead, full of some outstanding choreography featuring plenty of extras.
The juxtaposing emotions and the different pages Max and Zoey are on in this moment provides the same kind of dramatic, albeit fitting, addition that "Bad Blood" does. It also does an interesting job of revealing that Max is trying a little too hard, even though he can't quite figure out how to work through the powers yet. And watching Zoey essentially spiral at this moment, knowing that she'll likely go all out celebrating only for something to go wrong, makes for a riveting song to look back on after viewers reach the end.
Underneath the Tree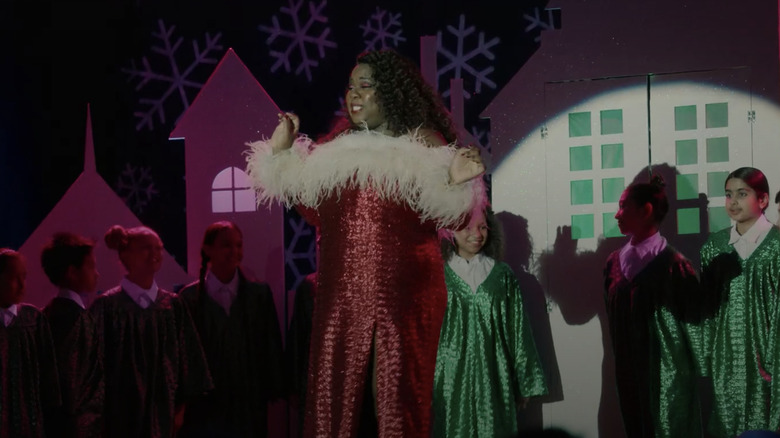 Roku Channel
While this scene isn't necessarily emotional, Alex Newell's performance of Kelly Clarkson's underrated "Underneath the Tree" undoubtedly tugs on every heartstring. Newell's vocal range is unparalleled on "Zoey's Extraordinary Playlist," and every song, whether or not you're a fan, does something special. The lyrics and Mo's journey go together beautifully, which makes it that much more heartbreaking despite all the spirit and heart.
Mo has been through a lot since we met the character, and he hasn't had the best of luck in love. But with Perry, it's authentic and full of immense trust; at this moment, while we can see that the lyrics are clearly for Perry, watching the crowd react results in a different kind of emotional hit. But the spark in Mo's eyes and the achingly brilliant love he has for Perry is even more dazzling than the stunning Christmas dress. 
Time After Time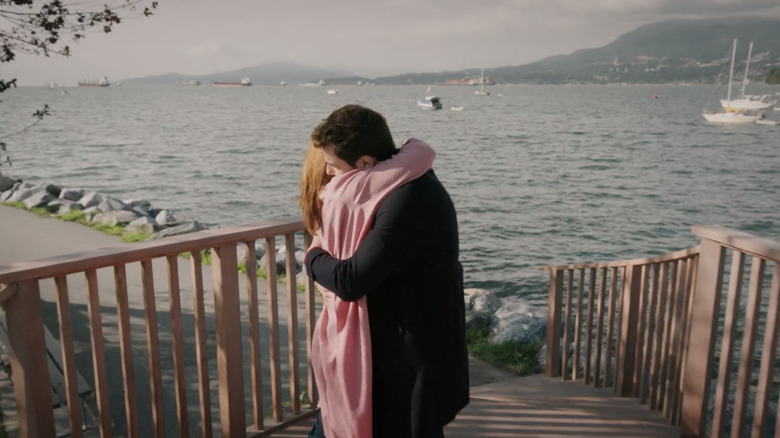 Roku Channel
Cyndi Lauper's "Time After Time" always tugs the heartstrings, and that holds true after Zoey finds Max sitting alone and tells her he feels guilty for not understanding the weight of her powers before. He talks about how unfair it is that she's carried this burden while he's badgered her over it. This is the central couple fans have been rooting for since the beginning, and a scene that might be more intimate than their number to Kelly Clarkson's "A Moment Like This." What this musical showcase ultimately reveals to the audience is that they're in it forever.
They're finally in a place where they understand each other profoundly. And when he stops hearing the heart song, Skylar Astin brings such harrowing heartbreak to life as he tries to sing even louder. It's vulnerable, intimate, and their performance showcases the parallel path they're still on despite the changes. It also marks one of the film's most vital moments, when Zoey tells him the pain from grief is always here, but it's getting better. Max's meddling isn't the reason for the family's sadness, but he needed this gift to understand the burden and guilt that Zoey has constantly felt. With an apology and an intense display of adoration, this scene makes them an even stronger couple.
What Christmas Means To Me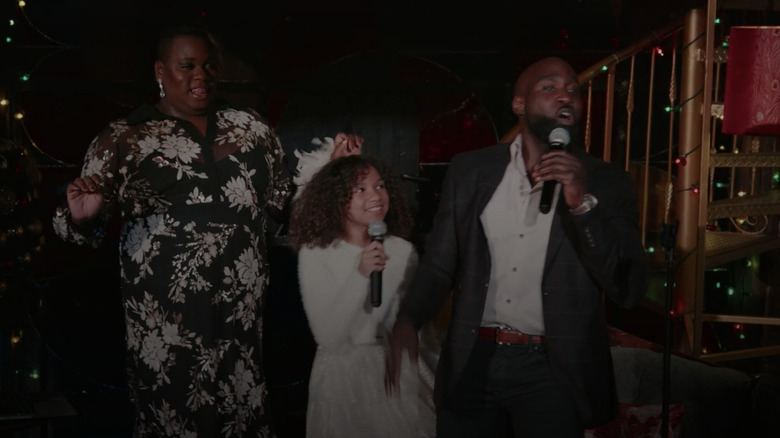 After Mo doesn't understand the assignment for the first time and takes the spotlight away from the kids' performance, he gives Perry's daughter Amirah (Amarah Taylor) the opportunity to shine at the Christmas Carol-oke Party at MaxiMo's. Amirah chooses the perfect hit to perform in "What Christmas Means to Me," and not only does Amarah Taylor knock it out of the park, but Perry and Mo joining in makes for the perfect kind of emotional moment viewers have been waiting for.
This family means a great deal to Mo, and his willingness to do anything to make sure the kids are happy is the kind of balm that makes for an exceptional finale. And though this isn't a heart song, but an actual performance everyone can see and hear, watching the partygoers dance during moments of intimacy tugs the heartstrings in all the right ways. It specifically manages to bring all the emotions when we know that the reason Mo throws Christmas Carol-oke is to ensure that all the lost people find a home for the holiday, underscoring that this is a year when he and his loved ones have all found it too. This is precisely the type of happy ending fans wanted to see for Mo's character; having it in a Christmas number like this adds emotional layers to a romance that's already been a treat to watch.
Wish You Were Here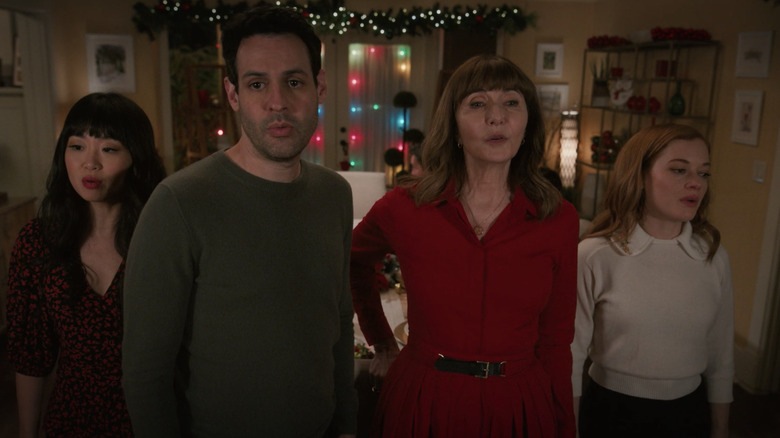 Roku Channel
And cue the tears. Pink Floyd's "Wish You Were Here" is as perfect a song to showcase the Clarke family's grief as Don McLean's "American Pie" was. After the snow globe centerpiece belonging to Mitch breaks, the entire family sings the heart song that encompasses their sadness at the physical and sentimental loss. Undoubtedly the most moving scene in the movie, it serves the plot and characters by giving each of them a moment to feel what's thus far been brewing within.
We all wish Mitch were still here. He is, after all, the heart of "Zoey's Extraordinary Playlist" as much as Zoey Clarke is, and during the first Christmas without him, his absence is sorely felt. Jane Levy, Mary Steenburgen, Andrew Leeds, and Alice Lee pour such immense love into the song that you feel every ounce of their characters' pain through their vocals. When you watch each of them individually before they connect through the ballad, it makes for an indescribably cathartic number. The very spirit of Christmas and the very essence of grief is on full display. "Wish You Were Here" encapsulates so much of what's impossible to vocalize, and the film captures it perfectly at its most pivotal moment. It's a shorter performance than "American Pie," but it's so powerfully evocative, extra tissues are a must while watching and listening.
Have Yourself a Merry Little Christmas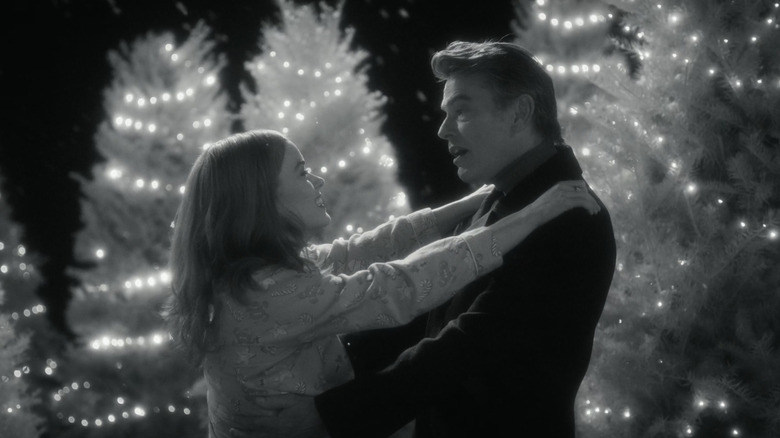 Roku Channel
Following the "Wish You Were Here" heart song, watching Zoey dream of her father and seeing Peter Gallagher return is an immediate tearjerker. The beauty of "Have Yourself a Merry Little Christmas" is that when Judy Garland's Esther sings it in "Meet Me in St. Louis," it's about embracing changes. It's a song that tries to inspire during hardships, darkness, and sadness, especially if there's been a loss of some kind around the holidays. From now on, though their troubles won't be behind them, having the chance to watch her father sing this song in black and white (like the movies they watched together during the holidays) is a beautiful moment of healing for Zoey.
Grief and pain are hard to get through. It gets better, but the pain often lingers, and this number gives Zoey the epiphany she needs to understand that it's okay to make new traditions — and it's also a lovely and intrinsically nostalgic song for all of us. Peter Gallagher's Mitch was a comfort throughout this show, and the loss of his character affects the audience just it impacts the characters. This number gives viewers a sense of closure to cope with losses they may also be going through, making it the most heartwarming moment in "Zoey's Extraordinary Christmas."