Why Vince From Burlesque Looks So Familiar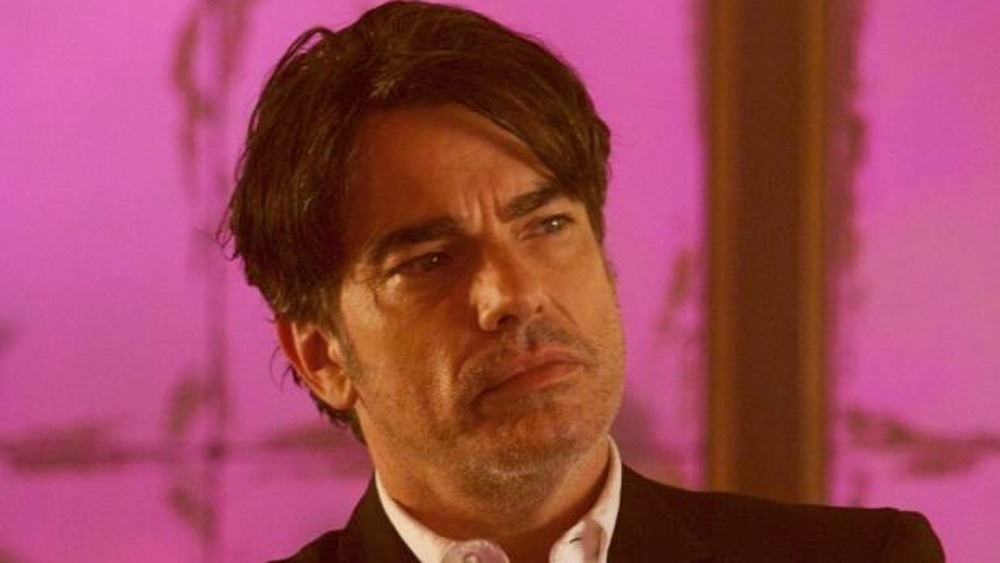 Screen Gems/Sony Pictures Releasing
In 2010, Christina Aguilera and Cher starred in Burlesque, a musical film depicting the backstage drama at a fictional burlesque club. Aguilera's character, Ali Rose, moves to Los Angeles to make it as a performer and, after many unsuccessful auditions, ends up working and performing at a club run by Cher's character, Tess, who also becomes Ali's mentor. Burlesque co-stars some famous names such as Kristen Bell as Ali's main rival, Nikki, and Stanley Tucci as Sean, who is in charge of the performers' costumes. The cast also includes the likes of Cam Gigandet, Julianne Hough, and Alan Cumming.
Another highly recognizable cast member is Vince, Tess's ex-husband. Vince owns half of the bar, but Tess eventually buys him out. Playing Vince is veteran actor Peter Gallagher, who's had a long career in television and film since 1979. Here is a breakdown of Gallagher's most prominent roles — and why he might look so familiar.
Gallagher's early TV days included starring roles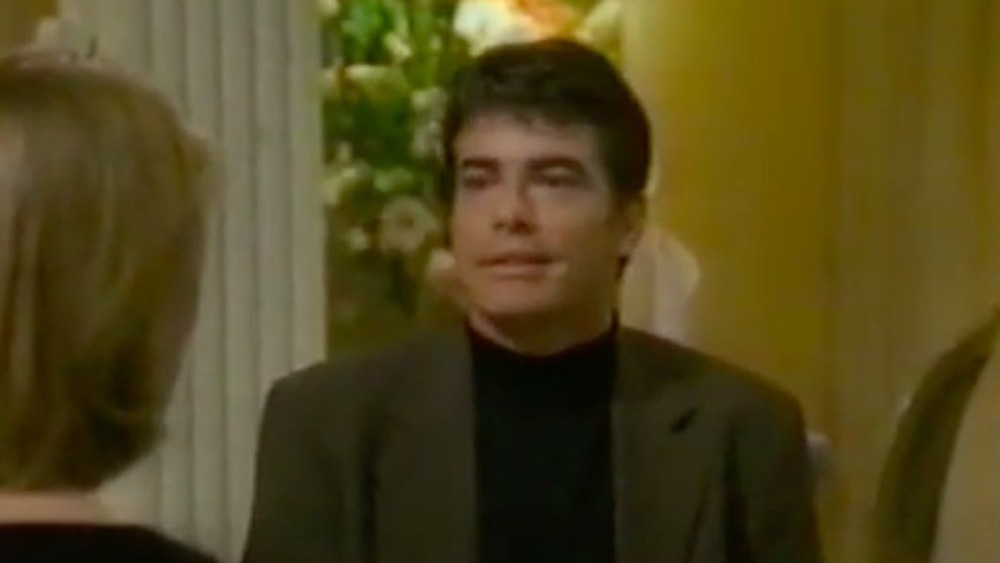 ABC
One of Peter Gallagher's earliest roles was on a very short-lived drama show called Skag in 1980. Skag, which only aired six episodes, centered on a 56-year-old union steel mill foreman in Pittsburgh, Pete "Skag" Skagska (Karl Malden). When a stroke forces Skag to recover at home, he must face the family life he has avoided through his work. Gallagher played John, a medical student who is one of Skag's children. John lets his determination to make a profitable career get in the way of his own family obligations.
While Gallagher then went on to appear in films, his next major television role was in the Titanic miniseries in 1996, a year before the very popular film of the same name came out. In the CBS miniseries, Gallagher portrays Wynn Park, the former lover of Isabella Paradine (Catherine Zeta-Jones). Isabella and Wynn begin an affair while on the ship, despite Isabella being married to another man. Much like in the 1997 Titanic film's tragic romance, Wynn dies when the ship goes down. Isabella, heartbroken, returns to her husband and daughter.
Shortly after Titanic, Gallagher appeared as one of the leads in the ABC sitcom, The Secret Lives of Men. The show follows three divorced men — co-led with Bradley Whitford and Mitch Rouse — who form a club together to make the most of their return to bachelorhood. The show only aired 13 episodes over the course of its single season.
Peter Gallagher appeared in American Beauty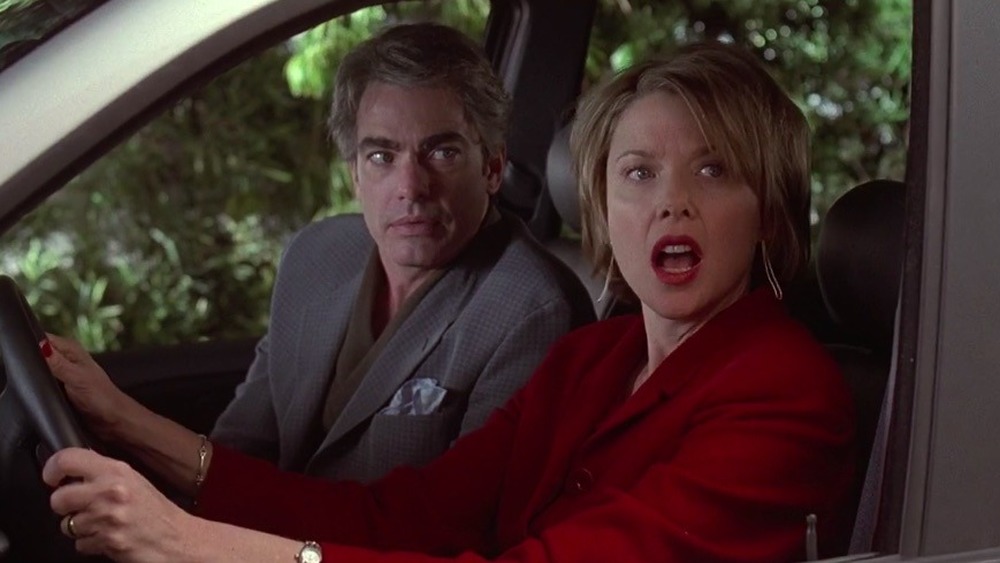 DreamWorks Pictures
Peter Gallagher had early appearances in films such as Dream Child, High Spirits, and Malice. One of his film roles was the romantic comedy, While You Were Sleeping. The movie follows Lucy (Sandra Bullock), a fare token collector who has a crush on a frequent commuter of her train station, Peter, played by Gallagher. After she rescues him from an oncoming train, he falls into a coma, and Lucy leads the hospital staff into thinking she and Peter are engaged. She then meets Peter's family, including his brother Jack (Bill Pullman), with whom she soon falls in love.
In 1999, Gallagher appeared in Oscar Best Picture winner American Beauty, which starred Kevin Spacey as Lester Burnham, a suburban dad who becomes obsessed with his teen daughter's best friend. Gallagher plays Buddy Kane, business rival to Lester's wife Carolyn (Annette Bening). Carolyn and buddy eventually have an affair, until they are discovered by Lester at his new job at a fast food restaurant, which results in Buddy calling it off out of fear of an expensive divorce.
Gallagher pivoted to long-form drama television with The O.C.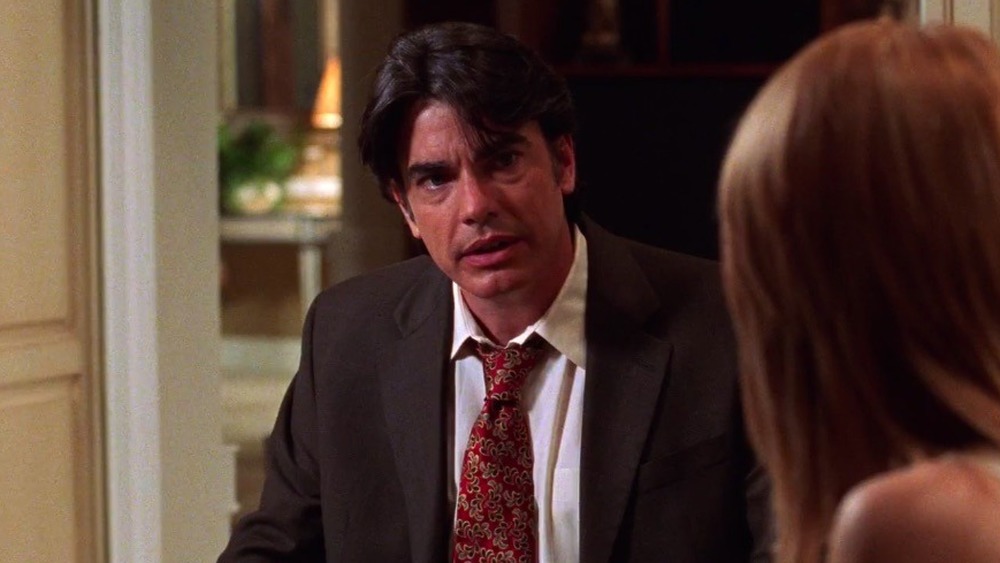 Fox
Soon finding consistent work on television, Peter Gallagher portrayed Sandy Cohen in Fox's The O.C., which ran from 2003 to 2007. Gallagher played the wealthy adoptive father of troubled teen Ryan Atwood (Ben McKenzie). Gallagher was on the show all four seasons, with his character eventually moving out of Orange County. Gallagher continued with dramatic television; a few years after The O.C. ended, he had an eight-episode guest arc on the Showtime drama Californication, about New York novelist Hank Moody (David Duchovny) moving to California in the midst of a major writer's block. In 2009, Gallagher played Stacey Koons — the dean of the college at which Hank is hired as a guest professor — and whose wife has a brief affair with Hank.
After guest appearances in shows such as Rescue Me, How I Met Your Mother, and Whitney, Gallagher landed another lead role on Covert Affairs, beginning in 2010. The USA Network show follows a group of CIA agents, centering on trainee Annie Walker (Piper Perabo). Gallagher had a recurring guest role on season 1 as Arthur Campbell. The character was made a series regular for season 2, and was on the show through its full five seasons.
Gallagher had recurring roles in Togetherness and The New Girl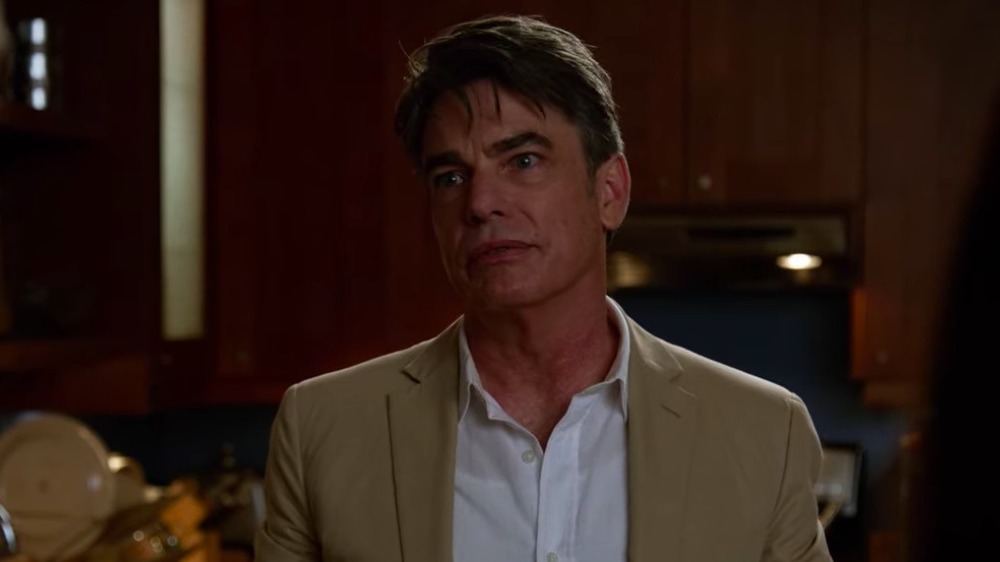 Fox
After his series regular role on Covert Affairs, Peter Gallagher's next television appearances have been guest or recurring arcs. In 2015, he had an ongoing role on the HBO comedy-drama Togetherness, which followed two couples living under the same roof as they dealt with balancing their individual lives and relationships. Gallagher played Larry, the boyfriend of one of the leads, Tina (Amanda Peet), for two seasons.
In 2016, Gallagher appeared in four episodes of the Fox sitcom New Girl, starring Zooey Deschanel. Deschanel plays Jess, who moves into a loft with three guys. One of those roommates is Schmidt (Max Greenfield), whose father, Gavin, shows up in season five — and is played by Gallagher. After a brief tryst with Jess — before she knew he was Schmidt's father — Gavin's main storyline on the show is mending his relationship with Schmidt.
Simultaneously, while appearing on Togetherness and New Girl, Gallagher was already in the middle of his run on Law and Order: Special Victims Unit, from 2014 to 2019. Gallagher appears in 20 episodes of the long-running crime drama, started in season 16 and lasting through season 21. He plays William Dobbs, the deputy chief of the SVU division. He exits the show when his character is transferred to the Traffic and Safety Task Force in a different county.
Peter Gallagher's recent television roles include Grace and Frankie and Zoey's Extraordinary Playlist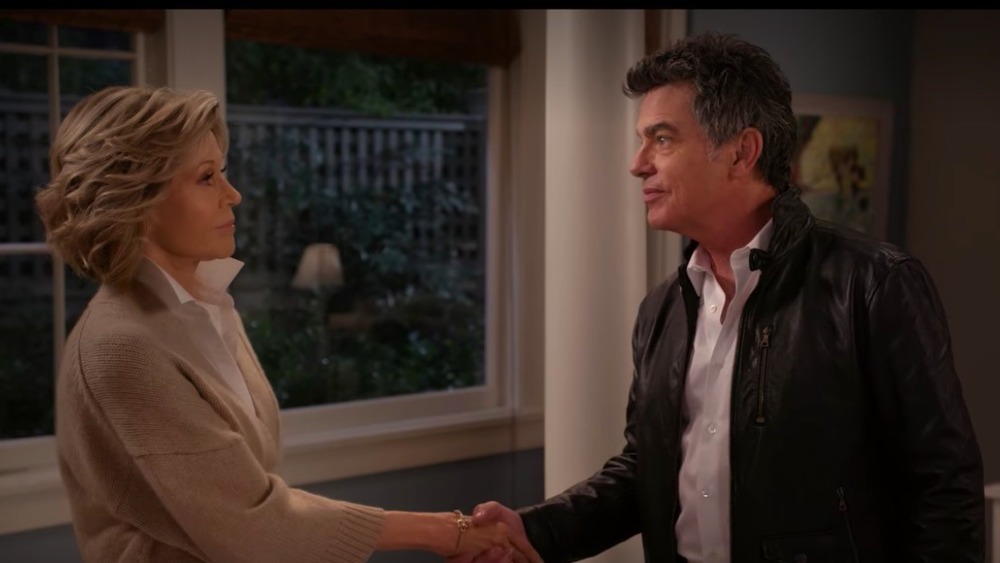 Netflix
Peter Gallagher's most recent work has been on TV. He has a prominent recurring role on Grace and Frankie, the Netflix comedy show about two older women, Grace Hansen (Jane Fonda) and Frankie Bergstein (Lily Tomlin) whose husbands leave them for each other. Gallagher plays Nick Skolka, Grace's second husband.
Another recent prominent role is in Zoey's Extraordinary Playlist, a musical comedy-drama. The show follows Zoey Clarke (Jane Levy), an engineering manager at a tech firm, who, after an earthquake occurs while she is undergoing an MRI, discovers she now has the ability to read other people's thoughts in the form of songs. Gallagher plays Zoey's father, Mitch Clarke, who has progressive supranuclear palsy (PSP), which causes him to lose some muscular faculties and speech abilities. He is a main cast member in season 1 and is credited as a special guest star in season 2.
Gallagher also had a supporting role in the Hulu original film Palm Springs, released in 2020. Palm Springs follows Nyles (Andy Samberg) and Sarah (Cristin Milioti), two strangers who meet at the wedding of Sarah's sister Tala (Camila Mendes) in Palm Springs, and become stuck in a time loop, bound to repeat the same day over and over. Gallagher's small but crucial role was Howard, father to Sarah and Tala.