How Carrie-Anne Moss Really Feels About Returning To The Matrix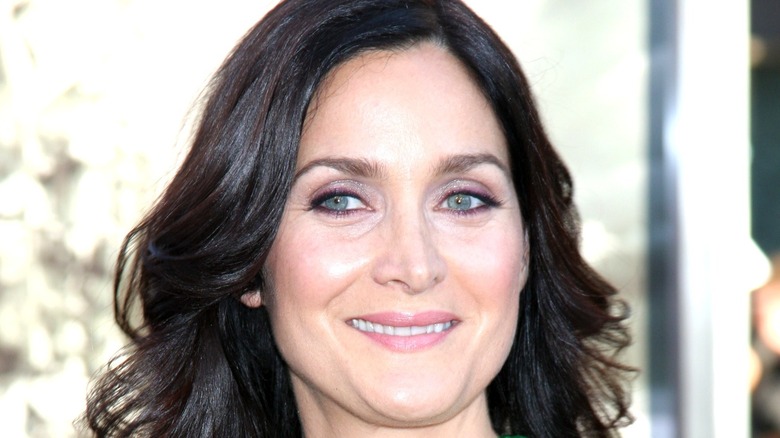 Kathy Hutchins/Shutterstock
After seemingly retiring the character with 2003's "The Matrix Revolutions," Carrie-Anne Moss will once again be playing ultra-cool hacker Trinity in "The Matrix Resurrections." And according to the star herself, reprising her iconic role isn't something she imagined doing. Moss and co-star Keanu Reeves spoke with Empire to discuss their return to the storied sci-fi franchise. It was then that Moss revealed, "I never thought that it would happen. It was never on my radar at all."
Much like the previous entries in the franchise, "The Matrix Resurrections" promises to be a visually stunning blockbuster that follows the characters of Neo (Reeves) and Trinity on a brand-new adventure. They'll be joined by "Candyman" star Yahya Abdul-Mateen II as an updated version of Morpheus, as well as Jessica Henwick from Netflix's "Iron Fist" and "The Defenders," among other newcomers to the franchise. So, what ultimately lured Moss back into the "Matrix" fold? As it turns out, it was the magic of a good screenplay.
Moss was blown away by the script for The Matrix Resurrections
Based on what we've learned so far about "The Matrix Resurrections," it was Lana Wachowski's strong vision for a fourth installment that brought the franchise back to life after nearly two decades. If Carrie-Anne Moss had any doubts about returning to reprise her role, it sounds like they were cleared up after reading the screenplay. 
"When it was brought to me in the way that it was brought to me, with incredible depth and all of the integrity and artistry that you could imagine, I was like, 'This is a gift,'" Moss explained to Empire. "It was just very exciting."
Wachowski collaborated with the writers David Mitchell and Aleksandar Hemon to bring the ideas behind "The Matrix Resurrections" to life. Both Moss and Keanu Reeves told Empire that when they got their eyes on the screenplay for the film, they couldn't possibly say no. 
"That's the only reason to do it," Reeves said of the screenplay, which he also referred to as "a wonderful story that resonated with me." He went on to add, "To work with her again is just amazing. It's been really special, and the story has, I think, some meaningful things to say, and that we can take some nourishment from."