Shows Like White Collar That Police Procedural Fans Need To See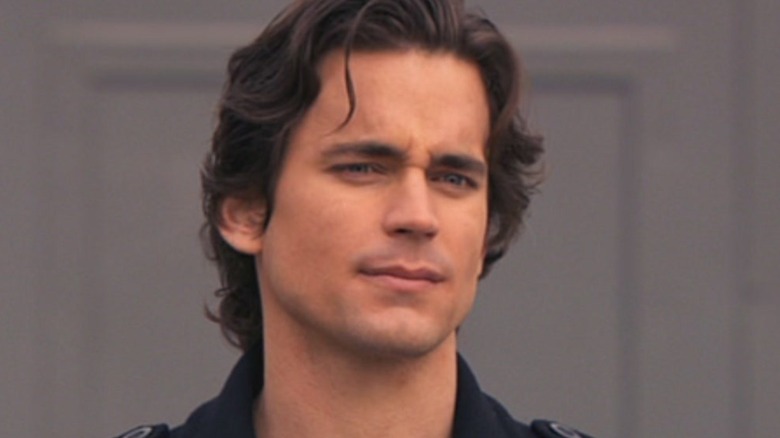 USA Network
At first glance, "White Collar" may seem like any run-of-the-mill police drama, with a charismatic lead working for a government intelligence agency tasked with tracking down the world's worst criminals. However, beneath the surface, it's got more than a few of its own unique aspects. For audiences who want something more intense, faster-paced, and a bit more involved than most of the bigger by-the-numbers franchise shows, "White Collar" delivers.
Starring Matt Bomer in his breakout role, the series revolves around Neal Caffrey, a slippery conman who, after a three-year chase, is finally nabbed by the FBI. Once he's in custody, the bureau offers to cut him a deal if he becomes an informant on white-collar crooks. Naturally, Neal accepts and begins an uneasy alliance with FBI Special Agent Tim McKay. But while he works his way through the white-collar criminal underworld for the FBI, he also slips back into his old habits, running cons and trying to stay one step ahead of McKay.
Running for five seasons, "White Collar" is one of the most exciting police procedurals of its kind and never fails to keep its viewers on the edge of their seats. If you a fan and are searching for something else like "White Collar," then look no further, as we've compiled a list of the best police procedural shows that fans of the series should queue up next.
Person of Interest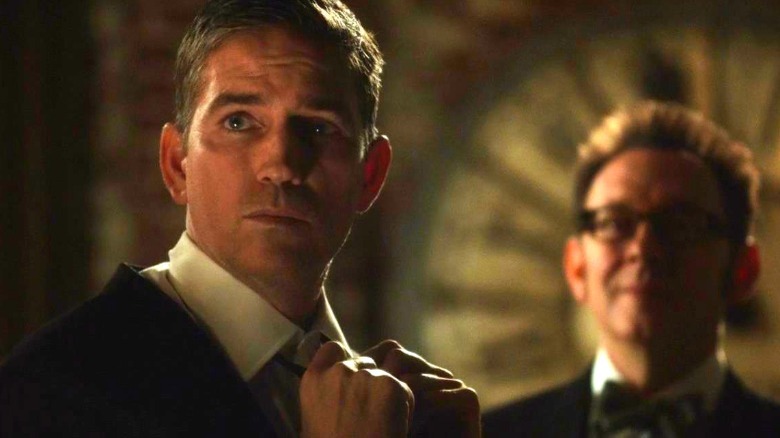 Warner Bros. Television Distribution
From executive producers J.J. Abrams and Jonathan Nolan, the same team who would later create "Westworld," came the CBS drama "Person of Interest," a series that puts a cyber-hacker twist on the police procedural. Harold Finch, a billionaire computer programmer, has created a new type of artificial intelligence for the U.S. government that can predict future terrorist attacks. However, this unique early warning system has an unintended side effect, as it spits out supposedly irrelevant information that also fingers non-terrorist future crimes. While those incidents are horrific, they don't meet the program's threshold for mass casualty events, but Finch can't possibly ignore them.
Instead of throwing this data away as he's told, Finch takes it upon himself to hire former special forces agent John Reese to act on this information and hunt down would-be criminals. The only problem is that the data is presented in the form of social security numbers, and neither Finch nor Reese knows if the numbers identify the perpetrator or the victim of the future crime. It's a manhunt series that mixes elements of the typical police drama with the intensity and tension of a spy thriller. Running for more than 100 episodes, it became a mainstay of the genre on TV for a half-decade and was among the best-reviewed shows of its kind.
Criminal Minds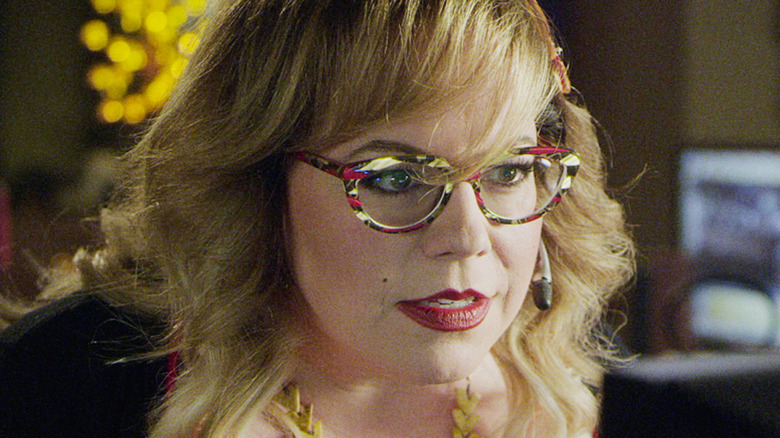 CBS
"Criminal Minds" presents audiences with a crack team of FBI profilers known as the Behavioral Analysis Unit, who are tasked with supporting field agents and local law enforcement by providing research on violent suspects involved with the most gruesome of crimes. In the series, the department is comprised of operatives who research and hunt down psychotic killers and sociopathic sex offenders, and each episode shows them using unusual tactics to get the job done. Whether it's forensics, psychoanalysis, or even mathematics, the team uses every skill in their arsenal.
Though the series does dig into the personal lives of its agents, the focus was always on its dangerous cases and the minds of the criminal suspects. When the series launched in 2005, it seemed like just another police procedural, but with its eccentric ensemble cast — that has included Mandy Patinkin, Joe Mantegna, Jennifer Love Hewitt, and many more — it quickly set itself apart from the competition. "Criminal Minds" often features darker stories while still maintaining the exciting tone audiences were looking for in a crime drama. The show ran for an astonishing 15 seasons before ending in 2020.
The Blacklist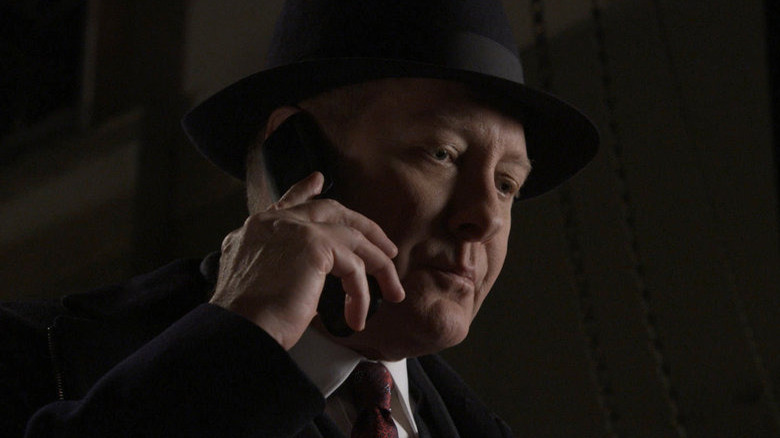 NBC
"The Blacklist" also stars a charismatic criminal turned do-gooder, skirting the edges of the law to help nab the worst criminal offenders. James Spader headlines the series as Red, a criminal mastermind who makes a deal with the FBI to turn himself in. In exchange for immunity for his past crimes, Red offers to hand over information from his Blacklist, which is his personal record of every criminal genius he is aware of. However, his deal comes with conditions — he wants to track down these targets himself and be partnered with young FBI profiler Elizabeth Keen. The offer perplexes the agency, but they can't turn down this rare opportunity to leverage Red's singular genius to stop some of the world's worst criminals. 
A dark police procedural with lots of twists and turns, the show's biggest appeal may be Spader in the role of the criminal informant, as he delivers a career rejuvenating performance that sits at the heart of the series' allure. Variety's 2013 review of the series compared it to the likes of "Silence of the Lambs" and "Se7en" and wrote that "few series can boast such a compelling central figure."
Lie To Me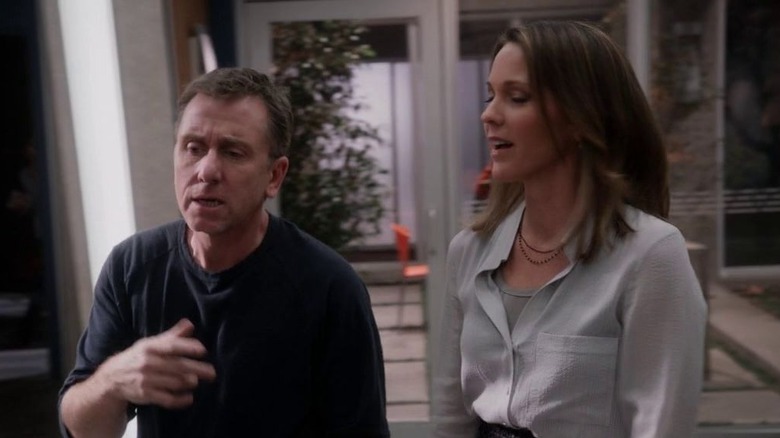 20th Television
With 48 episodes over three seasons, "Lie To Me" was a short-lived fan favorite, winning two People's Choice Awards in its first season, with star Tim Roth taking home the award for favorite crime fighter. Roth is impressive as scientist Dr. Cal Lightman, the founder of an independent research team called The Lightman Group, which specializes in the psychology of criminal behavior. Specifically, Lightman and his colleagues study the art of reading body language and microexpressions, which involves detecting lies and deception in those around them. The doctor and his team of experts offer their services to law enforcement agencies engaged in urgent cases involving everything from murder and terrorist plots to bribery and financial crimes.
The uniqueness of the set-up is what makes "Lie To Me" so intriguing, as the show depicts more than just a police unit or FBI task force. The nature of the team means that they have the opportunity to work on a wider variety of cases than you might find on other similar shows that focus on a single government agency. However, it's Roth's electric performance as the genius human lie detector that will have you coming back for more after each episode.
Burn Notice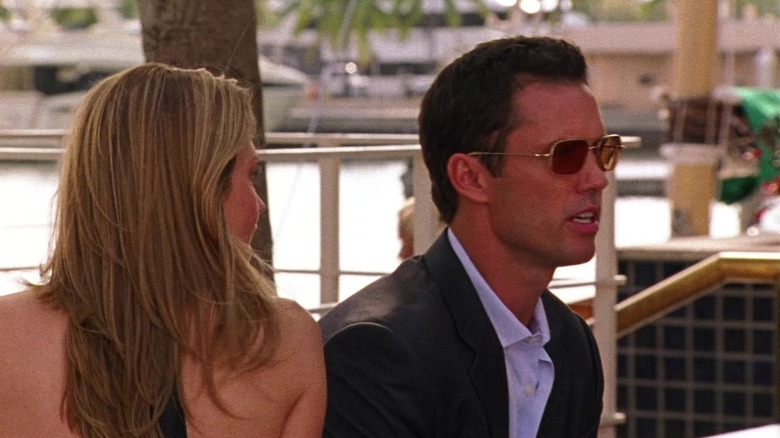 USA Network
In the intelligence community, a burn notice is a statement issued to disavow an asset or source deemed compromised or unreliable. The burn part of that term is supposed to note that all information received from that source must be destroyed or disregarded because it cannot be trusted. 
In USA's "Burn Notice," Jeremy Donovan plays Michael Western, a CIA agent working undercover who unexpectedly becomes the subject of one such burn notice. Without access to CIA assets or support, Western must fend for himself in hostile terrain while building a new network of allies to clear his name. Now working as a private investigator, Western spends his days solving cases and his nights obsessing over who has framed him.
In many ways, "Burn Notice" is an homage to classic spy thrillers blended with the modern police procedural. Western is a multi-talented secret agent, a master of disguise, a martial arts expert — a mix of MacGyver and James Bond. With Gabrielle Anwar as an ex-IRA agent and Bruce Campbell as a retired intelligence agent by his side, Western is an old-school private eye of sorts, solving mysteries while on a mission to uncover the truth behind his expulsion from the intelligence community.
Leverage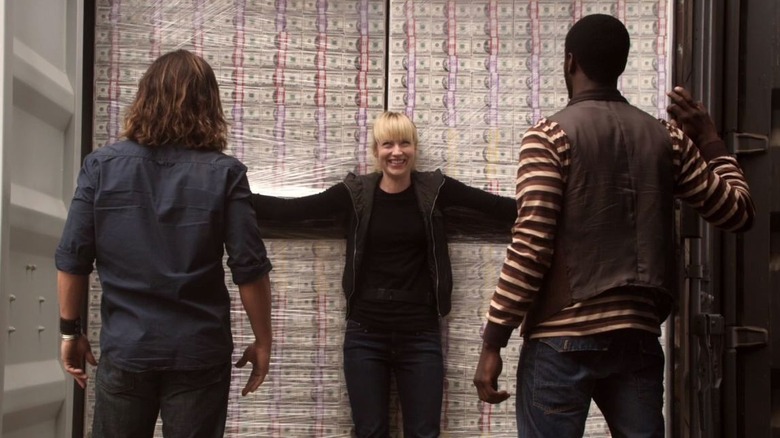 TNT
TNT's hit series "Leverage" follows the case files of another team of criminal investigators, but not the usual elite agents or hardened cops, as you'll find no highly respected government officers here. Instead, this team of determined manhunters is comprised of an ex-insurance investigator, a British art thief, a multi-talented computer expert, a former black-ops soldier, and a highly-skilled lockpicker. This unorthodox collection of misbegotten heroes fight injustice not by hunting down and nabbing the bad guys but by conning them — engaging in daring heists and bold schemes to outfox criminal organizations, corrupt businesses, and dirty politicians.
"Leverage" stars Timothy Hutton, Gina Bellman, and Aldis Hodge as a group of less-than-scrupulous heroes living on the outskirts of society who team up to strike back in the name of those who've been wronged. Every episode delivers an exciting, thrill-a-minute caper, and it dazzled fans for five years before it came to an end in 2012. More recently, a revival series called "Leverage: Redemption" saw the street-wise vigilantes back in action once again in 16 new episodes.
Castle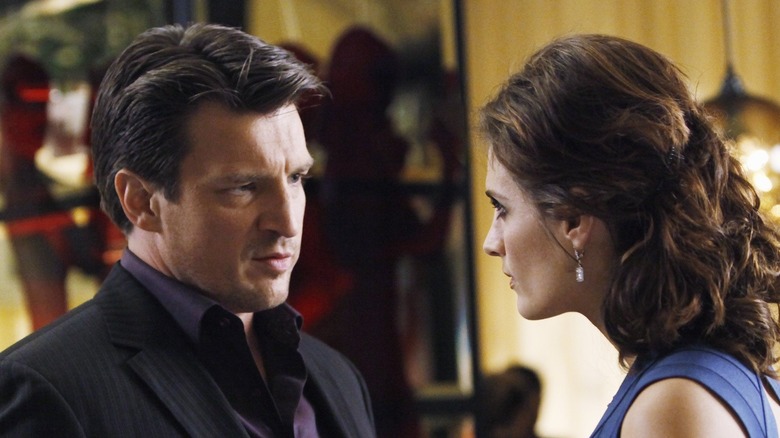 Disney–ABC Domestic Television
Nathan Fillion starred for eight seasons in "Castle" as famed mystery novelist Richard Castle, a cranky author looking for something new. When the NYPD questions him on a case that has similarities to one of his stories, he becomes intrigued by detective Kate Beckett, played by Stana Katic. After solving the case, he offers to work with Beckett on investigating crimes full time. Though Beckett is initially leery of the partnership, she recognizes that they work well together, and the quirky writer and the reluctant detective make successful partners. Together the duo solves some of the city's more unorthodox cases and catches the slipperiest of suspects, combining her police tracking skills with his uncanny knack for mysteries and riddles.
However, Castle was more than just Stephen King meets "Nancy Drew," even though "The Hollywood Reporter" did once refer to it as "Murder, He Wrote," a reference to the 1980s drama about a mystery writer who solves real murder cases. The real highlight of the show comes from the budding romance between Beckett and Castle while their tumultuous but passionate relationship plays out against the backdrop of grizzly murders and bizarre disappearances. Comparisons aside, it is a fan favorite and gets high marks on sites like Rotten Tomatoes.
Chuck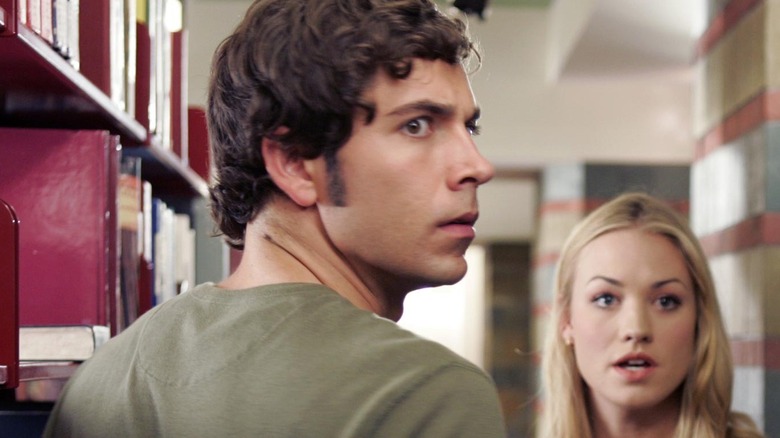 Warner Bros. Television Distribution
Unlike the many serious police procedurals on this list, "Chuck" has its tongue firmly planted in its cheek through most episodes. Don't let that turn you away, however, as it still contains all the action and mystery of shows like "White Collar," it just has a bit more fun with the formula. Starring Zachary Levi in his career-making role, the actor won't be recognizable to fans who only know him as the superhero "Shazam!" as here he plays a scrawny tech geek unwittingly thrust into the high stakes world of international espionage.
In "Chuck," we meet Chuck Bartowski, mild-mannered computer tech for a chain of Best Buy-like electronics stores. His hum-drum life is interrupted when CIA agent Bryce Larkin steals a database of high-level secrets belonging to the CIA and then plants them into Chuck's mind using a form of post-hypnotic suggestion. With some of the most important and coveted government secrets locked away in his head, Chuck is pulled out of his ordinary life and recruited to help thwart assassination plots, terrorist attacks, and evil schemes that threaten the survival of the free world. It's a ridiculous set-up, and the series embraces that fact with aplomb, typically featuring bombastic stories that IGN said made it "one of the most fun shows on TV."
The Mentalist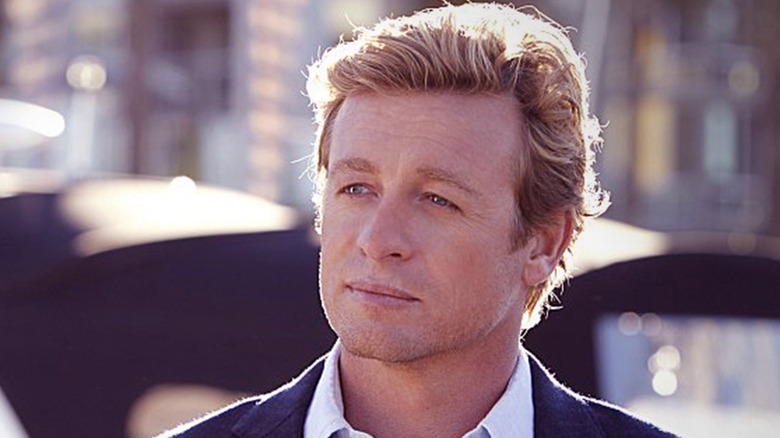 Warner Bros. Television Distribution
Meet Patrick Jane (Simon Baker), a man with a shady past as a supposed psychic medium who now operates as an independent consultant to the California Bureau of Investigations. His partnership with law enforcement pairs his expertise in psychology with his uncanny intuition and observational skills to help the investigators track down criminals. With a Sherlock Holmes-like ability to decipher cryptic clues and solve even the cagiest of cases, conman turned detective Jane helps the CBI every week by chasing down crooks and solving mysteries that have eluded even their best agents.
"The Mentalist" successfully takes the overused trope of the offbeat crime-buster with supernatural abilities. It then turns that cliche on its head by acknowledging the ridiculousness of the notion and making the detective a reformed phony. It works because even fake mediums and similar con artists possess the same observational skills and abilities that a good detective needs to solve a perplexing criminal puzzle. 
Jane is not the aloof loner detective you might expect either, as he is instead a wise-cracking charmer whose mysterious backstory is slowly revealed throughout the show's seven seasons. A police procedural with decidedly more murder mystery elements, the deductive process plays out on screen, making it an enjoyable watch for lovers of a good whodunit.
Perception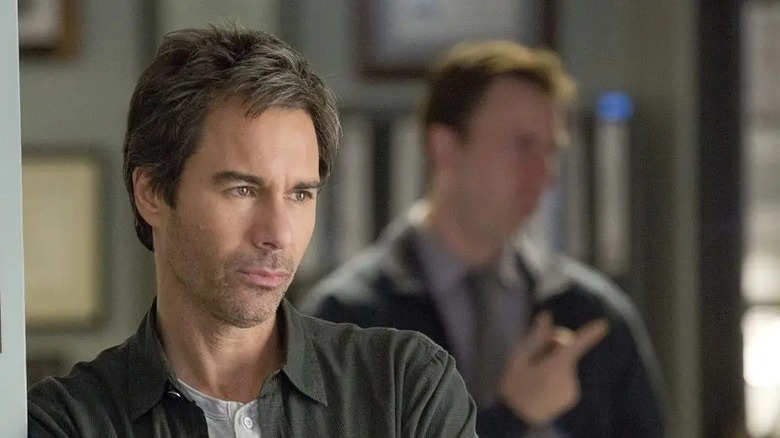 Disney–ABC Domestic Television
Created by "Star Trek: Voyager" veterans Mike Sussman and Kenneth Biller, "Perception" might not be what you would have expected from the pair after they finished their run on the fantasy series "Legend of the Seeker." But it turned out to be a blessing for fans of offbeat police dramas, as "Perception" was well received by fans and ran on TNT for three seasons. Starring Eric McCormack, Rachael Leigh Cook, LeVar Burton, and Scott Wolf, the series followed neuropsychiatrist Daniel Pierce who is recruited by one of his former students to join a special team that helps solve complex cases. However, Pierce is also hiding a dark secret that complicates his job — his FBI teammate Natalie Vincent isn't real, but a hallucination brought on by his worsening paranoid schizophrenia.
As The Washington Post described in their review of the series, one of the most intriguing aspects of "Perception" is how genuinely impossible it was to decipher the mysteries in each episode. After all, when the lead character is prone to paranoid delusions, the audience can never be quite sure what's real and what's in his imagination. It's a classic case of an unreliable narrator, and "for some viewers, this will be a neat trick. For others, it will be maddening."
Informer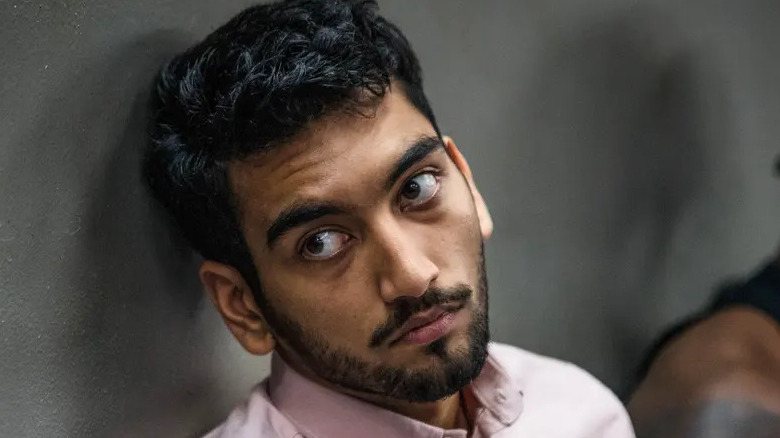 BBC Studios
If you are interested in a serious, dark cop drama about a police informant and are willing to go international, queue up the BBC miniseries "Informer," starring Paddy Considine, Bel Powley, and Nabhaan Rizwan. In this six-episode police drama, we meet Raza Shar, a British-born Pakistani who is pressured to become an informer for a counter-terrorism agency within the U.K. government. His handler is Gabe, a detective who coerces him into informing. However, Gabe struggles with the fallout from his previous assignment, where he went undercover with a far-right nationalist organization. Together, the pair work to track down an emerging threat, with Shar infiltrating the dangerous world of foreign terrorists and secret anti-government plots.
Be warned, though, "Informer" isn't your typical police procedural, and it's not for half-hearted viewing. In their review, The Guardian cautioned casual fans of your usual cop drama, saying that "the unsettling, disjointed quality of this new series suits the murky world of police informers." They ultimately gave the series high praise, writing,"'Informer' is a gripping and engaging thriller. The structure may be a little artful –- sometimes the main challenge is keeping track –- but I am looking forward to the jigsaw finally locking together, even if, at this stage, the pieces all seem to be from different puzzles."
In Plain Sight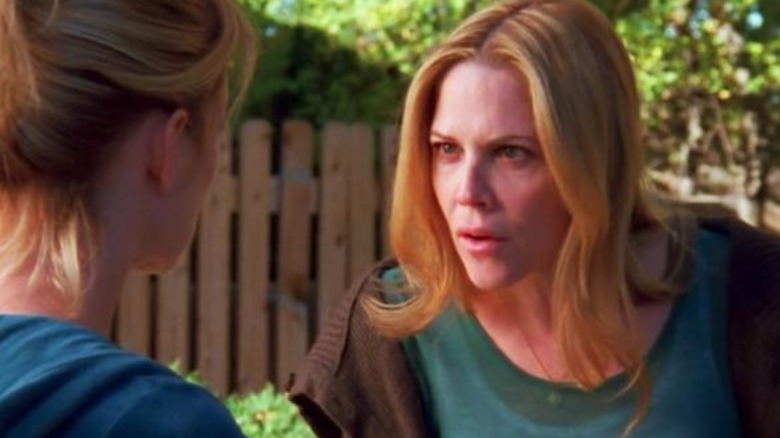 NBCUniversal Television Distribution
Often forgotten thanks to airing right next to the more successful "Burn Notice" on the USA Network, "In Plain Sight" had a four-season run starring Elizabeth McCormack as Deputy U.S. Marshal Mary Shannon. Shannon works with the Federal Witness Protection Program, resettling criminal informers in Albuquerque, New Mexico, alongside her partner Deputy U.S. Marshal Marshall Mann (say that one three times fast). Week after week, Shannon and Mann help testifying witnesses regain a peaceful life while facing off against the mafia goons and recently freed criminals looking for revenge. They must also balance their complicated personal lives and witnesses who never seem to want to follow the rules of the protection program. 
The series was nothing revolutionary but had a fun angle as a pair of agents protecting innocent informers, while the quirks of the central characters made for a fun dynamic, as the tough as nails Marshal Shannon and Marshal Mann — the fast-talking know-it-all — enjoyed a friendship that grew into more. McCormack drew high marks for her performance as the steady but atypical U.S. Marshall. While not breaking any new ground, the series entertained audiences for four solid seasons with offbeat stories about two heroes who were easy to root for.
Bones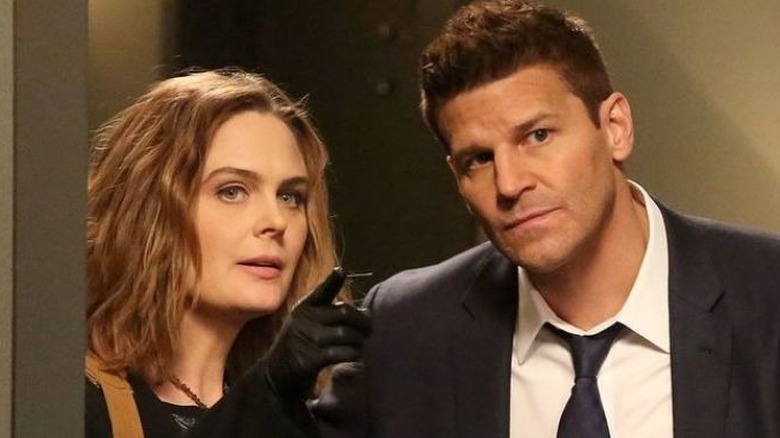 20th Century Fox Television
Fox's long-running series "Bones" is one of TV's best investigative dramas. Inspired by the life and novel of forensic anthropologist Kathy Reichs, the series is led by David Boreanaz, who plays FBI agent Seeley Booth, whose cases always seem to start with the recovery of long-dead physical remains. To help solve these archeological murder mysteries, he turns to Dr. Temperance Brennan, played by Emily Deschanel, a brilliant forensic anthropologist who knows a thing or two about skeletons. "Bones" was a consistent performer in Fox's lineup and remains a favorite among fans.
As the scientific advisor to the federal agency, Brennan brings expertise that makes her particularly well suited to the cases tackled by Booth. Together, they form a unique partnership that makes the series delightfully fun to watch despite the ghastly subject matter. Though it never won any major awards, it was well-received by critics for its ability to mix comedy, personal drama, and police procedural, making it a stalwart of primetime TV for more than a decade before it came to a close in 2017.