Westworld Season 4 - What We Know So Far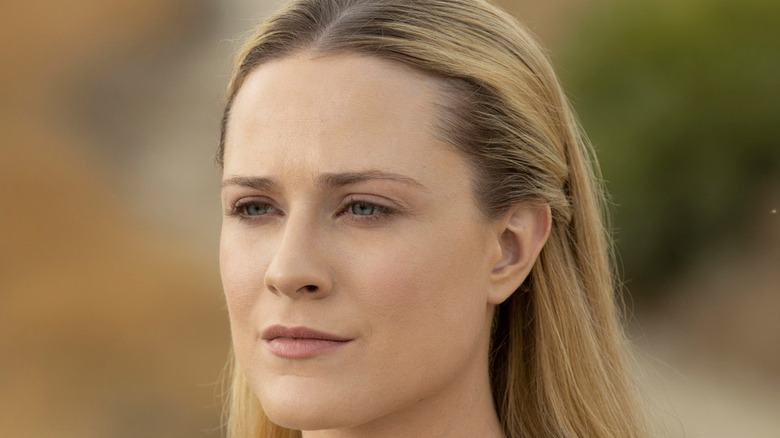 HBO
Michael Crichton had an affinity for futuristic theme parks that go off the rails and shine a light on the darker side of humanity. While the author is primarily known for writing the novel "Jurassic Park," he also wrote and directed movies as well, including 1973's "Westworld." The film is a noteworthy addition to the genre of science fiction for a number of reasons, the least of which is that it was the first film ever to utilize 2D digital computer animation (via filmsite). 
Fast-forward over 40 years later, and the HBO series of the same name would make the CGI in the original film look like child's play. "Westworld" took the premise of the film, namely a group of androids in an amusement park go haywire and start demonstrating their own free will, and cranked it up to 11 with a cavalcade of insane moments over the course of its first three seasons. The show's themes about wish fulfillment and predestination come up often as its characters ruminate on what it truly means to be human (a common thread in many science fiction properties from "Blade Runner" to "Ex Machina"). 
If you just can't get enough of this intersection of sci-fi and philosophy, then there's good news on the horizon. "Westworld" will be back for a fourth season, and here's everything we know about it so far.
Updated June 6, 2022: This article has been updated with new information.
What's the release date for Westworld Season 4?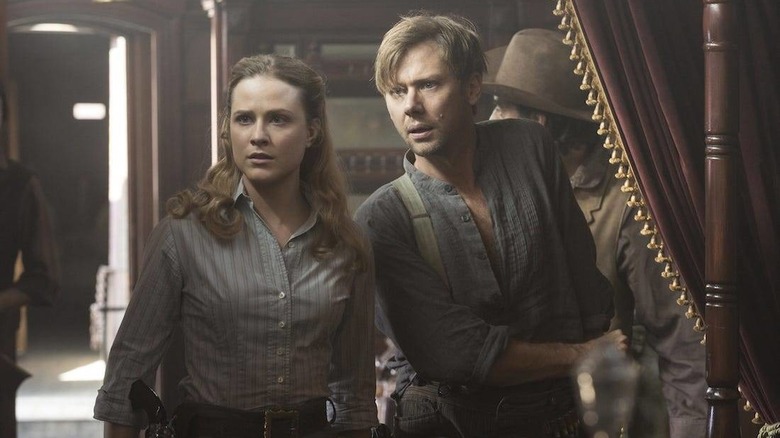 HBO
"Westworld" has been a main attraction of HBO's original programming for several years now, and after the end of "Game of Thrones", it's helped fill the network's need for fantastical, high-concept thrill rides. Therefore, it should come as no surprise that the series was renewed for a fourth season before Season 3 had even ended (via The Hollywood Reporter). Casey Bloys, president of HBO programming, released a statement to coincide with the renewal, stating, "From the Western theme park to the technocratic metropolis of the near future, we've thoroughly enjoyed every twist and turn from the minds of master storytellers Jonathan Nolan and Lisa Joy."
Now, there's just the question of when exactly "Westworld" Season 4 will come out. There was a two-year break between Seasons 2 and 3 of "Westworld," which came out in 2018 and 2020, respectively. Given that it's such a VFX-heavy show, it makes sense that the "Westworld" creative team needs a lot of time to get everything to look perfect in it. Fortunately, the long wait for Season 4 is nearly over, as the first proper trailer for the next chapter of "Westworld" revealed a premiere date of June 26, 2022.
Who's in the cast of Westworld Season 4?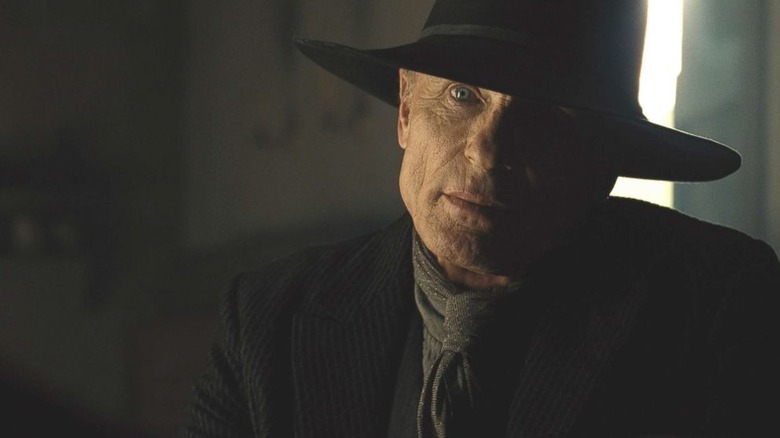 HBO
Spoilers ahead for the Season 3 finale of "Westworld"
As fans of "Westworld" know all too well, a character dying doesn't necessarily mean an actor is out of work. Considering a good portion of the characters are androids, it's always possible for someone to die and then have their personality uploaded into a different unit. 
Taking that into account, audiences should expect some familiar faces to return in "Westworld" Season 4, including Thandie Newton as Maeve, Aaron Paul as Caleb, Jeffrey Wright as Bernard, Luke Hemsworth as Ashley, and Ed Harris as The Man in Black. The biggest question mark of all remains the fate of Evan Rachel Wood's character, Dolores, who had her mind completely erased during the Season 3 finale. 
In an interview with Variety, co-creator Jonathan Nolan confirmed that "Dolores is gone." However, that doesn't mean Evan Rachel Wood is done with the show, with Nolan adding, "I think it's important with a show in which death can be impermanent — these are robots, after all — to mark the occasion with Dolores. That version of that character is gone." In other words, it sounds like Wood could very well return but as a different iteration of the character we've seen her play these last few seasons. 
According to Deadline, one new addition to the "Westworld" Season 4 cast has been confirmed: Aurora Perrineau. No details are currently available about her character, but she will apparently be playing a key recurring role in at least five episodes of the new season.
What's the plot of Westworld Season 4?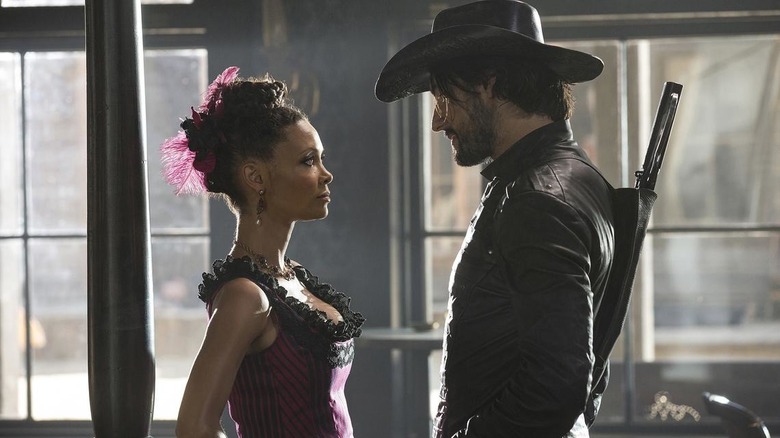 HBO
Naturally, details have been kept sparse about any future plans for "Westworld." Star Thandie Newton did, however, share some intel during an appearance at The Paley Center for Media. "I have no idea what they have planned for me," the actor said. "I'm teamed with Tessa [Thompson], I know. Hopefully, we can do some rightful damage." If your wheels are already turning, dreaming up what kind of damage Newton and Thompson will do together, you're not alone.
In the same Variety interview mentioned above, co-creator Jonathan Nolan was asked whether the show is going into the real world or back into the park for the upcoming season, and he responded by saying, "We love you, and we say this with the greatest respect, but there is no earthly way we're going to answer that question!"
Despite his above comment, Nolan has revealed a little bit about "Westworld" Season 4 in recent years. For instance, in an interview with The Hollywood Reporter that was published following the conclusion of "Westworld" Season 2, Nolan did say, "The hosts have a different version of mortality, a different outlook. I think clearly with Dolores, as she's laid out, there is a longer view here, a larger set of goals. They're existential. They span eons. And that's a fascinating level of story to engage in."
With that comment in mind, it's possible "Westworld" Season 4 could pick up decades or centuries after the show's third season. After all, it's a big world out there, and "Westworld" has only just begun to scratch the surface.
A look back at season 3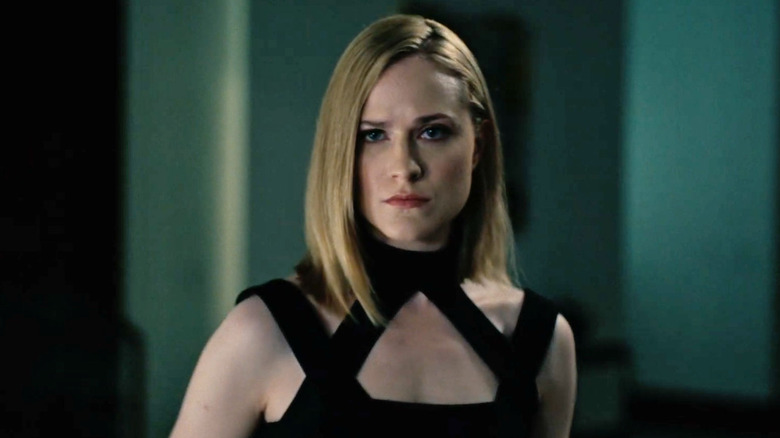 HBO
"Westworld" Season 3 built the most expansive world for our AI protagonists yet. Nonetheless, Dolores (Evan Rachel Wood), Bernard (Jeffrey Wright), and Maeve (Thandiwe Newton) find the worlds they've escaped to aren't much better than the world from which they've fled. Charlotte (Tessa Thompson) now works for and shares a consciousness with Dolores. The villainous William, AKA The Man in Black (Ed Harris), is trapped in a mental institution for the majority of the season, and he's haunted by visions of Dolores and Emily — the daughter he killed. People in power at Delos and the newly-introduced organization Incite continue to attempt to play God, lording over both their human and artificial subjects. 
Season 3 of "Westworld" carries on the themes of classism and morality begun in the first two seasons, showing that very few humans stand worthy of the AI characters' trust. Before the release of Season 3, Evan Rachel Wood spoke to IndieWire about the show's future. "I don't know how long they plan on carrying it on for, but I know that this season is unlike anything we've done," she said. "It just keeps expanding and growing. I'm really excited for people to see where we've taken it." Chances are, Season 4 will push the boundaries even further than the ending of "Westworld" Season 3.
Will loose plot threats be resolved in season 4?
HBO
While Season 3 of "Westworld" opened new, layered avenues for plotlines to travel down, it also left many questions unanswered. For instance, will Caleb (Aaron Paul) have what it takes to lead the revolution for robots and downtrodden humans? Will Dolores somehow manage to return and continue her relationship with Caleb? How does the "Dolores pearl" that exists within Charlotte actually work? What did Bernard see when he stared into The Sublime (AKA the existence beyond the world)? Can a robot William embrace redemption and become a hero?
Story details for "Westworld" Season 4 have been hard to come by, but that hasn't stopped fans from speculating on what's ahead for their favorite characters. "Westworld" has never been a show to rely on obvious or safe storytelling, and there's no reason to think the sci-fi series will start playing to tired tropes any time soon. Myriad loose ends may or may not be resolved in Season 4, but it's safe to assume that many unpredictable twists lie ahead.
The Season 4 trailer has a lot to unpack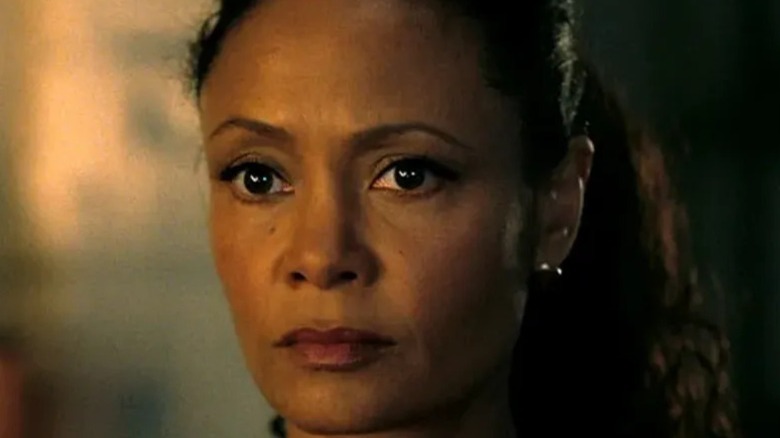 HBO
The "Westworld" Season 4 trailer teases a lot of exciting possibilities, but it doesn't give much detailed insight into what will ultimately happen, or what the world looks like after the Los Angeles explosions. The biggest teases in the short, dialogue-free trailer — set to Lou Reed's "Perfect Day" — include the Man in Black returning to Westworld, as well as the return of Evan Rachel Wood. At the ATX TV Festival, series co-creator Lisa Joy revealed that Wood will be playing a new character in Season 4 — a supposedly normal woman living a supposedly normal life in the city (per Deadline).
We also see some intriguing shots of Maeve and Caleb, who both seem to be in a decent bit of trouble. Given Caleb's vital role in the struggle for AI freedom, he could get captured by Incite, or by some other nefarious power, at some point in the season. Based on the trailer alone, it looks like character development is still at the heart of the story, which should bode well for Season 4. The trailer also looks visually stunning, carrying the same flair for vista shots and cool sci-fi locales that "Westworld" has always worn on its sleeve.
James Marsden returns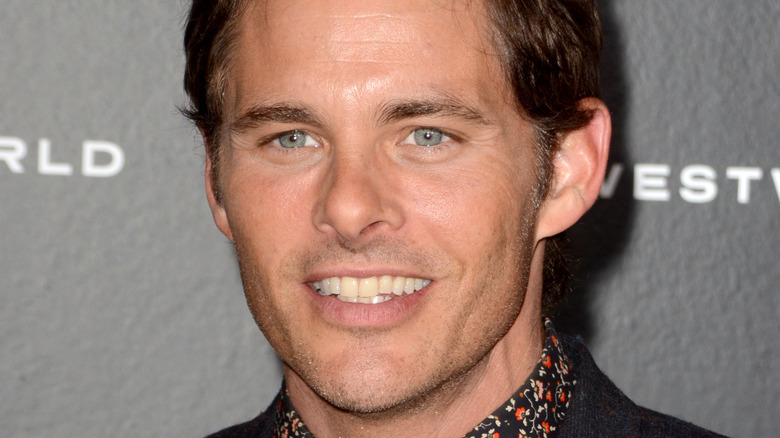 Kathy Hutchins/Shutterstock
It's been revealed that "Westworld" Season 4 will mark the return of a former cast member, James Marsden (per Variety). Marsden played the sweet and loyal Teddy in Season 1 and Season 2. At the ATX Festival, "Westworld" co-creator Lisa Joy confirmed that Marsden will play a Teddy look-alike who goes on a date with Evan Rachel Wood's new character (per Deadline). Joy went on to confirm that, sadly, Dolores is dead, and that Wood's new character Christina has some sort of relationship with Marsden's character. 
Of course, it's tough to say whether or not the "Westworld" team is really telling the whole truth. It's technically possible for Teddy and Dolores to grace our screens once again. Even if they don't, both actors bring phenomenal acting chops to whatever roles they inhabit, and it's good to see them both back in the "Westworld" saddle. "Sometimes you have to go away to come back," Marsden said at the ATX panel (per Deadline). "We learn to speak cryptically on this show. This has been seven years of our show and yeah, it's an amazing thing to be a part of and see where the story goes. From the beginning, I didn't know where it was all gonna go but I'm glad to see it now."
Bernard continues to evolve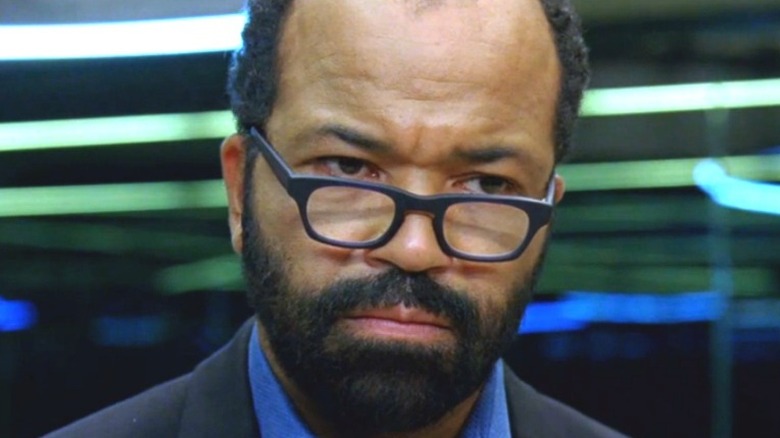 HBO
One of the most shocking twists of "Westworld" Season 1 is the revelation that Bernard Lowe is a robot. Bernard spends the season creating, upgrading, and working with the Westworld AIs. It's heartbreaking when Lowe, played by the phenomenal Jeffrey Wright, uncovers the truth of his identity. His memories are false creations, implanted by Robert Ford (Anthony Hopkins), and he's neither human nor fully one of the Westworld AIs.
And yet, Bernard strives to stay centered, even while he fears he's losing his mind. In an interview with Deadline, Wright discussed what's to come in Season 4. "Season 4 is going to be more of the 'Westworld' you've come to expect and more digging down into some issues and some technology that is going to look familiar to us, as always," he said. Speaking on Bernard's arc in particular, he said, "Bernard is still trying to solve it all and he is still very much a part of the struggle. The struggle goes on, and Bernard is right there at the center of it. It's gonna be fun." We have no doubt that Bernard Lowe will continue to evolve and play a pivotal role in the lives of other characters in "Westworld."
Will Anthony Hopkins return?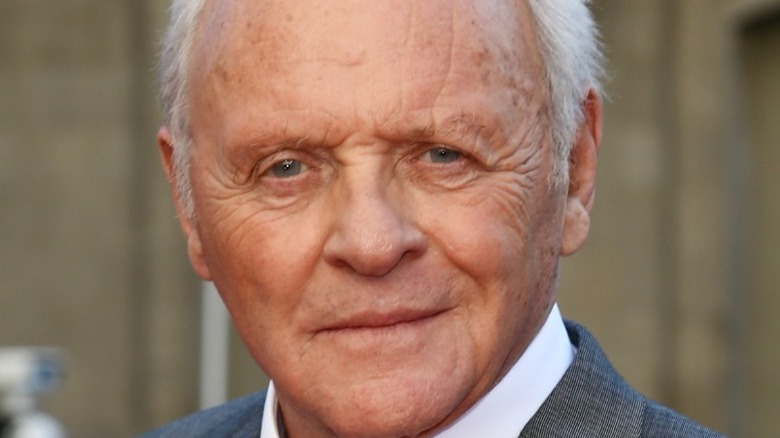 Debby Wong/Shutterstock
In Seasons 1 and 2 of "Westworld," Anthony Hopkins played Dr. Robert Ford -– the man who started it all. Ford has always been a complicated character -– at times villainous, and at other times the biggest advocate for the robots of his theme park. Ultimately, Ford's own hubris and desire to play God overshadows his best characteristics. At the end of Season 1, he's shot in the head by Dolores. It was thought that the Season 1 finale would be the last of Hopkins on "Westworld," yet Ford spoke from beyond the grave for much of Season 2, guiding Bernard on his journey via his imagination. Before Season 2 began, Jonathan Nolan spoke to The Hollywood Reporter about working with the screen and stage legend. He said, "It was one of the greatest privileges of my career so far, getting to work with Anthony for the first season."
Hopkins played Ford with such nuance and complicated humanity that it made for extremely captivating television. Before "Westworld," he hadn't appeared on a TV show since 1989, and seeing an actor of Hopkins' caliber perform week after week captivated many fans. Sadly, the star didn't make any appearances in Season 3. However, with "Westworld," we've learned to never say never.
Ariana DeBose joins the cast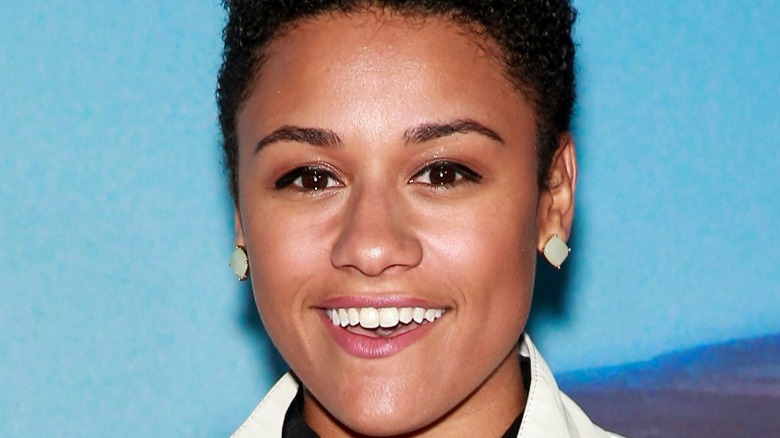 Ovidiu Hrubaru/Shutterstock
Season 4 of "Westworld" looks positioned to introduce some exciting cast additions, including Aurora Perrineau. Fresh off her Academy Award win for Best Actress in a Supporting Role in "West Side Story," Ariana DeBose is another big name now revealed to be joining the HBO sci-fi show. At a panel at the ATX TV Festival, series co-creator Lisa Joy announced that Ariana DeBose will play the roommate of Evan Rachel Wood's new character, and that there may be some romantic tension between the two (per Deadline).
In addition to the new faces debuting in "Westworld" Season 4, many former and current cast members could also find themselves playing new characters. In an interview with Variety, co-creator Jonathan Nolan discussed the caliber of the "Westworld" cast and how they lend themselves to the genre-bending stories he and Joy want to tell. "The fun of the show from the beginning is that one actor can play several roles and that the story shifts underneath them — shifts genres, shifts time," Nolan said. "Obviously, it's an astonishing cast, and giving all of them something extremely challenging is part of the fun of it. So I think we would anticipate seeing some or many of these faces in very different circumstances, and very different relationships."
Hopefully, the dystopian world of "Westworld" season 4 will give fans everything they've been waiting for. The series premieres on HBO on June 26, 2022.