Kevin Hart: The Fatherhood Scene That Makes Us Love Him Even More
This content was paid for by Netflix and created by Looper.
Kevin Hart tugs on all of the heartstrings with his sensational turn in "Fatherhood." In the new film from director Paul Weitz, Hart plays Matt, a new dad who must grapple with the grief of his wife's sudden death during childbirth while also navigating the complicated world of parenting on his own.
Hart may have made a name for himself as a top-tier stand-up comedian and one of Hollywood's most hilarious actors, but in this film, he pairs his signature comedy skills with some serious dramatic chops. As Matt watches his daughter grow up, he also experiences moments of true growth. As an actor, Hart has never been more emotional, honest, or precise, and while his heartfelt performance anchors the entire film, there's one scene in particular that shows just how talented Hart is as a dramatic actor. Let's take a look at the one scene in "Fatherhood" that makes us love Kevin Hart even more.
An impossible choice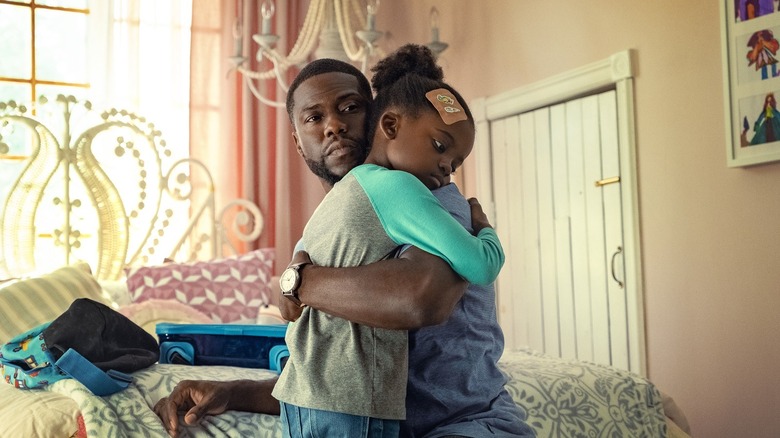 Phillippe Bosse/Netflix
Throughout "Fatherhood," Matt travels between both the depths of depression and the pinnacles of true joy as he forges a new life with little Maddy. From the moment that Matt brings his daughter home, the single father tries his best to put his own sorrows aside and prioritize Maddy's needs, while also honoring his late wife's wishes. However, like many parents, Matt feels inadequate and overextended by his commitments to both his taxing career and also Maddy's upbringing. At the same time, Matt's mother and his late wife's family are convinced that the best thing Matt could do for Maddy is to move back to Minnesota to live near his extended family.
As pressure mounts on all fronts, Maddy expresses her own dissatisfaction with her stodgy school and the growing distance between herself and the rest of her family. That's when Matt knows he has to make a hard choice. The status quo isn't working. Something has to change. After the duo visit their family and Matt sees Maddy's eyes sparkle around her grandparents, Matt finally knows that this is the right place for Maddy — but not for himself. It's an extremely difficult decision, and Hart's performance as Matt says goodbye to Maddy makes the scene a real tearjerker.
A bittersweet goodbye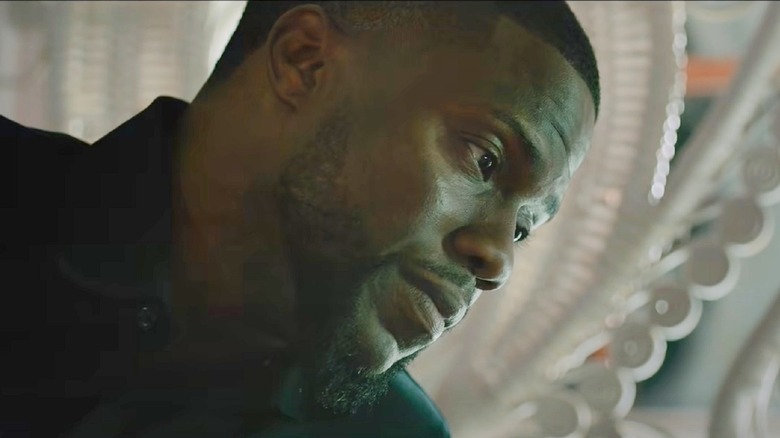 Netflix
Maddy is fast asleep in her mother's childhood bed when Matt decides to let her stay with his late wife's parents, so he knows that his daughter won't hear what he has to say. The way that Hart plays the scene, it's clear that Matt's monologue is more about convincing himself that he's making the right decision than saying goodbye to his daughter.
Matt starts by calling back to the promise he made to Maddy when she was first born, when he said he would "always try to do what was best for" her. And right now, he admits, what's best for her is to be in a place where she feels truly happy and is surrounded by loved ones. Even though Matt's career prohibits him from moving to Minnesota, that shouldn't stop Maddy from being where she needs to be. Besides, despite his differences with his in-laws, they were the ones who raised his favorite person. "Grandma Mary and Grandpa Mike, they brought up Mommy, and Mommy was the best. She was just like you," he says, with an especially crushing line delivery from Hart.
Perhaps the tenderest moment of all then follows. Matt thanks Maddy for "taking care" of him and gives her his traditional two kisses: "One from Mommy, one from me." If you weren't already teary-eyed, what follows is even more heart-wrenching.
A brave face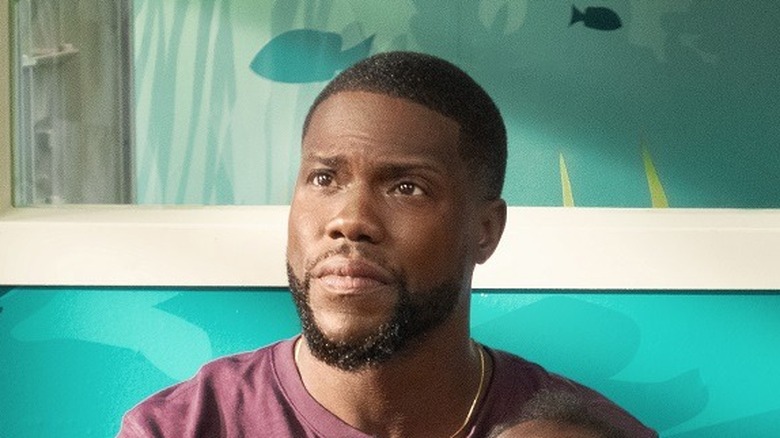 Phillippe Bosse/Netflix
In the light of the morning, after Matt has tried to make peace with his decision to leave Maddy behind, it's time to really say goodbye. And this time, he knows he can't sob his way through a speech, but instead has to put on a happy face to reassure his daughter that this is the right decision, even if he's still not sure about it himself.
As Matt promises Maddy that she's in for a summer of fun with Grandma and Grandpa, Hart's face betrays the pain that Matt is facing in spite of his sunny words. Hart's performance makes it clear that uncertainty and anguish are hiding underneath Matt's delicate goodbye, and that he is struggling to get through the moment without breaking down in front of his daughter. Once Matt finally makes his way into the car to drive away, those emotions finally start flowing freely. Hart plays the fallout beautifully.
Throughout "Fatherhood," Hart shines in many moments. Matt's hilarious brushes with the all-too-relatable experiences of parenting bring honesty and humor, while trying to raise Maddy in his wife's image takes a real, visible toll on Matt. But this moment, in which Matt faces the possibility that, despite his best efforts, he might not be the best one to shepherd Maddy through the next phase of her life, is especially excruciating. Hart's depiction of the many complex emotions at play throughout the scene makes us appreciate his already impressive screen presence even more.