Is There A New Episode Of NCIS: Los Angeles Tonight? (December 19, 2021)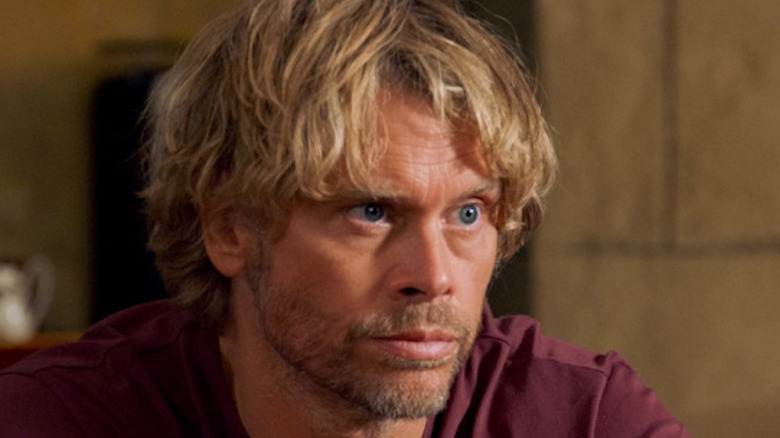 CBS
Fans of "NCIS: Los Angeles" are anxiously awaiting every new episode of Season 13 with the events at the end of last season, including the departure of characters and fan-favorite couple Nell Jones (Renée Felice Smith) and Eric Beale (Barrett Foa). Not to mention that fans fear the show may be canceled at the end of this season in favor of "NCIS: Hawaii." The veteran team of "NCIS: Los Angeles" agents includes G. Callen (Chris O'Donnell) and Sam Hanna (LL Cool J), who are still leading the team, and Kensi Blye (Daniela Ruah) and Marty Deeks (Eric Christian Olsen). Together, they are still hard at work solving crimes related to or involving the United States Navy.
Season 13 has taken viewers on quite the ride through G. Callen's past and into the struggles of Kensi and Marty's relationship as they try to go through the process of adopting a child. Nothing has been heard or mentioned about the status of Nell or Eric over in Japan as of yet. Sam has been butting heads with Horace Killbride (Gerald McRaney), which we saw unfold in Episode 3, "Indentured" (via IMDb), where the team investigates an arms dealer responsible for the deaths of ATF agents who has an interesting link to Killbride himself.
The latest episode of "NCIS: Los Angeles" is still "Sundown," the sixth episode of Season 13 (via IMDb). "Sundown" involves a complicated bomber who threatens to blow up a bus full of people. The man terrorizing the bus claims his daughter, who was said to have died by suicide while serving her country, was actually murdered and demands her name be cleared.
"NCIS: Los Angeles" audiences are still waiting to see Episode 7 after the dramatic events of "Sundown." Will the wait be over tonight?
There is no new episode on Sunday, December 19
CBS
Unfortunately, fans will still have to wait for a little while to see what happens to the "NCIS: Los Angeles" team as Episode 6 was the show's fall finale. "NCIS: Los Angeles" usually airs every Sunday at 9/8c on CBS. But, with the holidays coming up, there will be a short break in the season until it returns on Sunday, January 2, 2022. This isn't particularly uncommon for shows on CBS — or most long-standing series, in general — to take a break for this period of time and have a mid-season finale before returning to the regularly scheduled episodes in the new year.
Given that the holiday season is now upon us, instead of a rerun episode of "NCIS: Los Angeles" like previous weeks, there will be a CBS Original Christmas movie airing at 8 p.m. ET titled "Christmas Takes Flight." The holiday original movie stars "Scandal" alum Katie Lowes and "Fuller House" actor Evan Williams. Per an official CBS press release, "Christmas Takes Flight" follows Jenny (Lowes), a pilot for the regional airline owned by her family, and Matt (Williams), the airline's new owner who's looking to cut costs and take the warmth out of the family business. As Matt implements changes, Jenny takes it upon herself to show her new boss why his new business is worth investing in.
Following "Christmas Takes Flight," the CBS schedule alerts us there will be a rerun of Season 1, Episode 3 of "FBI: International" airing at 10 p.m. ET. Both titles are also available to watch on CBS.com and Paramount+.