Squid Game Creator Hwang Dong-Hyuk Reveals Why Series Was Picked Up After 10 Years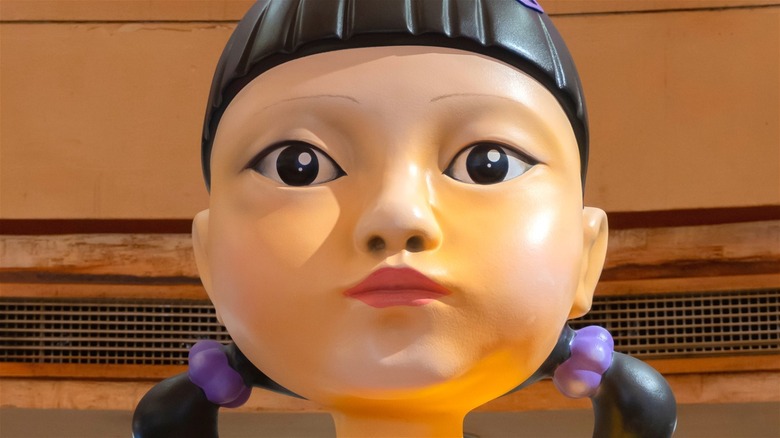 Faiz Zaki/Shutterstock
If you've been anywhere near the Internet in 2021, you're no doubt aware of "Squid Game," the dystopic South Korean thriller series about a desperate man who's forced to participate in a series of deadly children's games for the amusement of the rich. Since the show premiered on September 17, it's gone on to become not just one of the biggest shows of the year, but the most-watched Netflix series of all time. According to official viewership numbers released by Netflix this past week, "Squid Game" has been streamed for a total of 1.65 billion hours in just two months. That's nearly a billion more hours than the next most-watched show, "Bridgerton" (via Variety).
What's perhaps most impressive about "Squid Game's" success is that it was by no means a foregone conclusion. As writer-director Hwang Dong-hyuk explained to The Hollywood Reporter, it took more than a decade for "Squid Game" to become a reality. Hwang first came up with the idea in 2008 and pitched it as a feature film, but every buyer told him that the idea was too violent and unrealistic. Writing the script left Hwang broke, so he was forced to shelve "Squid Game" for a decade. By 2018, when Netflix had just started producing content in Korea, Hwang decided to dust off the script and give it another shot. The rest, as they say, is history.
Now, in the days after "Squid Game" officially became the top Netflix show of all time, Hwang has some thoughts about why the show was such a hit more than a decade after it was first rejected.
For Squid Game, 2021 was finally the right time for it to find an audience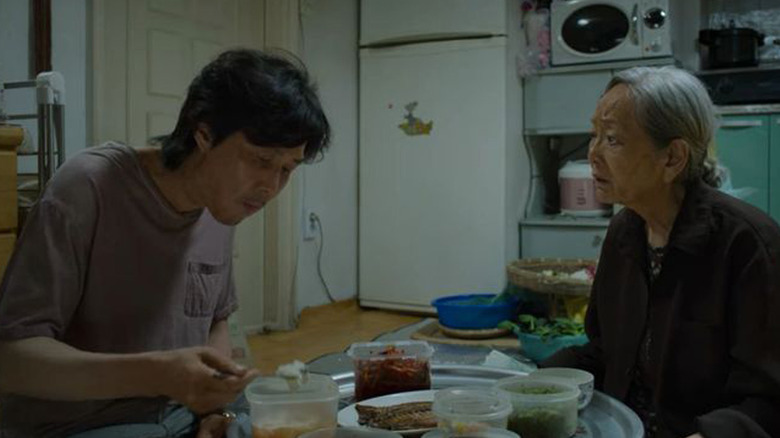 Netflix
Hwang explained why "Squid Game" worked as a TV show in 2021 and not a movie in 2008 in an interview with The Hollywood Reporter. "The response that I got after 10 years was that it was, in fact, very realistic — that there are probably people playing this game somewhere in the world," Hwang said. "And I think the pandemic also accelerated the situation a bit as well. And so the fact that this story was no longer not realistic, that it was no longer absurd, but that it was something that was very in touch with reality after a decade, it saddened me a little bit as a person, but it also brought me joy as a creator."
Hwang went on to say that the increase in social and economic inequality in the past decade made "Squid Game" feel more plausible, pointing to factors like the increasing wealth gap, climate change, and the emergence of crypto-currencies. "[It's] almost like a lottery now — almost like a gamble where people in reality have actually doubled or really increased their wealth overnight," Hwang continued. "And I feel like the world is gradually moving toward dystopia. There are more and more people who really don't dream about the future, and that drives people to want to gamble, to really take it all and put it all on the line and hope for the best. And I think these changes have created an environment where the idea of people putting their life on the line playing children's games is no longer something that is too absurd."
Hwang Dong-hyuk's comments are very much in line with Squid Game's themes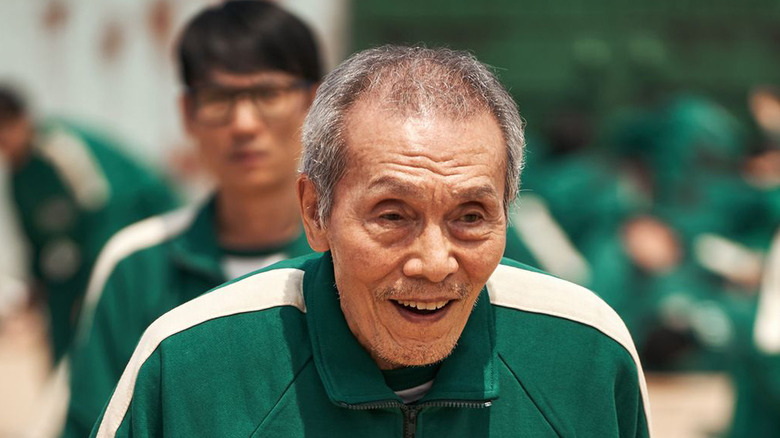 Netflix
If you watched "Squid Game," Hwang's comments make total sense. The main character, Seong Gi-hun (Lee Jung-jae) is a man on the verge of bankruptcy due to a gambling addiction, and he can't even take care of his dying mother. That's what drives him to participate in the games in the first place. Gi-hun is just one of hundreds of similarly desperate people who put their lives on the line for the enjoyment of the rich. 
Then there's the show's main villain, Oh Il-nam (O Yeong-su). He's not just a wealthy spectator like the others, he's also a participant in the games. Even so, Il-nam is playing the games for very different reasons than the other competitors — his own amusement — and life is never in real danger. In the world of "Squid Game," the wealthy aren't operating on a level playing field, and Il-nam's story makes that literal. 
As popular as "Squid Game" is, society's inequalities haven't gone anywhere. That should give Hwang Dong-hyuk plenty of inspiration for Season 2 and beyond.