The Connection Between Hawkeye And Gossip Girl That You Definitely Didn't Notice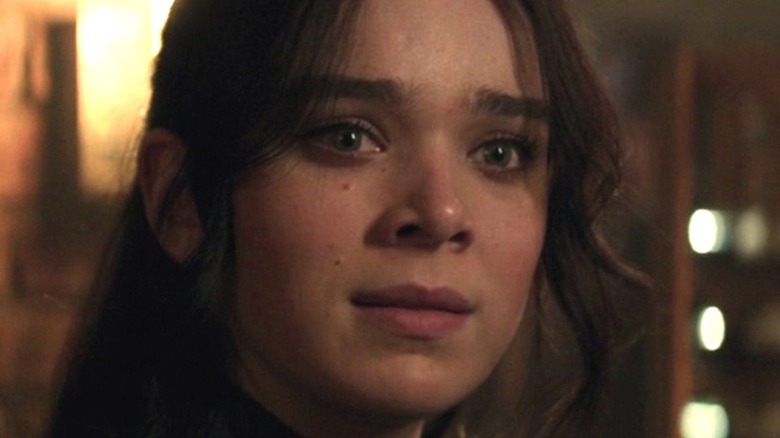 Marvel Studios/Disney+
Hailee Steinfeld has finally made her way into the Marvel Cinematic Universe, picking up the purple bow to play Kate Bishop opposite Jeremy Renner's Clint Barton in "Hawkeye." The street-level series is the latest Marvel Disney+ show to introduce new heroes and villains into the MCU following "WandaVision," "The Falcon and the Winter Soldier," and "Loki." The series is pushing Kate Bishop to take over the Hawkeye mantle for herself, since Clint Barton is struggling with the after-effects of his Avenging years. It's not surprising that the MCU is handing over the baton to younger heroes, since there are constant rumors of a "Young Avengers" movie in the works.
The MCU has already introduced the twins Tommy aka Speed (Jett Klyne) and Billy aka Wiccan (Julian Hilliard) in "WandaVision," as well as Elijah Bradley aka Patriot (Elijah Richardson), who briefly shows up in "The Falcon and The Winter Soldier." Meanwhile, America Chavez (Xochitl Gomez) will make her debut in "Doctor Strange in the Multiverse of Madness." It definitely looks like the stage is being set for the "Young Avengers" to show up at some point.
While we're on the topic of a young group of characters, though, it turns out that there's a surprising connection to The CW's "Gossip Girl" in the "Hawkeye" premiere. 
The Lotte New York Palace Hotel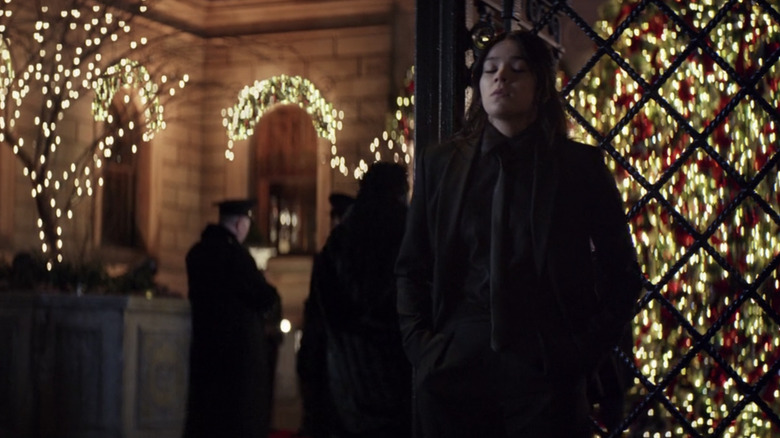 Disney+/Marvel Studios
The finale of the "Hawkeye" premiere sees Kate sneak into an auction for a bunch of shady corporate figures who spend vast amounts of money on outlandish objects like a Triceratops skull. Clint Barton's Ronin outfit and retractable sword are also up for grabs after they were "recovered" from the ruins of the Avengers compound following "Endgame." But the Tracksuit Mafia show up looking for a particular mcguffin-like watch, and Kate dons the Ronin outfit in the middle of the chaos. 
However, "Gossip Girl" fans might recognize the location that this all takes place in: The Lotte New York Palace Hotel.
The Palace has been used as a location in a number of iconic shows, including "Mr. Robot," "Daredevil," "Succession," and "Power" to name a few. But it's a particularly major location in "Gossip Girl" — as Chuck Bass (Ed Westwick) has a suite in the building and often moves between the Palace and the Van Der Woodsen penthouse whenever he argues with Bart Bass (Robert John Burke) or the rest of the family. That said, once Chuck buys the Empire hotel, he permanently moves out of the Palace.
It's unsurprising that Marvel Studios picked the New York Palace Hotel as a location for the "Hawkeye" premiere thanks to its grand courtyard and lavish interiors. Since the story is set in New York at Christmas, it wouldn't be surprising if there are more iconic locales in the next five episodes.