'60s Films You Should Watch After Seeing Last Night In Soho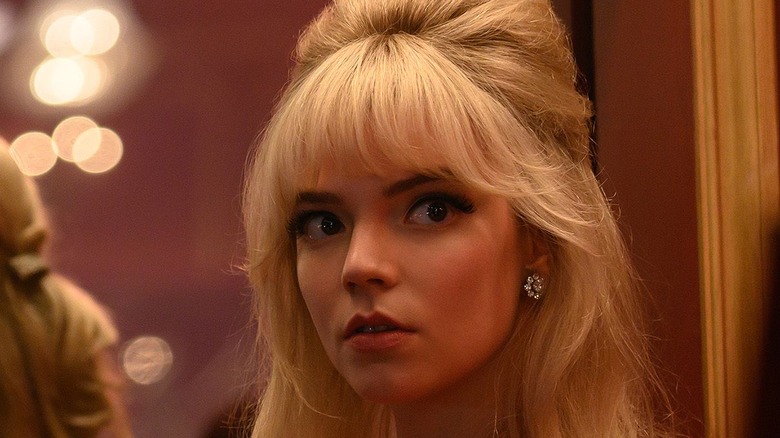 Universal Pictures
Director Edgar Wright is obviously an enormous fan of film, as seen in his affectionate parodies "Shaun of the Dead" and "Hot Fuzz," which have tons of references to the zombie and cop genres respectively. His latest, "Last Night in Soho," is no parody, but still has plenty of references all the same.
The story involves a young, 1960s-obsessed fashion student named Eloise (Thomasin McKenzie) who moves to London and starts being transported at night into the life of a 1960s woman named Sandie (Anya Taylor-Joy).  The timid Ellie, who doesn't find London as welcoming as she'd hoped, gets a rush from being the more confident Sandie — until her visions become much darker. 
Edgar Wright goes to great pains to replicate the era and it's easy to see why Ellie romanticizes it at first. As in some of the films that were made back then, appearances aren't as nice as they seem. We thought we'd take a look at some of the films that Wright directly references, as well as some that have some thematic similarities that were made at the time. We hope you'll take the time to watch these if you haven't already.
On Her Majesty's Secret Service (1969)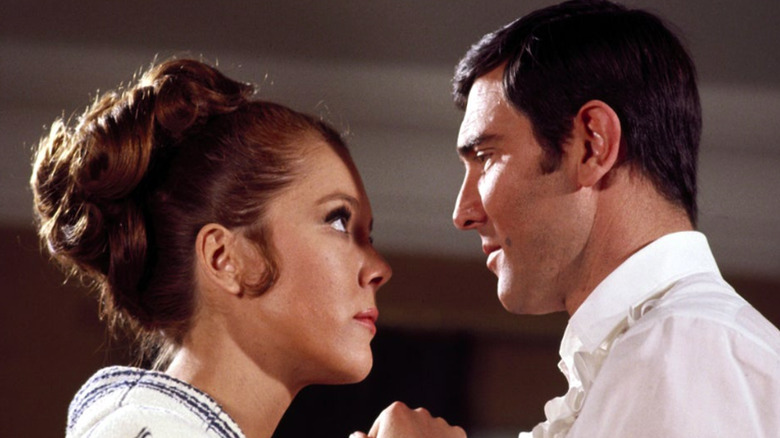 Eon Productions
It's hard to miss the theater that's showing "Thunderball" the first time that "Last Night in Soho" travels back in time. Certainly, we'd recommend seeing that James Bond film if you haven't yet. But the Bond film that's more closely related to "Last Night in Soho" is "On Her Majesty's Secret Service" first.
George Lazenby's one and only turn as Bond has long been dismissed as a punchline, but it has been re-evaluated in recent years, even becoming a favorite of director Christopher Nolan. One of the reasons why it's so appreciated now is because of Diana Rigg's performance as Countess Tracy di Vicenzo, whom Bond marries in the end before tragedy strikes. Today, Rigg is known for "Game of Thrones" and her immortal line, "Tell Cersei. I want her to know it was me." Director Edgar Wright cast several '60s actors in "Soho," including Rigg, who plays the landlady of the building that Ellie moves to. Right at the beginning, the film is dedicated to the late actress as "For Diana."
Here's where you can rent the film. 
A Hard Day's Night (1964)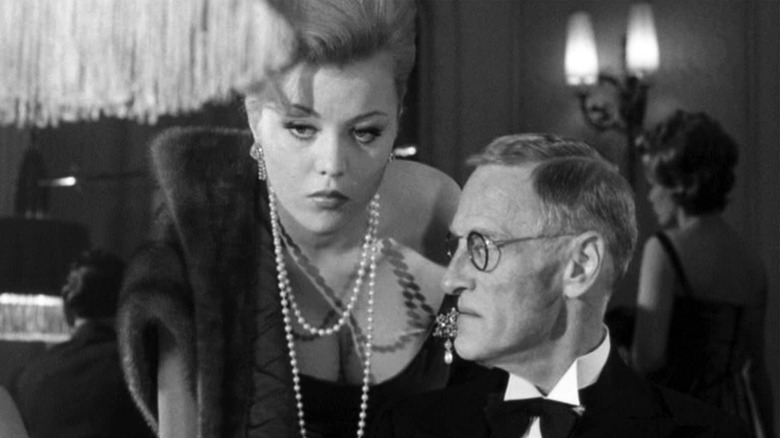 United Artists
Diana Rigg isn't the only James Bond actress who appears in "Last Night in Soho." Edgar Wright also cast "Goldfinger's" Margaret Nolan as the barmaid where Ellie gets a job. In "Goldfinger," Nolan was painted gold for the memorable opening credits, and had a small role in the film, but it should be pointed out that she did not play the character that was actually assassinated by being covered in gold paint.
We already have one James Bond film on this list though, so we'll recommend "A Hard Day's Night" instead. We can't exactly recommend this because of Nolan's wordless performance at the casino next to Paul's grandfather. But with Peter Jackson's "The Beatles: Get Back" about to premiere on Apple TV+, now's a good a time as any to revisit the iconic Beatles film. Director Richard Lester's energetic comedy about the Fab Four playing loose versions of themselves is still a delight today. "Last Night in Soho," like Edgar Wright's last film, "Baby Driver," is driven by music and features several '60s hits (none by The Beatles, though, likely either because it was too expensive or too obvious).
The film is available to stream on HBO Max and The Criterion Channel. 
The Collector (1965)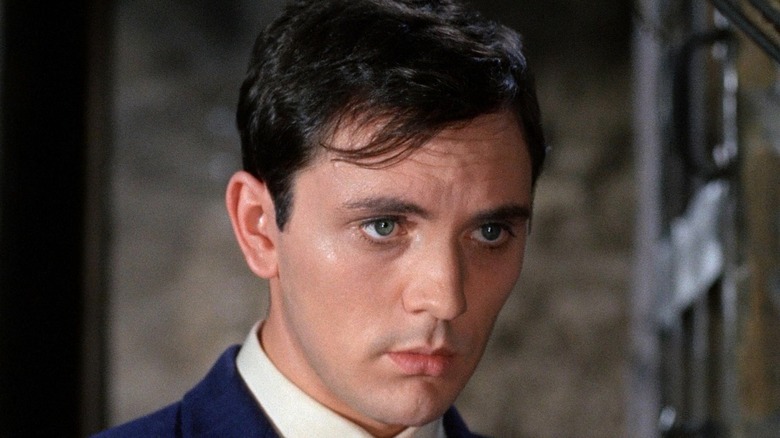 Columbia Pictures
Director William Wyler made several classics like "The Best Years of Our Lives," "Roman Holiday," and "Ben-Hur" that have stood the test of time. "The Collector" is more obscure than those, despite being one of the 12 films that earned Wyler an Academy Award nomination for Best Director, so we recommend checking it out if you haven't heard of it. Wyler turned down "The Sound of Music" to make "The Collector" as it was his true passion project.
The film adaptation of John Fowles' novel stars Terence Stamp as a butterfly collector who kidnaps a woman and tries to get her to fall in love with him. In "Last Night in Soho," Stamp plays a mysterious older man who Ellie suspects might be a killer. If audiences are suspicious of Stamp, it's probably because they know him as General Zod in director Richard Lester's "Superman II" from 1980. But for Edgar Wright, it's yet another opportunity to cast a '60s actor to pay tribute to the era.
Follow this link to see where you can rent this film. 
A Taste of Honey (1961)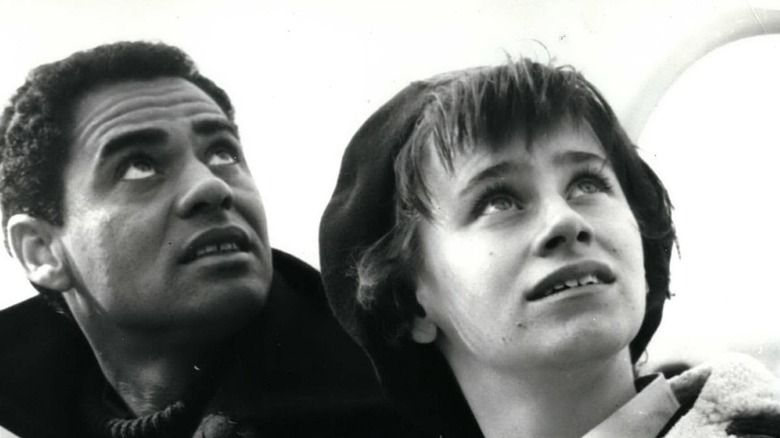 British Lion Films
We're recommending a lot of these films based on who appears in "Last Night in Soho," but the last iconic '60s actor that we'll mention is Rita Tushingham, who plays Ellie's grandmother. Her film debut was in 1961's "A Taste of Honey," and what a debut it was.
Director Tony Richardson's adaptation of Shelagh Delaney's play featured Tushingham as a 17-year-old girl who falls in love with a black sailor, becomes pregnant, and meets a gay man who offers to help take care of their child. The film was very transgressive for its time, even getting banned in some countries. As Tushingham explained to The Guardian, "It had everything: race, class, gender, sexuality, poverty... A lot of the reaction was, 'People like that don't exist,' by which they meant homosexuals, single mothers, and people in mixed-race relationships. But they did." The film is less shocking today, but is well worth seeing for anyone who's curious.
Available to stream on HBO Max and The Criterion Channel
Peeping Tom (1960)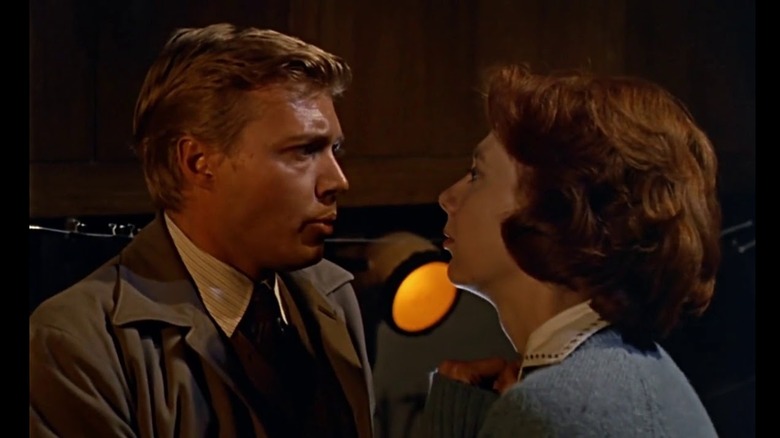 Anglo-Amalgamated Film Distributors/YouTube
Known as the great serial killer movie of 1960 that isn't "Psycho," director Michael Powell's "Peeping Tom" wasn't as financially successful as Alfred Hitchcock's film, but has since gained a cult following. Powell wasn't exactly happy about that, writing in his autobiography, "I make a film that nobody wants to see and then, 30 years later, everybody has either seen it or wants to see it." It's too bad that it wasn't appreciated in its time, but we're happy that he was able to make it.
The film is about a cameraman who uses his equipment to film, then kill women. Powell puts the audience in the killer's point of view by having them watch the killer's snuff films. Filmed partially in the neighborhood of Soho, it provides a point of reference for Edgar Wright — a director who wasn't born until 1974, and experienced the era only through the numerous films he's watched.
This movie is available to stream on Amazon Prime. 
Blow-Up (1966)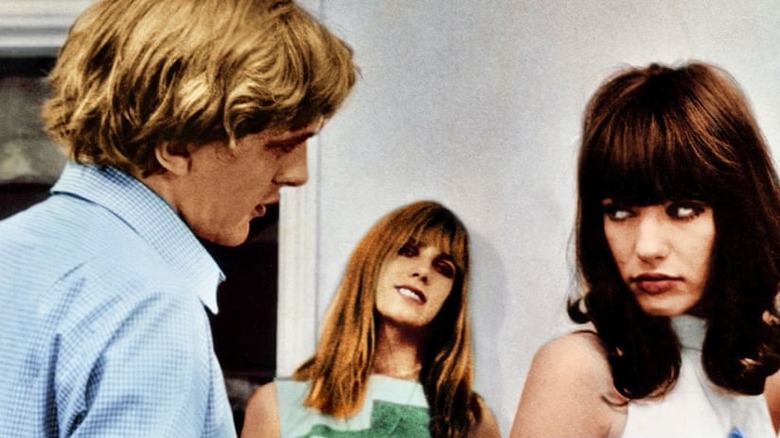 Metro-Goldwyn-Mayer
Michelangelo Antonioni's highly influential adaptation of Julio Cortázar's short story "Las Babas del Diablo" involves a photographer who may or may not have accidentally taken a picture of a murder. The paranoid thriller inspired the likes of Francis Ford Coppola's "The Conversation" and Brian De Palma's "Blow Out," as its central conceit proved more universal than its setting of Swinging London. There's a bit of its influence in "Last Night in Soho" when Ellie is trying to convince the police that a murder has taken place and tries to find evidence in a library.
The ambiguity of "Blow-Up" is what has made it so intriguing over the years. Is there really a dead body captured in the photograph? And if the body is real, was it really a murder? Its once-scandalous sex scenes seem tame by modern standards, but it still resonates because of its substance.
Available to stream on HBO Max. 
Darling (1965)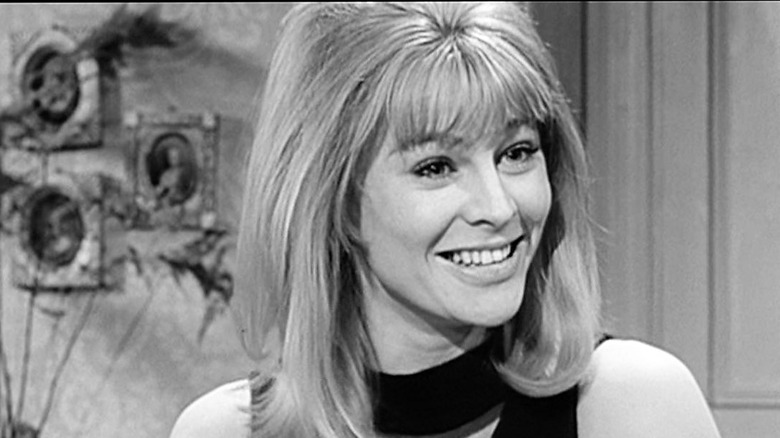 Joseph Janni Production
Cited by Edgar Wright as a direct inspiration for "Last Night in Soho," the film "Darling" stars Julie Christie as a model/actress named Diana trying to find success in London. According to Wright, the message of films like it was, "Beware, young lady that comes to the big city: you will be chewed up and spat out. Then the city becomes the villain." While he attempts to subvert such messaging, "Soho" more often than not appears to have a similar moral.
"Darling" was made well before director John Schlesinger became known for "Midnight Cowboy" and "The Marathon Man." The film evokes the dark side of the 1960s, an era that Ellie of "Last Night in Soho" learns she shouldn't romanticize as much as she does. As hard as she tries to find happiness in her work, Diana eventually settles down with a prince a la Grace Kelly. The film winds up being a bit less than the sum of its parts, but is still worth seeing, especially for Julie Christie's performance.
Check out this guide to where you can rent the movie. 
Alfie (1966)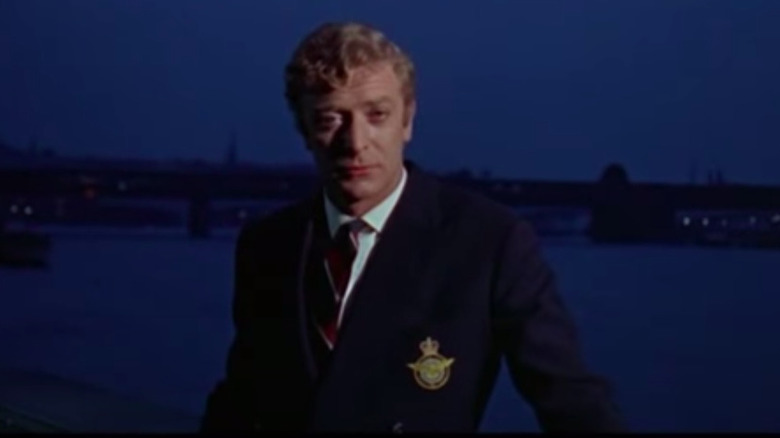 Paramount Pictures/YouTube
Like "Darling," "Alfie" is an episodic film that starts with glamorous, swinging '60s style before heading into dark territory. The titular Alfie, an inveterate womanizer, breaks the fourth wall and speaks to the camera to justify his actions, but the audience knows that he's just lying to himself. Alfie cares about no one, and his selfish desire for immediate gratification only leaves him sad and alone. It's not a direct inspiration for "Last Night in Soho," but it's another product of the era that captures time in a bottle.
Director Lewis Gilbert's film was adapted from Bill Naughton's play, which starred Terence Stamp on stage. Stamp was offered the movie role, but turned it down despite pleas from his roommate Michael Caine. Caine then accepted the role, which made him a star. It's a role that defined him (a deleted scene from "Austin Powers in Goldmember" makes it clear that "Alfie" is the reason why Michael Caine was cast as Austin Powers' dad).
Here's where to rent the movie. 
The Innocents (1961)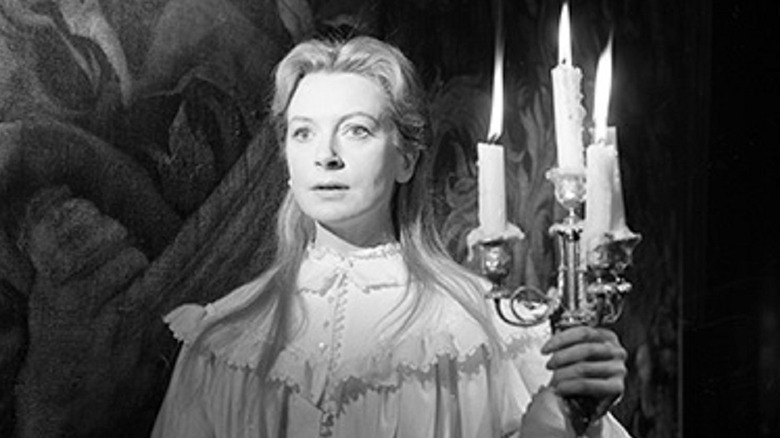 20th Century Fox
"Last Night in Soho" is a ghost story that shows a ghost in the first scene to let the audience know right away that supernatural forces are at work. Some ghost stories are more ambiguous, making you question whether or not the strange events can be explained away. "The Innocents," based on Henry James' novella "The Turn of the Screw" (which is also the basis for Netflix and Mike Flanagan's "The Haunting of Bly Manor"), is definitely the more ambiguous type.
The film stars Deborah Kerr as a governess named Miss Giddens, who becomes convinced that the children she's been hired to take care of are possessed. The film is scary because of what you don't see, as the ghosts of the film are heavily implied through cinematography and atmosphere. It could all be in Miss Giddens' head. However you interpret it, the ending still packs a powerful punch.
This film is available to stream on The Criterion Channel. 
Repulsion (1965)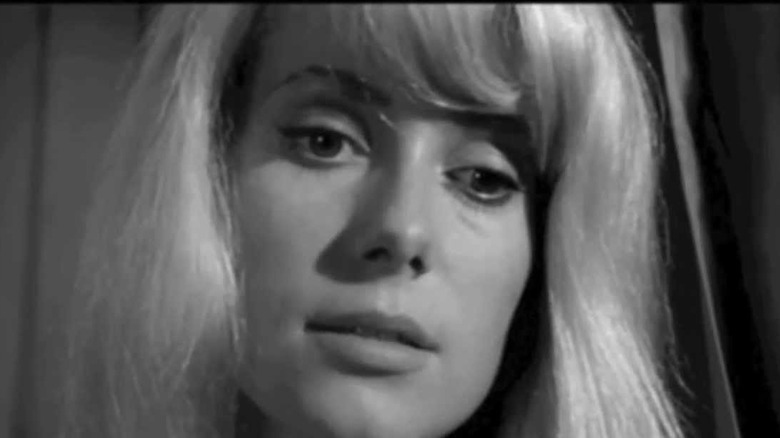 Compton Films/YouTube
"Repulsion," the first film in director Roman Polanski's "Apartment Trilogy" (which also includes "Rosemary's Baby" and "The Tenant"), documents a terrifying descent into madness with nightmarish imagery. While "Last Night in Soho's" apartment is directly responsible for Ellie's visions, it's unclear whether it's also responsible for the acts of violence that occur. That same kind of vagueness is found in "Repulsion."
In "Repulsion," Catherine Deneuve plays a woman named Carol, who suffers from schizophrenia. She shares an apartment with her sister. Just like in "Soho," Carol is disturbed when she hears her sister having sex. Once her sister leaves for vacation, things go awry and Carol isn't able to enjoy the peace she should have gotten. She starts hallucinating about being attacked and then has to defend herself once it appears that she's being attacked for real. The claustrophobic, almost dialogue-free film is filled with tension and remains essential viewing for psychological horror fans.
Here's where to rent the movie. 
Belle de Jour (1967)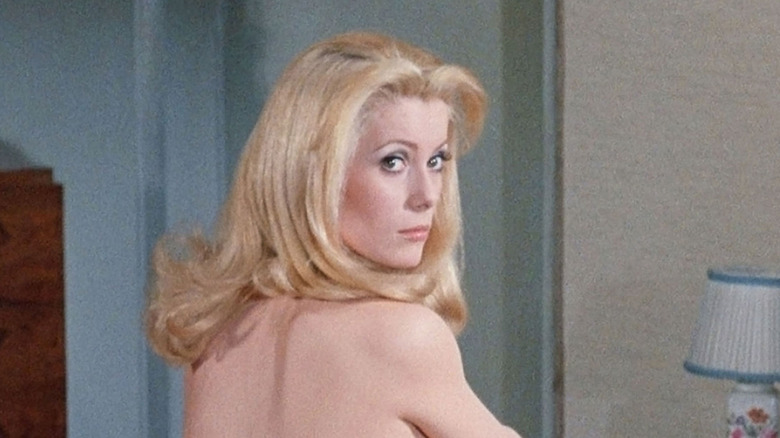 Valoria
If you're put off by "Last Night in Soho's" depiction of sex work (the film has been criticized for it), then perhaps you might be in the mood for an entirely different portrayal. For that, we recommend "Belle de Jour," which stars Catherine Deneuve as a housewife who engages in voluntary sex work.
Director Luis Buñuel's adaptation of Joseph Kessel's novel is centered on a woman named Séverine who, stuck in a traditional marriage, fantasizes about being whipped. She starts working at a brothel in the afternoons and becomes the "Beauty of the Day" of the title. The film, a complicated, surrealist critique of hypocritical bourgeois sensibilities, remains radical for its relatively empathetic portrayal of sex work.  
Available to stream on HBO Max and The Criterion Channel. 
Persona (1966)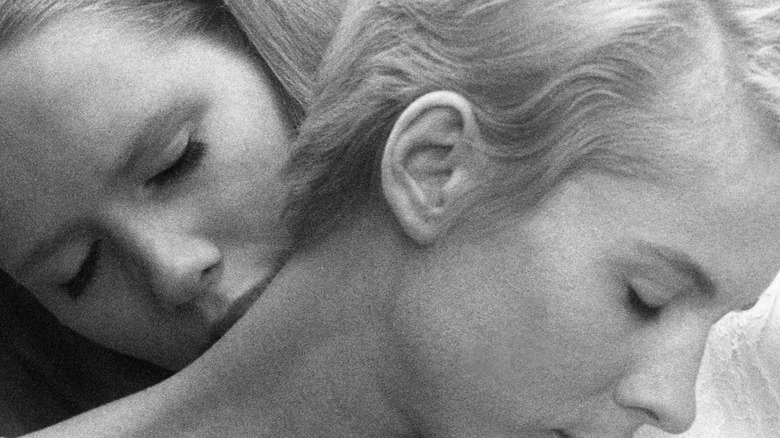 AB Svensk Filmindustri
Ingmar Bergman's "Persona" might not look like the era that "Last Night in Soho" depicts, but the film does have some thematic similarities. "Persona's" two leads aren't separated by time, but when Ellie steps into the role of Sandie, their identities are fused, as in "Persona." "Persona" blurs the faces of its protagonists into one, while "Soho's" dancing scene shows the two characters essentially become one person.
"Persona" is about a nurse named Alma (Bibi Andersson) assigned to take care of an actor named Elisabet (Liv Ullmann) suffering from a psychosomatic illness that causes her to stop speaking. Or is that really what their names are? The film's style suggests that they might not be who they think they are. "Persona," which was set on a Swedish beach, is timeless, lacking the hallmarks of the '60s style. Still, given its thematic similarities to "Soho" and the fact that it's widely regarded as one of the best films of all time, it's well worth seeing. 
Stream it on HBO Max or The Criterion Channel.