Red Notice's Chris Diamantopoulos Gushes About Working With Dwayne Johnson And Gal Godot - Exclusive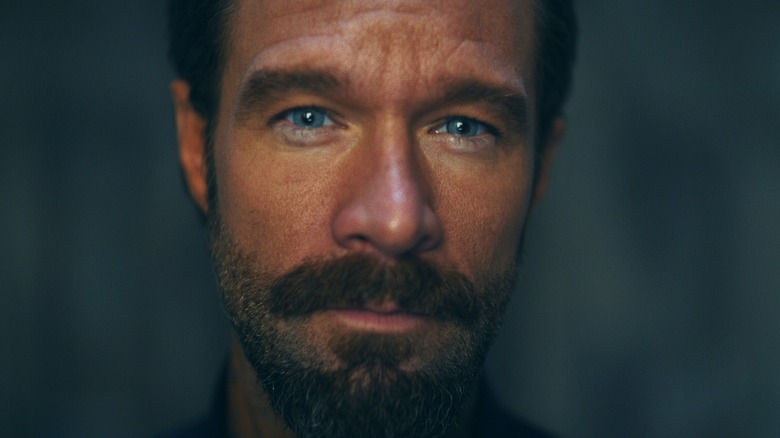 Netflix
With nearly 100 credits in film and television since his career kicked off in 2000, Chris Diamantopoulos could easily be considered one of the hardest working actors in show business. In addition to being a laugh-out-loud hilarious comedy actor — if you haven't caught his wholly inappropriate billionaire investor Russ Hanneman on HBO's hit "Silicon Valley," you're letting the best in life pass you by — Diamantopoulos is also an esteemed voice actor as well, bringing to life such icons as Mickey Mouse and Green Arrow.
Naturally, with a resume as prolific as Diamantopoulos', his talents have paved the way to projects where he's starred alongside some of the biggest actors in showbiz. Among them are Dwayne "The Rock" Johnson, Gal Gadot and Ryan Reynolds, whom he shares key scenes with in the new Netflix action-adventure comedy "Red Notice."
In "Red Notice," Diamantopoulos brings a high level of villainy to crime lord Sotto Voce, owner of one of three legendary golden eggs that once belonged to Cleopatra. The world's top two thieves — The Baron (Gadot) and Nolan Booth (Reynolds) — want to snatch the egg from Sotto's grasps, but complicating things is FBI Special Agent John Hartley (Johnson). Implicated in plot to steal one of the eggs, Hartley inadvertently finds himself mixed up with master thieves and their elaborate plans.
In an exclusive interview with Looper, Diamantopoulos said he was thrilled from the moment he read writer-director Rawson Marshall Thurber's multi-faceted screenplay.
Chris Diamantopoulos says Dwayne Johnson is a definitive movie star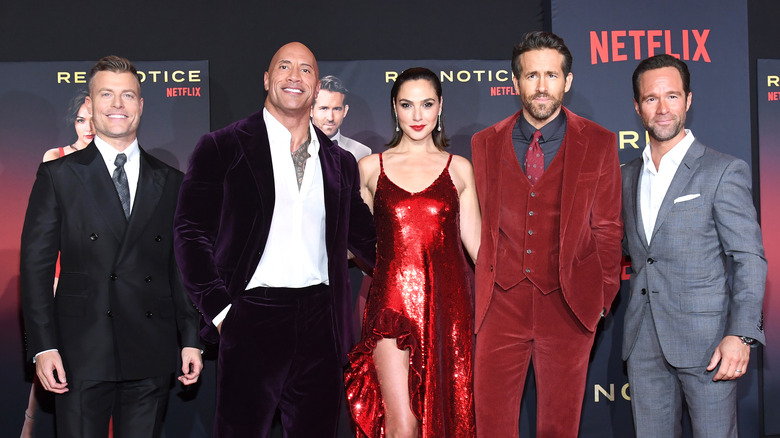 Kevin Mazur/Getty Images
Diamantopoulos told Looper that one of the biggest thrills of working on "Red Notice" stemmed from Johnson's power of positivity, which lights the way for all those around him: "If he were to become a wrestler again, I would rename him 'The Beacon' because he is that. I've had the pleasure of doing two movies with him. I did 'Empire State' with him a few years ago, and then we did 'Red Notice' together, and he has augmented his charisma and his talent, and his kindness and his physique. It's like every time I see him, he gets better, he gets more positive, he becomes more who he is."
On top of that, Diamantopoulos added, Johnson is "a natural born leader."
"He's humble, he's quiet, he listens, he's genial, he's kind. He is referential of those around him, he learns from people around him. I just think that he is a perfect definition of what a movie star should be," Diamantopoulos said. "He also happens to be a f****** beautiful man who knows how to work the camera like nobody I've ever met. Much gets lost because of his presence, but let's not also forget that Dwayne Johnson is a good actor. He sells things that no other actor could sell on screen. He gets told how charismatic and how handsome and powerful and all these things that he is, but I don't think we focus enough on what a good actor he is. Because he's brought some tremendous characters to life."
Chris Diamantopoulos was wowed by Gal Gadot's and Ryan Reynolds' talents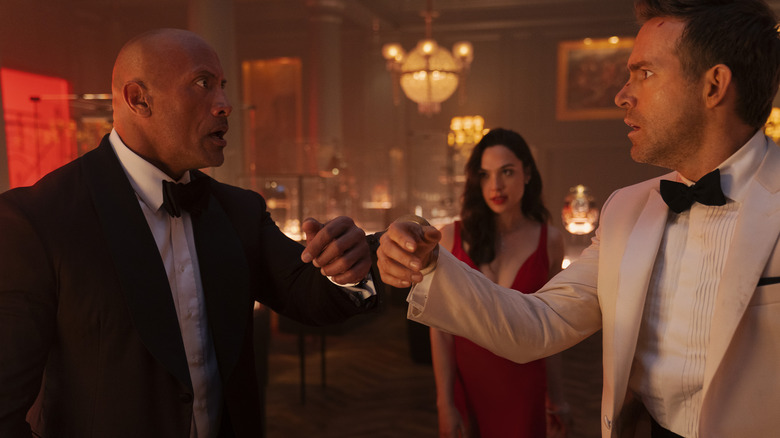 Netflix
"Red Notice" gives Gadot a unique opportunity to do a couple things outside of the superhero realm. To begin with, the "Wonder Woman" star shows just how badass she can be as a criminal, and perhaps, more unexpectedly, she's also funny while doing it.
"Her badassness left me with my mouth agape because she's just so in possession of her power and you can't deny it. But the thing that really struck me about her was how unbelievably funny she was," Diamantopoulos shared with Looper. "She has got such a tremendous sense of humor, and I'm hopeful that she'll do more in that vein in the future because I don't think people realize how funny she is."
Diamantopoulos said "Deadpool" star Reynolds was funny "all the time," and he was especially impressed by how quickly the actor could pivot with his improvisational talents.
"I've said this before, so looking at him, you laugh and it's interesting because he's such a handsome guy, he's such a leading man and yet he's the funniest guy I've ever worked with. I mean, this is going to sound silly, but he's like Jack Tripper from 'Three's Company' crossbred with Bugs Bunny," Diamantopoulos beamed. "He really just has this tremendous way of disarming everyone around him and making them feel so comfortable. And what's amazing about him, much like the late great Robin Williams is, he'll deliver a zinger that has everyone on the floor. And then when we do another take, he'll come up with a completely different one liner that's even funnier than that one."
"Red Notice" is streaming exclusively on Netflix. Diamantopoulos also co-stars in the new Kevin Hart crime drama "True Story," which is premiering November 24 on Netflix.