The Chicago Fire Friendship That Fans Are Loving In Season 10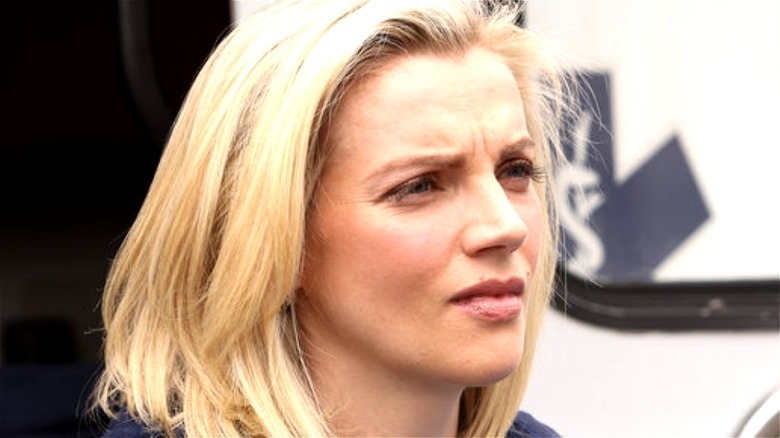 Adrian S. Burrows Sr./NBC
It's been a momentous Season 10 for "Chicago Fire" so far, with the heroes of Firehouse 51 still reeling from the ramifications of Captain Matt Casey's (Jesse Spencer) sudden departure during the show's big 200th episode. While the series' writers have attempted to fill the void left by Casey by adding characters — like the shady Lieutenant Pelham (Brett Dalton) and the returning Wendy Seager (Andy Allo) — fans' eyes have stayed focused on Casey's former fiancée, Sylvie Brett (Kara Killmer).
Although many fans spent some time divided over the "Brettsey" romance, now that actor Jesse Spencer has left the show, most viewers seem to be united in their love and support for Brett as she picks up the pieces left by Casey's departure. Fans are especially showing their appreciation for Blake Gallo (Alberto Rosende), who has stepped up to offer Brett some much-needed comfort and friendship. The two characters had not been seen as particularly close before Casey's exit, but they've recently developed a strong bond, as is evidenced by the friendly ear and shoulder to cry on that Gallo gave her after Casey unexpectedly canceled Brett's trip to visit him in Oregon.
In fact, it was that scene that not only took the Sylvie-Blake friendship to a deeper level but also inspired many "Chicago Fire" fans to declare their devotion to the duo on social media.
Chicago Fire fans are falling in (platonic) love with Brett and Gallo's friendship
The recent showing of support for Blake Gallo and Sylvie Brett's friendship on "Chicago Fire" began when @Learnthingss tweeted twice in the same day about the pair. The first tweet included a clip of the duo along with the simple request for "More Gallo and Brett please??" Barely a half-hour later, the same user tweeted a GIF of Gallo and Brett accompanied by the words, "THIS FRIENDSHIP," which were followed by two crying emojis.
The posts inspired a wave of responses, with @BrettseyDaily tweeting, "The friendship I never thought I needed," and adding that the friendly new pair would have to make up for the pairing they really wanted to develop between Sylvie and Severide (Taylor Kinney). "Well If I cannot have a friendship for Sylveride," the user tweeted, "I will settle for a Sallo? Sylvallo? Slake? friendship!" That prompted the Twitter thread's OP to reply, "We still want Sylveride but for now we'll take Sylverallo?"
"I love them," posted @di9aub, while @youpin99 chimed in by adding, "I am all for this as well." Elsewhere, @allwayschatting brought a thoughtful approach to the topic, suggesting, "They'll support each other. Hard to see her go from so happy to so sad. Gallo misses Casey too." Similarly, @AshliMonroe7 reasoned that Gallo and Brett have bonded because they both miss Casey in different ways, with Brett obviously mourning the departure of her fiancé and Gallo grappling with saying goodbye to someone he views as a mentor and father figure. "Yes," the user tweeted, "she misses her man [and] he misses his dad."
The positive fan response to Gallo and Brett's friendship is indicative of not only the palpable, deep bonds that many of the characters on "Chicago Fire" have with one another, but also those that the show's fans feel for them.