Why Chicago Fire Fans Are Divided Over Brett And Casey's Relationship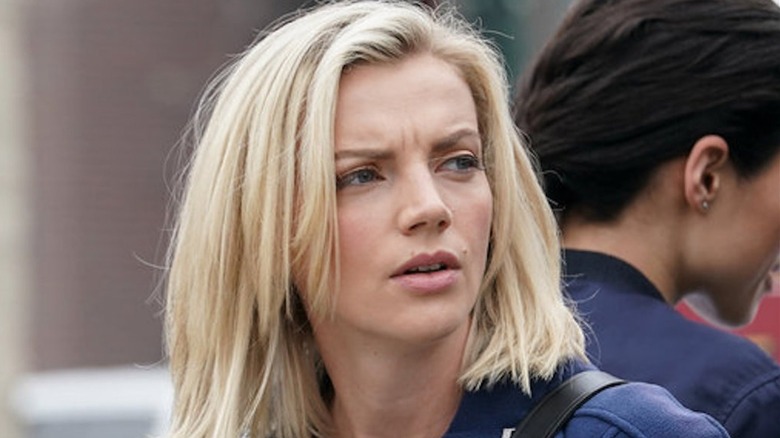 NBC
After a long summer waiting, all three of NBC's "One Chicago" shows have returned with new seasons, and fans have come back along with them. While "Chicago P.D." fans finally got to see what happened after Burgess proposed to Halstead, and "Chicago Med" viewers were updated on how Ethan (Brian Tee) was doing after getting shot, the most pulse-pounding cliffhanger had to be resolved on "Chicago Fire, where Season 9 ended with the rescue squad stuck underwater in a sinking boat. In fact, per TV Line, with seven million viewers watching, the "Fire" Season 10 premiere was the most watched show on TV on September 22, 2021. 
Luckily everyone aboard the sinking vessel survived, including Matthew Casey (Jesse Spencer). The Station 51 captain's endurance is a good thing for obvious reasons, but also allows the continuation of his not-so-covert relationship with Paramedic-In-Charge Sylvie Brett (Kara Killmer). After years of being unlucky in love, Brett appears to finally have a shot at a successful romantic future — so Casey not drowning was also good news for fans who don't want to see Brett's heart broken yet again. With fans so invested in her love life, it's no wonder that Brett's previous relationship with firehouse chaplain Kyle Sheffield (Teddy Sears) has loomed large in her character's journey. In fact, it appears that Brett and the chaplain may be the most divisive duo in the show's fiery history.
Some fans wish the chaplain had never moved away from Chicago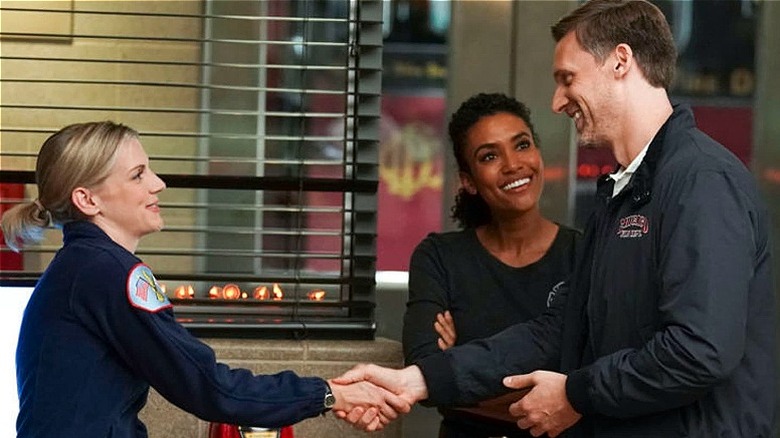 NBC
True, Brett and the chaplain's relationship always seemed to be crafted as an obstacle to getting her together with Casey. Sadly, it was Casey who unwittingly encouraged Brett to accept Kyle's marriage proposal at the end of Season 7, watching helplessly as his star-crossed love moved to Indiana with the chaplain. But she quickly broke off the relationship and moved back to Chicago the next season, setting the stage for "Brettsey" to finally happen. Still, while some fans are happy Brett and Casey are together at last, not all agree. In a Reddit thread headlined "Brett and the Chaplain," Redditor u/AnnaNonna asked the seemingly simple question, "I really, really liked Brett with the [chaplain]. It's too bad he moved to Indiana. If he had stayed in Chicago they might have had a chance. They were adorable together. Am I the only one who loved them as a couple?" 
The thread elicited a slew of responses. Among those who agreed, u/Actual-Flight-1500 wrote, "Honestly, I'm not a Casey fan. I think he can be a real d*ck! I liked the [chaplain], too!" And u/three18ti posted, "I didn't love them as a couple, but I thought they were a much better match. Brett has no respect for Casey. ... I think ultimately all of Brett's relationships are horribly written. I think she's toxic in her relationship with Casey. ... I thought at least with the [chaplain] they were equally lost and could work things out and grow together."
Other Fire fans are thrilled that Brett returned to Chicago without Kyle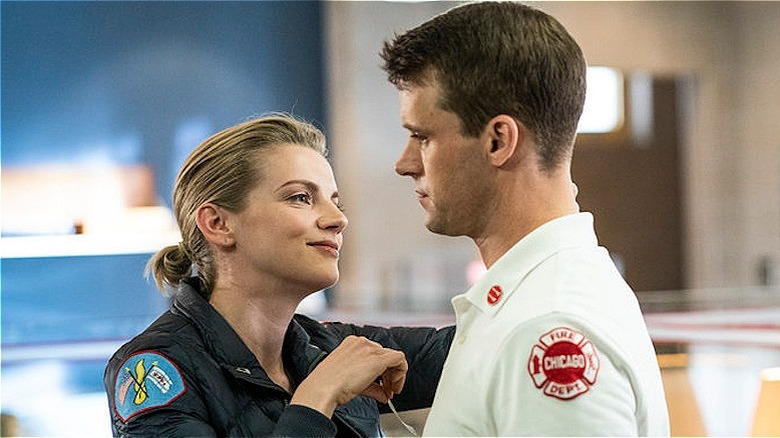 NBC
But more disagreed. Redditor u/LMK-123 wrote simply, "I hated them together, so much," while u/hazcatsuit opined, "He was so bland lol. He wanted her to be a stay at home 'chaplain's wife.'" Most fans who were not shipping Brett and Kyle seemed to just dislike Kyle, with u/parab13user posting, "The [chaplain] was awful, he just gets away with it because he's religious and wishy washy so people think he's a sweet guy."
"Dude was an *rse," u/girl_in_red_costume passionately posted about the Chaplain. "He [dropped] Brett at the first problem without even talking about them adjusting to working with the same crew. Then he proposed [to] her after months of being broken up and when they had only been together for a few months (at this point I thought Brett would say yes to anyone who asked her, I like Sylvie but this was tough to watch)."
But others didn't dislike anyone in particular — they just felt that Sylvie and Kyle were not meant to be. "Kyle wanted an idealistic version of Sylvie," Redditor u/kmsan2012 said, adding, "It was never going to work with Kyle in the long run."
Will it work out with Casey in the long run? Fans will have to keep watching to see if the Brettsey fire continues to burn.