What Chicago Fire Fans Really Think About Lieutenant Pelham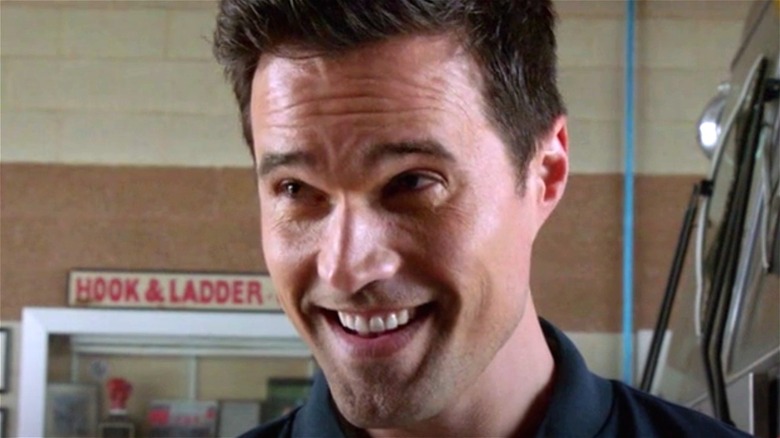 NBC/Hulu
Things have been heating up all season on "Chicago Fire," especially following the monumental departure of Matt Casey (Jesse Spencer) earlier in Season 10. While Casey's true love Sylvie Brett (Kara Killmer) moves on and Wendy (Andy Allo) returns to possibly stir up some trouble, producers of the flagship "One Chicago" series brought in a new character to ostensibly replace Casey as captain — Lieutenant Jason Pelham, played by "Agents of S.H.I.E.L.D." star Brett Dalton. Dalton is only listed as a recurring guest actor, so it's unclear whether Pelham will remain as captain for long. But the character has already had friction with Gallo (Alberto Rosende), and the writers have planted some seeds for the character's eventual downfall, hinting that Pelham has "floated" from station to station, never quite landing anywhere permanently, which raises some red flags and the natural question — still unanswered — of why he has had to move on from so many firehouses.
But if that question remains to be resolved, there is one key question fans have already started to answer, and it's one of the most fundamental for any long-running TV series. After all, stepping into a firmly established cast that's been together for a decade can be daunting not only for the actor but also challenging for fans who may be slow to accept a new face. So the question remains: how are "Chicago Fire" fans taking to Lieutenant Pelham so far?
So far, Chicago Fire fans seem intrigued by Pelham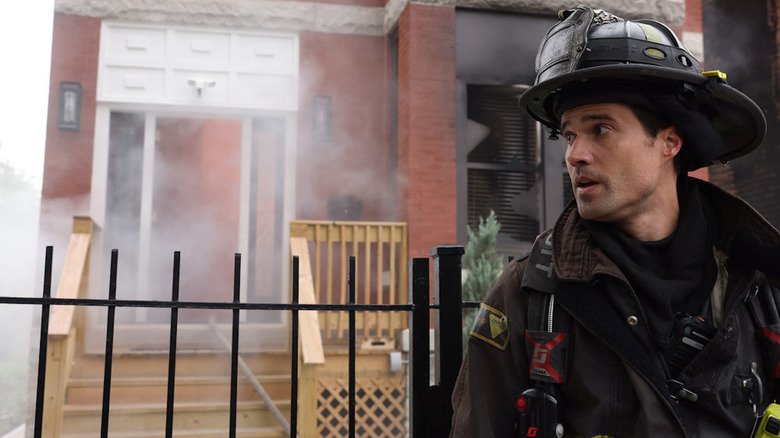 NBC/Hulu
"Chicago Fire" fans took to social media to register their opinions of Pelham, and most seem to at least be intrigued enough to see where this storyline goes. Some fans instantly liked the character, with @blessedwsophia tweeting, "Lieutenant Pelham means business and I'm here for it!!!" Likewise, @delicatexmuse emphatically went all caps to tweet, "PELHAM IS STICKING AROUND. WE LOVE TO SEE IT," and @flutterpolitely politely fluttered, "So far, I like Lieutenant Pelham." Meanwhile, @lexiexbrettsey declared, "God Pelham is so hot."
Others were more circumspect, like @kimmiek2006, who tweeted, "I didn't like Pelham at first because of his attitude towards Gallo but now, Pelham is kinda growing on me." Similarly, @blsd_mom opined, "Alright, Pelham kinda irked me with snapping at Gallo, but then he was trying to get thru [sic] and better, so alright, he ain't so bad. But what is up with always being a floater??" @lah9891 was blunt, tweeting, "Pelham is very pretty and seems capable, but Stella should be the new lieutenant."
Meanwhile, some fans were totally in the anti-Pelham camp. "Okay Pelham is REALLY getting on my nerves now," tweeted @5021stellaride, while @_crayolabrown_ posted, "Pelham rubbed me the wrong way," and @Chriscashman51 straight up tweeted, "I think hate LT Pelham already." 
Perhaps @AmadahyZ summed it up best by posting, "Pelham is looking like the perfect replacement for Casey. The tension will make things interesting and we'll see what he's made of." So if increasing the tension and drama and getting the fans talking was what "Chicago Fire" producers intended, then at least so far, it looks like mission accomplished.