The Chicago Fire Season 10 Episode 7 Scene That Fans Are Still Crying Over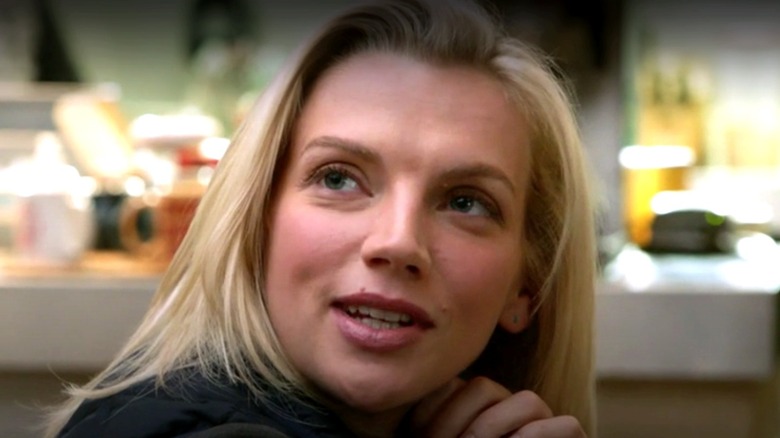 NBC/Hulu
The seventh episode of the tenth season of "Chicago Fire" aired on November 3, but many fans are still broken up over a scene that vividly showcased the toll Casey's (Jesse Spencer) recent, unexpected departure has taken on his girlfriend, Sylvie Brett (Kara Killmer). While some fans of the "One Chicago" franchise have been divided over Brett's relationship with Casey, they seem mostly united in sharing Sylvie's grief, with some of their sadness spilling over into apprehension about Casey's current replacement, Lieutenant Pelham (Brett Dalton).
In fact, it was only one episode earlier that fans were emotionally rocked by Sylvie's voicemail from Casey in Season 10, Episode 6. Now, it's not a voicemail but a text message from her lost love that has fans tearing up along with Brett. Even though there's no voice-over from Jesse Spencer this time, Kara Killmer successfully sells the emotion of the moment with her subtly heartfelt acting.
The scene starts when Brett receives the text in which Casey calls off her planned visit to see him in Portland because he's starting a new training program for fighting forest fires. Visibly shaken, she shares her feelings with Gallo (Alberto Rosende), and the two bond over missing the former Truck 81 captain. "It's just ... I really miss him," Sylvie says through her tears, and an emotional Gallo responds, "I do too." The two eventually cheer each other up by asking themselves what Casey would say in that moment, prompting them to get up and move on. 
Fans, on the other hand, aren't quite as ready to move on.
Chicago Fire fans were deeply affected by Sylvie Brett's emotional outpouring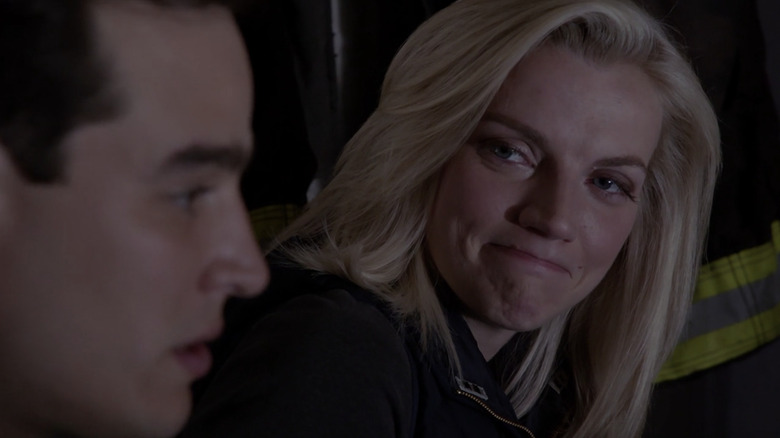 NBC/Hulu
The powerful "Chicago Fire" moment prompted fans to express their feelings about the scene on social media. @Learnthingss got the ball rolling by posting a clip of the scene and tweeting, "Despite seeing Brett cry THIS WAS MY FAVORITE SCENE." The post garnered hundreds of likes, with more fans revealing how shaken they were by the naked display of emotion from the usually headstrong Brett. "So sad... I don't like to see her suffering... it's not fair!" tweeted @DanielleKGomes1, while @HKoonts wrote, "I'm not crying YOU'RE crying."
Many found the scene comforting, like @deviero10, who tweeted, "Love to see they can support each other," while others chimed in to agree with the assessment that the Brett-Gallo scene was the episode's highlight. "Best scene of the night," tweeted @youpin99, and @Rogers2023 echoed that sentiment by simply writing, "I love this scene with them." 
Some fans, however, took the opportunity to offer "Chicago Fire" a little constructive criticism. "As much as I'm not a fan of Brett and Casey together I feel like the writers don't want her character to be happy
It never works out whenever she has a boyfriend," wrote @Kathy_Dominguez. Meanwhile, @_hellotherese added, "I wish it was Severide that saw her cry. Perfect moment for their friendship to grow. He didn't just 'lose' Matt she did too."
Will Brett ever get over Casey? Or will Casey ever return to Chicago? At this point, anything is possible, but for now, fans are still soaking in the lingering emotions from the loss of one of the show's core characters. Whatever happens next, it's clear that the torch many fans carry for Casey is still burning, and that's one fire not even the heroes of Firehouse 51 may be able to extinguish.