Why Star Wars Fans Were So Disappointed By Disney+ Day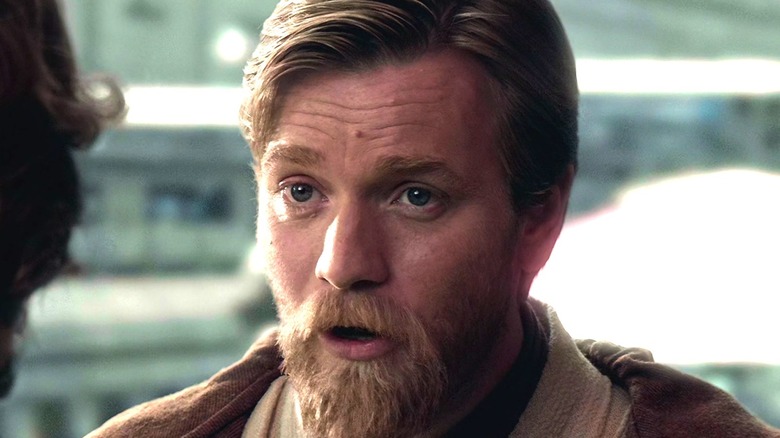 Lucasfilm
Disney+ Day featured a plethora of new announcements and trailer releases for the House of Mouse's streaming platform. From Marvel's extensive slate of upcoming series to long-awaited sequels like "Disenchanted," the day was certainly filled with big entertainment news. However, while the Marvel Cinematic Universe definitely appears to be firing on all cylinders, transmissions from a galaxy far, far away were sadly few and far between. Despite an impressive upcoming lineup of "Star Wars" projects, Lucasfilm only offered "Star Wars" fans a new Boba Fett documentary and a single teaser for the upcoming "Obi-Wan Kenobi" series. 
In 2019, after years of hopes, dreams, and some flat-out desperation, the prayers of millions of "Star Wars" fans around the galaxy were answered when Lucasfilm President Kathleen Kennedy and Obi-Wan Kenobi himself, Ewan McGregor, confirmed that a new "Obi-Wan Kenobi" series is in the works (via IndieWire). Fans got even more excited last December with the announcement that Hayden Christensen will reprise as his role as Anakin Skywalker (aka Darth Vader) in the same series. In her announcement, Kennedy promised the "rematch of the century" (via The Hollywood Reporter). And while the highly anticipated series was teased during Disney+ Day, Lucasfilm didn't share much, and it's far from the company's only upcoming project.
Disney didn't release much Star Wars content
"Star Wars" fans' first look at the "Obi-Wan Kenobi" series (available exclusively on Disney+) is limited to behind-the-scenes clips of Ewan McGregor rehearsing a lightsaber fight and a few shots of concept art designed for the series. Though "Star Wars" fans were treated to a "The Book of Boba Fett" trailer only a few weeks ago, some fans are surprised at the lack of promotional content for the celebrated franchise.
Eric Goldman of Fandom tweeted, "So nothing from Andor for Disney+ Day, it seems? Surprising, considering it has been filmed." Other fans claimed that it's strange that Lucasfilm opted to release "The Book of Boba Fett" trailer weeks ago instead of saving it for today. Twitter user Aly Lallister offered one plausible explanation for the lack of promos, suggesting that next May's "Star Wars Celebration" could yield more content for the ever-expanding franchise. Elsewhere, Inverse writer Dais Johnston summed up the disparity between Marvel and Lucasfilm offerings with a tweet that listed each new Marvel series and then said, "Star Wars on Disney+ day: Here's a 20-minute documentary and the Obi-Wan clip you saw on Twitter yesterday, be grateful."
In addition to "Obi-Wan Kenobi," Lucasfilm has a whole six other live-action television series in the works. But for some reason, the company did not show any new material from these during Disney+ Day. These television projects include: "The Book of Boba Fett," which is set to premiere its first episode on December 29; "Andor," the "Rogue One" prequel starring Diego Luna; "Ahsoka," the Rosario Dawson-led series about Anakin Skywalker's one-time Jedi Padawan; "Rangers of the New Republic," a series set to culminate in a Marvel-type crossover event with similarly timed "Star Wars" series; "The Acolyte," Lucasfilm's first Sith-focused series; and "Lando," another series announced in 2020 (via Lucasfilm).