Disney Just Surprised Fans With The First Book Of Boba Fett Trailer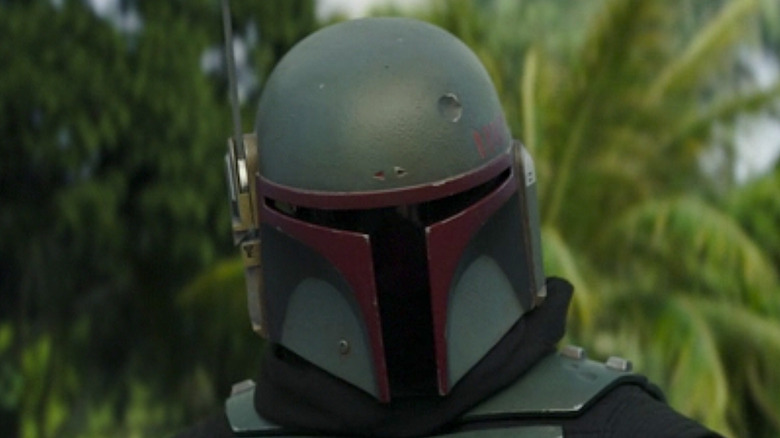 Disney+/Lucasfilm
"Star Wars" Fans were stunned at the end of "The Mandalorian" Season 2 when Boba Fett (Temuera Morrison) and Fennec Shand (Ming Na Wen) storm Jabba's Palace and take it for their own. The short scene teases "The Book of Boba Fett," a brand new solo adventure for the galaxy's most famous bounty hunter. Sure, Din Djarin (Pedro Pascal) has charmed audiences across the world because of his adorable relationship with Grogu — but fans have been desperate to see more from Boba since his debut in "The Empire Strikes Back."
The show puts Boba's character in a light we haven't seen before, making him an ally to Din Djarin and Grogu. But the bounty hunter is clearly on his own path after the events of the Season 2 finale. The first trailer for "The Book of Boba Fett" teases what we can expect from his adventures as a crime lord on Tatooine, although he's not going to be as ruthless as Jabba the Hutt ... Well, not to begin with anyway. 
Let's hope he doesn't come across the same Sarlacc Pit.
Boba Fett takes the spotlight
Boba Fett is arguably one of the most famous "Star Wars" characters of all time, and fans are finally getting the chance to see more of his adventures in live action. The first trailer reveals an interesting glimpse at what the bounty hunter has in store for Tatooine, now that he's taken over Jabba's Palace with Fennec Shand (Ming Na Wen). He even explains that "Jabba ruled with fear. I intend to rule with respect." The show is clearly going to explore Boba in a much deeper way than the movies have so far.
"Attack of the Clones" briefly explained that he's a genetically unaltered clone of Jango Fett, another Mandalorian bounty hunter. Temuera Morrison was introduced as Jango, but because Boba is a perfect clone, it meant the actor could return to play an older grizzled version of the character in "The Mandalorian." But one big question many fans have is, how did Boba escape from the Sarlacc Pit?
One story in the no-longer-canonical 1996 anthology book "Tales from Jabba's Palace," entitled "A Barve Like That: The Tale of Boba Fett," reveals that he works with another victim to make the Sarlacc contract its tentacles around Boba's jet pack, causing an explosion in its belly. That's some fiery indigestion! The bounty hunter also detonates grenades inside the beast to get free (via Fandom). Nice. 
Hopefully "The Book of Boba Fett" uses this story to flesh out the antihero's history when "The Book of Boba Fett" starts streaming on December 29, 2021.