Kathryn Hahn And Casey Wilson Dish On Paul Rudd And Will Ferrell On The Shrink Next Door - Exclusive Interview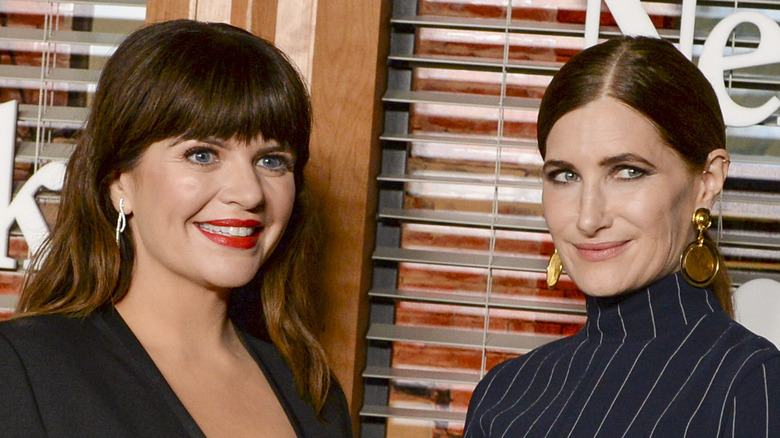 Alexi J. Rosenfeld/Getty Images
In "The Shrink Next Door," Will Ferrell and Paul Rudd have a codependent patient-therapist relationship that seemingly takes over their lives. Based on a true story and a podcast of the same name, Ferrell plays Marty Markowitz, a mousy, anxiety-ridden small-business owner who can't seem to get a grip on his own life, while Rudd portrays Dr. Ike Herschkopf, a self-absorbed psychiatrist who pounces on the chance to unorthodoxly guide him through challenges.
Co-starring Kathryn Hahn ("Anchorman: The Legend of Ron Burgundy," "WandaVision") as Marty's overbearing but well-meaning sister Phyllis and Casey Wilson ("Saturday Night Live," "Happy Endings") as Ike's clueless wife Bonnie, "The Shrink Next Door" premieres Friday, November 12, on Apple TV+.
In an exclusive interview with Looper, Hahn and Wilson spoke candidly about how Rudd made everyone laugh on the set of the more somber series, and dished on the surprising connection Hahn and Rudd have because of their respective Marvel roles.
Despite the all-star comedy cast, The Shrink Next Door is full of 'heavy' material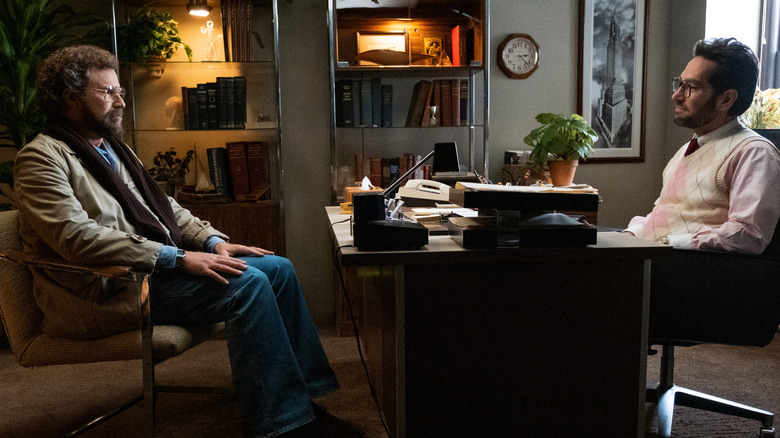 Apple TV+
Considering the cast that "The Shrink Next Door" has — you guys, Will Ferrell, Paul Rudd — people going into it blindly might assume it's a straight-up comedy, but it's not. Dark comedy, maybe. How do you see the series? Do you approach it as a comedy, a drama or something else? Let's start with you, Kathryn.
Kathryn Hahn: I approach it as I approach any other gig, I guess, which is just what's on the page. And so the writing in this case, by Georgia Pritchett, which is so amazing, is always going to be the guide for what it is. And if you push outside or make too you small, whatever's right in front of you'll know you're off the mark. So, all you need is there. And so I definitely didn't approach it as a comedy. I think that those things just kind of arose. And one of the reasons I was so attracted to it was because of these amazing comedians playing these roles that were, I mean, it's heavy, like what everybody goes through. So I was excited to see everybody kind of dive into the deep end in those ways.
And Casey, what do you think the moral of the story is?
Casey Wilson: I think the moral of the story is we all are kind of searching for connection and meaning, but at the same time, we have to kind of listen to our instincts if we feel there are red flags. And I think, also, we can extend forgiveness to people, or attempt to. So, there's some hopefulness that enters into the story as well.
This is for both of you ... any funny or memorable moments from the set with Will and/or Paul that really stand out in your mind?
Kathryn Hahn: I mean, there was definitely a lot of breaking, just because we got loopy or tired and it's those guys. And I don't really break that often. Like I really try not to.
Casey Wilson: She's a professional. Takes a lot.
Kathryn Hahn: I get so like, "Ohhh, I've got to get it together!" But it's really hard to look at Paul Rudd in the face when he's laughing. It's very impossible to get it back together.
Casey Wilson: When he goes over the edge, there's no coming back.
Kathryn Hahn: There's no coming back, for anyone.
Casey Wilson: We just had a great time despite the COVID of it all. But we did karaoke one night, in between scenes at about two in the morning, and we all got to do a little mini dance party, which felt so good...
Kathryn Hahn: Oh, my God, the best.
Casey Wilson: But everyone was kind of in their own areas because of the pandemic. So it was kind of a socially distanced dance party. It was strange, but fun.
Kathryn Hahn and Paul Rudd have 'unfinished business' that could lead to Ant-Man and Agatha Harkness meeting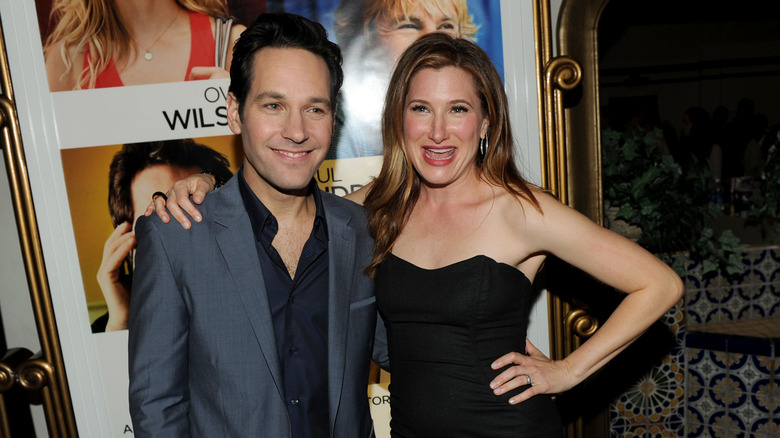 Kevin Winter/Getty Images
Kathryn, you've worked with Paul before on a few films and you're both part of the Marvel Cinematic Universe — him with "Ant-Man" and you with your roles in "Spider-Man: Into the Spider-Verse" and "WandaVision." Have you and Paul talked about your MCU experiences?
Kathryn Hahn: We have talked about our experiences. We share a couple of craft people in common, a makeup artist and someone else. Who are all so fricking lovely, lovely, lovely humans, and they just hire such awesome people. So yeah, we have been able to talk about that experience. We were laughing though, because he has a trainer and I had had a trainer, his same trainer, on "WandaVision." I was like, "we literally did nothing, but just kind of roll around and gossip." I didn't need to have a trainer on "WandaVision."
Casey Wilson: That's my dream, to have a trainer for something. What I would give. I just want to say, I don't even need to be in it. Can I have a trainer?
Kathryn Hahn: We just laugh. I kind of just fast walked on a low incline while we just gossiped. It went so fast.
Casey Wilson: That's what I do with my trainer. It's terrible.
Kathryn Hahn: It was the best. It was really fun.
Would you want to see an Ant-Man and Agatha storyline at some point?
Kathryn Hahn: Who wouldn't? I would love to see any, of course. I would want to work with him in anything again, I love it. We have much unfinished business to do, I feel like. This is like our fourth thing together, so I feel like we've got definitely unfinished business.
And now Casey, I'm a huge fan of "Happy Endings." And while it was unfortunately a little short lived, it has found new life on Netflix. I know there are a lot of rumors and attempts at a revival, so what would your ideal continuation of the story be, particularly for Penny?
Casey Wilson: My gosh! I mean, I would just hope that Penny's still alive to be honest, just that her and Max didn't have some horrible mishap. I would love to do it again. It was so much fun and they've tried different [attempts at a revival], but it's such boring reasons why it didn't work out. But I mean, I just think those characters are all so, and I mean this in the best way, so stupid in a great way and amazing. So God, anything with them, we had so much fun. We would love that.
As two comedy-based women, what is the most important thing to you in considering a role?
Casey Wilson: For me, I have to leave my kids, so I'm like, "Is this going to be fun? Is this going to be something I will learn from if I'm going to spend time away from home?" I just hope I can learn something or offer something to a project.
Kathryn Hahn: Yeah, for me, I would say those same exact reasons, and also I look for representation around the camera, like in all departments, so 360. And making sure that the story is being told in the way it should be told and from all angles and from all levels and perspectives. Is it something I haven't played before? Is it something where I can learn something new? Or be a part of, I guess, a mosaic of storytelling that hasn't been told about a woman's experience?
"The Shrink Next Door" will premiere the first three episodes on Friday, November 12, followed by one new episode weekly, every Friday, through December 17, on Apple TV+.