Yellowstone's Kelsey Asbille Just Teased A Major Spoiler For Season 4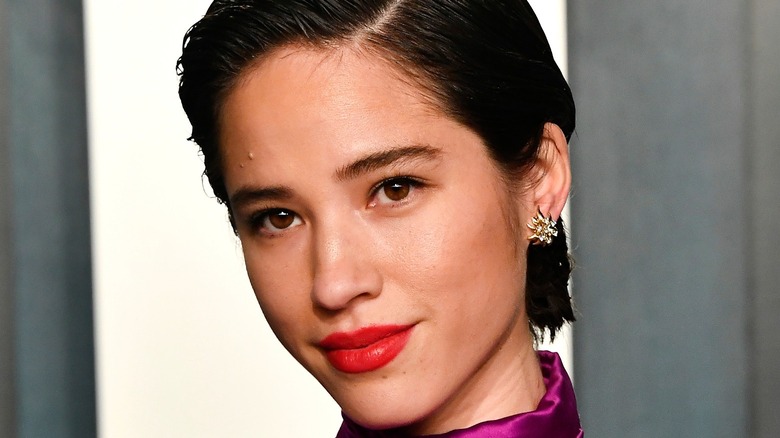 Frazer Harrison/Getty
In a recent interview with Daily Caller, "Yellowstone" actor Kelsey Asbille — who plays the conflicted, intelligent, and passionate Monica Dutton on the show — teased a potentially major clue regarding the fate of her and husband Kayce Dutton's (Luke Grimes) fate in Season 4. 
As fans will recall, the third installment of Taylor Sheridan's contemporary Western ended on an epic and ostensibly devastating cliffhanger, a plot point at which its two-hour series premiere on Sunday, November 7th immediately picked up. At the end of Season 3, fans were left to wonder if any of the Duttons survived an attack that saw Beth Dutton's (Kelly Reilly's) office blown-up, John Dutton (Kevin Costner) shot and left for dead, and Kayce Dutton under heavy gun fire at his office. While Season 4's premiere allowed audiences to breath a temporary sigh of relief at the survival of many of their favorite characters, it nonetheless left viewers with many questions — including the question of who, exactly, ordered the hit on the Duttons and their ranch in the first place. 
This was what Asbille, in her interview, jokingly agreed was indeed "the greatest cliffhanger in TV history." But according to the actor, there's even more of that to come in Season 4. 
There are dark times ahead for Monica and Kayce Dutton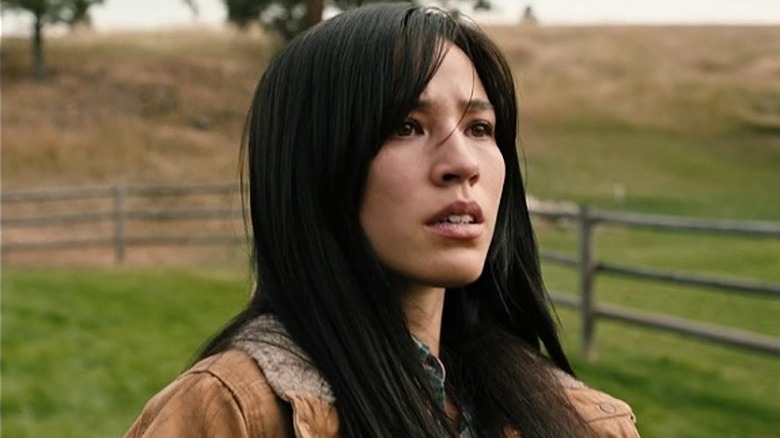 Paramount/ Amazon Prime
After talking to the outlet about (among other things) how Monica and Kayce's son Tate (Brecken Merrill) is struggling with the Season 3 attack and "the burden of being a Dutton," Asbille went on to discuss the season delving back into her connection with her people and her culture. Asbille praised the show for refusing to fall into the harmful trope of only portraying Indigenous peoples in the past, and for actually "(highlighting) contemporary struggles." Though she didn't explicitly connect Monica's conflicted allegiance — as both a Dutton and a resident of the fictional Broken Rock Indian Reservation — to any upcoming "Yellowstone" storylines, the actor did go on to hint at what Season 4 has in store for the complicated allegory that is Monica and Kayce's relationship.
Although she joked that she was "really bad at this question" when asked to describe what fans can expect from Season 4 "in one word," she ultimately landed on "unexpected." Regarding what fans can expect, specifically, with regard to Monica and Kayce's relationship, the actor said "it's gonna get dark, and they're gonna have it out — which they ... really need to," before revealing that the ending of Season 4 will be "the biggest cliff hanger (the couple) have had so far." 
In a series known for its (sometimes literally) explosive season finales, that is, as the outlet pointed out, "saying a lot."