Why Monica Dutton From Yellowstone Looks So Familiar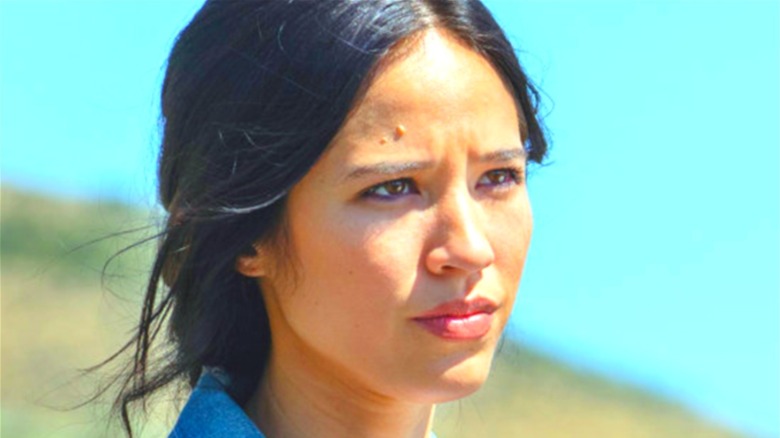 Paramount Network
Monica Dutton is one of the core characters in "Yellowstone." She's the wife of Kayce Dutton (Luke Grimes) and the daughter-in-law of John Dutton (Kevin Costner), which makes her a member of the most powerful family in the state of Montana. She's caught between worlds, however, because she's also a member of the local Native American tribe that's often in conflict with the Duttons. Monica works as a history professor at Montana State University. She and Kayce have had their ups and downs — they broke up for a while in Season 2 — but they love each other deeply and are devoted parents to their son Tate (Brecken Merrill).
Monica has had some intense plotlines over the course of the series. In Season 2, she got hit in the head while trying to break up a fight between two students at the high school where she worked at the time, suffering a subdural hematoma and needing brain surgery. In Season 3, she came up with a plan to serve as bait in order to trap and murder a serial killer who had been preying on Native American women.
The actress who plays Monica is Kelsey Asbille (formerly known as Kelsey Chow), who started as a teen actor and has transitioned into playing adult Native American roles. She has attracted some controversy, with some activists questioning her claims of Native American identity (Asbille is of Taiwanese, British, and Eastern Band Cherokee ancestry, according to The New York Times). She's best known for "Yellowstone," but here's where else you may have seen her.
She broke through on One Tree Hill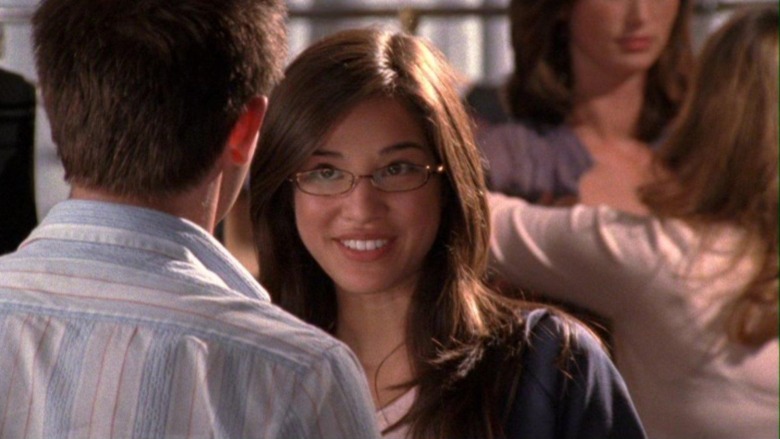 The CW
Kelsey Asbille's first TV acting job was on the WB/CW young adult drama series "One Tree Hill," which she landed when she was just 13, according to Smashing Interviews. The show filmed in North Carolina, which allowed the South Carolina native to stay close to home. She had a recurring role as Tree Hill High School student Gigi Silveri, who served as Mouth McFadden's (Lee Norris) sportscasting partner at basketball games and eventually became his girlfriend. She also appeared in a little play with Nathan (James Lafferty), one of the hunky main characters, and kissed him in a way that went above and beyond what the play called for. It was Asbille's first kiss.
"I was extremely nervous, excited, and embarrassed and had no clue what I was doing," Asbille told Smashing Interviews. "It was funny because we had to do it over and over again because I wasn't holding the kiss long enough. I don't know what I was thinking there, but it was just a fun experience. But it was great. I was on the show for 4 seasons and got the opportunity to work with all of the cast members, which was pretty awesome."
She got chimerical on Teen Wolf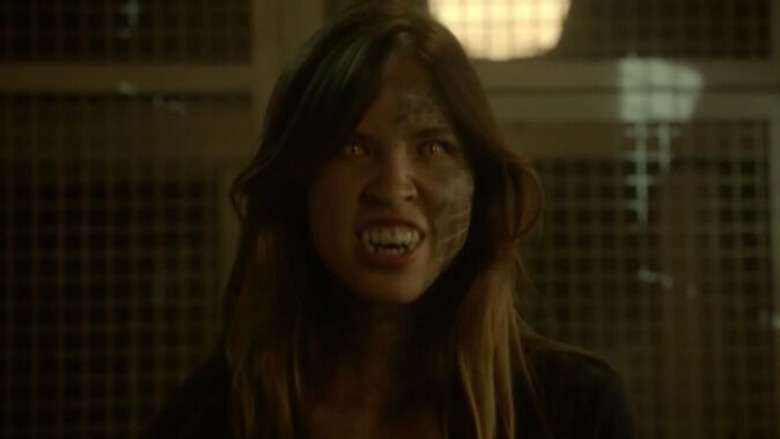 MTV
Kelsey Asbille followed up "One Tree Hill" with some small Disney Channel roles before getting back into teen drama with the MTV supernatural series "Teen Wolf." She played Tracy Stewart, a high school student who was a chimera — in this case, a hybrid of a werewolf and a kanima, a snakelike shapeshifter. At first, she seemed like a nice girl who had powers she didn't ask for and were beyond her control, but then she died and came back as a zombie chimera and became a villain. Asbille recurred throughout Season 5 of the series.
Asbille had elaborate makeup while in chimera form. She told Talk Nerdy With Us that it took about an hour and 45 minutes to apply and another 45 minutes to take off. The hardest part of the job was nailing the physicality of the character. "I remember the first episode, the director Russell Mulchahy was like, 'Okay snarl!' But I was like actually I don't think this is working for me! I don't know if I'm doing this right!" she said. "But then I started to become more comfortable and spend some time in front of the mirror in fangs and kind of work it out. It's something I'm still mastering."
Her career changed with Wind River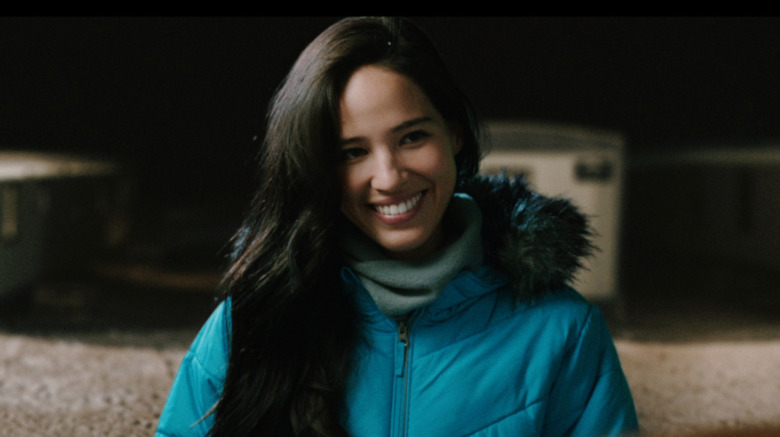 The Weinstein Company
Kelsey Asbille's career hit a major turning point when "Yellowstone" creator Taylor Sheridan cast her in his 2017 murder mystery film "Wind River." The film deals with the high rate of murder and sexual assault inflicted upon Indigenous women, an issue that's very important to Sheridan and has also been discussed in "Yellowstone." He wrote the film to raise awareness of the problem, he told NPR.
Asbille played Natalie Hanson, a Native American woman whose death from exposure is being investigated by Cory Lambert (Jeremy Renner), a U.S. Fish and Wildlife Service agent whose daughter was friends with Natalie and died under similar circumstances, and FBI agent Jane Banner (Elizabeth Olsen), who has jurisdiction over murder cases on Native American reservations.
The role called for Asbille to act in a stomach-turning rape scene. It's hard to watch, but Asbille told Nylon that she felt cared for while filming the scene. "I was incredibly nervous. But when we shot, it was a closed set, everyone was incredibly respectful," she said. "Everyone did their best to make the set feel like a comfortable environment, and everyone shared a desire to really do it right. By the end of it, I felt confident in how it was represented."
If you or anyone you know has been a victim of sexual assault, help is available. Visit the Rape, Abuse & Incest National Network website or contact RAINN's National Helpline at 1-800-656-HOPE (4673).
She broke the rules on Fargo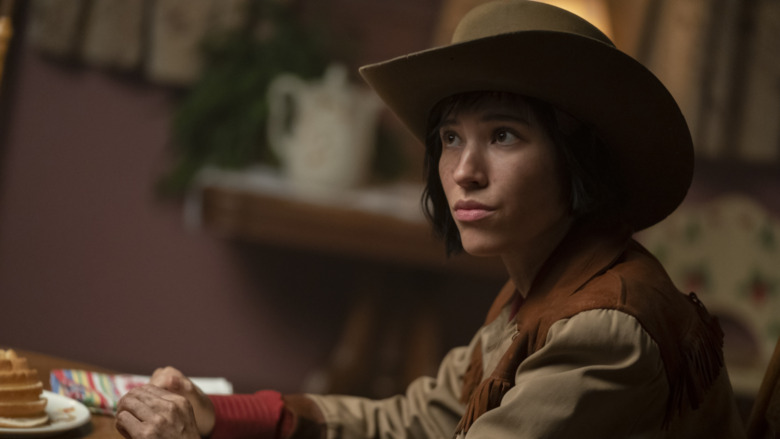 Elizabeth Morris/FX
Between seasons of "Yellowstone," Kelsey Asbille appeared in another acclaimed cable drama, FX's "Fargo." In Season 4 of executive producer Noah Hawley's crime anthology series, Asbille played Swanee Capps, a Native American woman who was in a relationship with bank robber Zelmare Roulette (Karen Aldridge), whom she met in prison. They broke out and went to Zelmare's sister's house in Kansas City, where they were tracked down by U.S. Marshal Dick "Deafy" Wickware (Timothy Olyphant). It didn't end well for any of them.
"Swanee is an outlaw — maybe not a very good one, but she's very committed," Asbille told New York Live about her character. "Noah just wrote an incredible character and I really had so much fun playing her." It's a role unlike any other in Asbille's career. It's the first time she's ever played such a free-spirited character, as well as the first time she'd ever appeared in a period piece.
She starred on Disney's Pair of Kings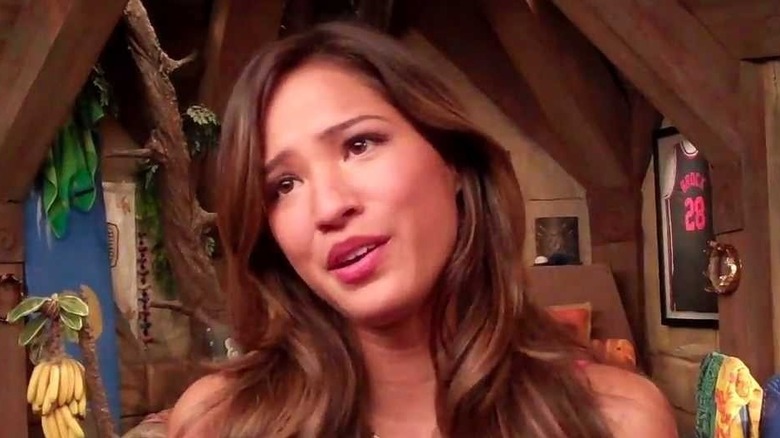 Disney
You'll be forgiven if you don't recall Disney's "Pair of Kings," which ran for three seasons starting in 2010. It was one of the first major roles for Kelsey Asbille (billed at the time as Kelsey Chow), where she played the tough, smart, and capable Mikayla.
"Pair of Kings" is about two fraternal twin boys who learn they are the sons of the king of a fictional island nation. As you might expect, hijinks ensue when the boys arrive and must learn how to rule. Mikayla is the daughter of the island's royal advisor, and she seems to have better luck at getting through to the boys than anyone else. Mikayla also serves as a will-they-won't-they love interest with Brady, one of the twins.
Even though many Disney Channel shows are formulaic, they're often a great place for young actors to gain a following and springboard to stardom. Asbille proved she had a bright future with her role on the series.
She's rocked out in a handful of music videos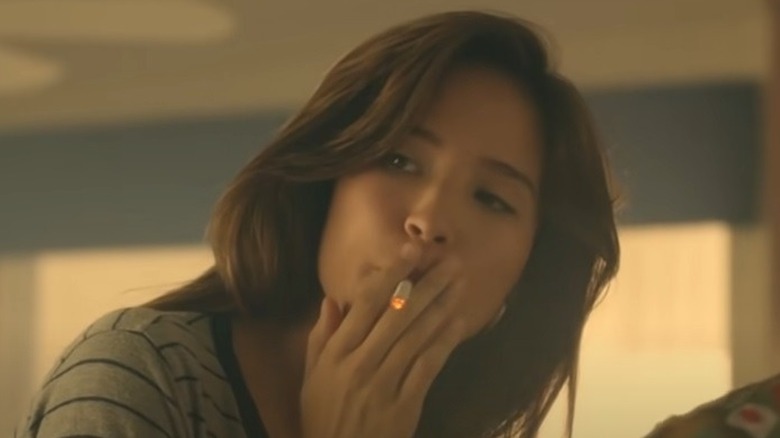 Hayley Kiyoko/YouTube
If you've ever fallen down an angsty, pop music rabbit hole on YouTube, you may have stumbled across a music video starring Kelsey Asbille. Her early roles on series like "One Tree Hill" and "Pair of Kings" made her recognizable, but not a massive enough star that she overshadowed the artists she was working with at the time.
One such video was for the song "Sleepwalker" by artist Bonnie McKee. McKee has had a number of pop hits over the years but is probably better known as a writer — she's worked with Katy Perry on a number of hits, along with plenty of other major artists. The blood-splattered video for "Sleepwalker" features Asbille and McKee teaming up to cave in some zombie skulls at a house party.
Asbille also starred in the music video for Hayley Kiyoko's "Girls Like Girls." There is decidedly less zombie killing in this video, as it instead focuses on a pair of teenage girls (Asbille and another Disney Channel actor, Stefanie Scott) who realize they have feelings for one another.