Movies Like Talladega Nights That Sports Comedy Fans Need To See
Few actors dominate a genre like Will Ferrell. In the 2000s, it was difficult to dispute Ferrell as the king of comedy, with films like "Old School," "Elf," and "Step Brothers" to his name. In 2007, Ferrell played the titular character in "Talladega Nights: The Ballad of Ricky Bobby." In the film, Ferrell plays a NASCAR racer at the top of his game. When Bobby shockingly loses a race to Jean Girard (Sacha Baron Cohen), Bobby is forced to refocus and launch a campaign to restore his world dominance.
The cast was hugely committed to their roles and even attempted to learn how to race like professional NASCAR drivers. Thanks to its tremendous ensemble cast, which included John C. Reilly, Amy Adams, Michael Clarke Duncan, Leslie Bibb, and Molly Shannon, "Talladega Nights" has become a fan-favorite of sports comedy. If you find yourself looking for something similar while on your next foray into the subgenre, then you've surely come to the right place. Here's our list of sports comedies that fans of "Talladega Nights" need to see.
The Longest Yard
After starring in 1972's "Deliverance," actor Burt Reynolds was on top of the world. Two years later he would star in another classic, 1974's "The Longest Yard," an epic film about a group of prisoners who form a football team to take on the prison guards. Just as Will Ferrell was a bonafide superstar in the 2000s at the time of filming "Talladega Nights", Burt Reynolds was night unstoppable during the 1970s.
Directed by Robert Aldrich ("What Ever Happened to Baby Jane?"), "The Longest Yard" stars Reynolds as Paul Crewe, a former NFL quarterback who winds up in jail after taking his girlfriend's car and taking part in a police chase, earning 18 months in prison. While there, Crewe is despised by his fellow inmates, given that he fell from grace in the NFL for point shaving. He draws the interest of warden Rudolph Hazen (Eddie Albert), who manages a football team of prison guards, and wants Crewe to help his team get stronger. To do so, Crewe sets out to put together a team of prisoners.
Reynolds showcases every bit of his action hero bravura in "The Longest Yard," and his performance is a delight to watch. It's a thrill to watch someone with such raw star power, while the strong ensemble cast includes James Hampton and Ed Lauter.
Bring It On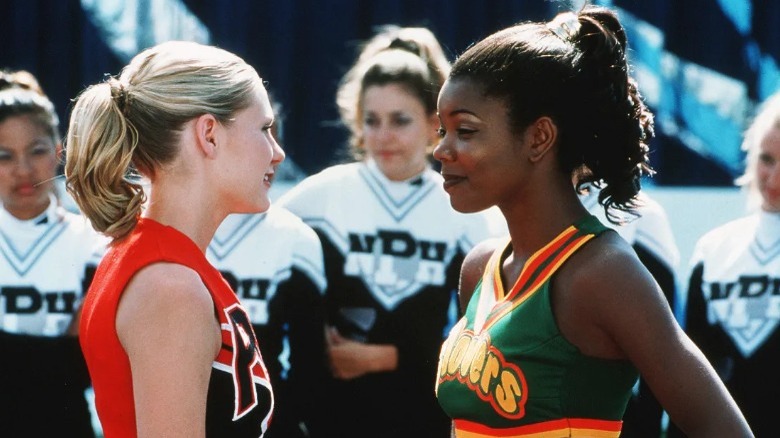 Universal Pictures
Get your spirit fingers ready, because the next film on our list takes us to the world of competitive high school cheerleading. Kirsten Dunst plays Torrance Shipman, the new captain of the Toros, the Rancho Carne High School's cheerleading squad. Shipman works tirelessly to get her team ready as they prepare to win the national competition for their sixth straight year. Unfortunately for Shipman, the arrival of Missy Pantone (Eliza Dushku) reveals that the Toros have been stealing their routines from an inner-city school. Upon investigation, the Toros meet Isis (Gabrielle Union), who rightfully accuses them of plagiarism. This leads to some epic and frequently hilarious cheer battles.
"Bring it On" was directed by Peyton Reed, who later found himself directing Marvel's "Ant-Man." Reed was very dedicated to the authenticity of the cheerleading in the film and made every actor attend a four-week cheerleading camp. It definitely paid off, as the cheerleading routines are a delight to watch. "Bring it On" stands as an impressive reminder that cheerleading is a lot more than singing a catchy tune and shaking some pom-poms. The film was a big success at the box office, earning over $90 million worldwide according to Box Office Mojo. It was such a big success that it had multiple straight-to-DVD sequels with different casts, though none of them hold a candle to the original's glory.
Hot Rod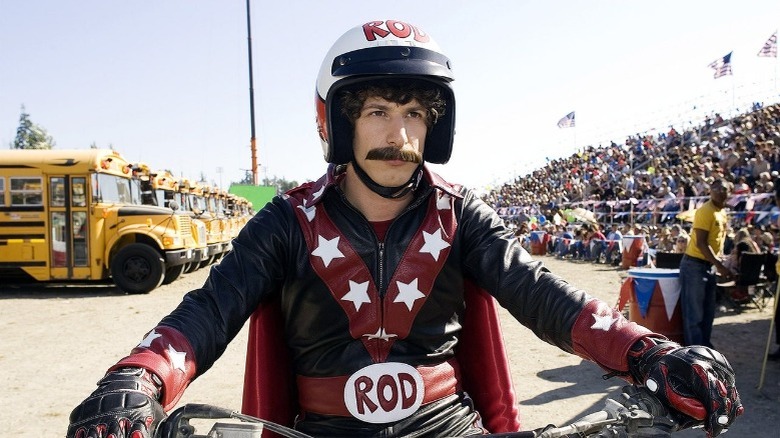 Paramount Pictures
Not every film on this list received critical or commercial acclaim upon release. Some, like 2007's "Hot Rod," tanked at the box office and failed to garner any critical support (including a 39% approval rating on Rotten Tomatoes). However, the film, starring Andy Samberg and directed by his Lonely Island cohort Akiva Schaffer, has enjoyed a second life since its introduction to Netflix.
Samberg stars as Rod Kimble, a man convinced that his dead father was a major stuntman. He's determined to follow in his father's indelible footsteps, though his stepfather, Frank ("Deadwood" star Ian McShane), constantly mocks his dreams. When Frank falls ill and requires a heart transplant that insurance won't cover, Kimble attempts to fund the surgery by performing a truly epic stunt: jumping over 15 school buses.
As one could expect from a film involving the comedy group The Lonely Island, the film is a who's who of comedic (and dramatic) talent. Alongside Samberg, the film stars Jorma Taccone, Bill Hader, Sissy Spacek, Isla Fisher, and Danny McBride. It also features SNL legend Chris Parnell, and the musical group Queens of the Stone Age. Though "Hot Rod" was misunderstood for years, there's no better time to revisit this underappreciated classic.
Whip It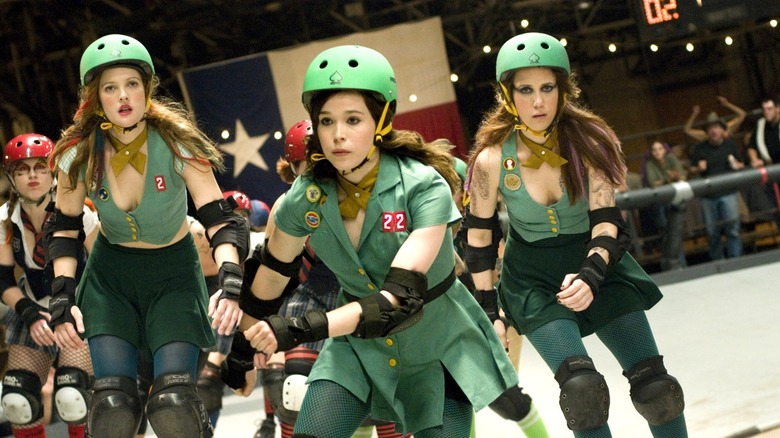 Fox Searchlight
For those who love stories about a fish-out-of-water, "Whip It" is a great pick. Elliot Page stars as Bliss Cavendar, a directionless girl whose mother (Marcia Gay Harden) is too busy trying to push her into the pageant circuit to notice Bliss' complete and utter lack of interest. By chance, Bliss happens upon some roller derby team members and becomes enamored with the rough and tumble sport. Bliss fibs about her age to try out for a team in Austin, the Hurl Scouts. In a wonderful turn, Bliss is a natural, becomes a member of the team, and earns the glorious derby moniker "Babe Ruthless."
"Whip It" marked the directorial debut for actress Drew Barrymore, who also stars in the film. Barrymore shows serious chops as a director, and her admiration for the sport of roller derby is evident in the action-packed scenes, which may remind audiences of the amazing racing sequences in "Talladega Nights."
Goon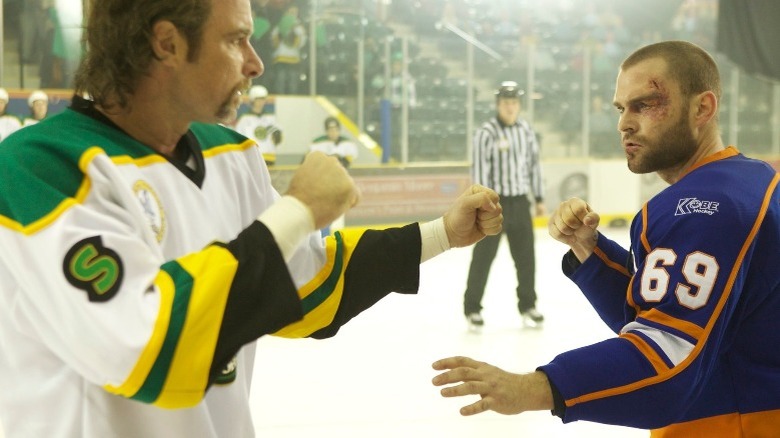 Alliance Films
There's no denying that hockey can be a brutal sport, given that it has a specific penalty for fighting. In fact, teams even sign specific players to act as enforcers who cause a ruckus and unleash brutal hits to try and shift the game's momentum. That's pretty much the exact premise for "Goon," the Canadian hockey film starring Seann William Scott.
Scott has had quite a difficult time in Hollywood, but "Goon" shows hat an excellent performer he is. Scott plays Doug Glatt, a charming if vacant bouncer at a bar. He feels like he lives on the margins, while everyone in his family is more successful than him. One night, Doug goes to a minor league hockey game with his friend Pat (Jay Baruchel, who also co-wrote the film). He gets into a fight with a hockey player and easily disposes of the other man. Subsequently, the coach of Doug's hometown team offers him a job on the team as an enforcer.
Scott gives a charismatic, physical performance that's balanced by a warm sense of humanity and vulnerability. Scott handles it all with considerable ease. "Goon" was very popular with fans, and so Scott returned for the sequel "Goon: Last of the Enforcers." Full of charm, laughs, blood, and missing teeth, "Goon" is a must-watch.
Semi-Pro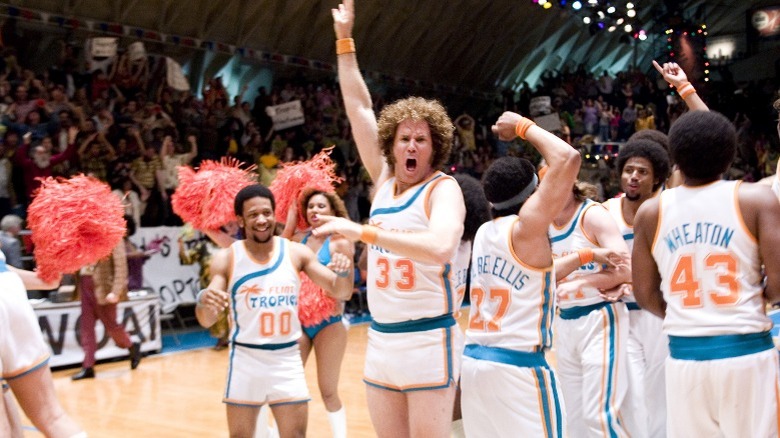 New Line Cinema
If you appreciated the silly humor of "Talladega Nights," another Will Ferrell sports comedy, "Semi-Pro," is a great next choice. Ferrell stars as Jackie Moon, a singer whose one-hit-wonder gave him enough money to buy a major league basketball team, the Flint Tropics. Moon isn't just the owner — he's also the head coach, announcer, and the starting power forward. The Tropics play in the American Basketball Association (ABA), which the league commissioner is planning to merge with the NBA. The catch: only four of the ABA teams will join the illustrious NBA. With the Tropics being the worst team in the league, their chances are slim — but not if Moon can help it!
"Semi-Pro" brings the laughs with absurdist jokes and scenarios, including a scene at a poker table where a group all jokingly shoots at each other. The ensemble cast is world-class, with Woody Harrelson, Maura Tierney, Andrew Daly, Will Arnett, Andy Richter, Tim Meadows, and Rob Corddry. Despite a poor critical reception, including just a 22% approval rating on Rotten Tomatoes, "Semi-Pro" is a hilarious, optimistic, and worthy sports comedy.
Blades of Glory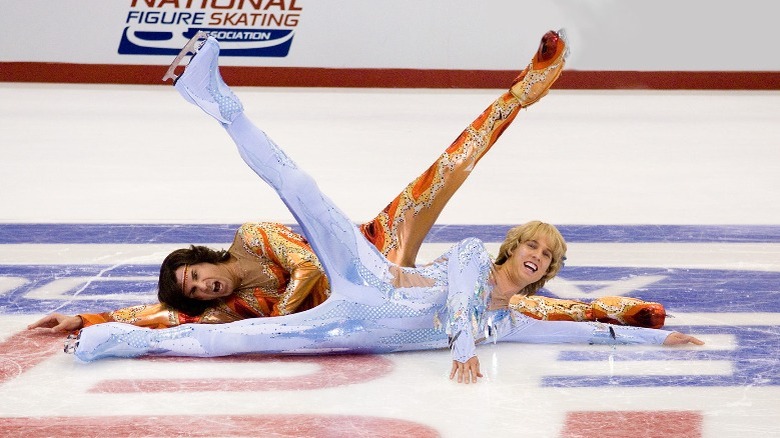 Paramount Pictures
Chazz Michael Michaels (Will Ferrell) and Jimmy MacElroy (Jon Heder) are two ice-skaters on top of their game. They tie for gold at the 2002 World Winter Sport Games, though an argument on the podium leads to a dramatic fight which results in the World Games mascot in flames. Both athletes are stripped of their medals and banned from competitive skating for life. While it may seem like the end for Michaels and MacElroy, they discover years later that they are only banned from men's singles competition. So, the heated rivals decide to do the unthinkable — compete together in the pairs competition, making them the first-ever all-male team.
For fans of Will Ferrell, "Blades of Glory" continues with what Ferrell does best, and he has a perfect comic pairing with the wonderful Jon Heder. While Heder has struggled to find his place in Hollywood, his offbeat and quirky comic timing fits perfectly in the bravado world of figure skating. "Blades of Glory" is also a joy to watch because you can tell that Ferrell and Heder are having an absolute blast, as shown by these wonderful bloopers. The film is rounded out by an insanely talented cast, including Will Arnett, Amy Poehler, Jenna Fischer, and Craig T. Nelson.
Slap Shot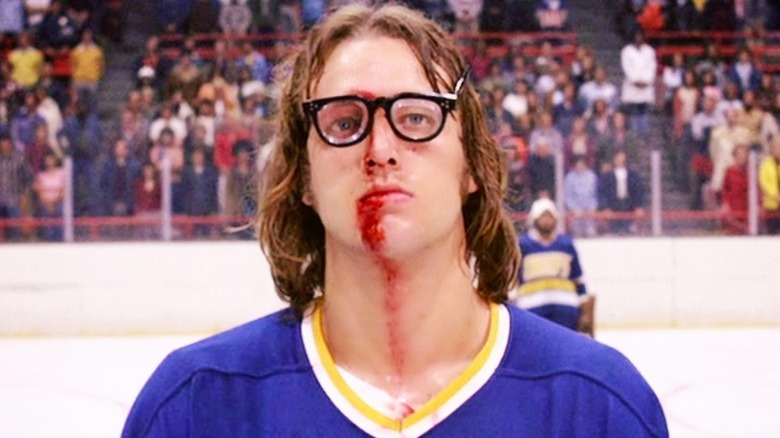 Universal Pictures
It's hard playing for a team that doesn't do well. In "Slap Shot," the Charlestown Chiefs are something of a laughing stock in minor league hockey, and fans even come to games for the sole purpose of mockery. After all, the Chiefs can't seem to get a win to save their lives. Little do they know that their sporting lives are very much in danger, as the owners of the Chiefs are looking to dismantle the team.
To try and shift their fortunes, aging veteran player-coach Reg Dunlop (Hollywood legend Paul Newman) decides to fundamentally change the team's outlook. He hires the three Hanson brothers (David Hanson, Steve Carlson, and Jeff Carlson) as brutal enforcers. After getting the entire team on board to go full-tilt into complete goonery, the Chiefs attempt to change their fortunes with a heck of a lot of bloody violence. 
Newman is no stranger to sports films — one of his biggest films was 1961's billiards-focused "The Hustler" — and his performance in "Slap Shot" is brilliant, with a hulking frame that makes him intimidating on and off the ice. The film may not have aged perfectly, as moments of misogyny and homophobia cloud too many scenes. Still, for those who like their sports comedies with a whole lot of fighting, it's hard to go wrong with "Slap Shot."
The Bronze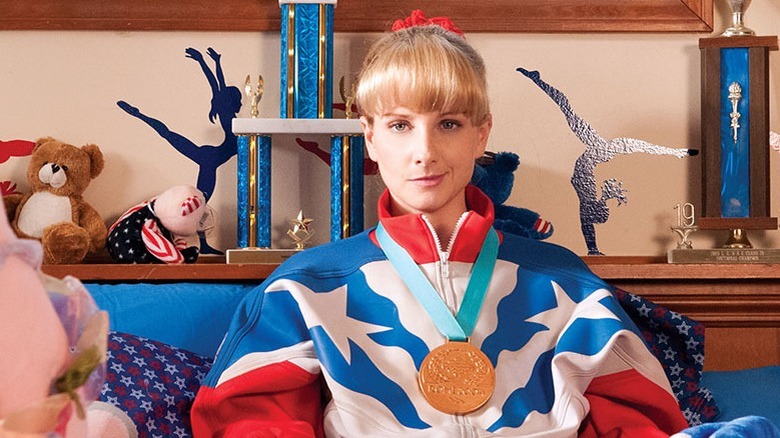 Sony Pictures Classics
Melissa Rauch shot to super-stardom after playing Bernadette Rostenkowski-Wolowitz on "The Big Bang Theory." There, Rauch displayed a real knack for landing a punchline, no surprise considering her lifelong obsession with comedy. While Rauch's character in "The Big Bang Theory" is sweet and charming, her role in sports comedy "The Bronze" is the complete opposite.
Rauch plays Hope Greggory, is a former gymnastics phenom and big-time celebrity in her hometown of Amherst, Ohio. Behind the celebrity facade lies something far more devious, as Hope uses her celebrity status to get by and steals mail from her postal worker dad. When Hope's former gymnastics coach dies, Hope is asked to train a promising student, Maggie Townsend (Haley Lu Richardson). If she agrees and gets Maggie to the Olympics, Hope will secure a whopping $500,000 inheritance.
"The Bronze" has a much darker sense of humor than other films on this list, and it's certainly the most profane. Rauch offers a completely different side of her comic persona, and her performance is a nasty, sinister, and delightful revelation. The script, co-written by Rauch and her husband Winston, is a great reminder that she is a multi-dimensional talent with way more to offer than a spot on "The Big Bang Theory."
Bad News Bears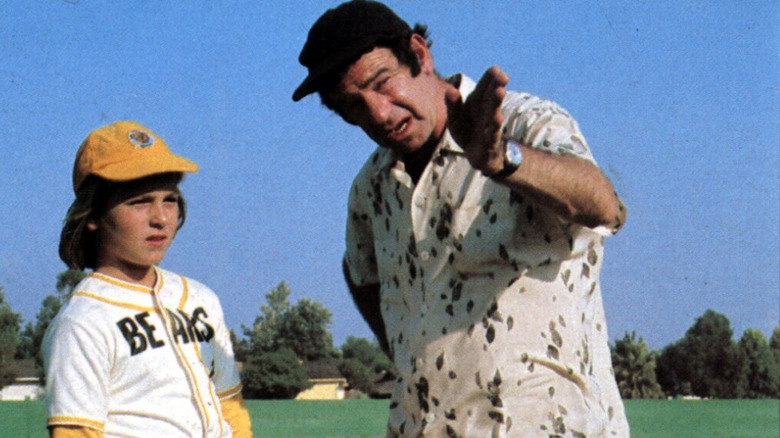 Paramount Pictures
What is it about the 1970s and comedies about struggling sports teams? Just as "Slap Shot" focused on the woes of a hockey team, 1976 classic "The Bad News Bears" launched the glorious trend of sporting misfits. Directed by Michael Ritchie ("Fletch") and written by Bill Lancaster ("The Thing"), the film was a huge success, spawning two sequels, a two-season television series, and a 2005 remake directed by Richard Linklater. None of those, however, can hold a candle to the original.
Hollywood legend Walter Matthau stars as Morris Buttermaker, a former baseball pitcher who would rather be drinking alcohol than ... well, anything else. Buttermaker finds himself coaching the Bears, a youth baseball team so troubled that they were literally formed to include players that no other teams wanted. Their first game with Buttermaker as a coach is a disaster, as they forfeit the game down 26-0. Yet the cantankerous Buttermaker still has real warmth. He also brings in two ringers: Kelly Leak (Jackie Earle Haley), a chain-smoking, motorcycle riding, gambling athlete, and Amanda Wurlitzer (Tatum O'Neal) a tomboy with a knack for pitching.
"The Bad News Bears" is far too adult for its PG rating, and has kids, smoking, gambling, and swearing till the cows come home. That said, the film has a genuine sense of humanity and is chock-full of entertaining and hilarious moments, making this underdog story is hard to resist.
The Sandlot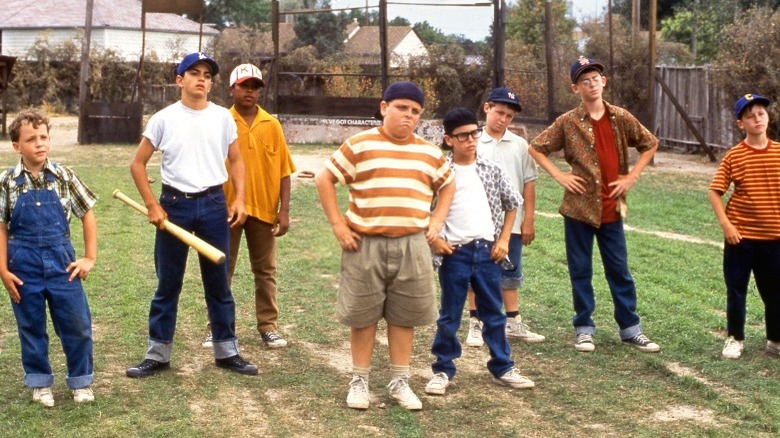 20th Century Fox
"The Sandlot" is the perfect blend of a sports comedy and a coming-of-age story. Directed, written, and narrated by David Mickey Evans, "The Sandlot" takes place in the torrid Californian summer of 1962. Drawing from his own life experience, Evans' script focuses on Scott Smalls (Tom Guiry) a shy youngster who is starting the fifth grade at a new school in Los Angeles. Smalls is keen to join some boys who play baseball in a nearby sandlot (hence the title), but despite his best efforts, he's not particularly good at the sport. Regardless, he draws the attention of the team's finest player, Benny Rodriguez (Mike Vitar), who takes it upon himself to mentor Smalls and make him come out of his shell, and also become a great player.
Though the Rotten Tomatoes consensus calls "The Sandlot" "shamelessly derivative and overly nostalgic," the film is chock-full of memorable, charming, and funny characters. The cast is universally strong, including Pablo Vitar, Patrick Renna, Chauncey Leopardi, and James Earl Jones. It's Mike Vitar's performance as Benny that steals the show and helped launch Vitar's successful Hollywood career. Though critics weren't united in praise, the film has earned certain cult status, and on its 25th anniversary MLB's Milwaukee Brewers re-created a famous scene in celebration. For those who loved the great ensemble cast in "Talladega Nights," "The Sandlot" is a perfect choice.
Bull Durham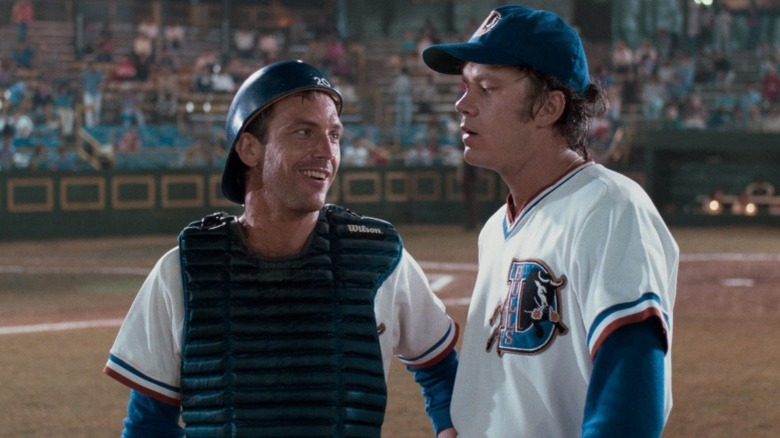 Orion Pictures
For fans of sports comedies, the classic 1988 rom-com "Bull Durham" is an absolute necessity. Hollywood icon Kevin Costner stars as "Crash" Davis, a veteran catcher recruited to mentor rookie pitcher "Nuke" LaLossh (Tim Robbins) to get him ready to succeed in the major leagues. Crash gets a vital assist from baseball groupie Annie Savoy (Susan Sarandon), a bonafide baseball obsessive, who picks a new lover on the Durham baseball team each year to teach the ins and outs of the game. Savoy has chosen Nuke this season and her guidance is helping him excel in his pitching game. But as Nuke gets better, the evident chemistry and desire between Crash and Savoy become more and more obvious.
Writer-director Ron Shelton, who was nominated for an Oscar for Best Original Screenplay for "Bull Durham,"  wanted to cast Costner for the actor's time as a high school baseball player. "Bull Durham" has all the makings of a great sports comedy, given that it's full of heart, romance, plenty of laughs, and genuinely exciting sport moments. Don't just take our word for it, either. Sports Illustrated has called "Bull Durham" one of the greatest sports movies of all time.
Happy Gilmore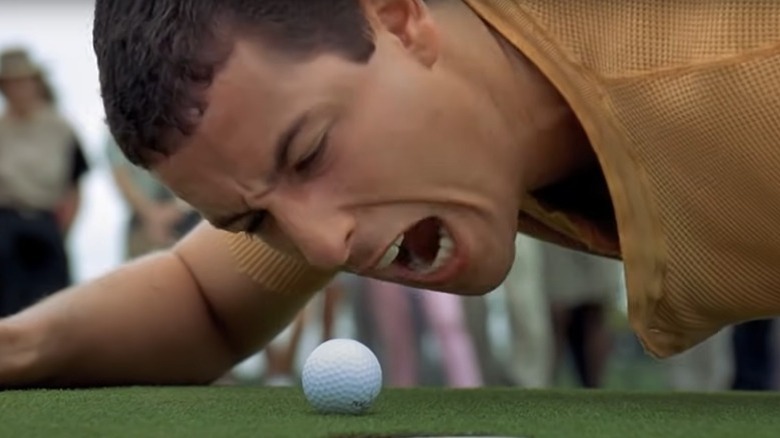 Universal Pictures
Few comedians have made an impact at the box office quite like Adam Sandler. Sandler's films have earned over three billion dollars at the worldwide box office, for one. His rise to superstardom came in the mid-1990s, with "Billy Madison", and his first sports comedy, 1996's glorious golf movie "Happy Gilmore."
Sandler stars as the titular Happy Gilmore, who is, with all due respect, a pretty bad hockey player. No matter how hard he tries, he just can't get on a team. When his grandmother's (the delightful Frances Bay) house is seized by the IRS, he discovers she needs $270,000 to save her home. Hope is not lost, as thanks to a bet from some movers, Happy Gilmore discovers that he has a tremendous knack for golf thanks to his hockey slapshot. Before long, Gilmore finds himself at the local golf club challenging players to contests, all so he can earn money to help his grandma.
It's there he meets Chubbs Peterson (Carl Weathers), who, impressed by Gilmore's talent, gets him a spot on a pro golfing tour. Gilmore soon garners the attention of newfound rival Shooter McGavin (Christopher McDonald). A brilliant comedic cast rounds out "Happy Gilmore," including an early role from two-time Emmy winner Julie Bowen. The film is absolutely legendary in comedy circles, and for good reason. For fans of the raunchier comedy in "Talladega Nights," "Happy Gilmore" is a perfect choice.