Will Ferrell Bloopers That Make Us Love Him Even More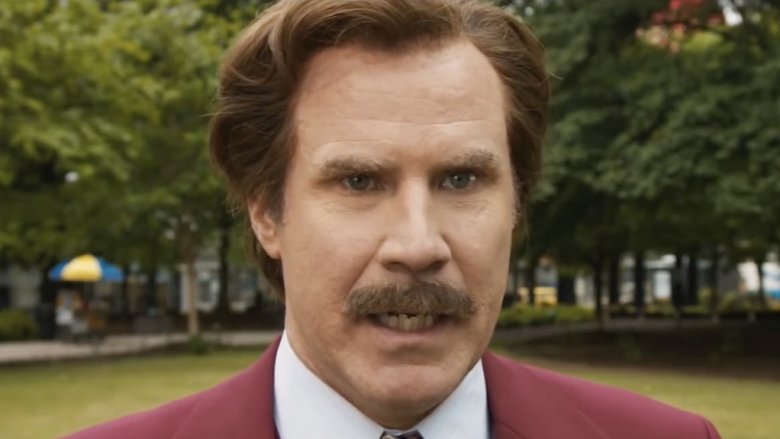 Will Ferrell might be one of the funniest people on the planet. After leaving Saturday Night Live in 2002 as one of the biggest stars the late-night institution has ever produced, Ferrell has portrayed a string of unforgettable characters — most of them over-the-top buffoons — in oft-quoted comedies like Old School, the Anchorman movies, Talladega Nights, and Elf.
Ferrell honed his comedy chops through live performance with Los Angeles' legendary Groundlings troupe, instilling in him both a looseness and a willingness to experiment. The result: Ferrell never shies away from giving a scene another take with a new joke that pops into his head. However, when new jokes are introduced as a movie is being shot, it increases the odds of the crew and cast — including Ferrell himself — busting up laughing and "ruining" the scene, because comedy is all about the element of surprise. Here are some times when Ferrell messed up while filming movies...and the bloopers are almost as funny as the films themselves.
A glass case of screw-ups
Anchorman is a movie that goes slowly and deliberately off the rails. What begins as a film making fun of a chauvinist 1970s San Diego news team culminates in a shockingly violent Battle Royale with other news teams, and leaves star newsman Ron Burgundy broken and disheveled, wandering the streets chugging milk when his beloved dog Baxter goes missing after being kicked into a river by an angry biker (Jack Black). Burgundy's emotional breakdown provides one of Ferrell's all-time best scenes — from a phone booth, he makes a call to colleague Brian Fantana that's nearly incomprehensible due to Ron's scream-laden sobbing. The only line that viewers (and Fantana) can make out is "I'm in a glass case of emotion!" The full, unedited sequence is a hilariously long blooper roll of Will Ferrell's signature comedy-yelling, along with crying, freaking out...and then Ferrell suddenly breaking character to ask director Adam McKay if he should start over.
He screams for ice cream
The House stars Ferrell and Amy Poehler as Scott and Kate Johansen, a suburban couple pushed to the brink who have no choice but to do the unthinkable. After a full scholarship for their college-bound daughter, Alex (Ryan Simpkins), falls through, they open up an illegal casino in a friend's house. A psychological throughline of the high-concept comedy concerns Ferrell's character gaining more confidence and evolving away from his previously timid and fragile natural state. Nowhere is that starting point more evident than in a scene in which the Johansens enjoy an outdoor frozen yogurt date with Alex. Mom and daughter simultaneously reach their spoons into dad's yogurt cup to try a bite, thinking they're the kind of close family where that's permissible. It's all evidently completely unauthorized and unacceptable to Scott, prompting Ferrell to scream out "PLEASE!" repeatedly through clenched teeth. Poehler and Simpkins immediately start laughing, and before long, Ferrell is, too.
His attempt to crack up others only served to crack himself
One gets the feeling that Will Ferrell actively tries to make his co-stars laugh. He improvises wildly, makes up new lines, and will riff in character and in the moment, which can take more serious actors by surprise. In the action comedy The Other Guys, for example, Ferrell plays a nerdy desk cop opposite Mark Wahlberg as a tough guy detective and Eva Mendes as his wife. Wahlberg and Mendes, generally associated with much more dramatic work, don't know what to expect when appearing in scenes with Ferrell.
In this blooper, Ferrell and Mendes' characters have Wahlberg's over for dinner. The meal conservation turns, as it does, to medical problems and surgeries. Ferrell recalls that Mendes' doctor said that working on her was like "operating on a German shepherd with hip dysplasia." Ferrell can barely get through the line without breaking, but he keeps it together. Mendes certainly doesn't, and is unable to hold it together for very long...which of course causes Ferrell to finally lose his composure, too.
It's just science
Anchorman 2 reunited San Diego's number one news team at the dawn of cable news and the 24-hour news cycle. While the stage is bigger and there's more air time to fill, Ron Burgundy (Ferrell) and reporter Brian Fantana (Paul Rudd) haven't changed much. They're still obsessed with the female form, and in this scene, they're focused on emerging technology that is the shape of things to come in that arena, particularly the development of silicone breast implants. Ferrell makes Rudd go hysterical almost immediately, noting that before silicone was decided upon, scientists had used "taco meat." The two then speculate about the many other substances that were attempted, including pudding, whipped cream, and tuna fish. From a loudspeaker, director Adam McKay throws out a prompt that's supposed to lead to Ferrell and Rudd riffing and improvising. It's just that he says "nickels," which is just too silly for either actor to handle.
This outtake from Zoolander is so hot right now
After his big-screen breakthrough as Dr. Evil's fez-topped henchman Mustafa in the Austin Powers movies, but before he became a headlining comedy machine with Old School, Will Ferrell showed how unhinged, versatile, and unabashedly ridiculous he could be in Zoolander.
Ferrell plays Jacobim Mugatu, a fashion designer/international terrorist set on brainwashing a male model to assassinate the prime minister of Malaysia, who wants to put an end to the cheap child labor that propels the fashion industry. Mugatu attempts to brainwash the incredibly dumb Derek Zoolander (Ben Stiller) with a series of rapid-fire, brain-melting images, many of which star himself. In one sequence, he's dressed like a turn-of-the-century dandy boy, brandishing a humongous lollipop and curls to die for. Ferrell knows he looks ridiculous, and in this blooper, he rolls with it. He cries, he screams, he sicks his tongue out, and he does every thing he can to make himself look and seem like an absolutely intolerable old-timey toddler.
A graceful moment from Talladega Nights
The grace-and-dinner scene in Talladega Nights goes on for a really long time, which is fine, because it's both endlessly hilarious and it solidifies the personalities of so many characters, particularly the mean and arrogant Ricky Bobby (Will Ferrell) and his terrible and disrespectful spoiled brat kids Walker (Houston Tumlin) and Texas Ranger (Grayson Russell).
Surrounded by all the branded food from Ricky's sponsors (Domino's, Coca-Cola, KFC), those little jerks openly and aggressively mouth off to their maternal grandfather, Chip (hangdog-faced character actor Ted Manson). The grandpa, both old school and the only decent human being in the extended Bobby family, takes offense, asking Ricky, "You gonna let your sons talk to their grandfather like that? I'm their elder!" Ricky replies that yes, he most certainly will allow that. it's the emphatically added, contempt-filled, half-screamed "CHIP!" which makes co-star John C. Reilly (as driver Cal Naughton, Jr.) start laughing, which then makes Ferrell start laughing as well. Manson, however, amusingly remains in character, sitting still, looking forlorn and heartbroken.
A "Blades" scene from the cutting room floor
Along with Talladega Nights and Semi-Pro, Blades of Glory is part of an unofficial trilogy of mid-2000s Will Ferrell sports comedies. In this one, Ferrell portrays Chazz Michael Michaels, a washed-up, down-on-his-luck figure skater who attempts a comeback by becoming half of the first all-male duo in pairs figure skating history, teaming up with his his former rival, Jimmy MacElroy (played by Napoleon Dynamite himself, Jon Heder). 
As is often the case with a Ferrell comedy, the supporting cast is filled with some of the most formidable comic actors around, including Will Arnett, Amy Poehler, and Rob Corddry. In this sequence, Ferrell and Corddry enjoy a mini-showdown off the ice, and neither actor can get through it without laughing. In one take, Ferrell tries to exit and makes a sound effect with his mouth...before realizing what he did, and that he should leave that up to post. He comments, "I shouldn't do the sound effect, should I?" Other bits that make Ferrell and Corddry laugh and have to take it again from the top: Corddry tells Ferrell he smells "like urine," and Corddry tells Ferrell he'd fire him if he "weren't so g****** beautiful."
Behold the majestic wolf lamp
Step Brothers is the tale of enemies who become family (their single parents marry each other) and then become friends. The main joke of the movie is that it's ridiculous Brennan (Will Ferrell) and Dale (John C. Reilly) could have ever hated each other in the first place, because they're so similar to one another — they're both idiotic and immature, 40-year-old man-children who still live at home with their parents.
The ice eventually thaws, and Brennan and Dale enjoy many adventures together. In this scene, Brennan allows Dale to be privy to the secrets of one of his most treasured possessions, his "majestic wolf lamp." Ferrell and Reilly share the same camaraderie as their characters, as Ferrell riffs on the names of the family of wolves on his lamp. "Galco" is named after the so-called Hebrew word for kindness, while the wolf pup is unnamed "because you can't put a name on the innocence of that face." In both instances, Ferrell's jokes make Reilly break out into fits of laughter, which, in turn, makes Ferrell descend into giggles, too.
Bloopers are fine, it's not like it's live TV…except when it is
When one thinks of a cast member on Saturday Night Live breaking character on live TV — especially in the show's early 2000s era — one almost certainly thinks of Jimmy Fallon. He laughed all in time in sketches, a problem Ferrell said was sometimes his deliberate intention to create when acting alongside the future Tonight Show host. Ferrell generally left the laughing to others — he rarely cracked a smile or burst out laughing during an SNL sketch, but this is one exception. 
To be fair, it's an incredibly bizarre, silly, and even off-handed sketch, in which Ferrell plays a terrible doctor informing a couple (portrayed by Chris Parnell and Molly Shannon, who also can't stay in character) that he has lost their baby — as in he physically misplaced it. That's ridiculous in and of itself, but Ferrell just can't keep it together after a brief appearance from Tim Meadows as a robot-dancing consulting physician named "Dr. Poop."