The Underrated Andy Samberg Action Comedy Everyone's Loving On Netflix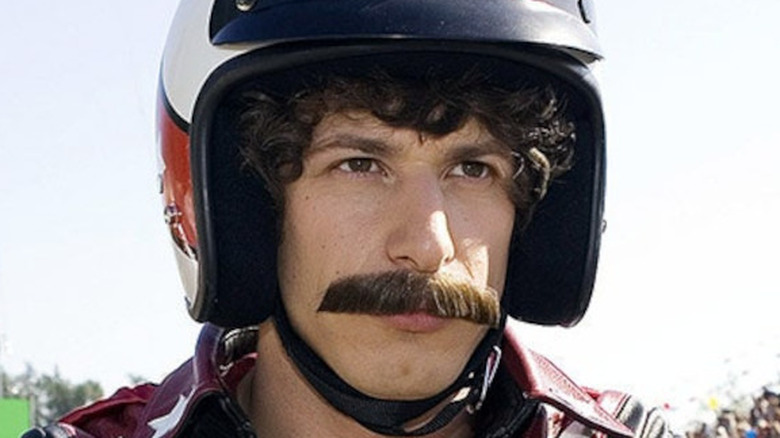 Paramount Pictures
There are certain quintessential moments in the history of "Saturday Night Live." Steve Martin and Dan Aykroyd's first appearance as Two Wild & Crazy Guys, Chris Farley dressed as a Chippendales dancer, and Will Ferrell playing the cowbell for Blue Oyster Cult's "Don't Fear the Reaper" are just a few notable examples. But the moment that "SNL" was "forced into the iPod age," as New York Magazine put it, happened in late 2005 when Chris Parnell and Andy Samberg appeared in the musical short "Lazy Sunday." The sketch opened the door to an ongoing stream of hilarious digital shorts Samberg crafted with his writing partners Akiva Schaffer and Jorma Taccone, aka the Lonely Island.
At this point, the Lonely Island boys are legendary. They've released albums, created so many now-classic sketches for "SNL" that it would be impossible to name just one, and rolled out a number of films including "Popstar: Never Stop Never Stopping" and the recent time loop rom-com "Palm Springs," co-starring Samberg and Cristin Milioti.
Before all that, back in the "Lazy Sunday" days of "SNL," the series' head honcho Lorne Michaels decided to take a story idea originally scripted for "SNL" alum Will Ferrell and hand it off to the Lonely Island, who could use their offbeat sensibilities to make something fresh. The resulting feature film is on Netflix right now. It's called "Hot Rod," a 2007 comedy worth watching.
How Andy Samberg will bike his way into your heart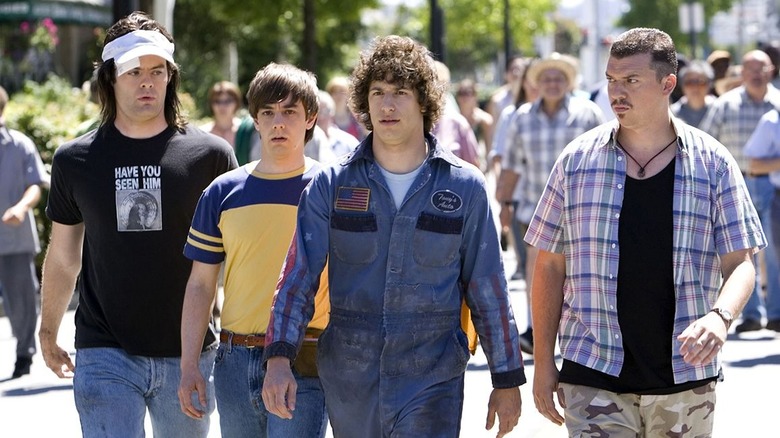 Paramount Pictures
"Hot Rod" tells the story of Rod Kimble (Andy Samberg), a young man who believes his dead father was a world-famous stuntman who worked with Evel Knievel. The film takes place when Rod finds out that his abusive step-father Frank (Ian McShane) needs a heart transplant that his health insurance won't cover. In order to earn his step-father's love, Rod comes up with an idea to raise the money for a heart transplant: perform a stunt in which he'll jump over 15 school buses on his bike. As you might expect, things go a little sideways during Rod's quest to save Frank with some rad stunt moves.
Andy Samberg once described Rod Kimble as following in a tradition of village idiots that previous comedians in and around "SNL" had fostered before him and the Lonely Island (via New York Magazine). Steve Martin in "The Jerk," Jim Carrey, in "Ace Ventura," and Adam Sandler in "Billy Madison" were the types of losers-turned-sort-of-heroes that Rod Kimble is born from.
In addition to Samberg's leading role, both Akiva Schaffer and Jorma Taccone appear in "Hot Rod," with Schaffer directing. "Hot Rod" also stars "SNL" alums Chris Parnell and Bill Hader, as well as a host of other big names like Will Arnett, Isla Fisher, Danny McBride, and Sissy Spacek.
Like a lot of comedies before it, "Hot Rod" wasn't an instant hit. Instead, it's one of those movies that has found its audience over the years. The film has a 39% critic rating on Rotten Tomatoes, outweighed by 64% audience score. In short: If you missed "Hot Rod" the first time around because it was a little too weird to break through to mainstream success, you should probably watch it now that it's become a cult classic. After all, how else are you supposed to get your Samberg fix while we wait for the final season of "Brooklyn Nine-Nine"?
"Hot Rod" is streaming on Netflix now.