The Real Reason Lady Gaga Didn't Meet Patrizia Reggiani For House Of Gucci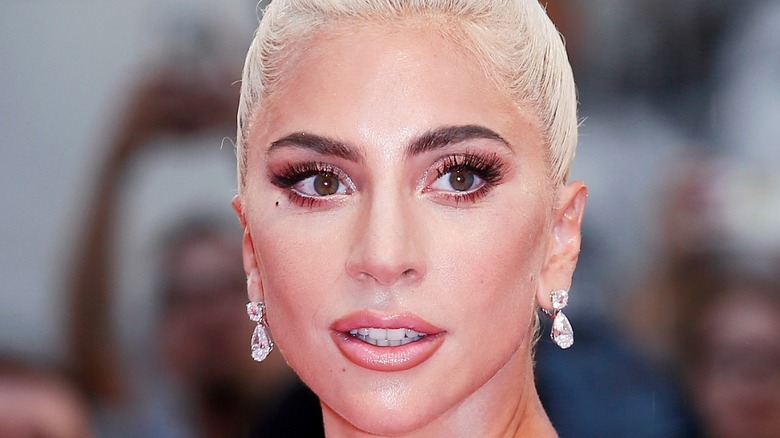 Andrea Raffin/Shutterstock
In just under a month, director Ridley Scott's "House of Gucci" — the hotly anticipated, star-studded retelling of one the fashion world's most publicized tragedies — will finally hit theaters after simmering in the planning stage for roughly two decades. The film will recount the events and major players leading up to, surrounding, and following the 1995 murder of the famed fashion heir Maurizio Gucci at the hands of his wife, Patrizia Reggiani. Adam Driver, fresh off Scott's undeservedly under-performing "The Last Duel," will tackle the role of the conflicted and cut-throat Maurizio, while Lady Gaga will (as she words it in her recent interview with Vogue) "become" Patrizia. 
Upon learning that Gaga would play her in the film, Reggiani told an Italian journalist that (despite her purported pleasure at being portrayed by such a big name) she was nevertheless "quite annoyed" that the Grammy-winning artist and performer didn't have what she called "the foresight and sensitivity" to meet with her. 
Reggiani is currently still in prison and 18 years into her 26-year sentence, but as it turns out, that's not what kept Gaga from going to see her.  
Lady Gaga approached her House of Gucci role with an open mind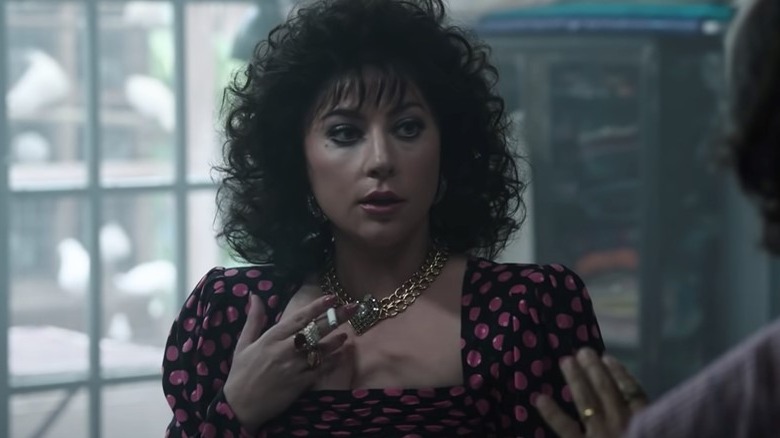 MGM Studios / YouTube
"I became fascinated with the journey of this woman," the "A Star is Born" actor told Vogue's Giles Hattersley. In some ways, it's that curious fascination that kept Gaga from attempting to take her cues from the woman herself. "I only felt that I could truly do this story justice," Gaga explained, "if I approached it with the eye of a curious woman who was interested in possessing a journalistic spirit so that I could read between the lines of what was happening in the film's scenes." 
For the Oscar winner and former "American Horror Story" star, that meant that "nobody was going to tell (her) who Patrizia Gucci was ... Not even Patrizia Gucci." In keeping with this open-minded and inquisitive approach, Gaga also didn't read the book off of which Scott based his film, Sara Gay Forden's "The House of Gucci: A Sensational Story of Murder, Madness, Glamour, and Greed." 
"I did not want anything that had an opinion that would colour my thinking in any way," she told Hattersley, though she did spend countless hours listening to recordings of Reggiani's voice, and "more than a year poring over newspaper clippings." What's more, it seems that Gaga's decision not to meet with Reggiani stemmed partially from what she viewed as a goal central to her depiction.
Gaga didn't want to glorify Reggiani
"I wish not to glorify somebody that would commit murder," Lady Gaga said, "But I do wish to pay respect to women throughout history who became experts at survival, and to the unfortunate consequences of hurt." 
It's an approach that "American Crime Story" viewers will recognize in what Sarah Paulson has said about her portrayal of Linda Tripp. For Paulson, too, the goal was not to excuse or redeem Tripp for her betrayal of Monica Lewinsky, but to "explore the psychology of a woman who did something ... very hard for all of us to understand" (via Elle). 
Similarly, Gaga's goal in becoming Reggiani was not to vindicate or excuse her crime, nor to romanticize or further glamorize the woman who committed it. Instead, the actor saw her portrayal as carrying an important message to viewers. "I hope that women will watch this and remind themselves to think twice about the fact that hurt people hurt people," she explained, "And it's dangerous. What happens to somebody when they're pushed over the edge?" (via Vogue).
On November 24th, "House of Gucci" audiences will at long-last be able to see Gaga's embodiment of the answer to that question.