The Latest Trailer For House Of Gucci Promises Plenty Of High-Octane Drama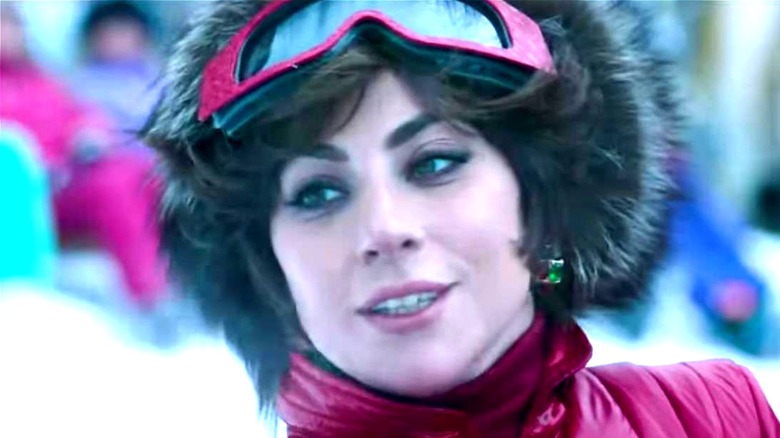 United Artists Releasing
Director Ridley Scott's newest film, "House of Gucci," is nearing its release date of November 24. The upcoming crime drama marks Scott's second movie of 2021, following the historical drama "The Last Duel." "House of Gucci," which is based on a true story, features an all-star cast, including the likes of Lady Gaga, Adam Driver, Jared Leto, Jeremy Irons, Salma Hayek, and Al Pacino.
Set in 1995, "House of Gucci" introduces the Italian businessman and head of Gucci, Maurizio Gucci (Driver), and his wife Patrizia Reggiani (Lady Gaga). The film will follow the breakdown of their marriage — Maurizio left Patrizia for a younger woman — and Patrizia's hiring of a hitman to kill her ex-husband. The film is based on a nonfiction book on the subject, titled "The House of Gucci: A Sensational Story of Murder, Madness, Glamour, and Greed" by Sara Gay Forden," which was adapted for the screen by Roberto Bentivegna and Becky Johnston.
The first trailer was released a couple months ago, giving eager moviegoers their first look into the wild true story. Now, with just about a month to go before the film's premiere, the second trailer has arrived, bringing with it a whole lot of drama.
Patrizia gets caught up in the Gucci drama in the new trailer
The second trailer opens with Maurizio introducing Patrizia to his family, presumably in the very early days of their relationship. As Maurizio joins his family in a football game, Patrizia narrates, "They had it all — wealth, style, power. Who wouldn't kill for that?" From there, we see clips of Maurizio and Patrizia's wedding, Patrizia inserting herself into the family business and tension building between Patrizia and the Gucci family — including her husband.
The trailer also offers glimpses into Patrizia's role as an outsider within the Gucci family, having married in. In one clip, after Patrizia implies that the Gucci business needs to be more exciting, Maurizio responds, "Hey at least it's my name, sweetie." This prompts Patrizia to emphatically bring attention to her wedding ring and say, "Our name, sweetie!" In another tense moment, Aldo Gucci (Pacino) shoots down Patrizia's suggestion and declares, "This is not a woman's game." And all of this occurs without the mention of Maurizio eventually leaving Patrizia for another woman.
The trailer's last line of dialogue is Patrizia saying, "I don't consider myself a particularly ethical person, but I am fair. I subscribe to unconventional punishments." We can't wait to see how the rest of this family drama plays out on screen.