Jack Dylan Grazer Discusses Working On Shazam! Vs. Shazam! Fury Of The Gods - Exclusive
Jesse Grant/Getty Images
Jack Dylan Grazer provides the voice of Barney Pudowski in "Ron's Gone Wrong." Barney's just your average kid; he wants to fit in and be liked by his classmates. That's easier said than done in a world where everyone has their own personal robot best friend except for him. In truly ironic fashion, he finally gets a B-bot to call his own, but there's something off about it. It's not exactly A-material, but despite the large gaps in what they expect out of one another, they eventually grow to become the best of friends. 
In an exclusive interview with Looper, Grazer spoke about how he's ideally suited to take on the role of Barney because he, too, was the kid growing up who didn't always necessarily have the latest and greatest gadgets readily accessible. This wasn't the only exciting tidbit Grazer revealed. In 2019, the actor made his DCEU debut as Freddy Freeman in "Shazam!" Soon, he'll reprise this role in the sequel entry, "Shazam! Fury of the Gods." Although Grazer didn't reveal too much about his next big project, he did speak about the differences between filming the first "Shazam!" installment and the sequel to the superhero epic.
New cast members made Shazam 2 a unique experience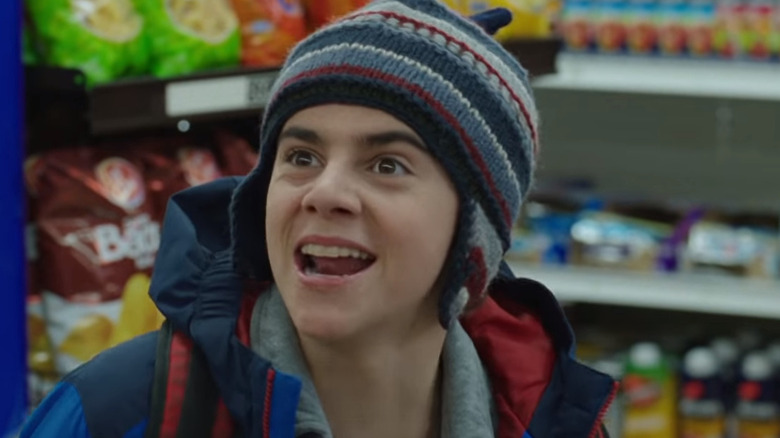 Warner Bros. Pictures/DC Films
Jack Dylan Grazer stayed mum for the most part about his "Shazam! Fury of the Gods" experience. He even commented on the fact he had to stay vague by saying, "It was really different, but not that much, actually. That was a stupid answer. 'It was really different, but not that much.' I mean, the old original cast was still there, but we had new villains, and I made so many cool friends."
Grazer then proceeded to share that filming "Shazam! 2" was different specifically because of the incredible talent who joined the cast, not the least of which is Hollywood legend Helen Mirren in the villainous role of Hespera. He also named Lucy Liu, who plays another villain role, and "the lovely, talented Rachel Zegler," according to the "Ron's Gone Wrong" star. If Zegler's name doesn't sound familiar right now, you'll remember it when she makes her big-screen debut on December 10 in Steven Spielberg's "West Side Story." After that, she'll remain firmly in blockbuster territory with a still-unknown role in "Shazam! 2."
Aside from these new faces, Grazer mentioned how the "Shazam! 2" cast was given more leeway this time around. As he puts it, "It was really fun. I think we got away with a lot more this time." Just how much fun did they have? You'll find out when the "Shazam!" sequel arrives in theaters on June 2, 2023.
"Ron's Gone Wrong" is playing in theaters now.