Who Are The Villains In Shazam! Fury Of The Gods?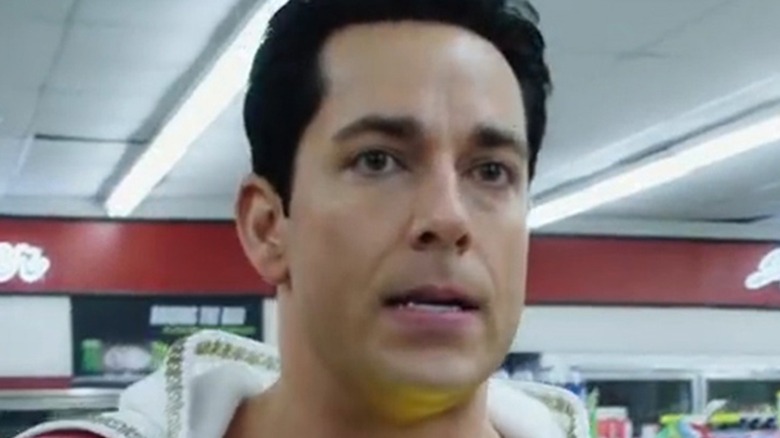 Warner Bros./DC Entertainment
DC FanDome 2021 is officially a wrap, and the event certainly didn't disappoint on any front. The upcoming "Suicide Squad: Kill the Justice League" video game got a thrilling new trailer, fans got a glimpse at the third season of the "Harley Quinn" animated series, and, of course, a bunch of cinematic teasers made their worldwide premieres. Those for "The Batman," "Black Adam," and "The Flash" still have the internet buzzing days after their arrival, but one would be remiss not to give the "Shazam! Fury of the Gods" sneak peek some much-deserved appreciation too.
Way back in 2019, "Shazam!" hit theaters, introducing the titular DC Comics mainstay — portrayed by Zachary Levi — to the big screen. Though it was just another superhero origin movie, its delightful tone and family-oriented presentation made it a standout in the dark, gritty world of the DCEU. Fans responded well to this approach, making it a critical success and a strong box office performer that raked in roughly $366 million. Naturally, it ticked all the boxes necessary to get a sequel greenlit, thus resulting in the creation of "Shazam! Fury of the Gods," which aims to debut sometime in 2023.
At the time of this writing, we know very little about what the "Shazam!" sequel has in store aside from what the DC FanDome sizzle reel showed off. However, we do know that the characters of Hespera (Helen Mirren) and Kalypso (Lucy Liu) will act as the film's main antagonists. Here's what you should know about them.
Hespera and Kalypso are total DC newcomers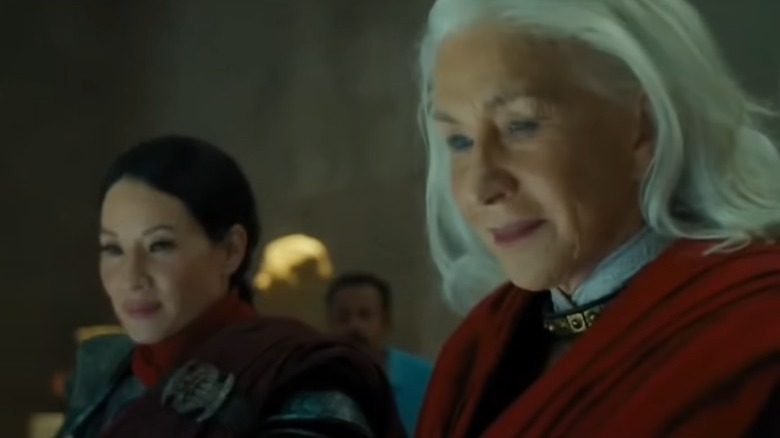 Warner Bros./DC Entertainment/YouTube
Kalypso and Hespera don't have a history on the pages of DC Comics, but that doesn't mean that the two don't have backstories elsewhere. Hespera appears to take inspiration from the beings in Greek mythology known as the Hesperides: daughters of the Titan, Atlas, whose numbers ranged from three to seven. As for Kalypso, her Greek counterpart, Calypso, was also one of Atlas' daughters who presided over the island of Ogygia and famously appeared in Homer's "The Odyssey." She managed to confine Odysseus to her home for around seven years until his longing for his wife inevitably overwhelmed him and departed.
It remains to be seen how exactly these characterizations will fit into "Shazam! Fury of the Gods," if they will at all. Nevertheless, it's abundantly clear that Kalypso and Hespera are formidable foes that will give the Shazam Family a run for their money. Even if our heroes overcome these two enemies, though, they'll still have to contend with obstacles aplenty. According to producer Peter Safran (via Deadline), other mythological creatures, including minotaurs, harpies, and dragons, will also appear — presumably serving under or alongside Kalypso and Hespera as they unleash chaos upon our mortal world.
Going from Dr. Thaddeus Sivana (Mark Strong) and the Seven Deadly Sins to the goddesses Kalypso and Hespera is quite the leap in power levels. Hopefully, the rather-inexperienced crime fighters in the Shazam Family will find a way to band together and stop the forces of evil yet again.