What Happened To The Cast Of Trick 'R Treat?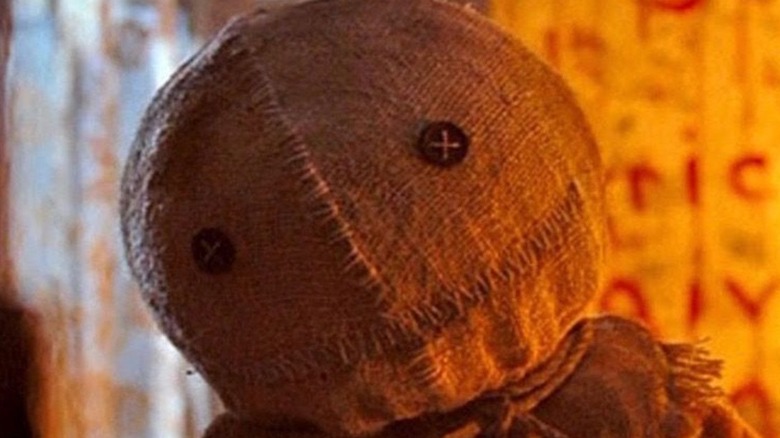 Warner Bros. Pictures
Every year during the holidays, countless Christmas classics like "A Christmas Story," "Christmas Vacation," and "Elf" become annual viewing traditions for those looking to wrap themselves up in the joy of the season. During Halloween, family classics like "Hocus Pocus" have endured for years — but spooky-adjacent stories aside, hardened Halloween fans didn't have many movie choices that not only brought the blood, but directly tapped into the themes and feelings of the spookiest day of the year the way something like "A Christmas Story" does for its holiday.
In 2007, that all changed with the direct-to-video release of Michael Dougherty's "Trick 'r Treat." The film was truly a celebration of all things Halloween. It even created a holiday icon in the form of Sam — likely short for Samhain, the name of the ancient pagan festival through which many of the holiday's traditions are derived from. Despite its direct-to-video release, the film steadily gained fans and a strong cult following with each passing Halloween season. Now, it's considered a holiday classic and a likely part of any self-respecting Halloween horror movie lineup.
The film presented four seemingly separate stories that were ultimately interconnected. Sam was the link between each eerie tale, mostly standing idly by while ensuring the traditional rules of Halloween were honored, like keeping jack-o-lanterns lit for the entire night, for example. Despite being a lower-budgeted film, director Michael Dougherty landed significant talent for the cast. Many of the them are household names, whose careers are still going strong. Let's take a look at the cast of "Trick 'r Treat," and see what treats they've brought us in the years since.
Anna Paquin as Laurie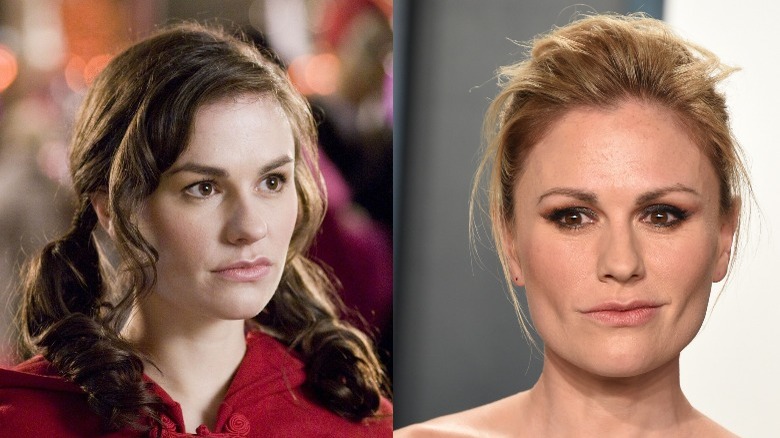 Warner Bros. Pictures/John Shearer/Getty Images
Devilishly innocent, Laurie presents herself as a beautiful outcast simply seeking a date from a potentially lucky (or unlucky) charmer. Much to her reluctance, her sister and friends goad her into following their Halloween tradition of finding dates for the night's festivities. What viewers come to realize is that Laurie, along with her friends, are werewolves who apparently have a tradition of annually feasting on unsuspecting dates under the glow of a warm campfire out in the woods. Laurie and her friends smash the sinister archetypes of blood-lusting werewolves by attracting the gaze of victims with their flirtatious attitudes and fiendishly innocent fairy tale attire. Laurie, ironically, dresses as Little Red Riding Hood despite actually being the big bad "wolf in sheep's clothing."
Anna Paquin already made her mark long before shedding her human skin and howling at the moon in "Trick 'r Treat." Notably, she played the role of the superhero Rogue in 20th Century Fox's "X-Men" film series. She also appeared in the lesser-known 1997 Spielberg film "Amistad" as Queen Isabella and appeared in early '00s films including "She's All That," "Buffalo Soldiers," and "Blue State." Just after "Trick 'r Treat," she'd turn in her werewolf claws in order to wade into the world of vampires as Sookie Stackhouse on the hit HBO series "True Blood." Paquin would also have significant roles in series including Netflix's "Alias Grace," Showtime's "The Affair," and the Amazon original series "Flack," among others.
Brian Cox as Mr. Kreeg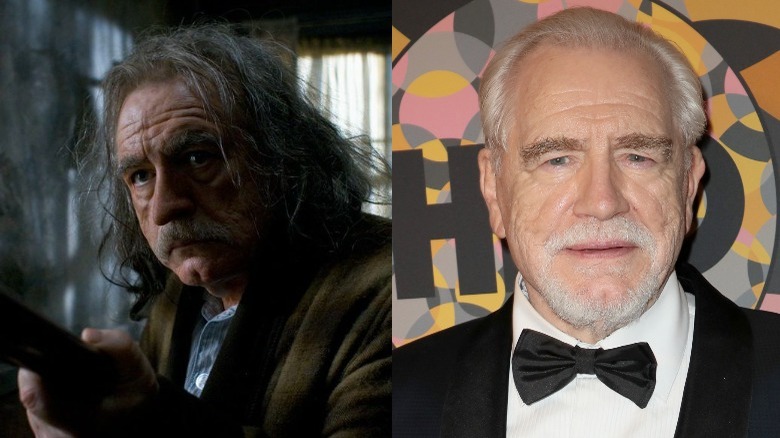 Warner Bros. Pictures/David Livingston/Getty Images
The next-door neighbor of a murder-happy school principal, Mr. Kreeg is the crotchety old man who vigorously and cantankerously defends his bubble from nosey neighbors and pesky kids. He keeps to himself and appears to simply wallow in his own loneliness and misery. Halloween proves to be a fateful night, however, as Kreeg also hates everything about the holiday and refuses to properly participate in its festivities and traditions.
Apparently, this angers Sam, the seemingly vengeful spirit of Halloween, who begins tormenting Kreeg by placing jack-o'-lanterns on his property and scrawling bloody Halloween messages on his walls. Eventually, he outright attacks Kreeg and the two get in a scuffle. The tiny masked monstrosity gains the upper hand and almost kills Kreeg for his dismissal of the holiday, but accepts a piece of candy lying on top of the old man as a token of a tradition honored (handing out candy) and leaves in peace.
Brian Cox has a career that stretches back decades. He has countless credits to his name, with an career that began in the '60s when he appeared in guest roles on several TV series including "The Wednesday Play," "The Gamblers," and "Z Cars." Cox would continue working, mostly in the television sphere, well into the '70s. Eventually, he broke into films and held the role of famous psychopath Dr. Hannibal Lecter in the first film to feature the character, Michael Mann's 1986 film "Manhunter." He'd continue a career in film with work on projects like "Hidden Agenda," "The Long Kiss Goodnight," and "The Corruptor." 
Cox broke out in the horror film "The Ring", and was also the primary antagonist in the role of William Stryker in "X2: X-Men United." Continuing to shine with significant roles in hit films like "Troy" and "The Bourne Supremacy," he embraced a formidable comedic side with scene-stealing work in the comedy classic "Super Troopers" (and later, its sequel). A mainstay in Hollywood, these days Cox continues to flex his versatility by not only portraying the ruthless, greedy Logan Roy on the hit show "Succession," but also voicing McDonald's commercials, where he can be heard lightheartedly singing "ba-da-da-da-da."
Dylan Baker as Steven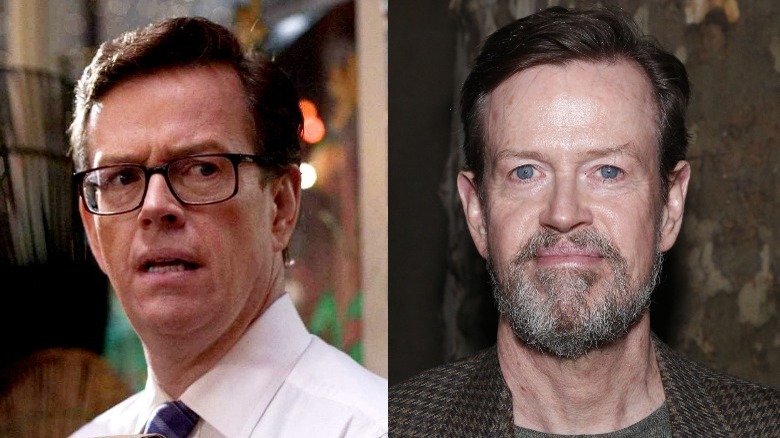 Warner Bros. Pictures/Lars Niki/Getty Images
In the fictional town of Warren Valley, tucked away in some obscure corner of Ohio, local elementary school principal Steven Wilkins engages in the Halloween festivities with glee. Like Sam, the mascot of the film, Wilkins has a fixation with honoring the traditions of Halloween with brutal rigidity. As young, rotund pumpkin-smasher Charlie learns, it's important to not get greedy and always check your candy. Wilkins feeds him a sabotaged piece of candy and subsequently kills the boy. Later, Wilkins masquerades around town as a pretend vampire, but actually bites his victims in the neck, killing them. Either Wilkins has always had a few screws loose, or the youngsters at school drove him to the brink of murder madness. Wilkins' reign of Halloween terror comes to a swift end, however, when he is bested by a potential victim who outwardly appears timid and innocent: Laurie, a werewolf in disguise.
Long before he was murdering obnoxious children on Halloween night, Dylan Baker was enforcing the law as Detective Arthur Poison in the short-lived '90s series "Murder One." Baker has had an enduring career in Hollywood, and would go on to play significant roles in films such as the sci-fi flick "The Cell" and the political thriller "Thirteen Days," a film about the Kennedy administration's response to the Cuban Missile Crisis. Perhaps Baker's greatest role, however, came in the 1998 Todd Solondz drama "Happiness," where he delicately, all-too-believably, brought to life a chilling pedophile character named Bill Maplewood. 
His profile significantly raised by the performance, Baker went on to be cast by Sam Raimi in one of the biggest blockbuster series of the early '00s, being set up to play The Lizard in multiple Spider-Man films, portraying Dr. Curt Connors in Sam Raimi's "Spider-Man 2" and "Spider-Man 3." He never got to take the role's villainous turn, however, after Andrew Garfield took over the webslinger role, Raimi moved on and Rhys Ifans instead became The Lizard. 
Following his turn as Principal Wilkins in "Trick 'r Treat," the always-excellent Baker would hold recurring roles in multiple TV series including "Damages," "Political Animals," and "The Good Wife." He also continued working in film, appearing in "Selma" as J. Edgar Hoover. Most recently, Baker can be seen portraying creepy, Nazi-in-hiding Biff Simpson opposite Al Pacino in the Amazon Prime show "Hunters."
Rochelle Aytes as Maria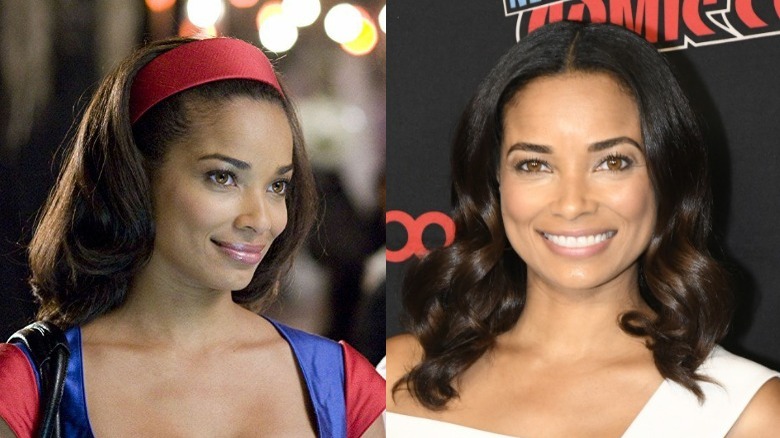 Eugene Gologursky/Getty Images
As on one of Laurie's friends, Maria appears to be a veteran in the art of courting a date just in time for the Halloween werewolf feast. She plays her role with a cool, confident demeanor, snatching up a beau the first opportunity she finds. Dressed as Snow White, she is nevertheless anything but innocent. Just like the rest of the girls heading to the big feast, she is simply awaiting the right moment to shed her skin, reveal herself as a ferocious werewolf, and consume her date.
Rochelle Aytes broke into acting with a small appearance in a 2003 episode of "Sex and the City." She appeared as several one-off characters in multiple shows across the early '00s including "CSI:NY," "Bones," and "ER." Aytes has also taken on recurring roles in shows such as "Detroit 1-8-7," "Work It," "Criminal Minds," and most recently, "The Purge" and "S.W.A.T." series. Her most recent role was in the 2021 Hallmark TV film "Redemption in Cherry Springs," where she played the lead role of Melanie Abrams.
Quinn Lord as Sam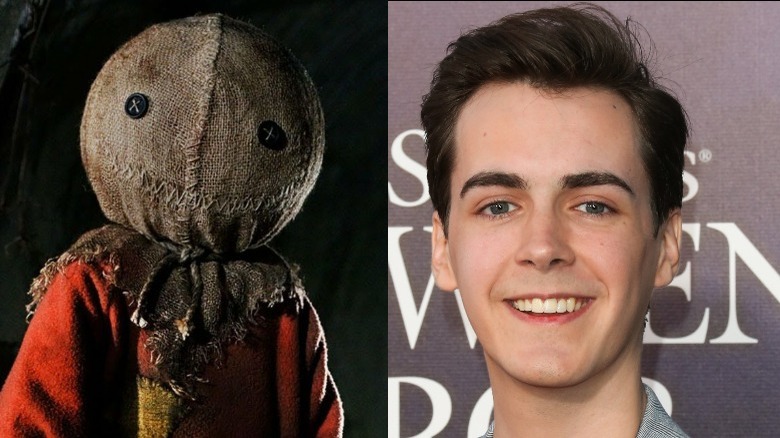 Warner Bros. Pictures/Paul Archuleta/Getty Images
Sam is everywhere throughout the film. Some events he directly influences, while others he merely watches with implied satisfaction. As the mascot of Halloween, he delights in seeing time-honored traditions followed and the holiday celebrated properly. Anyone who callously dismisses the holiday had better watch their back, because he may be ready to strike at any moment — as Mr. Kreeg learns all too painfully. 
Because the film has garnered such a cult following, Sam is well on his way to becoming an icon of the holiday. Despite the movie being released multiple years ago, new "Trick 'r Treat" merchandise, much of it featuring the burlap sack-masked character, continues to be sold every year. If a theatrical sequel ever comes to fruition, Sam's popularity seems like it could further ascend the Chucky/Freddy/Jason/Michael Myers-type pantheon ladder.
Quinn Lord suited up as the little trick-or-treating Halloween acolyte, Sam, despite being 8 years old when the film was released. In interviews, director Michael Dougherty justified the casting by saying that he wanted Sam to have that distinctive, almost-falling-down gait that little kids have in their Halloween costumes, and efforts to simply cast a small adult actor had proven unfruitful. 
"There's a sort of an innocence that balances out the terrifying aspects of it, so I felt the character should embody that," Dougherty told Collider in 2013, discussing the Halloween holiday. "So I thought, well if there was a spirit of Halloween he would probably walk around looking like a kid so he could wander the streets and blend in, but underneath the costume there would be something more sinister."
Lord was merely five years old when he began his acting career, in the 2004 television series "ToddWorld." He wasn't much older when he appeared as the icon of "Trick 'r Treat" in 2007. Following the holiday classic, he'd appear in the direct-to-video family films "Space Buddies" and "Santa Buddies." The majority of his most recent work has been in television, appearing in episodes of "Fringe," "Endgame," and "The 100." Most notably, he held a significant recurring role in "The Man in the High Castle" as Thomas Smith. His most recent role is in the 2021 series "Firefly Lane."
Lauren Lee Smith as Danielle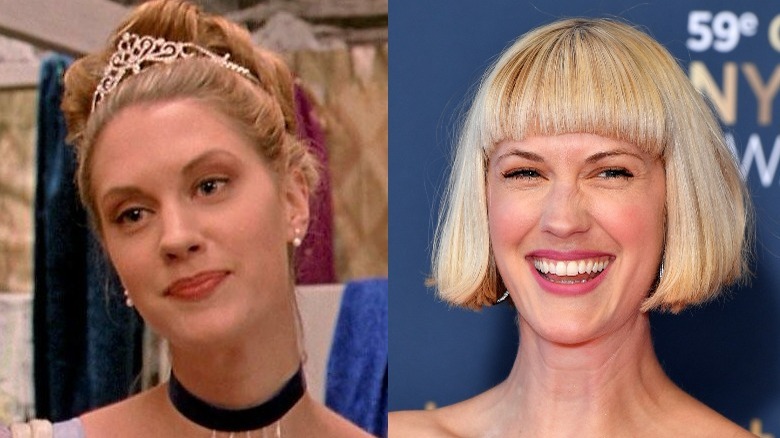 Warner Bros. Pictures/Pascal Le Segretain/Getty Images
Laurie's older sister Danielle puts together the Halloween night plans, pushing Laurie into participating in their annual tradition. She mercilessly teases her younger sister, who feels annoyed and reluctant to participate. While chatting with friends, Danielle remarks that her mother "always said [Laurie] was the runt of the litter." Little did first-time viewers know that this was ultimately a hint of things to come. When Laurie calls her big sister in advance of the gathering, Danielle clearly prepared her sister with a gag date — a man-child dressed in baby clothes. Even though they're werewolves, Danielle and Laurie still squabble and torment each other like any pair of normal siblings.
Fans who remember the Marvel "Mutant X" series that began in 2001 likely recognized Lauren Lee Smith in "Trick 'r Treat." Smith played the leading role of Emma DeLauro across two seasons of the show before it was cancelled due to the dissolution of the show's production company, Fireworks Entertainment. She'd also play significant recurring roles in "The L Word," "CSI: Crime Scene Investigation," and "The Listener." Her most recent role in a theatrical feature film was the 2017 Oscar-winning Guillermo del Toro film "The Shape of Water." She currently appears on the Canadian drama series "Frankie Drake Mysteries."
Moneca Delain as Janet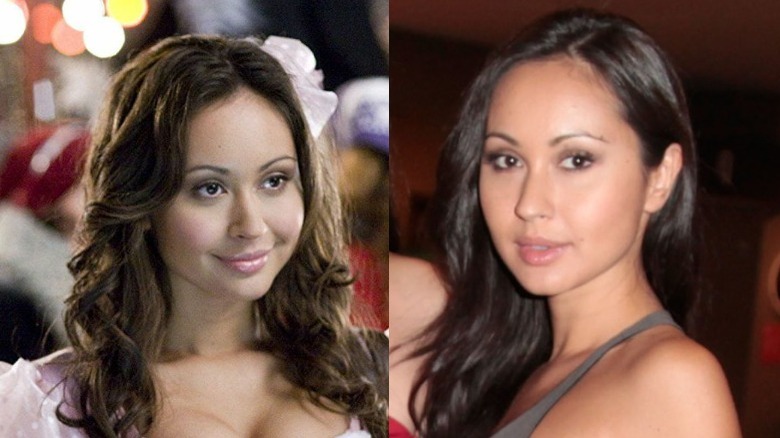 Warner Bros. Pictures/Sarjoun Faour Photography/Getty Images
Like Maria, Janet is one of the pack. To match the theme of her werewolf sisters, she wears a Little Bo Peep outfit – an innocent persona that masks the vicious predator lurking within. Janet engages in the festivities with glee and is even happy to demonstrate to Laurie how "finding a date" is done. Alongside Maria, she lures her date in for the kill using her good looks and charming banter.
In most of her television and film appearances in the early '00s, Moneca Delain was a pretty face in the crowd. She had a series of minor roles as background characters across several films and television series, including "Agent Cody Banks" and "Smallville." After "Trick 'r Treat," she graduated to more substantial roles in films like "The Break-Up Artist," "3 Days in Havana," and the holiday Hallmark TV film "Christmas Under the Stars." Her most recent appearance was in a 2020 episode of the ABC drama "A Million Little Things."
Tahmoh Penikett as Henry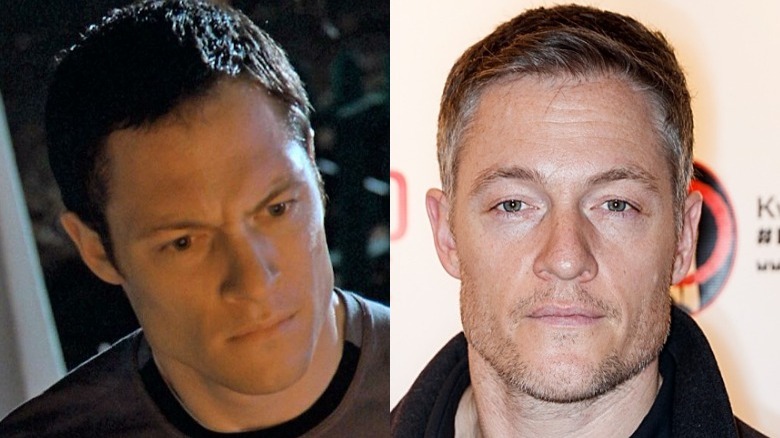 Warner Bros. Pictures/Andrew Chin/Getty Images
In the opening sequence of the film, Henry and his wife Emma head home from the night's activities. Exhausted with the holiday and ready to clean up, Emma prepares to remove the Halloween decorations from their yard. Unlike Emma, Henry loves Halloween and suggests to his wife that she should leave the jack-o'-lanterns lit for tradition's sake. Eventually, he goes out into the yard looking for her and is shocked by what he discovers.
One might recognize Tahmoh Penikett from any of his most notable roles in television, including a lengthy run as Captain Karl "Helo" Agathon in "Battlestar Galactica," his turn as Jim Martin in "Continuum," or as the angel Gadreel in "Supernatural." He's also held recurring roles in many other series, including "Smallville," "Whistler," and "Bomb Girls." Penikett's film credits include appearances in the 2013 Superman film "Man of Steel" and the Canadian drama film "Down River." His most recent onscreen appearance was in a 2019 episode of "BH90210," a series that continued the legacy of "Beverly Hills, 90210."
Brett Kelly as Charlie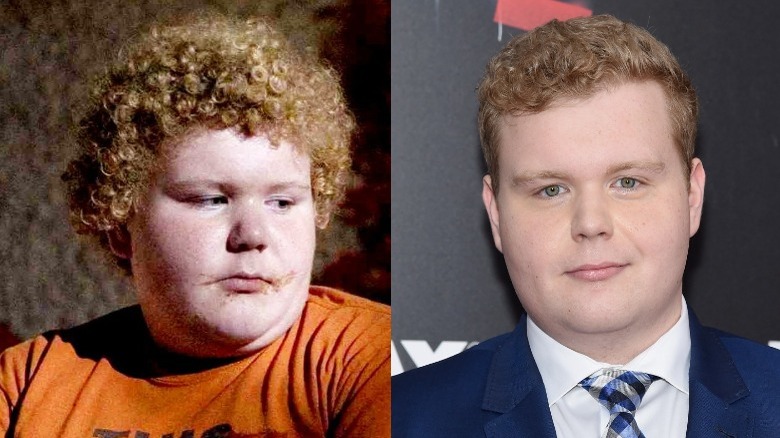 Jamie Mccarthy/Getty Images
Dismissive of tradition and other's property, Charlie casually walked down the streets of town, pushing over jack-o'-lanterns and stealing treats. With a face already smeared with sugary delights from the night's plunder, the boy eventually finds himself at Principal Wilkins' house. A sign on the porch instructs kids to only take one piece of candy, but he fills up — causing Wilkins to teach Charlie some harsh lessons about All Hallow's Eve. Most importantly, always check your candy. Skipping that rule proves to be fatal for the young vandal.
Brett Kelly was a popular film presence in his younger days, filling roles in films like "Kill Me Later" and "Out Cold," but most notably, the raunchy Billy Bob Thornton comedy "Bad Santa." His film credits and TV appearances have slowed down in recent years, although he has oddly enough found a lot of work in straight-to-video sequels to popular sports movie franchises such as "The Sandlot," "Like Mike" and "Slap Shot." These days, Kelly has a recurring role in the ongoing series "Family Law," and in 2016 returned as the iconic Thurman Merman for "Bad Santa 2."
Britt McKillip as Macy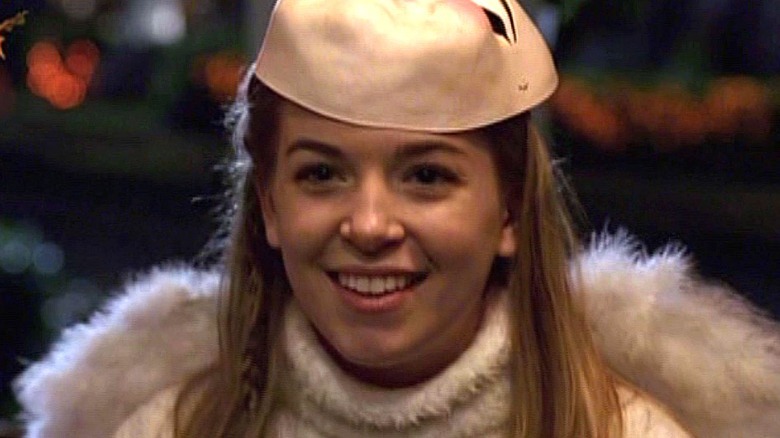 Warner Bros. Pictures
A bully and narcissist, Macy leads her pack of friends in a cruel plot to terrify and prank social outcast Rhonda. The worst part of the prank may have been pretending to be her friend and inviting her to hang out on Halloween night, but Macy's plot also included the telling of an urban legend about a bus of unwanted special-needs children, resulting in a haunted quarry. The prank began when Macy, Sara, and Schrader dressed up as zombie children, staging the death of their friend Chip. Horrified, Rhonda ran for her life until the kids revealed the prank. The real zombified children soon arrived on the scene, just as Rhonda escaped. In a cruel twist of fate, Macy and her friends were left behind to be devoured by the undead.
If you didn't recognize the actress, you may have found her voice to be familiar. Britt McKillip is popular for her voice-acting roles in animated projects, with six years of voice-acting under her belt before her onscreen role in "Trick 'r Treat." In many direct-to-video films, she has voiced the "My Little Pony" character of Tra La La, as well as work in films like "Barbie as Rapunzel," "Baby Looney Tunes: Eggs-traordinary Adventure," and "Bratz: Babyz the Movie." In recent years, she's portrayed Princess Cadance in the "My Little Pony" franchise films including the theatrical 2017 release, "My Little Pony: The Movie." She also has recently lent her voice to "Beat Bugs," "Lego Ninjago: Masters of Spinjitzu," and "Lego Jurassic World: Legend of Isla Nublar."
Isabelle Deluce as Sara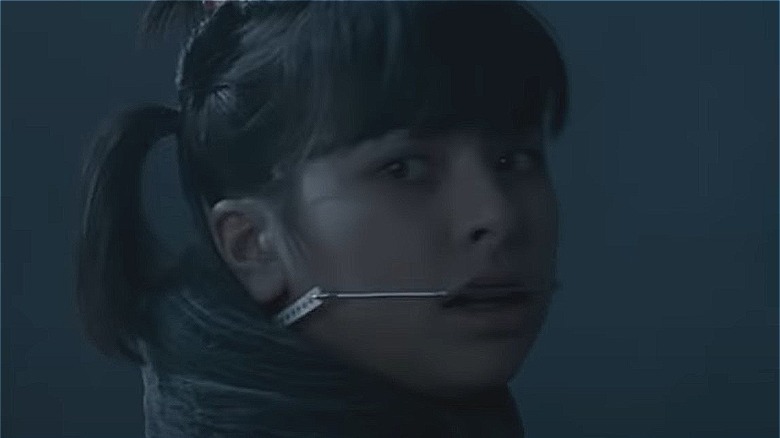 Warner Bros. Pictures
Sara is one of the four ill-fated friends ultimately eaten by the zombified children of the Warren Valley bus tragedy. She casually goes along with Macy's plot to terrify and embarrass Rhonda, for no apparent reason other than to bully the socially-awkward girl. Once the true terror commences, Sara is the first to be devoured by ravenous children as she is yanked into the fog by the chains she used for her costume. Take note: If there's ever a slight possibility that you'll be pursued by flesh-eating zombies, don't wear anything that makes it easier to catch you mid-flight.
Isabelle Deluce is rarely seen on screen any more. Prior to "Trick 'r Treat," she appeared as a student in a Matthew Perry-starring TV film called "The Ron Clark Story," about a small-town teacher adjusting to a hostile classroom. According to Deluce's web page, she left the film industry behind because she disliked the conforming trends forced upon casts and actors of her era. After seeking higher education, she eventually opened Peach Boy Corp., which she has described as a Canadian media production company. Today, Deluce operates as an independent filmmaker.
Jean-Luc Bilodeau as Schrader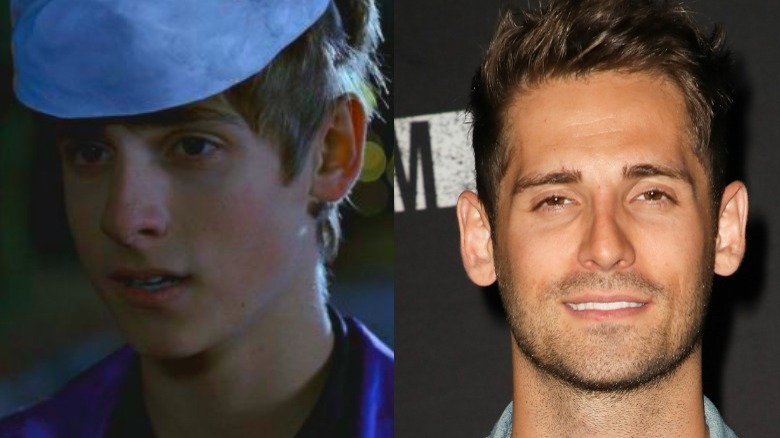 Warner Bros. Pictures/David Livingston/Getty Images
Schrader is the only one of the four kids setting out to prank Rhonda that actually has a conscience. Initially, he befriends Rhonda, asking about her fixation with carving pumpkins. Once, the prank is put into motion, however, Rhonda no longer believes Schrader's attempts to be kind were genuine. However, he petitions to Macy to stop being so cruel following the prank, recognizing they've gone too far in terrifying the poor girl. Despite his compassion, however, it's not enough to erase the dirty deed of casting his lot with the likes of Macy. Rhonda leaves him to die along with his friends, as she exits the quarry.
The Canadian actor behind the sympathetic Schrader, Jean-Luc Bilodeau, has made both film and television appearances over the years. In 2012, he appeared in the Miley Cyrus-led film "LOL" as well as the campy horror film "Piranha 3DD." In 2015, he'd have a significant role in the independently distributed rom-com "All in Time," and in television, Bilodeau played the recurring role of Josh Trager in "Kyle XY." He also played the lead role of Ben Wheeler in the Freeform series "Baby Daddy," which lasted six seasons. Most recently, he had a main part in the CBS series "Carol's Second Act."
Alberto Ghisi as Chip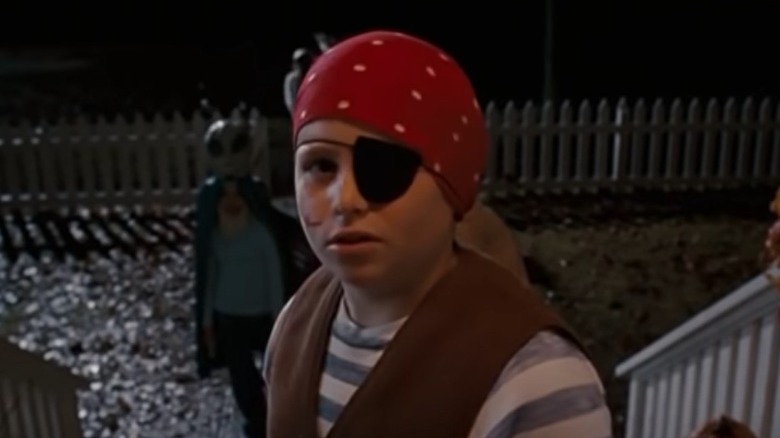 Warner Bros. Pictures
Easily the odd-one-out in the Macy's merry troupe of angsty teens, Chip doesn't quite fit the bill of a pretentious bully; instead, he makes off-color jokes and plays along for the laughs. He even presents himself as the victim of a staged zombie children attack, using sausage links for his intestines to add a graphic edge to his performance. Ultimately, he dies alongside his fellow pranksters, devoured by actual zombie children.
Alberto Ghisi got his horror feet wet with his appearance in "Final Destination 3"; he'd also appear in a 2007 episode of "Supernatural." So, he was no stranger to the horrors that lurked in the dark on the set of "Trick 'r Treat." His previous acting talents also extended to voice acting. Ghisi has provided his vocal talents in animated series such as "Krypto the Superdog" and "Powerpuff Girls Z," but following his role in "Trick 'r Treat," he has only two more acting credits to his name, the latest in 2010 for an episode of "Dinosaur Train."
Samm Todd as Rhonda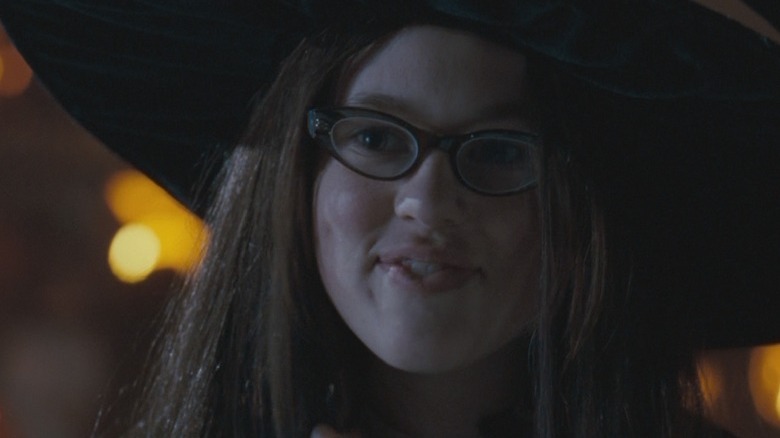 Warner Bros. Pictures
Rhonda is quite enamored with the holiday. Once Macy and crew arrive at her house, they see her yard is covered in jack-o'-lanterns, each one carved and lit by Rhonda. When Laurie and the werewolf crew howl during the feast at the end of their story, the film cuts to Rhonda miles away, hearing the echoes as she gleefully whispers, "werewolves." To Sam, she is likely a kindred spirit as she believes in the legends, oddities, and frights that mark the annual holiday, and she honors the traditions. Once she experiences the betrayal of her newfound friends after they viciously prank her, Rhonda leaves them in the quarry alone to receive their comeuppance from actual Halloween monsters.
Samm Todd has only ever appeared in one other production. Her last acting credit was in a TV series called "10,000 Hours" in 2017. She has since pursued a career in live theater and comedy, and enjoys her "Trick" notoriety, frequently attending horror conventions to meet fans, answer questions, and sign autographs.
Leslie Bibb as Emma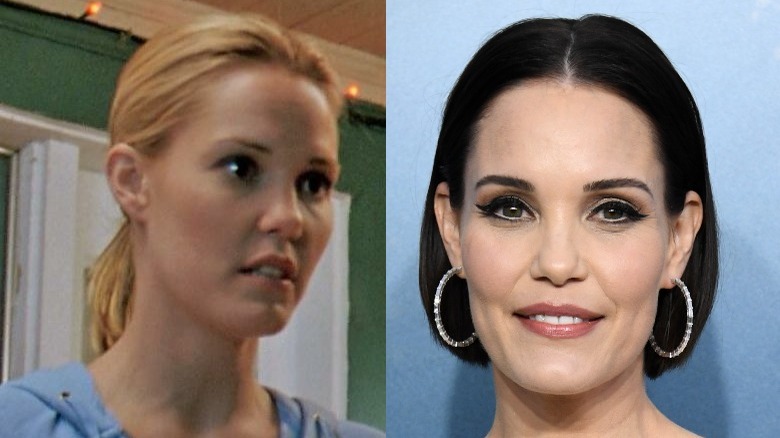 Warner Bros. Pictures/Jon Kopaloff/Getty Images
Emma finds that she's no match for the spirit of Halloween. After she instructs her husband, Henry, to head inside while she cleans up the decorations in the yard, she's stalked by a killer waiting to strike for her dismissal of Halloween tradition. Little did she know that blowing out the jack-o'-lantern candle before the night was over marked her for death. In a flash, Sam strikes mercilessly, killing Emma with the sharp edge of his half-eaten lollipop. Moments later, Henry finds his wife's dismembered body parts hanging in the yard, mimicking the morbid Halloween decorations they had hanging previously. Let Emma's mistake be a lesson to you.
Despite being ripped to shreds fairly early in the film by the little ravenous Halloween spirit, Leslie Bibb is a seasoned actress in Hollywood. She had previously appeared in films such as "The Skulls," "See Spot Run," and the Will Ferrell-led comedy, "Talladega Nights: The Ballad of Ricky Bobby." Bibb also appeared in guest roles in several television series including "Home Improvement," "ER," "Nip/Tuck," and "CSI: Miami." She would go on to appear in big-budget films like "Iron Man," "Law Abiding Citizen," and the 2018 comedy film, "Tag." Most recently, she appeared as the mother of the lead character in the Netflix films "The Babysitter" and "The Babysitter: Killer Queen."
Connor Christopher Levins as Billy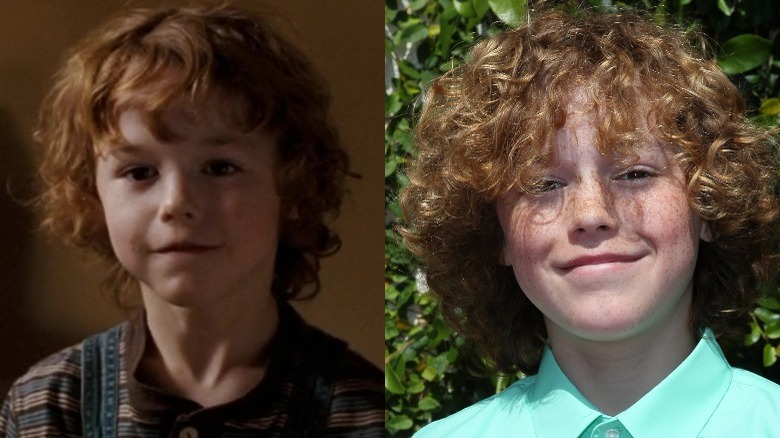 Warner Bros. Pictures/David Livingston/Getty Images
Despite dealing with children all day in his professional life, Principal Wilkins is also a father. Young Billy Wilkins gleefully parades around the house on Halloween and constantly annoys his father while he's out in the backyard trying to bury the freshly murdered pumpkin-smasher Charlie. All Billy wants to do is carve his jack-o'-lantern. Freakishly, we learn that Billy and his father's Halloween tradition is to carve a jack-o'-lantern out of an actual human head. Charlie was the lucky donor this year!
The actor behind the wily youngster Bill, Connor Christopher, got an early start in acting as Baby Kahuna in "Superbabies: Baby Geniuses 2." After "Trick 'r Treat," he'd appear in multiple TV series including "Smallville," "Endgame," "Falling Skies," and "R.L. Stine's the Haunting Hour." His most recent roles include smaller appearances in made-for-TV movies "Strange Calls" (2015) and "Blurt" (2018).