The Best Friend Comedy Hidden Gem Series You Can Catch On HBO Max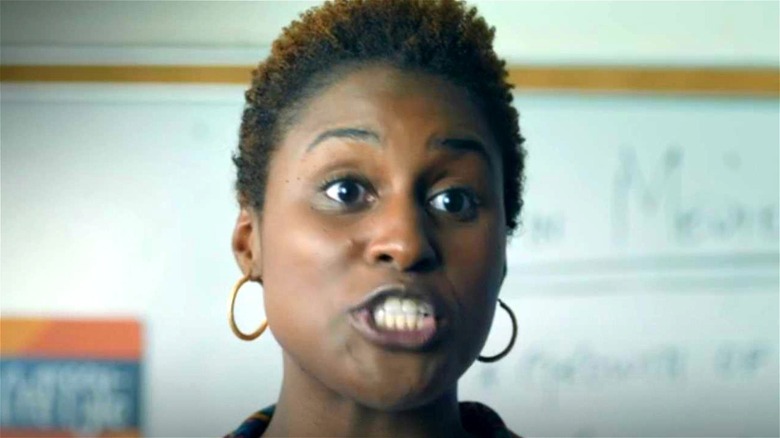 HBO
Whether you've been cooped up in your house for a while, or are just looking for a lighthearted series to enjoy, it may be time for you to give your attention to another one of the many TV shows about the bonds of friendship. After all, what could raise your spirits more than a group of best friends living their best lives on the small screen? Fortunately, from classic sitcoms like "Friends" to the Tiffany Haddish and Ali Wong animated comedy, "Tuca & Bertie," there are tons of great comedies to enjoy that center on fun friendships.
In addition to TV's more well-known best friend comedies, there are plenty of hidden gems you can find on all your favorite streaming platforms as well. With that in mind, one of the most underappreciated comedies on HBO Max stars the multi-talented comedian Issa Rae, whose YouTube web series inspired what would become one of her most well-known projects to date (via The A.V. Club). 
If you're on the lookout for a BFF comedy that also touches on social issues like race and class, consider queuing up Issa Rae's dramedy series "Insecure," which is currently streaming on HBO Max.
Insecure is a truly groundbreaking show
"Insecure" follows a non-profit worker named Issa Dee (Issa Rae) and her best friend Molly Carter (Yvonne Orji), who happens to be a corporate attorney. The two women have been close since they met in college at Stanford, and throughout the show, viewers watch as they navigate both personal and professional situations — especially those that are specific to the Black female experience.
Given that "Insecure" is set in South Los Angeles, California, the show also addresses real-life racial and socioeconomic issues that Black women are likely to face on a daily basis. As noted by The Hollywood Reporter, "Insecure" has earned praise for changing the public perception of the area, which Rae confessed to feeling guilty about after "seeing gentrification as a result of it." Speaking further on the show's real-life impact, Rae told THR, "I'm like, 'Oh, what have I done!' but I also feel proud of the Black businesses that we've heralded and the areas that we've championed."
Not only is "Insecure" helping to change the narrative around South LA but it's also received tons of recognition for everything from its music to its writing. The series even surprisingly made TV comedy history as one of the first shows to feature Black women in creative and starring roles. In short, it's a series that's well worth seeking out.
You can stream "Insecure" now on HBO Max.