The Tiffany Haddish And Ali Wong Comedy Killing It On Netflix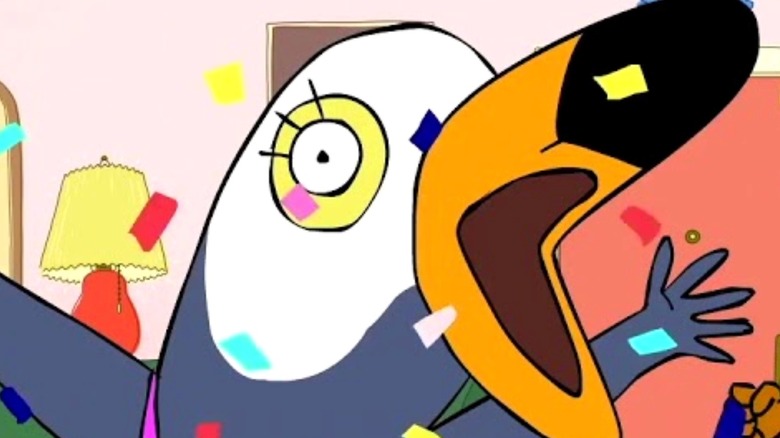 Tornante Productions LLC/Warner Bros. Television
For fans of animated series, there are tons of groundbreaking and downright hilarious shows to enjoy. "BoJack Horseman" tackles important issues with wit and humor; "Big Mouth" is a controversial and wacky look at the issues people face during puberty; and Netflix is now making its own original anime series for those who enjoy the Japanese animation style.
One of the most popular animated shows on Netflix features the voice talents of the side-splitting comedians Tiffany Haddish and Ali Wong, as well as stars like Steven Yeun ("Minari"), Nicole Byer ("Nailed It!"), and the lead of "The Late Late Show with James Corden" house band, Reggie Watts. While the whimsical animated series was cancelled by Netflix after its first season, it's currently streaming on the platform and is absolutely killing it on the charts. Fans also recently got even more great news when Season 2 was picked up on a different streaming platform. If you're on the lookout for your next favorite animated show, you should consider queuing up the Haddish-Wong series "Tuca & Bertie" ASAP.
Tuca & Bertie got a second chance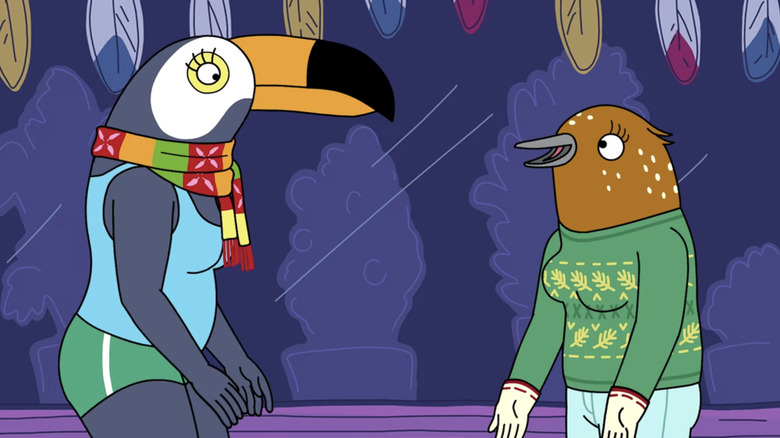 Tornante Productions LLC/Warner Bros. Television
Created by the producer of "BoJack Horseman," the equally-charming "Tuca & Bertie" is set in a similar world of anthropomorphic animals. It follows the everyday adventures of Tuca (Haddish), a confident toucan, and her best friend Bertie (Wong), an anxious song thrush. The 30-something bird-women live in the same apartment building and spend almost all of their time together, doing simple things like running errands to trying to move up in their careers. "Tuca & Bertie" has been praised for its diverse cast and sensitive handling of serious topics, not to mention its enchanting animation style.
"Tuca & Bertie" was canceled after its first season, and fans were not happy. Sites like Gizmodo reported that fans felt the show didn't get a chance to gain a wider audience due to its short-lived run, as well as Netflix's notorious algorithm. Soon after the cancellation, however, fans got the best news ever — Adult Swim picked up the show for a second season. "Tuca & Bertie" creator Lisa Hanawalt expressed her excitement for the show's move, saying "I've been a fan of Adult Swim shows since my teens, so I'm thrilled to bring my beloved fowl to the party and be a new voice for a fresh decade of absurd, irreverent, yet heartwarming adult animation" (via The Wrap).
"Tuca & Bertie" Season 2 has already started airing on Adult Swim, and there's no word yet about a third season. For now, you can also still enjoy "Tuca & Bertie" Season 1 on Netflix.