Jeff Goldblum Teases His Jurassic World 2 Return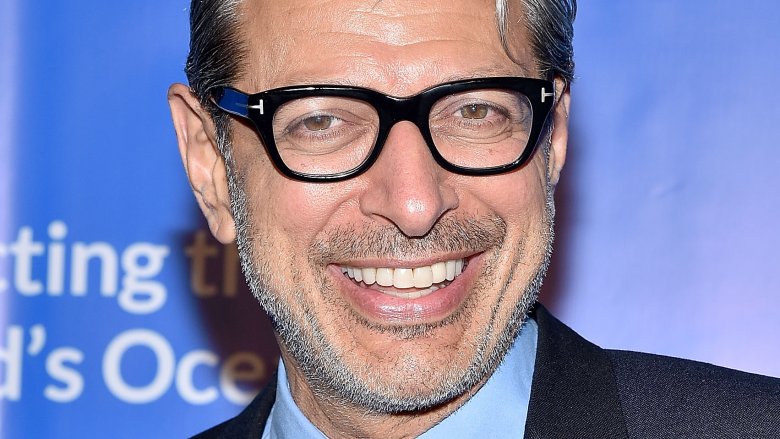 Getty Images
Jeff Goldblum is very excited to bring his "saucy, sassy" Jurassic Park character back in Jurassic World 2. Goldblum, who will return to the franchise after a 20 year break for the upcoming sequel, recently spoke to Entertainment Weekly about a few of his future projects, revealing more details about the role he will play in the big budget film.
Goldblum says that director J.A. Bayona convinced him to come on board by focusing on more than just the "popcorn-y entertainment" part of the franchise (which Goldblum says is, of course, "top notch") and by instead talking about the deeper themes that play into the Jurassic Park films.
"He was very focused on the serious issues of greed as it oftentimes comes up in those movies, and the marvels of science and reason and the very fascinating point at which our species finds itself both in real life and in this imaginary world too," Goldblum said, adding that he begins filming in a few weeks. "I'm very interested in that myself, so I'm looking forward to this. I've got a few things to do. I'm nothing if not conscientious, so I'm enjoying working on it every day."
Goldblum also spoke a bit about his experience starring as the Grandmaster in the upcoming Thor: Ragnarok. The actor said that, while he relished the chance to work with his The Life Aquatic co-star Cate Blanchett again and to add another Hemsworth brother to his list of co-stars (after working with Liam on Independence Day: Resurgence), it was director Taika Waititi who really convinced him to sign on.
"When we first talked, [Waititi] said, 'I want you to do your particular version of this character without being comic-y or grandiloquent. I think you should do something that's in your creative family tree. And also improvise,'" Goldblum said. "He was very interested in improvisation. We came to all those scenes and riffed enjoyably for the time we had. I don't know what's gonna come out in the mix because we gave him a whole bunch of different choices, I'll tell you that. He's great. Taika Waititi gets 10 Goldblums out of a possible 10 Goldblums."
After his two big franchise roles, Goldblum will return to the small screen to star in an Amazon comedy series opposite Danny DeVito. In the series, Goldblum and DeVito will play a former music duo who are forced to come back together after running into personal trouble. "There's a chance to come back together, but there's much challenge in it and storminess but a kind of tapestry of love and a bunch of people who surround us they've cooked up who seem potentially interesting," Goldblum said, adding that it's possible the series will include something musical.
Thor: Ragnarok is due out on November 3, 2017, while Jurassic World 2 will hit theaters on June 22, 2018. (Goldblum's Amazon pilot does not yet have a release date.) While we wait for Goldblum to return to the screen, see which of his '90s films is getting an unexpected sequel.