Get Your First Look At Jessica Henwick's Character In The Matrix: Resurrections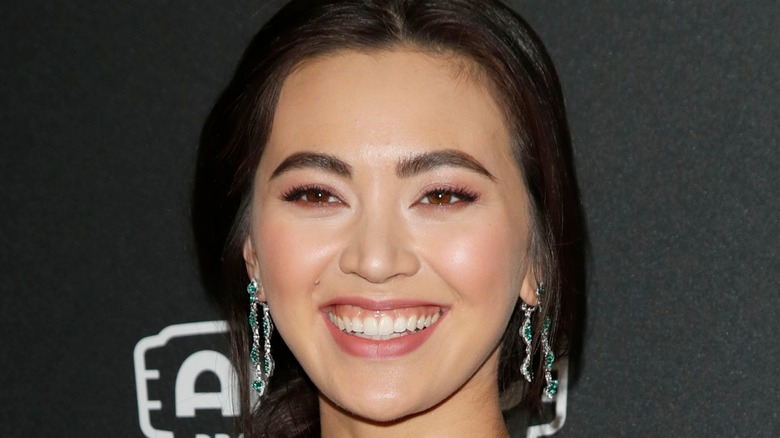 Kathy Hutchins/Shutterstock
As the arrival date for "The Matrix: Revolutions" ticks closer, the film's closely guarded secrets are finally starting to reveal themselves. One item many have long wondered about — the role actress Jessica Henwick might play — remains shrouded in mystery, although fans can at least now get a glimpse of her character in the movie.
Henwick, who has appeared in "Star Wars: The Force Awakens," Netflix's "Iron Fist," and HBO's "Game of Thrones, has told fans that "The Matrix: Resurrections" will "change the industry," but has remained quiet regarding specifics about her part in the film. While fans have had plenty of chances to speculate what it means that Yahya Abdul-Mateen II will be playing Morpheus in the new movie, Henwick appears as an all-new character, making her place in the universe unclear.
The one teaser that Henwick did drop about her character is that when she landed the role, she asked for three things: "A leather jacket, sunglasses, and some wire work," she said. "I got two of those three things — I'll leave you to guess which ones." 
Here is a first look at Jessica Henwick's character in "The Matrix: Resurrections."
Jessica Henwick appears to be playing a competent operative in The Matrix: Resurrections
At this point, there are two sources fans curious about the next chapter of "The Matrix" and its newest star can check out.
The first comes from Entertainment Weekly, which shared an image featuring three of the film's main characters, Bugs (Jessica Henwick), Morpheus (Yahya Abdul-Mateen II), and Neo (Keanu Reeves). In that photo, fans can see Bugs' signature blue hair and one of the three items she asked for, a stylish pair of sunglasses very much in the style of "The Matrix."
From there, fans can go back to the mind-blowing first trailer for "The Matrix: Resurrections," released last month, in which Bugs features prominently. Bugs seems to serve as a sort of guide for Neo's return to the world of "The Matrix," even featuring a rabbit tattoo as seen in the original film. Beyond that, fans can see her perform some complex acrobatics that likely involved wire work, fulfilling another one of her wishes and, although it is hard to tell in the trailer, possibly even wearing a leather jacket.
With barely more than a couple of months left before "The Matrix: Resurrections" arrives in theaters, it won't be long until fans know the whole story behind Bugs. Until then, they should keep their eyes peeled for any more clues about the newest addition to the sci-fi universe.