Why Colville From A Knight's Tale Looks So Familiar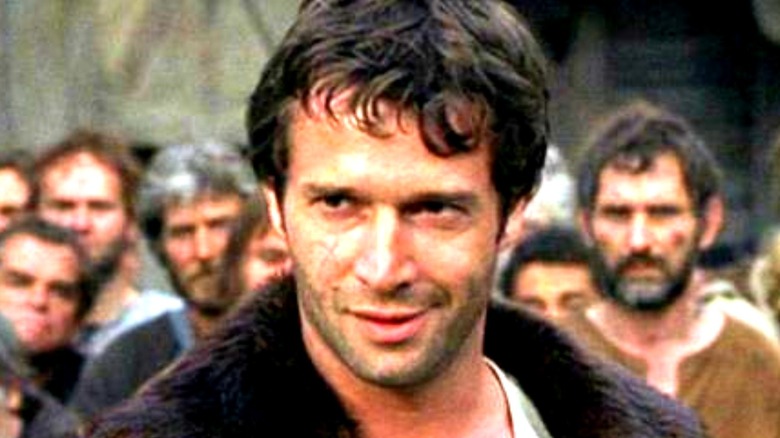 Columbia Pictures
While audiences eagerly await the October 15th release of Ridley Scott's "The Last Duel," fans can wet their medieval-era palate with Brian Helgeland's 2001 hit about a peasant squire named William Thatcher (Heath Ledger) who takes on the identity of his master in the wake of the latter's death. That's right, folks — "A Knight's Tale" is now available on Netflix. 
On the off-chance that you weren't one of the many swooning, early-aughts teens who watched the movie over and over again, committing its anachronistic soundtrack and delicious litany of characters to memory (including Paul Bettany as Geoffrey Chaucer), a first-time viewing will reveal a surprisingly stacked cast. Among that cast you'll find Rufus Sewell ("Old"), Shannyn Sossamon ("Wayward Pines"), Alan Tudyk ("Doom Patrol"), and Mark Addy ("Game of Thrones"). 
Finally, you may notice that Ledger's foil — a highborn man named Edward, the Black Prince, who also takes on a new identity out of necessity — has an awfully familiar face, voice, and buttery British accent. That's because The Black Prince, aka Colville, is none other than film and television star James Purefoy, whose three decade-long career is littered with gems you've no doubt come across at some point.
James Purefoy leapt from the small screen to the big screen in the late 1990s
Buena Vista International
Although James Purefoy's career began to really gain momentum on a global scale in the early 2000s (thanks to his turn as Colville), the actor began his trajectory in 1990, starring as Mike Baker in the ITV Granada series "Coasting." For the next seven years or so, Purefoy found consistent work in television series and mini-series, including BBC One's "Tears Before Bedtime," the Drama Channel's "The Tide of Life," and BBC's "The Prince and the Pauper." Purefoy also starred alongside Sean Bean in an episode of the acclaimed historical drama, "Sharpe," before making his way to the big screen in a series of memorable films. 
In 1998 and 1999 alone, the actor popped up in Rose Troche's "Bedrooms and Hallways," Simon Hunter's "Lighthouse," and — most notably — in Patricia Rozema's adaptation of Jane Austen's "Mansfield Park," which cast Frances O'Connor ("The Conjuring 2," "Locke & Key") in the lead role of Fanny Price. After a brief dip back into television with the British series "Metropolis," Purefoy's career kicked off with a series of silver screen stunners carried out in quick succession. 
James Purefoy starred opposite Reese Witherspoon in a decadent period piece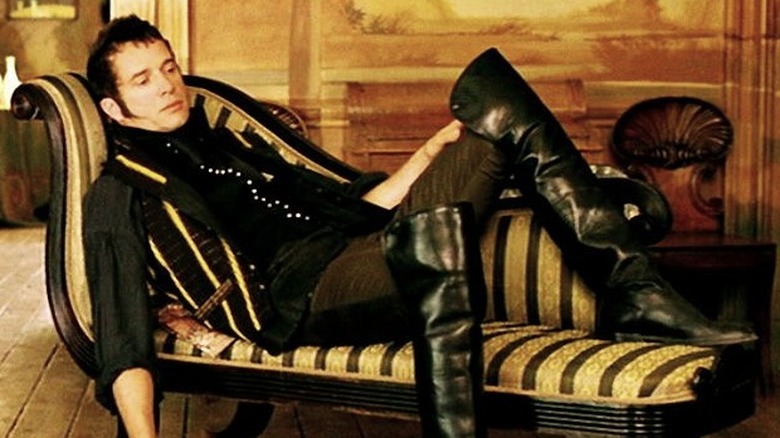 Focus Features
After gracing "A Knight's Tale" with his inimitable charms, James Purefoy went on to star as former Umbrella Corporation security officer Spence Parks, opposite Milla Jovovich's Alice in 2002's "Resident Evil." No stranger to period pieces and sword fights, the actor then nabbed the role of George, "a knight returning from the Crusades (who) takes on a dragon and becomes a legend," (via IMDb) in 2004's "George and the Dragon." The little-known fantasy movie also starred, believe it or not, Patrick Swayze, Michael Clarke Duncan, and Piper Perabo (who was then best-known for her role in "Coyote Ugly"). 
Having proved his charisma could translate to just about any era and genre, the actor then cemented in his place in the collective period piece psyche with a starring role opposite Reese Witherspoon.
In 2004, Purefoy breathed life into William Makepeace Thackeray's Rawdon Crawley, whom the author calls a "heavy dragoon with strong desires and small brains," in Mira Nair's adaptation of Thackeray's novel, "Vanity Fair." Witherspoon starred as the novel's cunning social climber Becky Sharp, and although the film received a somewhat lukewarm reception (according to its Rotten Tomatoes score) it was an ambitious and thorough reimagining of its namesake, and illustrated Purefoy's ability to be at once swashbuckling and earnest. That ability would serve him well in his next major project. 
In Rome, James Purefoy portrayed one of the era's most fascinating characters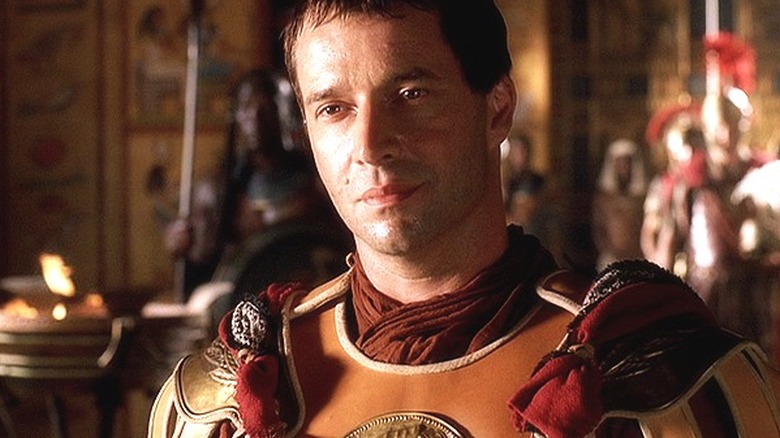 HBO/BBC
In 2005, HBO and the BBC co-produced the binge-worthiest, soap opera-iest telling ever made of the fall of Julius Caesar and the events that followed. Titled simply "Rome," the series cast "Game of Thrones'" Ciarán Hinds as the most infamous Roman general of all time, and boasted an all-star cast (including Kevin McKidd of "Grey's Anatomy" and Tobias Menzies of "The Crown") to match its decadent aesthetic and dramatic dynamics. For his part, Purefoy tackled the notoriously compelling and complex role of Mark Antony, following in the footsteps of silver screen legends such as Marlon Brando and Richard Burton. 
Though the series was cancelled after just two seasons, it managed to amass a devoted following, and earned a score of 86% on Rotten Tomatoes. In "Rome," Purefoy transforms from the devoted, if irresponsible, right hand man of Caesar to the (again) devoted, if easily manipulated, partner to the most infamous lover and female military mind of the ancient world, Cleopatra (Lyndsey Marshal). The actor managed to pull-off a nuanced blend of playboy, warrior, and lovestruck puppy dog. 
This feat no-doubt contributed to his being cast in the lead role of Teddy Rist in NBC's short-lived "The Philanthropist." Purefoy may have missed out on the iconic role of James Bond (via The Independent), but Rist was a dead-ringer for the charismatic agent, and the short-lived series served as further evidence of the actor's endearing swagger (and to be fair, who hasn't missed out on the role of James Bond at this point?)
James Purefoy proved himself handy with a sword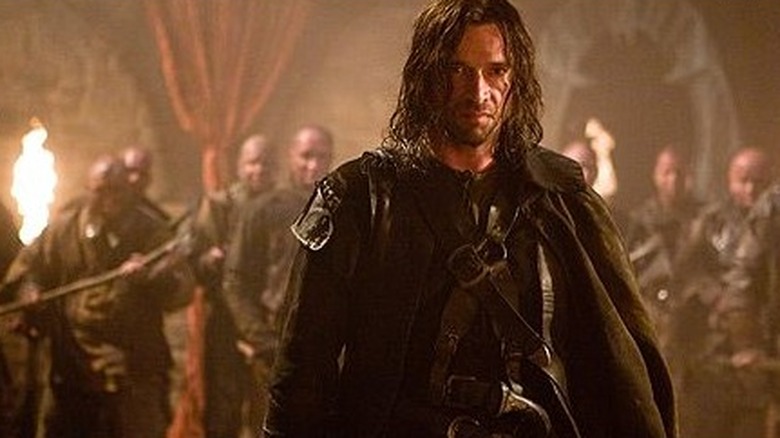 Metropolitan Filmexport/ Optimum Releasing
Purefoy would take several more trips back in time before ultimately starring in an acclaimed Netflix series. Between 2009 and 2011, the actor continued to sword fight his way through a number of diverse period pieces, including a role as Merlin in the TV miniseries "Camelot," co-created by "The Tudors" and "Vikings" creator Michael Hirst, as well as Jonathan English's Knight's Templar tale, "Ironclad." However, it was his turn as a legendary pulp hero Solomon Kane, in the 2009 film of the same name, that most distinguished this time-traveling era in his career.
Based on writer Robert E. Howard's ("Conan the Barbarian") original character, "Solomon Kane" offers an origin tale for the eternally tormented late-16th century warrior and puritan, via writer-director M. J. Bassett. Although "Solomon Kane" didn't garner nearly the response that its counterpart and cousin film "Conan the Barbian" did (a response it owes entirely to its lead, "Aquaman" star Jason Momoa), it nonetheless acted as a catalyst for the numerous period pieces that were to follow in Purefoy's storied career.
James Purefoy gained himself quite a following starring opposite Kevin Bacon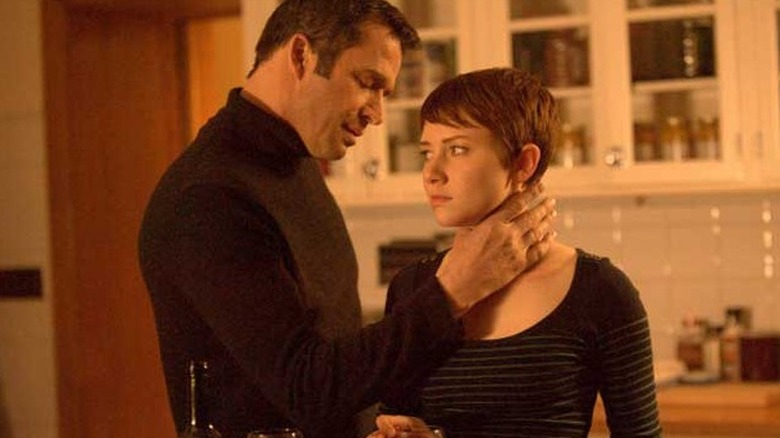 FOX
As unsettlingly charming serial killer (and cult leader) Joe Carroll in Fox's "The Following," James Purefoy proved a worthy nemesis to Kevin Bacon's Ryan Hardy, an FBI agent who is every bit the Mandatory Unretirement trope (via TV Tropes) you might expect from a network series. The show never really managed to impress critics — of its second season, The AV Club's Sonia Saraiya wrote that "the only way the show could shed all of the aspects that made it such a mess in season one would be to implode completely and start from scratch" — many were captivated by Purefoy's depiction of the murderous manipulator. Moreover, it's always at least a little hard not to follow Kevin Bacon to the ends of the earth, regardless of a given project's narrative plausibility (or stilted dialogue). 
Television-wise, Purefoy went on to land recurring roles in the 2016 TV miniseries adaptation of "Roots," Neflix's "Altered Carbon," and Sundance's "Hap and Leonard." At the same time, there were plenty of silver screen roles still requiring the actor's unique blend of confidence, charisma, mystery and likability. From 2015 to 2017, Purefoy starred in Stephen S. Campanelli's action-packed "Momentum," Meera Menon's timely financial thriller, "Equity," and Jonathan Teplitzky's "Churchill," wherein he played the role of King George VI. Notably, the actor also starred alongside Marvel prince and "Hollow Crown" king Tom Hiddleston in Ben Wheatley's hilarious, impressionistic adaptation of J.G. Ballard's dark, surrealist postmodern novel, "High Rise." Memorable as all these performances were, it was what Purefoy did next that might well be why audiences most immediately recognize him.
James Purefoy reunited with the small screen in a big way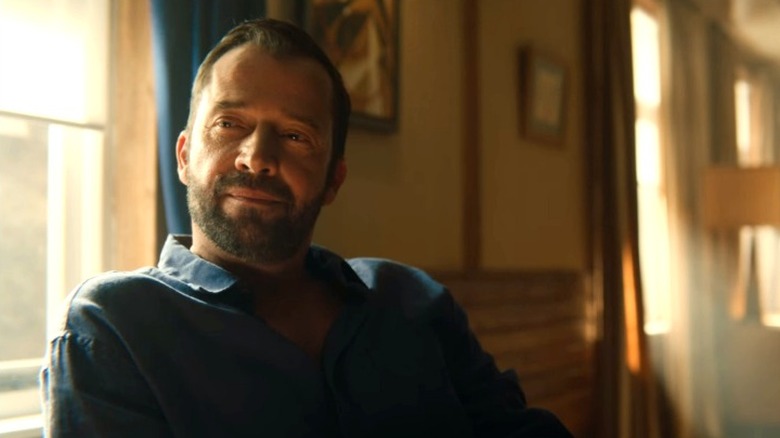 Netflix
In 2019, James Purefoy took on the role of sex therapist and writer Remi Milburn, ex-husband to Jean Milburn (Gillian Anderson) and father to Otis (Asa Butterfield) in Netflix's "Sex Education." Though Remi only surfaces in five episodes, the actor's characteristic personality made him an integral part of the acclaimed series. Arguably, it was his turn as Milburn that kicked off the next stage in the actor's prolific career, wherein Purefoy became a familiar face in various streaming shows.
In one year alone — 2020-2021, that is –Purefoy landed recurring and starring roles in Amazon Prime's "El Candidato," Hulu's "No Man's Land," AMC+'s "A Discovery of Witches," and Epix' DC origin story, "Pennyworth." Whether playing a former British SAS captain, a determined CIA officer, an organic chemist-turned vampire, or backroom manipulator and deal maker, Purefoy has repeatedly proven his captivating presence translates across genres, screen sizes, time periods, and fan bases. It's no wonder, then, that although his screen time in "A Knight's Tale" is relatively minimal, he's such a memorable force in the 2001 Heath Ledger hit.