The Last Duel Trailer Pits Adam Driver Against Matt Damon In A Deadly Fight
Ridley Scott remains one of the most prolific directors working today. He's proven himself adept at creating movies regardless of whatever genre they might be in, from science-fiction masterpieces ("Alien," "Blade Runner") to historical epics ("Gladiator," "Kingdom of Heaven"). Later this year, he will return to the latter category as he brings the true story of a 14th-century knight and his squire duking it out in a battle to the death with "The Last Duel."
The film follows Marguerite de Carrouges (Jodie Comer), who finds herself in political limbo when her husband, Jean de Carrouges (Matt Damon), chooses to fight Jacques Le Gris (Adam Driver) over her honor. It's the kind of prestige picture with timely themes one would expect out of Ridley Scott, with a script written by Damon, Ben Affleck, and Nicole Holofcener to boot. It has a prime awards-season release date of October 15, 2021, and now, with a trailer released to the masses, we get our best look yet at the picture.
The Last Duel trailer puts the focus on Jodie Comer's Marguerite de Carrouges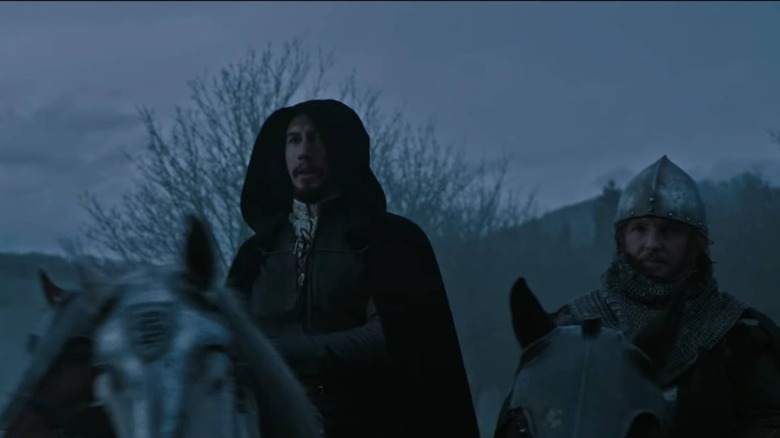 20th Century Studios
This section contains references to sexual assault.
There was a bit of controversy when "The Last Duel" was first announced. The movie's development first came to light shortly after the emergence of the #MeToo movement and seeing how the film chronicles a woman accusing a man of rape, resulting in two men battling to determine her fate, many expressed concerns on social media whether the film would tackle that subject matter appropriately (via Boston Magazine). It also didn't help that co-writer and actor Ben Affleck faced accusations of sexual misconduct. Matt Damon also made some tone-deaf comments regarding the movement, which he later apologized for (via Vanity Fair). 
However, there was reason to hope. Damon and Affleck wrote the script with Academy Award nominee Nicole Holofcener, who's known for writing strong female characters in "Can You Ever Forgive Me?" and "Enough Said." The trailer seems to confirm that the story won't merely use Marguerite de Carrouges's rape accusations as a plot device and instead focus primarily on her throughout the movie's proceedings. Jodie Comer receives the lion's share of attention in the trailer, which seems to have assuaged moviegoers' fears. 
Across social media, people discuss how the film appears to treat its subject matter well, like @rosensilence writing, "My main concern was that it wouldn't be sympathetic to Jodie's character and that the main focus would be on the guys, but as the entire trailer is focused on her and her POV, that puts my mind at ease a little." If done well, "The Last Duel" could serve as a practical examination of how society treats women and their accusations against criminal men. 
If you or anyone you know has been a victim of sexual assault, help is available. Visit the Rape, Abuse & Incest National Network website or contact RAINN's National Helpline at 1-800-656-HOPE (4673).