Who's Going To Replace Mark Harmon's Gibbs On NCIS?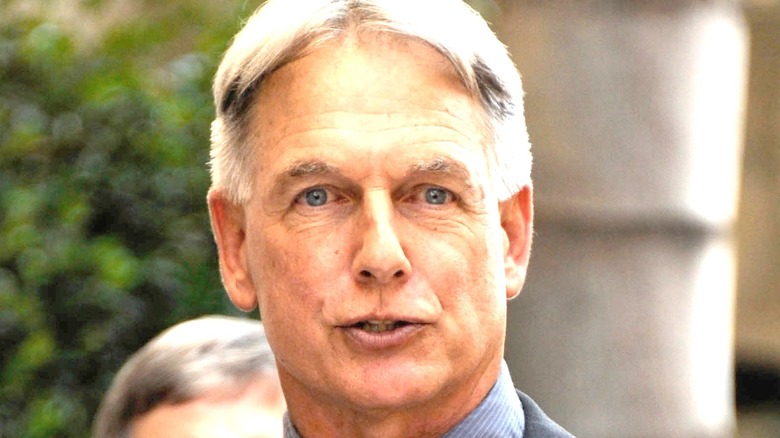 Albert L. Ortega/Getty Images
Bad news, "NCIS" fans: Mark Harmon is officially off the case. Harmon's last episode as the "NCIS" detective Special Agent Leroy Jethro Gibbs aired this past Monday, which marks the end of his impressive run as the series lead. Rumors about Harmon's impending departure from the long-running series have been circulating for months, and fans have made their feelings about Gibbs' retirement clear. Alas, Harmon has chosen not to return to the show in a lead capacity, though, according to The Hollywood Reporter, that doesn't necessarily mean we'll never hear from Gibbs again.
With Gibbs — seen by many as the heartbeat of the series — now gone from "NCIS," fans are already speculating about the future of the show. In specific, viewers are forced to ask: Who will fill Gibbs' shoes as the next leader of the Naval Criminal Investigative Service? Will it be one of the show's other cast members who steps up and take on a larger role? 
Here's what we know right now about the future of "NCIS."
Gary Cole can become the new face of NCIS
"NCIS" showrunner Steven D. Binder recently shared a statement about actor Mark Harmon's future on the series. "As an executive producer and dear friend, Mark continues to be an integral part of the fabric of the show," Binder said (via THR). "Our north star has always been staying true to our characters, and that truth has always guided the stories we tell and where those characters go. So regarding the future of Gibbs, as long-time fans of the show may have noticed over the years ... never count Leroy Jethro Gibbs out."
In other words, it certainly seems like there is still the chance that Harmon could reprise his "NCIS" role in a future episode or season. Meanwhile, when it comes to who could replace Harmon in the show's leadership role, it's worth noting that actor Gary Cole, known for his performances in shows like "Veep" and films that include "Talladega Nights: The Ballad of Ricky Bobby," recently joined the cast of "NCIS" as FBI Special Agent Alden Parker.
While Cole's character is not officially meant to be considered a replacement for Gibbs (via TVLine), the actor is certainly the kind of capable, veteran screen performer who could help fill the void left by Harmon's exit. As a matter of fact, "NCIS" fans already seem very excited about Cole's new presence on the series.
Fans seem to approve of NCIS' latest addition
Fans met Gary Cole's Alden Parker in the first few episodes of "NCIS" Season 19, and so far, he's getting a (mostly) warm welcome from fans of the show. For instance, one longtime fan with the Twitter handle @aliciainedmonds wrote, "As soon as I saw Gary Cole, I knew Gibbs's heir apparent was here. I also liked how the show connected him to a character we love and trust." Other users wrote similar sentiments, like @Soozey42, who tweeted, "Thanks for a great run, Mark Harmon. And nothing but best wishes to Gary Cole. Set your own rules, sir." Elsewhere, a fan named @Drogyn1701 wrote, "So Mark Harmon is off NCIS. Probably past time for that, if we're honest. Bring on the Gary Cole era, I say."
Of course, there are those who simply enjoy Cole's work and are excited for his new role, like Twitter user @MissDS17, who shared, "I really can't help loving Gary Cole in all of his roles. 'The West Wing,' 'The Good Fight,' a million other things, 'NCIS.' He's just so good." So, despite the fact that some fans are having a hard time with Harmon's "NCIS" departure, it's clear that plenty of other fans are excited to see where the series will go from here.
While that doesn't necessarily mean Cole is "replacing" Harmon, his presence on the show — combined with the reception he's received so far for his work on it — proves that "NCIS" may very well be able to live on without Gibbs, thanks in no small part to the talents of its other cast members.
"NCIS" Season 19 is airing now on CBS.