The Character Everyone Forgets Scott Eastwood Played On Chicago Fire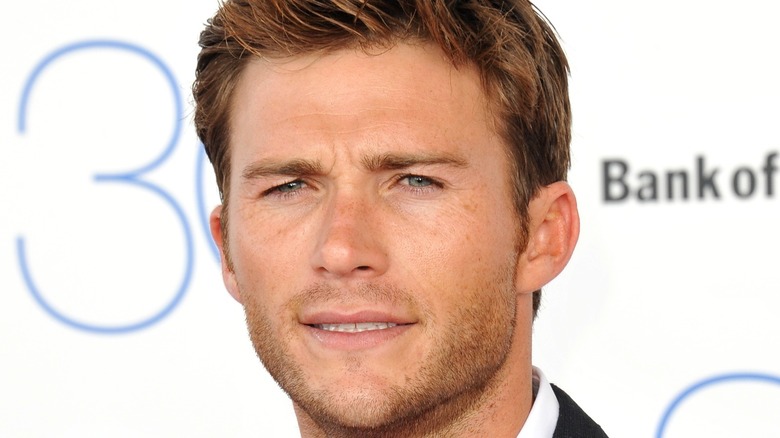 Featureflash Photo Agency/Shutterstock
As the son of legendary actor and director Clint Eastwood, Scott Eastwood began his acting career by using "Reeves" as his last name in order to avoid being cast solely because of nepotism, and soon began landing parts in films like "An American Crime" and "Pride." Eastwood made appearances in his father's movies too, but he still had to audition like anybody else, and even failed to land a role in Clint's 2014 hit, "American Sniper" (via The Independent). Despite that, Eastwood once told Esquire that his father taught him how to be a real and dependable actor, saying, "My father's definitely old-school. And he raised me with integrity—to be places on time, show up, and work hard."
In recent years, Scott Eastwood has had several small but crucial roles in blockbuster films like "Suicide Squad" and "Pacific Rim: Uprising." In 2017, he also played Eric Reiser AKA Little Nobody, the law enforcement agent working under Mr. Nobody (Kurt Russell), in "The Fate of The Furious." All of which is to say that he's certainly done well for himself as an actor, both with and without his famous last name.
But even avid "Chicago Fire" fans may have forgotten about his guest appearance on the hit NBC series. In fact, the actor starred in two "Chicago Fire" episodes that, at the time, were meant to secure him a spot in a spin-off show.
Scott Eastwood starred in the backdoor pilot for Chicago P.D.
Near the end of "Chicago Fire" Season 1, there were two episodes (titled "Leaders Lead" and "Let Her Go") that featured Scott Eastwood and Tania Raymonde as guest characters Jim Barnes and Nicole Sermons, respectively. The episodes see Casey (Jesse Spencer) teaming up with the city's police intelligence unit, and they essentially functioned as a two-part, backdoor pilot for the eventual "Chicago Fire" spin-off, "Chicago P.D." At the time, both Eastwood and Raymonde were expected to return as their characters for the spin-off.
Unfortunately, that wasn't meant to be. According to TV Line, Scott Eastwood and Tania Raymonde were both cut from "Chicago P.D." over creative differences. As a result, the show went on to be anchored by actors like Jason Beghe and Jon Seda (until Seda left after Season 6). Don't feel too sorry for Scott Eastwood though. He co-starred in the Jason Statham-led action film, "Wrath of Man," earlier this year and is set to appear in the 2022 romantic comedy, "I Want You Back" (via Deadline), so his career is still going strong.
Meanwhile, you can currently stream every season of "Chicago P.D." on Peacock.