Shows Like Bones That Crime Procedural Fans Need To See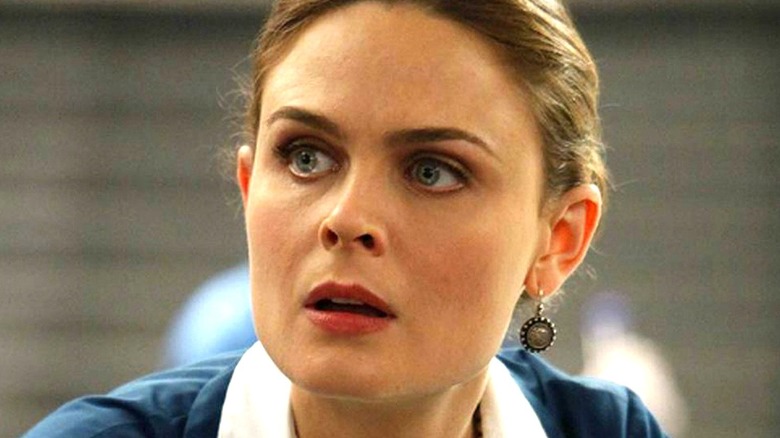 FOX
For 12 seasons, "Bones" was one of TV's most beloved crime procedurals. Fans watched as forensic anthropologist Dr. Temperance Brennan (Emily Deschanel) and FBI special agent Seeley Booth (David Boreanaz) became partners in the field and, eventually, in life. Along with the team at the Jeffersonian Institute, affectionately referred to as "squinterns," they solved murders and other mysterious deaths with a combination of science and smarts.
Based on the best-selling Temperance Brennan books by real-life author and forensic anthropologist Kathy Reichs, the series not only gave us a team to cheer for, it pushed the limits for gore on TV without being a horror series. Despite its leanings toward dramedy, storylines sometimes offered commentary on social issues or delved into stories taken straight from the headlines. At the end of its 2005-2017 run, "Bones" was Fox's longest-running scripted drama, a record it still holds.
If you are missing that Booth-Brennan magic or looking for a way to fill the time until your next rewatch, we've rounded up some crime procedurals that you should add to your queue. And while there will never be another ensemble quite like the squinterns at the Jeffersonian, each show on this list will help fill that "Bones"-shaped hole in your heart.
Castle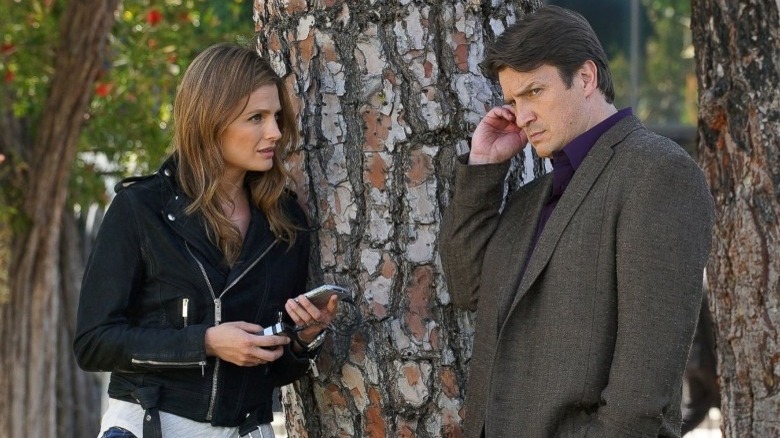 ABC
If you like your crime procedurals with a dash of sexual tension, "Castle" and "Bones" share the same DNA. Instead of an FBI special agent and a forensic anthropologist/best-selling author, this series begins by pairing a homicide detective with a best-selling mystery novelist grappling with writer's block.
Nathan Fillion stars as Rick Castle, a millionaire playboy and author who is used to getting what he wants. When he's brought in for questioning by the NYPD after a copycat murder inspired by one of his novels, Castle is paired with Kate Beckett (Stana Katic), the detective working the case. Beckett becomes the inspiration for Nikki Heat, the protagonist in Castle's next series of novels, and with the help of his friendship with the mayor, he begins shadowing Beckett. His boyish charm clashes with Beckett's serious, professional approach, but he eventually becomes more of a help than a hindrance in catching killers.
Mixing a case of the week with longer storylines, "Castle" delighted audiences as Rick and Kate became friends and eventually lovers. Fans affectionately referred to them by their portmanteau, "Caskett," and while the pair sizzled on screen, there was major tension behind the scenes with two leads who didn't get along. Katic was dismissed from the series in its eighth season, a month before "Castle" was ultimately canceled. Despite all the drama, this crime procedural is fun to watch, especially in its earlier seasons.
Coroner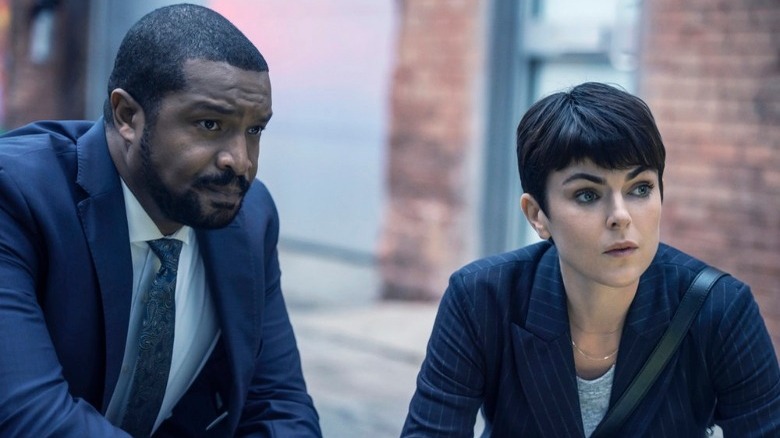 CBC
Much like "Bones," "Coroner" is another book-to-screen procedural with a female lead. Based on the series of novels by M.R. Hall, it stars Serinda Swan as Jenny Cooper, a recently widowed doctor who becomes a coroner investigating suspicious deaths in Toronto.
Working the cases with Jenny is Detective Donovan "Mac" McAvoy (Roger Cross), a 25-year veteran of the police force who has seen it all. His skepticism is challenged by Jenny, and he begins to reconnect with the idealism of his early years in law enforcement.
In addition to the case at the center of each episode, "Coroner" is also an exploration of mental health, especially anxiety and depression. Jenny is raising her son on her own, caring for a dad with dementia, and dealing with unresolved PTSD from the death of her sister when they were kids. It's a darker series than "Bones," but much like Temperance Brennan, Jenny is dedicated to being a voice for the dead who cannot speak for themselves.
Production on Season 4 is currently under way with new episodes coming in 2022.
Lucifer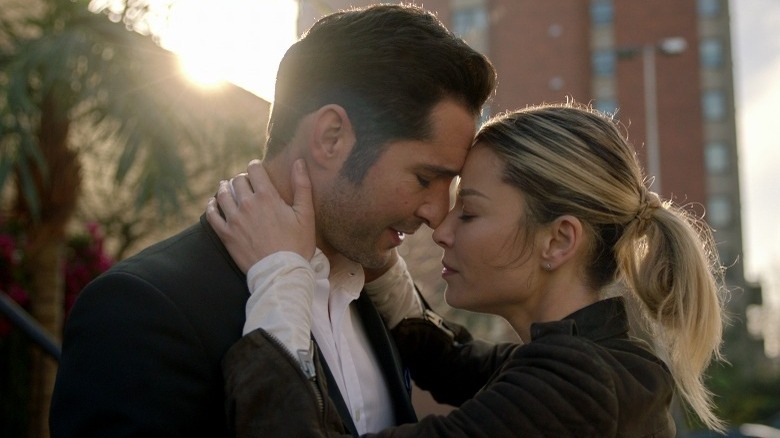 Netflix
When the Devil himself abandons Hell to run a nightclub in Los Angeles, his unique ability to manipulate humans into admitting their deepest, darkest desires lands him a consultant gig with the LAPD. Working with Detective Chloe Decker (Lauren German) and her team, Lucifer (Tom Ellis) helps solve the case of the week while also dealing with his own celestial family drama.
"Lucifer" was inspired by the DC Comics character and aired on Fox for three seasons before the network canceled it. That's when Netflix swooped in and revived the series, which concluded with its sixth season in 2021.
The ensemble cast is reminiscent of the squinterns on "Bones," especially forensic scientist Ella Lopez (Aimee Garcia), who would've fit in perfectly at the Jeffersonian. And like Booth and Bones, a romance is sparked between Lucifer and Chloe. On an amusing note, references to "Bones" are a running gag throughout the series. Lucifer binges "Bones" in Season 3, and becomes so obsessed with it that he mixes in plot points with the crime he's helping investigate. There's even a reference to a futuristic reboot of "Bones" in the final season of "Lucifer."
White Collar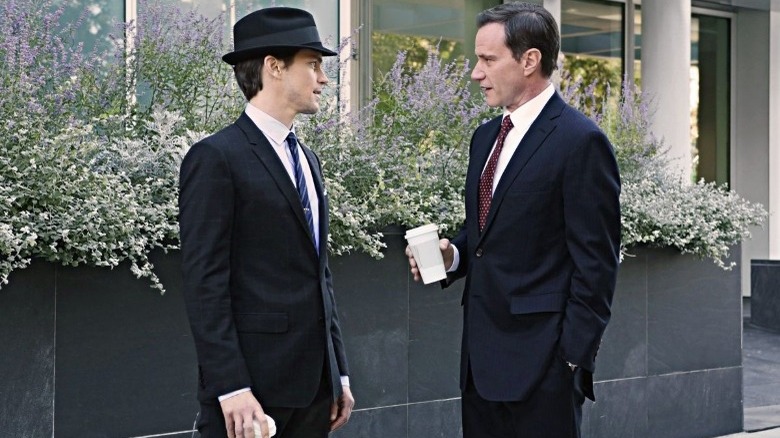 USA
Neal Caffrey (Matt Bomer), a charming con artist, thief, and art forger, enters into a work-release program with FBI special agent Peter Burke (Tim DeKay) to apprehend elusive white-collar criminals in this police procedural that aired from 2009 to 2014. "Bones" fans will appreciate the mix of procedural elements along with longer character arcs and high-energy crime caper twists and turns.
Cleverly written and plotted like a well-crafted puzzle that was so much fun to solve, "White Collar" operates in a grey area that makes you think about the good and bad that exists in everyone. Neal struggles with his criminal ways, even as he proves time and again that he's an invaluable asset to the FBI.
There was real talk in 2020 about reviving the series during a virtual cast reunion in 2020. While more episodes of "White Collar" would be welcomed by fans, it's hard to picture the series without two characters: Neal's BFF, Mozzie (Willie Garson), and Neal's trusted confidant, June (Diahann Carroll). Garson died in September 2021, and Carroll died in 2019.
iZombie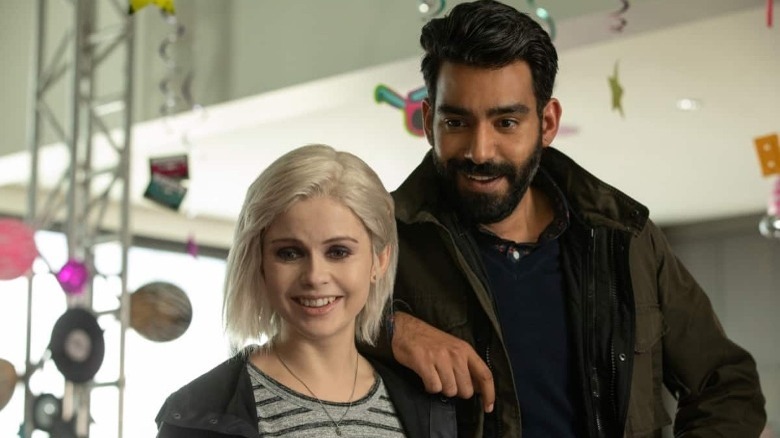 The CW
A supernatural crime procedural from Rob Thomas and Diane Ruggiero-Wright (the team behind "Veronica Mars"), "iZombie" follows Liv Moore (Rose McIver), a medical examiner with the Seattle Police who also happens to be a zombie. In each episode, Liv helps solve a murder by eating the victim's brains, temporarily taking on their personality and memories.
Like "Lucifer," "iZombie" was another DC Comics adaptation featuring an ensemble cast that includes Rahul Kohli as Ravi, Liv's co-worker in the medical examiner's office; Malcolm Goodwin as Clive, Liv's detective partner in the Seattle PD; and David Anders as the villain we love to hate, Blaine.
It's refreshing to see a zombie with a personality for a change, and one that doesn't feed on people in the way we've come to expect from the undead. How Liv prepares the brains before eating them is almost as fun as how she and the team solve the case of the week. Its five seasons are witty and filled with nods to pop culture. And while it gets gory from time to time, it's far tamer than most episodes of "Bones."
9-1-1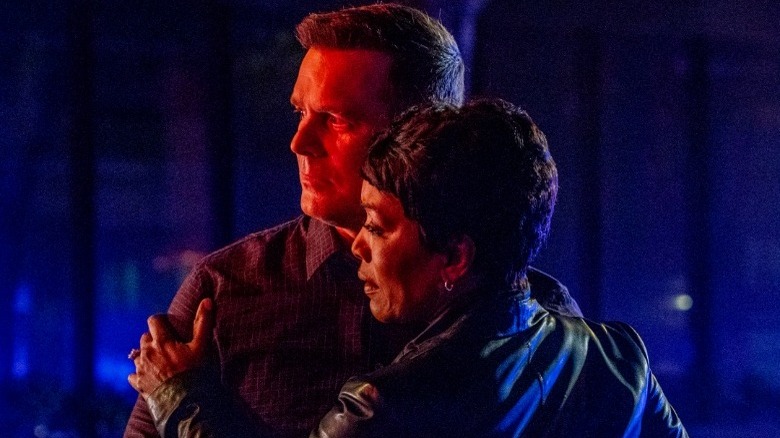 FOX
Set in Los Angeles, this series follows a group of first responders — police officers, firefighters, paramedics, and 911 dispatchers — as they deal with high-stakes emergencies like earthquakes, tsunamis, and blackouts. Leading the ensemble cast are Angela Bassett as LAPD patrol sergeant Athena Grant and Peter Krause as Bobby Nash, the captain of LAFD Station 118.
The series leans heavily on the procedural aspects while also taking us into the lives of these characters when they're not at work. They may be heroes but they're far from perfect, with themes like addiction, PTSD, and postpartum depression coming into play.
Created by Ryan Murphy, Brad Falchuk, and Tim Minear, "9-1-1" is a constant adrenaline rush. It's over-the-top and often melodramatic but in a highly watchable way. The series also pulled off a rare feat: ratings grew in the second season and a sophomore slump was avoided. There's even a spinoff on the air: "9-1-1: Lone Star," set in Austin, Texas, and starring Rob Lowe.
Criminal Minds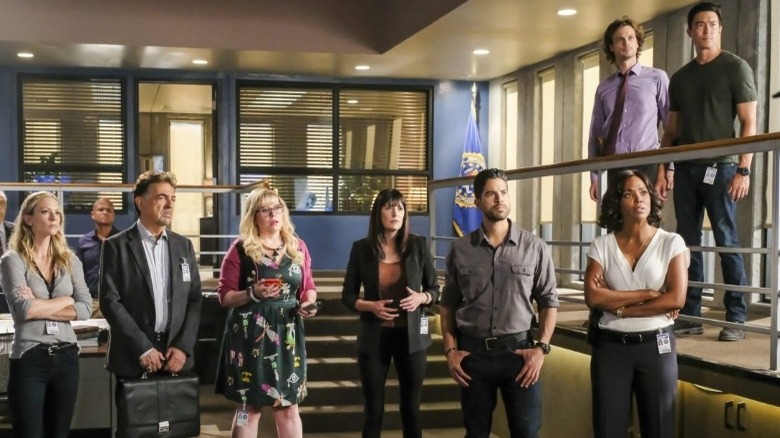 CBS
In this procedural drama, a group of profilers at the FBI's Behavioral Analysis Unit, or BAU, use their skills to track criminals, referred to as unknown subjects, or UnSubs. The serial killers on the series are all fictional, but many are based on real-life cases like the Night Stalker, the Unabomber, the BTK Killer, and even the Zodiac Killer. 
The show is responsible for some of TV's most haunting, disturbing and shocking moments that had everyone buzzing during its original airing. The subject matter was often so heavy and bleak that star Mandy Patinkin, who played Jason Gideon, left "Criminal Minds" after Season 2.
"Criminal Minds" concluded its 15-season run on CBS in early 2020, but in February 2021, a 10-episode revival was greenlit on Paramount+. And although actor Paget Brewster, also known as Emily Prentiss on the series, suggested the series was not moving forward, CBS Studios claims it is still in development.
Psych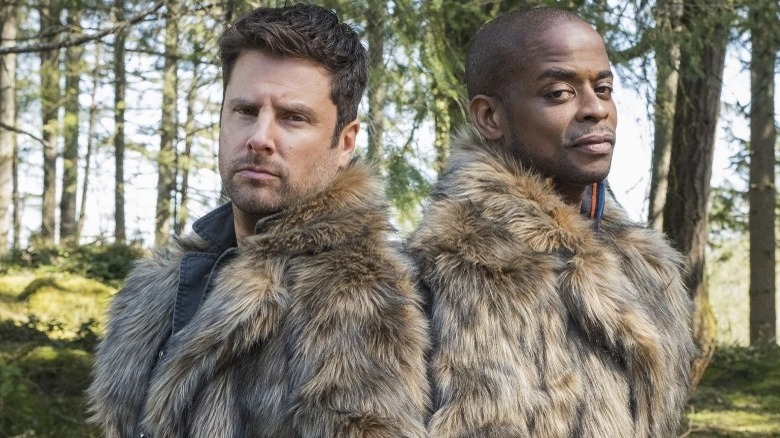 NBC
A procedural detective dramedy, "Psych" stars James Roday Rodriguez as Shawn Spencer, a crime consultant with an exceptional memory and impressive observational skills who leads police to believe he has psychic powers. Along with his friend Gus (Dulé Hill), he solves tricky cases for the Santa Barbara Police Department.
Like Temperance Brennan and her dad Max on "Bones," there is also family drama between Shawn and his dad, Henry (Corbin Bernsen), a former detective with the Santa Barbara PD. Overall, "Psych" has a much lighter tone than other crime procedurals. It's funny, silly, and has a lot of heart, which is why its devoted fans, known as "PsychOs," are still obsessed with the show to this day.
"Psych" ended in 2014 after airing for eight seasons, but the story has continued with a series of TV movies. Two have aired to date, and a third film, titled "Psych 3: This is Gus," is currently in production.
CSI: Crime Scene Investigation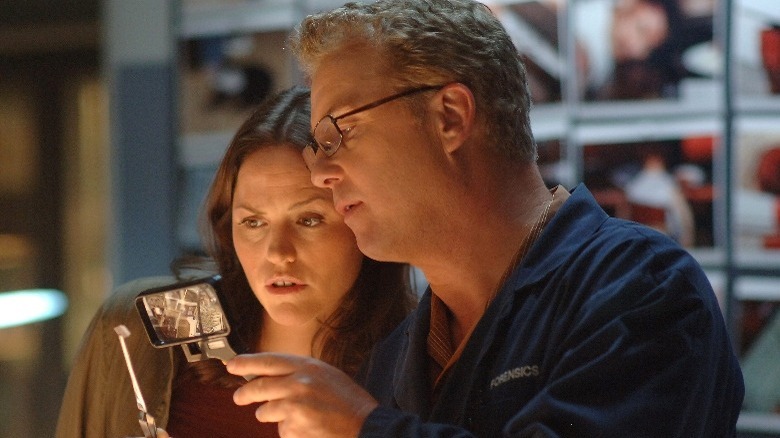 CBS
Las Vegas is the setting for "CSI: Crime Scene Investigation," the procedural drama about an elite team of forensic investigators solving cases at one of the busiest crime labs in the United States. A worldwide hit that spawned several spinoffs set in other cities, series stars Jorja Fox and William Petersen reprised their roles as Gil Grissom and Sara Sidle for "CSI: Vegas" when it premiered in 2021.
Like "Bones," CSI combines detective work with forensic science to solve each episode's case. And while they didn't always get the science right on the show, CSI: Crime Scene Investigation did inspire people to pursue careers in forensics, especially women. 
The series also had an unexpected impact on jurors in real-life cases. Known as the "CSI Effect," the way that jurors examine forensic evidence in a case was altered by exposure to TV shows that portray forensic science.
Bosch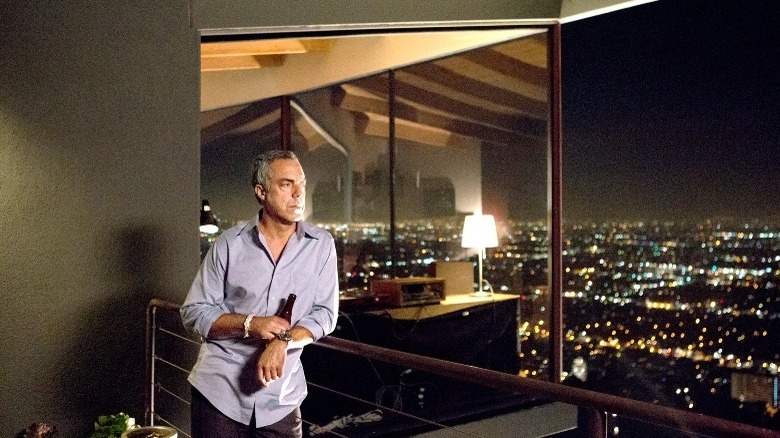 Amazon Studios
Also based on a best-selling series of books, Titus Welliver stars as Harry Bosch, an LAPD homicide detective with a complicated past, a dramatic personal life, and a passion for jazz music. Unlike "Bones," which tends to wrap most cases in one episode, the main cases on "Bosch" play out over an entire season.
With a focus on character development as much as the storylines themselves, "Bosch" goes deep into Harry's complicated family history that played a huge part in his becoming a detective. His relationship with his ex-wife, Eleanor (Sarah Clarke), and his daughter, Maddie (Madison Lintz), also factor heavily into the show. It's a darker, moodier show than "Bones," but still feeds into that puzzle-loving nature of crime procedural fans.
"Bosch" wrapped its seventh and final season in June 2021, but his story isn't over yet. A spinoff series is coming to IMDb TV — the first spinoff for Amazon Studios — with Welliver and two other cast members from the original series reprising their roles.
Law & Order: Special Victims Unit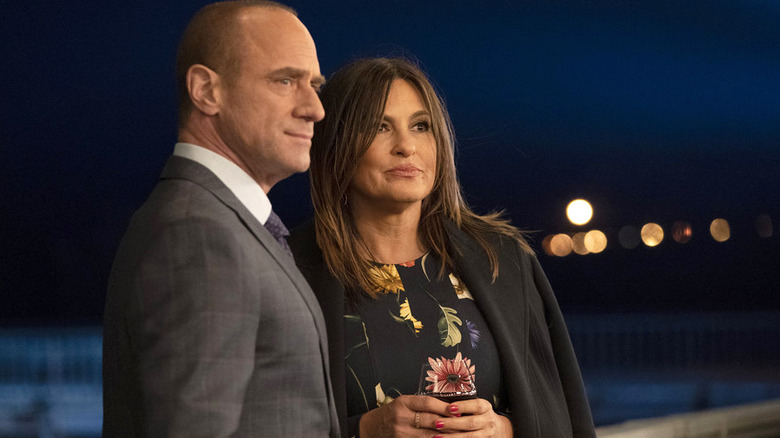 NBC
Starring Mariska Hargitay as Captain Olivia Benson, this crime procedural from creator Dick Wolf follows the Special Victims Unit, a specially trained squad of the NYPD that investigates sex-related crimes. With a record-breaking run of over 20 seasons, this spinoff has surpassed the episode count of the original "Law & Order" series that had concluded in 2009. Interestingly enough, the original is being revived by NBC, going straight to Season 21.
"Law & Order: SVU" follows the same format as the rest of the franchise. Although each episode begins with the familiar blurb — "The following story is fictional and does not depict any actual person or event" — many episodes are inspired by real crimes that attracted media attention. "Bones" also looked to news media for its storylines.
Approaching its 500th episode, "Law & Order: SVU" continues to captivate viewers each week. Even Taylor Swift has a cat named Olivia Benson, after Hargitay's Emmy-winning character on the series.
Pretty Hard Cases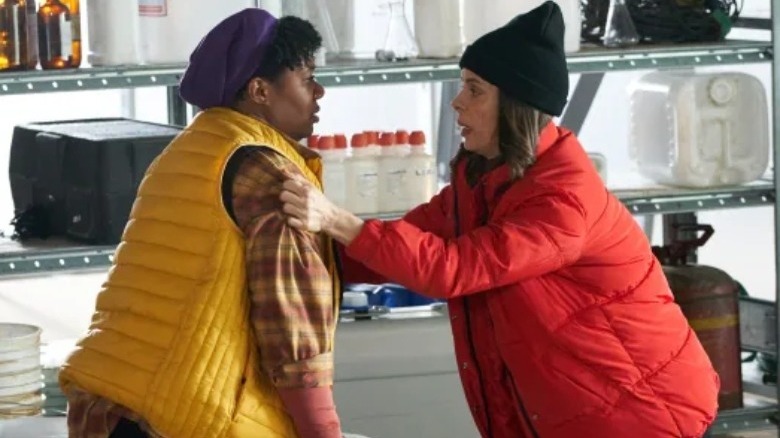 CBC
This buddy cop series set in Toronto centers on an unlikely pair of detectives who hesitantly begin working together after a chance meeting during a takedown. Sam (Meredith MacNeill, "Baroness Von Sketch Show") is the uptight, rule-following guns and gangs detective, while Kelly (Adrienne C. Moore, "Orange Is the New Black") is a streetwise drug squad detective. After their partnership begins, they realize that they have more in common than just a target, and bond over their loneliness, family dramas, and messed up love lives.
This isn't the first time that two women have teamed up on a crime procedural, but "Pretty Hard Cases" injects humor, honesty, and heart into its examination of female friendship. And it's refreshing to see leads who are women in their 40s with both life and work experience under their belts rather than constantly focusing on young newcomers.
A bonus to the show is antagonist Tiggy Sullivan, played by legendary voice actor Tara Strong. Although Strong made headlines her portrayal of Miss Minutes on the Disney+ series "Loki," she loved the opportunity to break out of her voice acting mold and have an on-screen role for a change.